Best GPS Tracker Table Comparison

Hidden Magnetic GPS Tracking Device

SUMMARY:

Prime Tracking GPS tracker is probably the most suitable tracing gadget for anyone who wants to keep an eye on and take care of kids, pets, and elderly parents.

SUMMARY:

Whistle Go Explore GPS tracker is ideal for anyone with a pet. The night light that guarantees that you spot your dog at night adds to the amazing features this device incorporates.


SUMMARY:

Bouncie GPS Tracker is small and compact with the same working mechanism as other similar devices.

But in retrospect, Bouncie may be a simple OBD port GPS tracker, but it falls in the middle range regarding its affordability.


SUMMARY:

The Jiobit is a small and attractive GPS tracker with an opportune loop that can be easily attached to necklaces, keychains, shoelaces, backpacks, and other convenient spots.


SUMMARY:

The Hidden Magnetic GPS Tracking Device by Global-View was meant for the professional market, which is why it makes an ideal choice for vehicle tracking.


Uses 4G network to give an update every 10 seconds

A remarkable battery life

Comes with a dedicated app

Compatible Google Home, Amazon's Alexa, and IFTTT

A remarkable battery life

Comes with a dedicated app

Compatible Google Home, Amazon's Alexa, and IFTTT

Shock-resistant and waterproof

Can be used both as a GPS tracker and a proximity leash

Kid-friendly with a durable design

Provides arrival and departure notifications

Comes with high-end features

Extensive depth and history in the data logs

Requires a monthly subscription to be useful

Not the best there is for vehicle tracking

Not suitable for tracking outside the USA, Canada, and Mexico

No desktop interface support

Notifications tend to lag when the pet is out of the safe zone

Requires a monthly subscription

Doesn't track when the vehicle is off

Suitable for vehicles with OBD support

Tracks once per minute – not quite real-time

No web-based platform for control

Doesn't have an SOS button

A bit pricey with a long binding contract

Features mainly tailored towards professionals

A little conspicuous for some users

Need to double-check the mounting to ensure it is firmly in place
As technology continues to rapidly advance, GPS tracking devices are increasingly becoming popular.
More and more people are choosing to install these devices on their cars for many reasons. While some install GPS trackers for vehicle recovery in case of theft, others, such as logistic companies and government bodies, use them to manage fleets.
I, for one, find GPS trackers extremely handy when determining the distance my vehicle has traveled.
Similarly, if you share your vehicle with your family members and want to establish its performance history to keep it well maintained, a tracking device would be your best solution.
Although largely utilized for tracing vehicles, GPS trackers can be much more than that.
Some, like the Bouncie GPS tracker, for instance, offer roadside assistance whereas others such as the Logistimatics Mobile-200 are equipped with live audio monitoring.
These are some of the features I'd keep in mind while searching for the best GPS tracker on the market. Other things worthy of consideration include the power source as well as the price.
Many models available today are equipped with rechargeable batteries, but others run on permanent power sources.
These versions with extra-long battery life are more suitable if the purpose for installation requires the GPS tracker to remain turned on for a while.
There are also pluggable models such as the MotoSafety GPS tracker, which you can opt for. They use your car's energy and can be easily turned off or removed when not needed.
Once you've made up your mind regarding the power source and other features you require in a tracker, gathering price information comes next.
Most GPS trackers are affordable, however, many come with monthly subscriptions of cellular charges.
To map out all the different possibilities of your new device, here's a list of the best GPS trackers.
If you are concerned about unwelcome GPS trackers being installed in your vehicle without your knowledge, you can go through the various tips on how to detect hidden trackers.
Things to Consider Before Buying a GPS Tracker
GPS trackers are ideal for personal use and tracking by companies and government agencies as well as private investigators.
They reveal the real-time location of people or items that matter to you, including children, elderly persons, motorcycles, cars, or even cargo packages.
There is a plethora of GPS trackers available, and they are all suited for different needs with different capabilities.
Here are factors to consider in choosing the best GPS trackers;
Purpose – Identify the features that will meet the need of your application.
Emergency features – Having a GPS tracker with a distress button, for instance, could save lives since the device's location, including direction, can be easily obtained.
App – Look for a tracker that has a mobile app for total control of the device and management of its vital aspects such as battery life.
Water-resistance – This feature will prevent the device from damage when it comes to contact with water.
Smart Alerts – If the application of the device includes security, safety, efficiency, and management, you need a tracker that can tell you when the device has exited safe zones, changed direction, breached speed limits, or has been tampered with.
Coverage – Choose a tracker that reports its location anywhere on the map.
Battery Life – For utmost convenience, a GPS tracker with a battery life that outlasts its purpose is the most ideal.
Other things to consider include size, cost, and accessories.
Notably, regardless of your reasons for buying a GPS tracker, stay within your legal rights. If it is for your vehicles, then that is fine.
If you are doing it out of concern for your loved one's safety, it is important to talk to them about it first.
Safety on the road can also be improved using other devices such as the rearview mirrors and dashcams. They elevate your field of view to ensure utmost concentration as you drive.
Also, educating your teenager on the importance of safe and responsible driving is crucial before considering the use of a GPS tracker.
Best GPS Tracker Reviews
Best Overall: PRIME TRACKING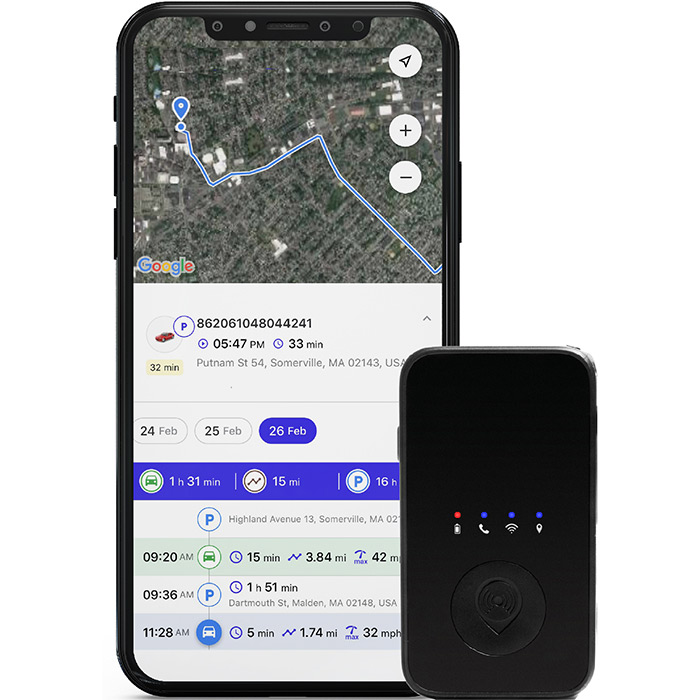 PRIME TRACKING is a versatile GPS device featuring a compact design ideal for a variety of uses, including in a vehicle, a knapsack, purses, or even your pockets. It can virtually be taken anywhere because of its small size.
The device measures approximately three-inches tall and less than one inch wide, and it incorporates an SOS button locator for your kids and the elderly persons to use should an emergency arise.
Whereas some of the market leaders still utilize 3G and 2G network to transmit data, this GPS tracker comes with 4G LTE technology for fast, real-time updates.
As 2G and 3G networks are slowly being phased out of rotation, you can expect PRIME TRACKING to provide more reliable and consistent coverage for years to come.
Like most other industry-leading GPS trackers, PRIME TRACKING comes with an app for Android and iOS smartphone.
It also boasts a beautiful desktop interface for PC and MAC for control convenience.
PRIME TRACKING GPS tracker relies on Google Maps to relay the exact information regarding location as well as the general maneuverability of the vehicle or the person/item you are tracking.
Through the device's mobile and desktop apps, you can establish a geofence to update you when the user has moved past or diverted from the original path as well as customizing the tracker's notifications.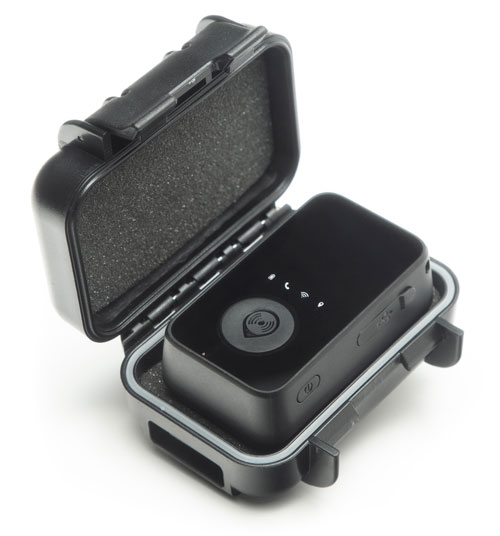 Every purchase comes with a lithium polymer battery that goes for up to two weeks for every charge.
The accessories included in the purchase box is a USB and outlet plug to charge the gadget.
For installation and easier mounting, PRIME TRACKING personal tracker has a magnetic case that is sold separately.
This magnetic case can be used to attach the tracker onto your bicycle or other motor vehicles so that you can always get the time location and route history whenever necessary.
The best part about the PRIME TRACKING GPS tracker is that you incur no signup charges when creating your account on the product's official website after purchase.
Consequently, there are no contracts or cancellation fees should you choose to terminate your subscription.
However, since PRIME TRACKING uses a SIM card to access cell networks, a subscription fee of $25 per month is applicable or $20 per month for six months.
With all its benefits, however, PRIME TRACKING GPS tracker is only limited to the United States, Canada, and Mexico.
Tracking anything beyond those countries is a problem, especially for those looking to monitor international packages and freight.
Other than that, the PRIME TRACKING GPS tracker is probably the most suitable tracing gadget for anyone who wants to keep an eye on and take care of kids, pets, and elderly parents.
With its small nature, I'd also utilize it for biking, hiking, and keeping an eye on young drivers.
Pros
Uses 4G network to give an update every 10 seconds
Has an SOS button
Compact for versatility
Two-week battery life
Cons
Requires a monthly subscription to be useful
Not the best there is for vehicle tracking
Not suitable for tracking outside the USA, Canada, and Mexico
Best for Pets: Whistle Go Explore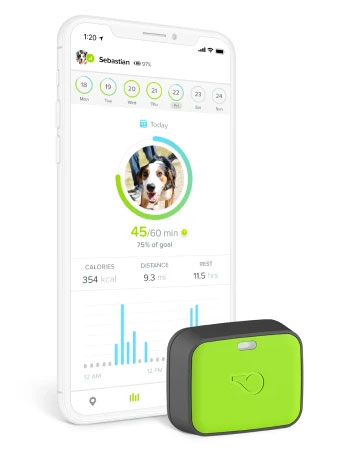 Whistle Go Explore is a premium GPS tracker and health monitor for pets.
Designed as an update to the Whistle 3 tracker, this device features impressive upgrades such as better battery life, built-in night light, easy charging, and more health information, to name a few.
There are two variants of these devices available. One of them doesn't have a night light and almost half the battery life.
The product weighs only 1.3 ounces, including the collar clip – which is a plus while fitting it to your pet.
It is also available in attractive colors such as gray with green, all gray, or gray with magenta accents on its face.
With a water resistance rating of IPX8, it can remain functional underwater for a maximum of six feet.
The purchase box contains the GPS tracker itself, a charging cable, and the collar clip, which is fully plastic as opposed to its predecessor.
This negates the need for frequent replacement of the clip. With the previous version, the Whistle Go, I had to replace the clip several times as a result of wear from attaching it to the dog's collar due to its rubber-band make.
That said, it should be noted that the clip is suitable for only flat collars and is compatible for use with small pets, including puppies and even cats, even though the health information was particularly for dogs.
The device requires a subscription for it to remain useful. You can choose to pay $9.95 per month, $95.40 for one year, or $166.80 for two years.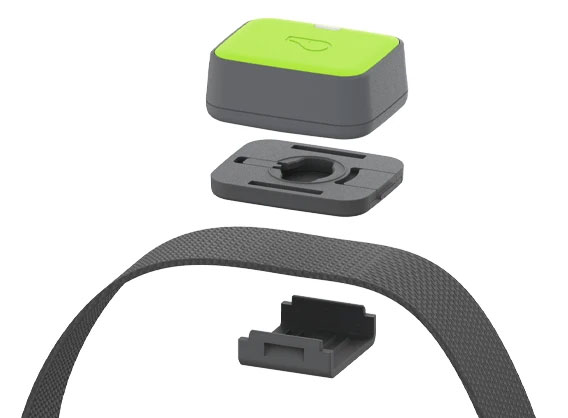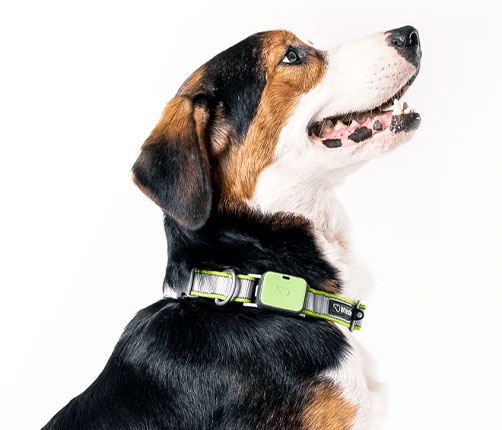 In terms of features and battery life, the Whistle Go Explore GPS tracker uses AT&T, and with the 90-day trial period it comes with, you have plenty of time to try it out in places lacking the cellular network's coverage.
Meanwhile, Whistle Go Explore comes with a battery life of up to 30 days with an average of 20 days. It also has a Power Safe Mode paired with the Wi-Fi in your home and or location.
In this mode, the GPS tracker turns off completely, but checks for a connection every few minutes.
If your pet is within the Wi-Fi coverage, the device will remain in a Power Safe Mode.
Other features that you will find exciting include the Sync Places to share with other family members, and the health tracking feature, which gives you a quick glimpse of the number of calories your pet has burned, the distance covered, and the hours of rest.
Whistle Go Explore has an app that works for smartphones but there is no web platform for tracking, which is a setback for desktop persons.
But with the Whistle App, you can set an activity goal, notifications through push, SMS texts, or emails, and you can update the achievements of the activity of your pet or dog.
That said, the Whistle Go Explore GPS tracker is ideal for anyone with a pet. The night light that guarantees that you spot your dog at night adds to the amazing features this device incorporates.
Pros
A remarkable battery life
Has several safe zones
Night light for visual tracking
Works for both cats and dogs
Cons
No desktop interface support
Notifications tend to lag when the pet is out of the safe zone
Requires a monthly subscription
Advertisement
CONTINUE READING BELOW

Best for CARS: Bouncie Connected Driving GPS
Bouncie GPS Tracker is small and compact with the same working mechanism as other similar devices.
But in retrospect, Bouncie may be a simple OBD port GPS tracker, but it falls in the middle range regarding its affordability.
The device strikes a good balance between the premium GPS brands with zero activation charges and no long-term binding contracts. The monthly subscriptions are also incredibly low.
Bouncie may look like a typical GPS tracker, but it has a lot to offer. It comes with a powerful chip and a GPS sensor for effective tracking while utilizing AT&T's 3G network to send data to your phone.
Where Bouncie gives the premium GPS trackers a run for their money, is in its ability to be integrated into your smart home technology.
It can be paired with Amazon's Alexa and Google Home as well as the IFTTT – If This, Then That.
Its compatibility with IFTTT allows you to do things like turning on the light and the security system in your home or tweak your thermostat settings as your vehicle leaves the house to cut on energy costs.
With Google and Alexa compatibility, the commands are still limited.
Bouncie GPS tracker can be installed by plugging it in your vehicle's OBD port. It is that simple.
After installing it in your car, download the accompanying application – Android or iOS – and follow the setup instructions.
Apart from the pre-installed SIM card and the integrated GPS, Bouncie also includes other modern features such as the 3-axis accelerometer and a tamper detection system.
It also includes the ability to read engine codes, which is outputted to your mobile phone when the 'check engine' light is turned on.
As such, I recommend setting up your mobile app in your car as it prompts you for information such as mileage and VIN. Thereafter, you can subscribe to the service either online or through the in-app purchase.
The intuitive easy-to-use mobile app sports various customizations, including speed, rapid acceleration, braking, fuel, and others.
It updates the GPS location of your vehicle every 15 seconds, and its refresh rate is as exactly as advertised.
The mapping data is relayed through Google Maps, which supports satellite images while simultaneously delivering up to date information.
There are also additional mapping characteristics comprising of geofencing capabilities for alerts when a vehicle leaves or enters a specific location.
Geofencing can be easily set up by dragging circles over the locations you want to monitor and inputting your parameters as you desire.
Although Bouncie comes with much of the latest technology, its OBD support means that even vehicles built in the mid-'90s henceforth are compatible with it.
Interestingly, Bouncie isn't all about keeping track of your car's location. With its accelerometer and diagnostic abilities, the device can monitor the vehicle's driving habits.
It tracks everything, from hard braking detection to rapid speeding, to give you a conclusive report on how good or bad you handle your machine.
Often, when you are on the road and your vehicle gives you the 'check engine' signal, it does so using a light notification that indicates that something has gone wrong.
The light notification springs from a chain of letters and numbers associated with different functions and sensors in your vehicle. These codes are called the diagnostic trouble codes (DTC).
Bouncies GPS tracker can detect these codes, and it even goes ahead to summarize what the problem is, how cool is that?
This feature is extremely helpful in determining what is wrong with your vehicle, and I love that about Bouncie.
Regarding its pricing, Bouncie goes for $67 on Amazon, with an $8 per month subscription.
Pros
Includes vehicle diagnostics
Comes with a dedicated app
Compatible Google Home, Amazon's Alexa, and IFTTT
Easy to setup
Cons
Doesn't track when the vehicle is off
Suitable for vehicles with OBD support
Tracks once per minute – not quite real-time
Best for KIDS: JIOBIT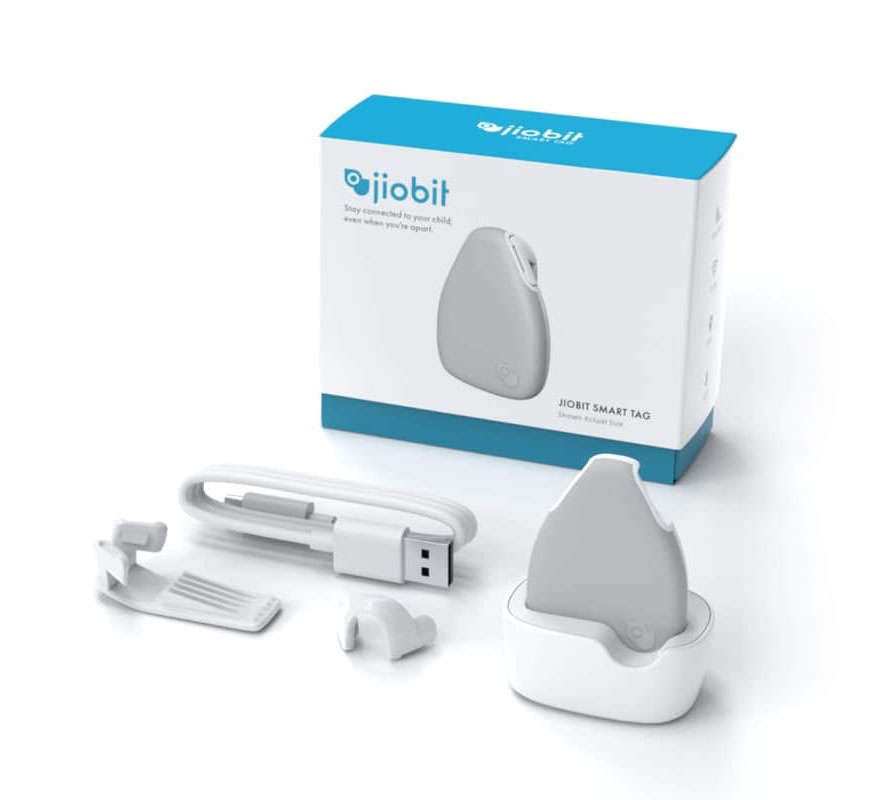 The Jiobit is a small and attractive GPS tracker with an opportune loop that can be easily attached to necklaces, keychains, shoelaces, backpacks, and other convenient spots.
Unlike other GPS trackers on the market, this wafer-sized device doesn't bind you into a contract with a service provider. It has its data network, but a monthly subscription plan is required.
The Jiobit GPS tracker brings a fancy blend of useful features like the innovative Bluetooth leash feature.
It weighs only 0.77 ounces, which is quite incredible. With two holes at the back, it can be installed almost everywhere.
The manufacturer provides a variety of ways in which the Jiobit GPS tracker can be worn. Nevertheless, it is low-key and hardly noticeable to other people.
The device connects to both 2G and 3G networks as well as Wi-Fi and Bluetooth. It also runs a virtual wireless network that combines AT&T 3G and T-Mobile's 2G coverage.
The only quibble about its network coverage is the fact that you can't see its signal strength. I find that quite frustrating.
On the plus side, the device tells you when coverage is lost though.
Without a screen, speaker, or microphone, Jiobit is quite durable. It comes with a waterproof rating of IPX8 and is shock-resistant.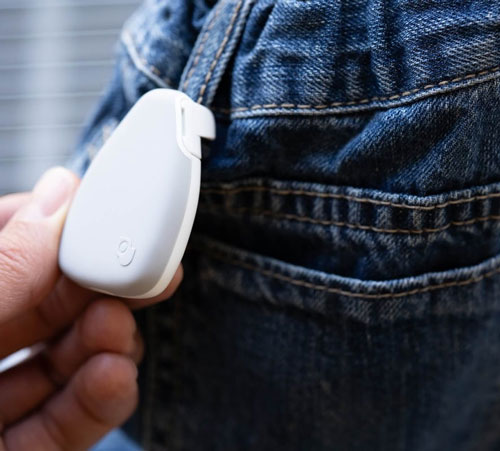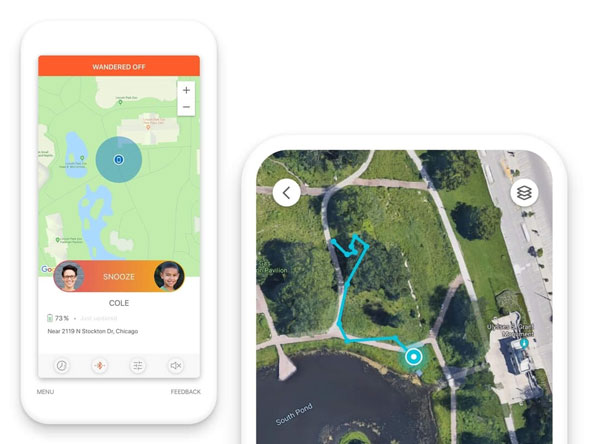 The GPS tracker has an app for Android and iOS smartphones through which you can trace where your child is and who he or she is with.
For example, if your child has several caregivers who use the Jiobit app, the GPS tracker will connect to their phone via Bluetooth whenever they are near each other.
The best part for parents also is that you receive notifications whenever your child arrives home or leaves a place.
From your smartphone, you can enter a tracking mode for live location updates as the person you are tracking moves.
The problem, however, is that live tracking wears the battery down fast, and after a while, the app asks you if you would like to revert to the map. Still, the map is refreshed every few seconds.
Even though this product is amazing, I would find it more appealing if it only had an SOS button and a trail showing where the device has been.
Also, there is no augmented-reality view for guidance when you are tracing it.
Other products in this category, often include a panic button, and most of their apps can replay the location history from any point since it was turned on.
For desktop enthusiasts, it is worth remembering that Jiobit doesn't come with a web interface, which is a bummer.
The company says that the battery life can last for a week, but depending on the use, yours may fall short. Luckily, you can always recharge it if you are consistently using the device.
You can get the Jiobit GPS tracker for $99.99 with an annual contract of $9.99 per month. Alternatively, you can pay $149.99 with the option to turn off and on the $7.99 monthly service whenever necessary. The first 30 days are free regardless of the plan you choose.
The few setbacks this device has are a trade-off compared to its benefits. I love the Bluetooth leash feature and its diminutive nature.
If you are looking for a tiny GPS tracker for a litany of uses, I recommend the Jiobit.
Pros
Shock-resistant and waterproof
Small and versatile
Can be used both as a GPS tracker and a proximity leash
Kid-friendly with a durable design
Provides arrival and departure notifications
Cons
No web-based platform for control
Doesn't have an SOS button
No trip history
A bit pricey with a long binding contract
Advertisement
CONTINUE READING BELOW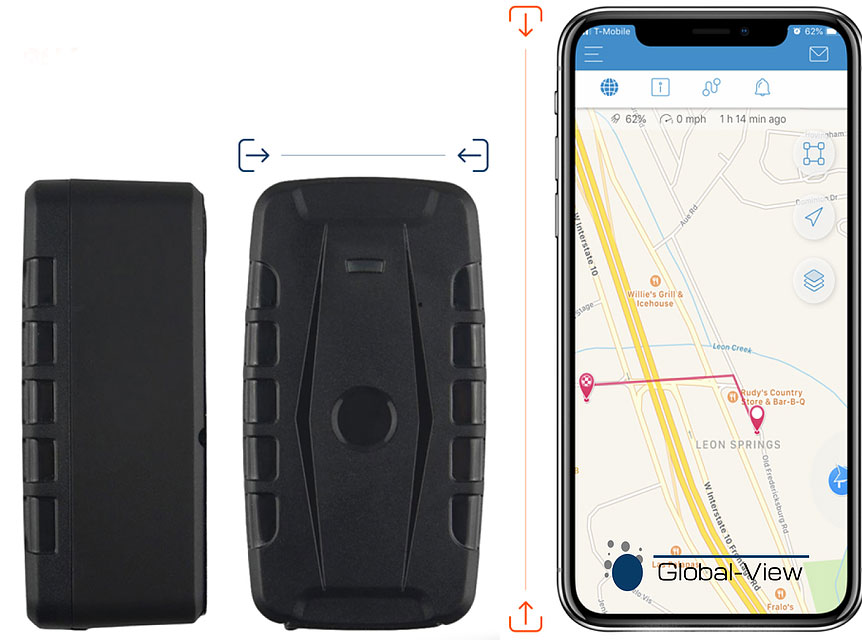 The Hidden Magnetic GPS Tracking Device by Global-View was meant for the professional market, which is why it makes an ideal choice for vehicle tracking.
Unlike most of the GPS trackers available for vehicles, this device is equipped with serious upgrades such as the ability to cover up to 140 countries.
Better yet, the Hidden Magnetic GPS Tracking Device contains a specific fleet tracking service with reports personalized to vehicle owners.
Weighing in at 15.8 ounces, this GPS tracker is applicable for a wide range of uses such as tracking people, objects, and motor vehicles.
The purchase bundle encompasses the GPS tracker, a charger, a SIM card, a wall plug, a USB cable for charging, and access to Global View Net GPS tracking cloud application.
Installation simply involves attaching it to a flat metallic surface. It can be placed under the car, in the trunk, on your equipment, or your trailer.
Global Net View claims that the device can last for a whopping 8 weeks while relaying real-time GPS tracking and up to 3 to 4 months on standby mode.
When the object you are tracking is not in motion, the GPS tracker will enter sleep mode.
With impressive battery life, you can track vehicles or packages that you won't have easy access to for a while.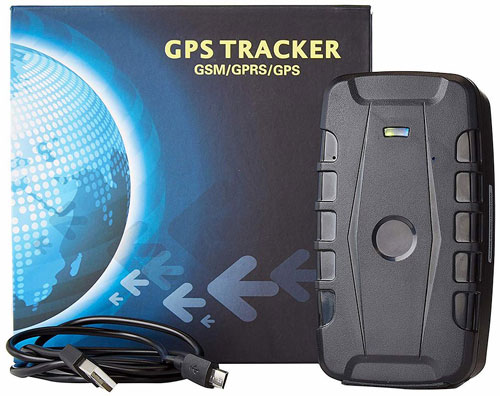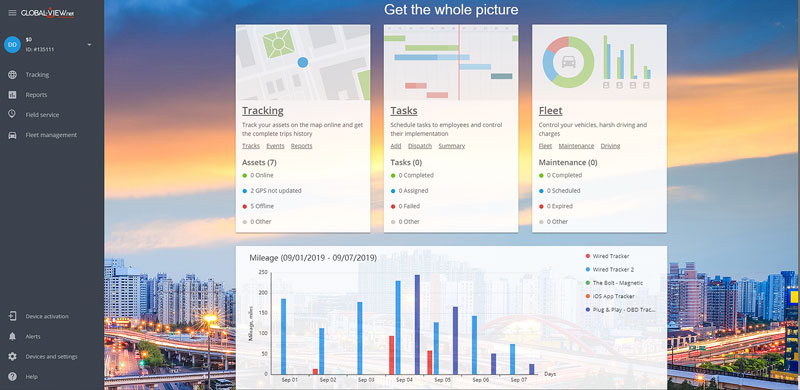 The manufacturer offers a no contract, no fees, and an easy cancellation low-cost plan starting with $18 a month.
Upon paying the monthly subscription fee, you are granted access to the device's Android and iOS applications, a web-based cloud software, GPS tracking data plan, one-year data storage, as well as reports.
Featuring automated weekly reports, one doesn't necessarily need to log in to check them. You can simply set up a report to be delivered automatically at regular intervals, depending on your preference.
The tracker can keep a record of the trips and routes taken, the speed, and stops made. These reports can be generated depending on the data retrieved from the device.
The automated emails can be sent via mail and or texts for all the scenarios, including when the tracked vehicle leaves or enters a Geofence or when the device is tampered with.
You can activate this device through website registration after the purchase and thereafter login to access the data you want after installing it in a vehicle.
Although the manufacturer offers technical support through email, text, chat, and phone, the service is only US-based.
Similarly, the features of this device may not be applicable for simple uses. For discreet purposes, it may be a little bit conspicuous.
Other than that, if you deal with fleets and long-distance transit services, this makes the most appropriate GPS tracker to install.
Pros
Comes with high-end features
Extra-long battery life
Extensive depth and history in the data logs
Easy installation
Automated alerts
Cons
Features mainly tailored towards professionals
A little conspicuous for some users
Need to double-check the mounting to ensure it is firmly in place
Conclusion
GPS trackers are useful if you live in places where theft is high. Also, if you are keeping a tidy maintenance record of your vehicle, is managing a fleet, or simply wants to keep an eye on the elderly or a young one, you need a GPS tracker.
For a variety of these applications, the PRIME TRACKING GPS tracker is an excellent solution for meeting your needs.
It provides fast updates, is highly portable, has a long battery life, and is affordable.
Click here to check the product out.