Best Outdoor Grill Utensils Tool Set Used for Grilling Food
Best Grill Utensil Set Table Comparison
| | | | | |
| --- | --- | --- | --- | --- |
| FlipFork Boss 5-1 Grill Tool | InnovaGoods Professional BBQ Set | Blackstone Flat Top Griddle Tool Kit | OlarHike BBQ Grill Tool Set | Veken BBQ Grill Utensil Set |
| | | | | |
| | | | | |
| This handy tool is actually a five-in-one utensil that makes grilling simple. The Boss Flip Fork lives up to its moniker since it can really do just about everything needed at the grill. | Look like a professional pitmaster when you arrive carrying the Innovagoods Professional Barbecue Set storage case and open it up to showcase the 11 perfect grilling utensils. | For a different kind of backyard grilling set up, the Blackstone flat top griddle kit is a perfect fit. | When you want to take your grilling accessory game to a new level, check out the comprehensive tool set offered by OlarHike. | The grandaddy set of them all, Veken brings the most comprehensive, thoughtful backyard barbeque set option to the grill. |
As summer begins, outdoor grilling season heats up for just about everyone, even if the summer temperatures outside are still comfortably cool. With summer dinners prepared on the grill on the horizon, BBQ accessories are something everyone needs and will use right now. Whether you are grilling up dinner for one or barbequing for a crowd, using the right grill utensil makes the job easier and more enjoyable.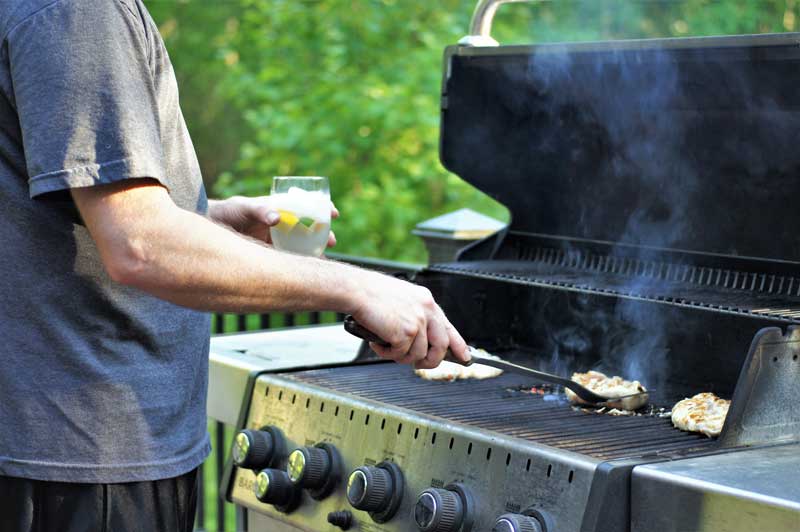 Instead of just relying on a single trusty grill fork or spatula better suited for indoor cooking, you can find utensils and grilling sets made especially for taking care of your favorite foods as they grill over the high heat of an outdoor barbeque. From single utensils created with multiple grill tasks in mind, to large grilling utensil sets that arrive with all of the specific tools you need, there is a perfect grill utensil or set for every backyard grill master. Let's look at 5 top grill utensil sets to help you fire up the grill this season.
As far as grilling utensils go, having one or two versatile ones is a perfect strategy for the up-and-coming grill masters. Experienced grillers will know exactly which tool is needed as the cooking commences, but that knowledge comes with experience and time on the grill. Instead of searching for the right tool, having one or two that work in multiple ways can be advantageous for those that are newer to the world of grilling. Enter, Flip Fork's "The Boss" utensil.
This handy tool is actually a five-in-one utensil that makes grilling simple. The Boss Flip Fork lives up to its moniker since it can really do just about everything needed at the grill.
Flip Fork Boss has a built-in blade that is made of stainless steel and is attached to an Acacia wood handle that is attractive and very durable. The Boss is comprised of 5 utensils:
SPATULA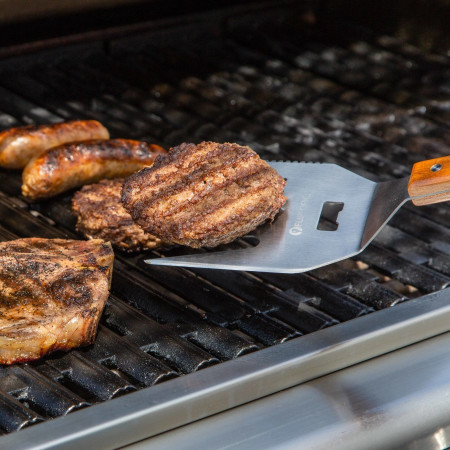 KNIFE EDGE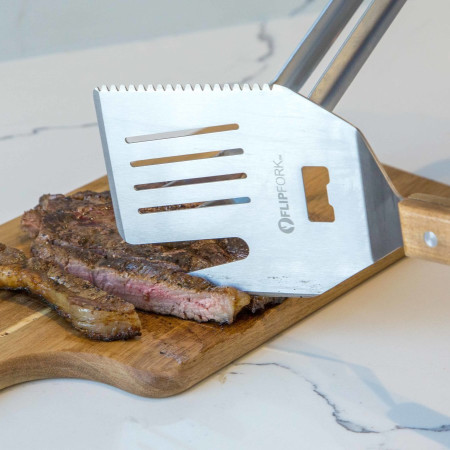 FORK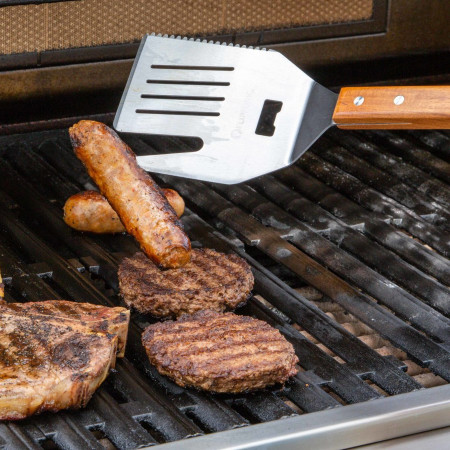 MEAT TENDERIZER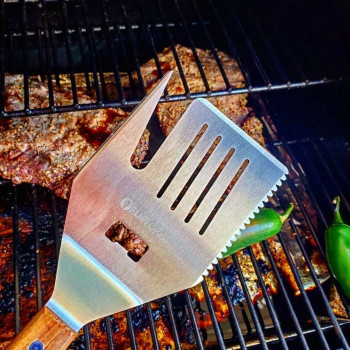 BOTTLE OPENER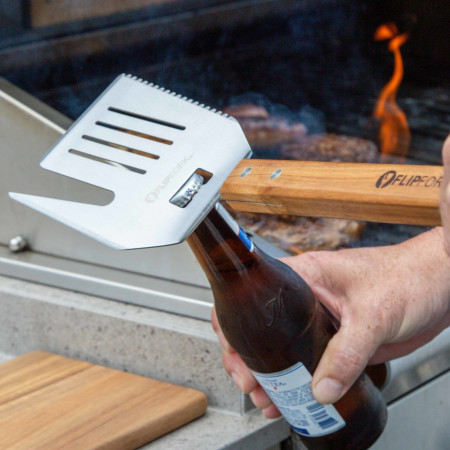 An All-In-One Tool for All Grillers
Sturdy and strong, the Boss is 18 inches in length, providing plenty of safety distance from the hand to the scorching heat of the grill. The handy bottle opener is a surprising inclusion but as every griller knows, the opener will be quite useful when you are wanting a cool beverage to sip on while your barbeque heats up.
Look like a professional pitmaster when you arrive carrying the Innovagoods Professional Barbecue Set storage case and open it up to showcase the 11 perfect grilling utensils. This set has everything you need to be a master of the grill, and even a few tools you had never thought you needed but now will never go without. The pieces included in this Innovagoods set are:
spatula
fork
knife
clamps
grill cleaning brush
4 cooking skewers
sauce brush
Extensive BBQ Set Has Something for the Novice to the Master
This set of barbeque tools really takes the utensil game up a notch with the inclusion of cooking skewers and sauce brush. The handy skewer spikes are a perfect inclusion for a well-rounded cook who likes to not only barbeque combos of meat and veggies on the skewers but also slather them with a tasty sauce with the included brush.
A clean grill is also a must, so the cleaning brush is a helpful part of this set since most grills require the scrubbing of a strong brush before each use. All of these utensils come with a handy hanging notch on the handle, and they are also dishwasher safe for easy cleanup.
The spatula comes with a helpful serrated edge to assist in checking for doneness and also is designed with a practical bottle opener notch near the handle as well. A well-rounded set, any backyard griller would be ready to conquer the barbeque with Innovagoods' complete kit.
Advertisement
CONTINUE READING BELOW

For a different kind of backyard grilling set up, the Blackstone flat top griddle kit is a perfect fit. This accessory kit is made to assist in cooking on flat griddles with a solid, smooth surface, instead of grated, direct heat grills. Arriving with all of the pieces you will need to cook up a griddle full of tasty treats, this professional grade set of utensils and accessories will have you ready to enjoy all the benefits of using your griddle. The Blackstone 1452 Professional Grade Accessory Tool Kit arrives with:
solid spatula
vented spatula
chopper/scraper
2 16oz bottles
griddle cookbook with recipe's for indoor or outdoor griddling
Griddle Masters Will Be Impressed with Blackstone
Made for a flat top griddle, Blackstone's two spatulas are specifically made to work best on a smooth surface. The slotted spatula is a must when working with higher-fat foods like eggs, oils, or some meats since it allows the excess liquids to filter through them when pressed.
The solid surface spatula is also needed when griddling, and both spatulas come with a beveled edge to protect griddle surfaces. Strong enough to deftly move your food on the griddle but flexible enough to move food quickly and smoothly around the griddle surface. These flexible yet strong spatulas feel sturdy in your hands, supporting their claim of professional grade.
This kit also arrives with a multi-use tool, the chopper/scraper. This longer, flat surface utensil is also made of the same stainless steel as the spatulas, providing a tough, durable tool for this accessory as well.
Every griddle cook soon knows that this chopping and scraping tool is a must when cooking on a griddle, so its inclusion is welcomed in this set. In addition, the two clear bottles are very useful for griddle cooks. They can be filled with water to help clean the grill conveniently during cooking with just a quick squeeze, but they also can be used to add sauces or flavorings to griddle recipes.
The fact that the bottles are clear is a great assist to busy cooks who don't want to mix up the sauce with the water, too! Since not all griddle cooks may have a wide repertoire of recipes for their griddle, Blackstone's cookbook will be appreciated by novices and experts alike.
When you want to take your grilling accessory game to a new level, check out the comprehensive tool set offered by OlarHike. Not only does this 25-piece set arrive smartly in a nifty storage bag case with a slot for every tool and utensil, but a grill safe silicone glove is included as well to protect hands from the searing grill temperatures. This extensive set comes with these utensils and accessories:
power tong
sauce brush
chef's spatula with multiple-use edges
barbeque fork
food thermometer
skewer set
food handle set
knife
injector
grill cleaning brush and an extra replacement head
salt and pepper shakers
OlarHike's Unique Accessories Make This Set a Must-Have
With such an in-depth collection of utensils and accessories, no grill master could go wrong with OlarHike's set. Each utensil is made with a strong stainless steel of a thicker quality than other utensil set. These OlarHike utensils are also big enough that you won't have to worry about the heat and flames touching your hands as you turn your food, especially if you have a larger sized grill.
Coming in at 16 inches in length, these barbeque utensils are a few inches longer than the standard-length size, adding in the extra protection you need. All tools come with a loop for hanging and are easily cleaned up with warm, soapy water.
A Set with All the Bells and Whistles
This set is perfect for the backyard griller who has a starter set of tools and utensils, or is ready for a matched, heavy quality set that will last a long time. These utensils feel heavy and solid, just what is needed when barbeque season heats up for the amateur or experienced griller.
The inclusion of a meat thermometer with a long, heat-resistant handle helps this set stand out, as well as the addition of a seasoning injector, usually something to be searched for separately from a barbeque accessory kit.
Skewers are useful with their high-temperature resistant handles, and the food handle sets are ready to pop into corn on the cob after grilling. All in all, this OlarHike 26-tool set is a winner for just about every backyard grilling enthusiast.
The grandaddy set of them all, Veken brings the most comprehensive, thoughtful backyard barbeque set option to the grill. This set of utensils and accessories arrives with 11 items complete with a carry case, but it includes items not present in the other grill sets. Included in this set are:
barbeque knife
4-in-1 spatula
silicone baster brush
barbeque fork
tongs
shredder claws
grilling mat
100 bamboo skewers
storage apron
grill cleaning brush
Advertisement
CONTINUE READING BELOW

The Grilling Apron Difference
First, the carrying case is unique because it is actually a heavy-weight canvas barbeque apron that has slots and pockets to fit all of the utensils and accessories into. Once removed, the apron can be worn as a covering to prevent splatters and heat contact with the grill. Of course, the grill master might just plan on keeping the necessary tools handy in the apron while grilling since the utensils each can be carried securely in their appointed secure slot.
As a space saver, though, storing the tools in the apron before hanging it up is a perfect solution for grillers who don't have a lot of indoor room to keep their oversized grilling tools and accessories.
Uncommon Accessories from Veken
In addition to the distinctive apron, the Veken set comes with a grilling mat. This heat resistant mat can be used on the grill to create a griddle-like surface, and the information booklet provides all the do's and don'ts for its use as well as the use of the other rarer barbeque accessories like the shredder claws.
Anyone who has ever tried to use two forks to shred a huge hunk of meat into small, bite-sized pieces will appreciate the inclusion of these amazing solid surface tools. Meant to be used after grilling for shredding or even to move large pieces of meat with two hands, these spikey-tipped tools have a large grip space for each hand.
With a swift, easy motion, any meat can be easily shredded quickly using these claws. Another interesting inclusion in this barbeque utensil kit is the locking tongs. Most tongs are always springing open for use, but this pair can be locked down to securely hold its precious cargo without the fear of it slipping loose.
Best Grilling Utensil Set for a Master or Novice Griller
While each of these sets would be appreciated by almost every backyard griller, be sure to snap up the set that best matches the needs of your barbeque king or queen. For a newbie to the grilling world, Flip Fork 5 in 1 BBQ tool is a perfect starter tool since it is so versatile and simple to use. If your grill master has a mismatched set of utensils and accessories ready for an upgrade, but not a lot of room to store them, then either a Flip Fork spatula can help them consolidate or Veken's grill set that stores neatly in the companion apron might fill the bill.
For the backyard or indoor griddler, Blackstones' griddle set is a perfect starter set up a griddle station in style.
For the cook who has everything, or one who would like to have it all, the best bet is OlarHike's huge 25-piece utensil and accessory set. With this kit, you know that your novice or master griller will have every accessory and utensil right at their fingertips, and the perfectly crafted barbeque meal is in their not-too-distant future.
You can't go wrong with any of these sets, though, since they are all well-made and expertly do their barbeque jobs very well for a grill master of any level.