Can This WiFi Extenders Help You To Boost Your Internet?
Are you tired of losing your Wi-Fi connection because of the distance from your device to your router? Do you want to extend your Wi-Fi signal so that you can do things in other parts of your home or property? Do you need a stronger WiFi signal for your HD streaming and gaming experiences? If so, then you might find a WiFi range extender that will help with these issues. A range extender is designed to help boost the WiFi signal from your router throughout your home, and it can greatly improve your overall experience.
However, it can be difficult to choose the right range extender in some cases because of the variety of features that they provide. You need to be aware of various types of statistics to ensure that you are purchasing the right extender. To help with this, we have provided reviews on the top 10 WiFi range extenders, on the market, and we have also added an extensive buyer's guide to help answer some questions that you might be having when looking at these different models to help ensure that you are making the right purchasing decision for you.
Wi-Fi Range Extender Buyer's Guide
Before purchasing a WiFi range extender, you should understand what it is you are purchasing if you plan on getting the best device for your needs. Here are a few standard things you should consider when looking at extenders.
Unlike most tech devices, you do not have to spend an arm and a leg to find an excellent WiFi range extender. Some of the best extenders on the market can be purchased for lower than $50, but even if you have higher-tech requirements, you should easily be able to find a WiFi range extender for less than $200 that will be able to do everything that you might need it for.
Depending on your router, you might come into contact with different WiFi standards that will greatly impact the extender you choose and how helpful that extender will be. For instance, most newer router models use an 802.11ac standard. Therefore, it is important to make sure that the extender you purchase is compatible with this particular standard to help ensure that it works properly.
Plug-in Extenders vs Desktop Extenders:
Most extenders plug directly into the wall, but some extenders are designed to sit on a desk or table, almost like a traditional router. For the most part, this decision is entirely up to you. However, it is important to note that the larger desktop models do have a lot fewer limitations that traditional plug-in units have, and they usually have more extensive internal hardware. Plug-in extenders still work and they are usually a less-expensive option.
You must consider the placement of your extender because this is important for the extender to work properly. If it is placed around any sort of blockage to the WiFi Signal, the extender will provide a poor signal strength than it will be optimal for most uses.
Many people believe that there are only one or two top manufacturers, but the important thing you should remember about manufacturers is to ensure that they stand behind their products. After all, if a manufacturer will not stand behind their product in some form then you should steer clear of their extenders.
Long Range Vs Short Range Extenders:
Long-range WiFi extenders tend to cost more, but if you have a small home, you might be better off dealing with a short-range extender. It is important to figure out the range on the extender you are planning on purchasing to make sure that it will be able to cover the range that you need. It is possible to put multiple short-range extenders on the same network line, but it might be better to invest in a long-range extender because the more devices you have a broadband network the slower the speed will become.
If you are considering a WiFi extender, you should also consider the possibility of purchasing a new router as well. A WiFi extender can only perform at its best if the router you use is also performing at its best. Therefore, for the best WiFi performance, you need to consider if any or all of your equipment also needs to be upgraded.
WiFi Range Extender FAQ Section
A:
This is possible, but you need to understand that with each device you have added on the network will split the broadband between the devices. So, if you have a really large home you might find having two extenders a necessity, but you want to minimize the number of devices on your broadband line to ensure the best performance.
A:
It is important to remember whenever you add any sort of device to your line you risk security if you are not careful. Therefore, it is important that when adding an extender to your broadband line you will need to make sure that the device you add does have some sort of security system with it. However, you can also boost the security on your router to help ensure the safety of your network, as well.
A:
Not all extenders can provide you with a new SSID, but if you are wanting to find one that does have it, you should ensure that the model you purchase will be able to provide you with the SSID. If this is capable, it should be in the description somewhere, which makes it easy to pick and choose the right WiFi extender.
Finally, you must conduct thorough research before making your final purchasing selection. WiFi extenders do not come one-size-fits-all, which means that you will need to know what your expectations are before choosing the right extender for your specific needs. That being said, here are 10 of the best WiFi range extenders that we have found on the market.
| Brand | Editors Rating | Available | Review |
| --- | --- | --- | --- |
| | | | |
| | | | |
| | | | |
| | | | |
| | | | |
| | | | |
| | | | |
| | | | |
| | | | |
| | | | |
The WiFi UltraBoost has a lot of excellent qualities that are designed to make boosting your WiFi signal easier and more convenient for most users.
By hooking the UltraBoost to your broadband system, you will be able to help prevent any dead spots in your home. In the past, the only way to minimize your dead spots or boost your WiFi signal was by moving your router to a place that has fewer restrictions.
However, with the use of the UltraBoost, you can increase the strength of your router's signal without having to move your router or furniture around. Unlike some WiFi extenders, this one is powerful enough to allow you to stream videos through the device, which means that you will not have to directly hook your device to your router via an Ethernet cable. This extender is a little on the high-budget side, but it makes up for it with the high-performance that it provides.
TP-Link is a well-known manufacturer of ethernet adapters, and this is one of the most popular models, on the market. If you are looking for an adapter that is set up, then this might be the best option for you.
Unlike some of the more complicated Ethernet adapters, this one has a simple plug and play design that doesn't require any excess wires or configuring to work properly.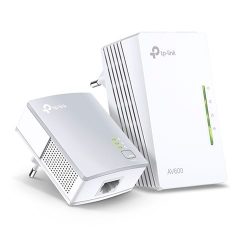 If you are looking for a range extender that can help to ensure the safety and privacy of your network, this might be a good solution for you. It can provide data encryption by 128bit AES. Although most range extenders are frowned upon by gamers and those that watch 3D videos, this particular range-extender model is ideal for these types of situations. Finally, TP-Link has provided a 2-year warranty on this range extender that will help with your peace of mind on purchasing it.
TP-Link is well-known for providing quality WiFi extenders, and this might be one of the best WiFi extender models.

If you are looking for a WiFi extender that is capable of connecting multiple devices, this might be a good choice.

It is capable of connecting up to 8 different devices to your broadband connection, and it has the capability of boosting your internet WiFi coverage by up to 800 sq feet when connected to your connection.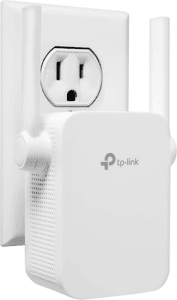 It has two external antennas that are designed to help improve the range of the extender, and when you are setting it up, it has a smart indicator light that is designed to help you find the best optimal location. Finally, TP-Link likes to give their customers peace of mind on their products, and they provide a warranty with this model as long as it is purchased by one of their provided authorized sellers.
This is one of TP-Link's top range extender model, and it comes with a lot of features that might make it the best suited for your needs. First, it comes with a wireless bridge and AP mode. This is designed to allow the WiFi range extender to connect to most gaming consoles and smart devices to your local WiFi network. Regardless if you use iOS or Android devices, TP-Link has designed this extender to be compatible with their tether link, which makes it easy to set up the extender and manage its settings from any of your devices.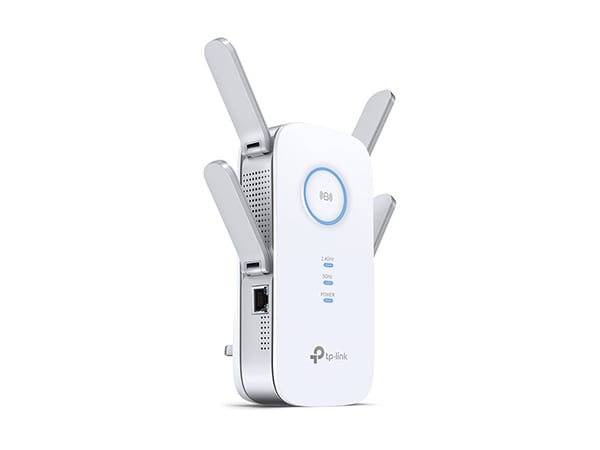 If you have issues figuring out how to set up these types of devices, you will enjoy the LED lighting that it has, which helps to simplify the setup process. Finally, unlike other extenders, this one is compatible with most types of WiFi routers, which makes it excellent for people who might have rare router devices or the most common router, on the market.
NETGEAR is known for providing quality technology devices, and this might be one of their top WiFi range extenders available, on the market.
Unlike some other extenders, this device is a stand-alone table unit, and it is capable of directly connecting to most wired devices like gaming consoles and smart TVs.
It was designed to also help keep your home from having WiFi dead zones, which can greatly hinder your overall performance.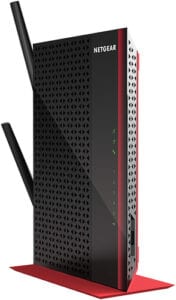 Plus, this WiFi extender is designed to be compatible with most existing routers, and it is designed to be easy to set up with most mobile user interfaces. However, due to its design, this extender is better suited for smaller homes to keep up a strong wifi connection to your router. However, it does provide a stronger signal than some of the plug-in adapters.
This is one of TP-Link WiFi range extenders, and it was designed to provide a variety of features and options for eliminating WiFi dead zones in your home. This model can provide cloud functionality for remote management and FW updates, which makes it easy to ensure your device is always performing at top performance.
 For the peace of mind of their customers, TP-Link has provided a 2-year warranty with this model. Plus, they provide 24/7 technical support to help their customers with any technical issues that might arise with this model.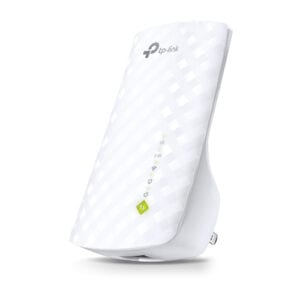 TP-Link realizes that there are a variety of router models available on the market, and because of this, they have made this WiFi range extender compatible with most types of smart devices and gaming consoles. It is also designed with a high-speed mode that is perfect for gaming and HD streaming experiences. However, it is important to pay attention to the GHz signals that you are using because this one is not designed to boost higher GHz signals if it has access to lower GHz signals.
NETGEAR is a well-known manufacturer in the world of WiFi devices, and this might be one of their most popular WiFi range extenders to date. 
Just like most NETGEAR devices, this one was designed with a simple setup, which might make it the perfect option for someone that doesn't have a lot of technical knowledge. 
This WiFi range extender was designed to be compatible with most cable modems and wireless routers, which makes it easy to sink this extender with whatever router or modem you have.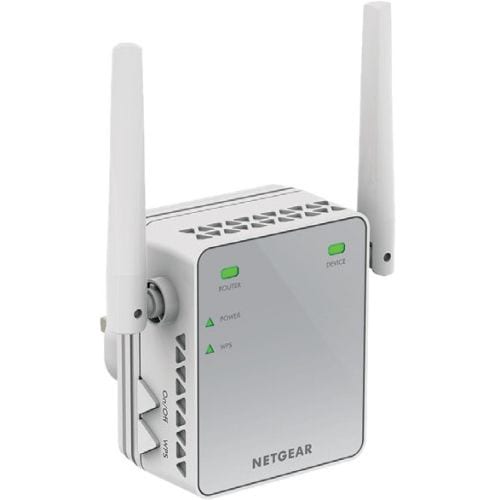 This model is capable of providing up to 300Mbps performance, which is higher than most models of this caliber. With this extender, most WiFi activities can be carried out without flaw, but it is important to ensure that the extender is not blocked from the initial WiFi signal of the router. Finally, this WiFi range extender has its Ethernet port, which will allow you to directly hook most streaming devices and gaming consoles to the extender, thereby increasing their overall performance.
Aigital has worked hard to become one of the top brands on the market for WiFi extenders, and this model is designed to be able to hand up to 1200Mbps. Unlike some other models, it is also designed to be compatible with dual-band wireless internet connections.
With this model, you will experience easy setup, and it can be set up using either a laptop or a phone device.
Plus, this device is compatible with most routers and models that are out on the market, which helps to increase the probability that it will work with the device you already have.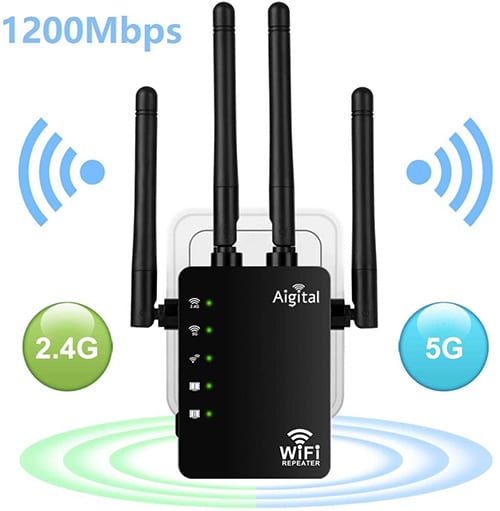 If you have a dual-band WiFi signal in your home, this range extender was designed specifically to be capable of supporting such things. Plus, it is capable of high transmission rates, which helps to increase the overall performance of your WiFi signal and experience.
If you are looking for a long-range WiFi extender, then this might be the best option for you. It is a device that is designed to help eliminate any WiFi dead spots that you might experience with your WiFi router.
You can choose between 3 different working methods with this extender, and it was designed to be easy to set up, even if you do not have any technical knowledge. Therefore, you do not have to be a professional to use this particular extender booster.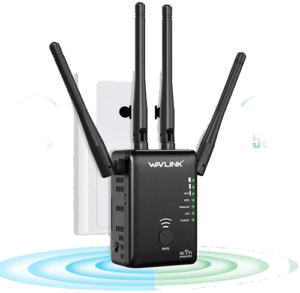 If you have a larger home, this might be the best option for you because it is designed specifically to be a long-range WiFi booster. You can place this booster at the max range from your router to help extend your WiFi network. Plus, it is designed to help stabilize your network and compatible with most types of devices.
Edimax is one of the top manufacturers for many types of WiFi routers, devices, and WiFi extenders. Unlike many other WiFi extenders, this one is designed to plug directly into a regular home outlet.
This extender was designed to be lightweight, which helps to reduce the stress on the outlet, ensure that it doesn't compromise the outlet. This extender was designed to be easy to use, and it comes with a CD that makes installing the software to your devices easier. It helps to reduce the probability that you will install it wrong, compromising how it works.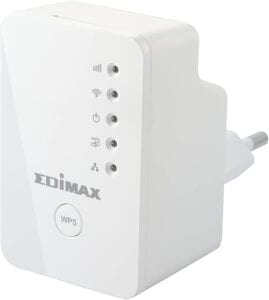 If you have issues reading and understanding these types of devices, then this might be the best option for you. On the front of the extender, there are a series of lights that help you to keep up with the status of the extender. Finally, you will be able to easily extend your WiFi connection throughout your home, and you can connect it easily to your gaming consoles and other devices to help ensure a quality experience.
Now that you have read through the reviews on the WiFi extenders above, we have concluded that the best WiFi range extender is 
Wi-Fi UltraBoost
. Although this extender is higher-priced than some of the other above models, it will provide you with the best quality of range extension for your WiFi router strength. It is strong enough that you will not have to worry about moving your devices to your router every time you want to stream videos.
That being said, this does not mean that this will be the best WiFi extender for your particular needs. You need to makes sure that you research your needs and know what it is you want before you make your final purchasing decision. This will help to save you time and one in the long wrong on purchasing the wrong WiFi range extender for you.