Everybody assumes that they know the ins and outs of their own bodies.
But here's the thing – it isn't that easy! You can't be certain 100% of the time!
Sure, you know about your current body state  –  lean, chubby, skinny or brawny – but you don't have a clue as to how you ended up like that.
In fact, looks can be deceiving – you could look as thin as bamboo, but have dangerous fats building up inside of you.  That could potentially be a sign of problems such as type 2 diabetes, insulin resistance or even heart disease!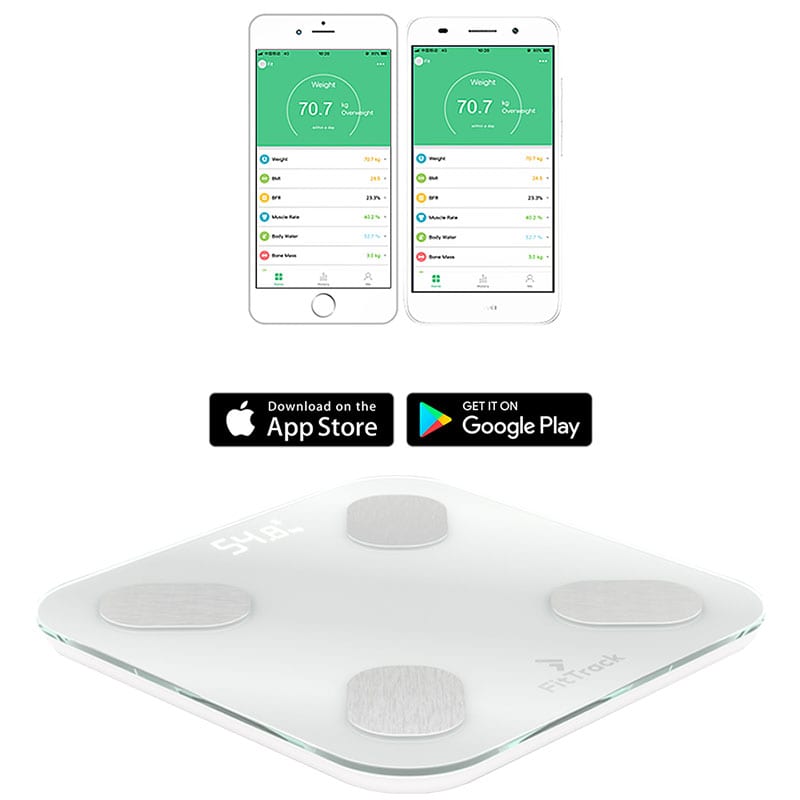 Frequently Asked Questions
How does FitTrack accurately measure my body and health measurements?
FitTrack uses advanced Bioelectric Impedance Analysis (BIA) technology. A safe and low electrical signal gets sent to your body through FitTrack when you step on it.
The signal meets resistance when hitting fat tissue but swiftly passes through the water found in hydrated muscle tissue. This resistance, called impedance, is used to calculate using FitTrack equations to determine composition measurements. You'll be provided with your body composition measurements in under 20 seconds, depending on the monitor.
Fat mass + Bone mass + Muscle mass = 100% of the body composition
Because water is found in fat and muscle, the water mass can't be added when calculating the body composition to other metrics.

What Health & Body insights will FitTrack give me?
FitTrack provides you with 17 trackable Health Measurements! These are Weight, Body Fat Ratio, Hydration Level, Muscle Mass, Body Mass Index, Visceral Fat Index, Subcutaneous Fat, Base Metabolic Rate, Muscle Rate, Bone Mass, Protein rate, Metabolic Age, Standard Weight, Weight Control, Fat Mass, Weight without Fat, and Protein Mass.
Can I use FitTrack to track my entire family's health?
Of course! FitTrack can store up to 8 different accounts, allowing for tracking of the entire family's health. You can even use "Baby Mode," which helps parents track their baby's weight.
What is the maximum weight limit supported by the scale?
FitTrack supports up to 400 pounds of weight (that's 181.437 kilograms).
Can the scale be used without the app?
Definitely! You can use FitTrack as an ordinary scale. You can use the scale without recording your weight by choosing the option in your app.
I have a pacemaker – can I still use FitTrack?
As FitTrack uses electrical signals, people with electronic medical implants are advised not to use body composition monitors. The signals may cause interference with their operations.