Chin straps may seem peculiar, but they serve a purpose – helping people reduce snoring by keeping their mouths closed during sleep. Since mouth breathing worsens snoring for some people, chin straps promote nose breathing instead. Additionally, they may aid individuals who suffer from teeth grinding or dry mouth caused by sleeping with an open mouth.
If you're on the hunt for the best anti-snoring chin strap, look no further. We've compiled a list of top-performing options to help you get started. When selecting the right one for you, consider factors like fit, materials, and whether the closure placement suits your preferred sleep position. So let's get started!
1) Snore Strap
The Snore Strap is a neoprene anti-snoring chin strap that is designed to provide a comfortable and effective way to stop snoring. It supports your lower jaw while you sleep, preventing it from opening and minimizing the airflow from the mouth, which in turn eliminates snoring and dry mouth. This can help you and your partner to have a night of better sleep and wake up refreshed without fatigue.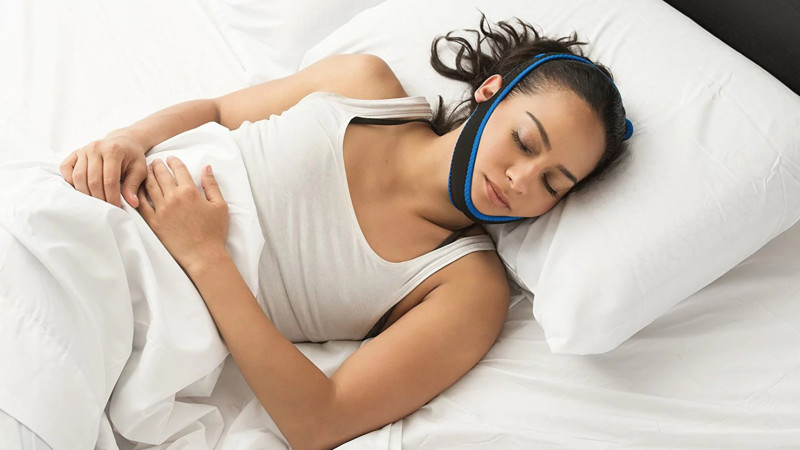 The Snore Strap is also designed for easy daily use, with adjustable Velcro straps that help you personalize the amount of support you want for your jaw. It is made of high-quality, safe, and comfortable materials that provide support for jaw dislocation problems. The cutouts for the ear are big enough to accommodate different sizes, too, making it a one-size-fits-all strap. It is also machine washable and easy to maintain and clean for your convenience.
2) Snorple Anti-Snoring Chin Strap
The Snorple Anti-Snoring Chin Strap offers a practical solution to this problem by preventing the jaw from falling open and obstructing the airway during sleep. For individuals who already use anti-snoring mouthpieces or mouthguards, adding the Snorple chin strap to their routine can be a game-changer in eliminating snoring.
Snorple is a reputable brand in the anti-snoring industry, committed to producing high-quality and reasonably priced products. The Snorple Anti-Snoring Chin Strap is designed to provide a comfortable fit, ensuring that users can sleep peacefully and wake up feeling refreshed. With Snorple, you can finally say goodbye to snoring and enjoy a night of uninterrupted sleep.
3) Marpac Halo Chin Strap
Whether you're a mouth breather during sleep or need extra support to keep your mouth closed, the Marpac Halo Chin Strap offers a simple and effective solution. With its high-quality materials and ease of use, it is no surprise that Marpac is a trusted name in the industry. So don't let snoring or sleep apnea disrupt your restful sleep; try the Marpac Halo Chin Strap for a comfortable and effective solution.
4) Respironics Chin Strap
5) Sunset Comfort Premium Chin Strap
At less than $15, the Sunset Comfort Chin Strap is a wallet-friendly option that doesn't sacrifice quality. However, it should be noted that this chin strap requires handwashing when cleaning is needed. Overall, the Sunset Comfort Chin Strap is a comfortable and affordable choice for individuals seeking a flexible and customizable CPAP chin strap.
6) Sunset Healthcare CPAP Chin Strap
7) CareFusion PureSom Ruby Topaz
Suppose you're looking for an affordable and reliable solution to enhance your sleep therapy experience. In that case, the CareFusion PureSom Ruby Topaz Adjustable Chin Strap is an excellent option that can fit all facial sizes comfortably. With its user-friendly design and high-quality materials, this chin strap can help you achieve a more restful night's sleep.
8) CPAP Chin Strap by BRISON
Additionally, it's recommended for users with TMJ, as it can help alleviate joint pain. This chin strap's ergonomic design helps elevate jaw aches, and it can even hold a cold or heat pack to soothe the jaw area.
It's available in two sizes, universal and large, and is generally a good fit for most users. While some discomfort may be felt during the first week of use, your body will eventually adjust to the strap with continued use.
Tips
Make sure to measure your head and chin to ensure the right fit for your chin strap.
If you experience discomfort or pain while using a chin strap, try adjusting the fit or switching to a different brand.
Proper cleaning and maintenance of your chin strap are crucial for ensuring its longevity and keeping it hygienic. It is recommended to follow the manufacturer's instructions carefully for cleaning and maintenance. Most chin straps can be washed either by hand or machine. Keeping your chin strap clean and well-maintained ensures optimal performance and hygiene, allowing for a comfortable and uninterrupted night's sleep.
What Are the Other Possible Uses for Chin Straps?
Chin straps are primarily used to help with snoring and sleep apnea by keeping the mouth closed during sleep. This helps to maintain constant pressure within the airways and reduce snoring and apnea events. Chin straps are also commonly used in conjunction with CPAP machines, which deliver pressurized air to the airways to prevent them from collapsing.
In addition to these primary uses, some people also use chin straps to help with bruxism (teeth grinding) and to keep their jaw in place while they sleep. Some athletes also use chin straps as part of their protective gear to prevent injuries to the jaw and face.
Choosing the Right Chin Strap for Anti-Snoring and CPAP Therapy
Proper Sizing and Fit
Selecting the right size and fit for your CPAP chin strap is crucial. A well-fitted chinstrap should support your jaw while keeping your mouth closed comfortably during the night. It's essential to measure your head and read reviews before purchasing, as chinstrap sizes vary between manufacturers.
Compatibility with CPAP Mask
Most CPAP chinstraps can work with any CPAP mask, but some chinstrap or mask designs may not be compatible. Before purchasing, examine your headgear and chinstrap to ensure that they will fit well together. Also, read all available information, as some chinstrap manufacturers may acknowledge any mask incompatibilities.
Material and Comfort
CPAP chinstraps have three components, each made from different materials: the chin rest, anchor strap or straps, and closures. Some people may prefer a cotton chinstrap with buckle closures, while others may find a polyurethane fabric chinstrap with Velcro closures to be more comfortable. It's important to consider your physical limitations, skin sensitivity, and comfort preferences before selecting a chinstrap.
Durability
A high-quality chinstrap can last up to 2 years, while some lower-quality models may need replacement after less than six months. While price isn't always an indicator of durability, models from reputable manufacturers typically last longer than less expensive options from unknown competitors. Make sure to choose a durable chinstrap to get the most out of your investment.
---
Abdo is a Zoopy writer who loves spending his free time outdoors, camping, and enjoying the peace that nature brings. He also enjoys fixing things - he's particularly good with electronics. His favorite movie is I Am Legend, and he's fascinated by survival gear and safety.
---