Summary of Our Top Picks
During a power outage, many people's first reaction is often to reach for a candle. However, candles can be dangerous, as they are prone to tipping over and causing a fire. To ensure that your home stays bright and safe during a power outage, consider using rechargeable LED bulbs instead.
These bulbs offer a range of benefits, including:
Long-lasting illumination without producing smoke and risk of fire
Reliability and affordability
Low maintenance requirements
When choosing a rechargeable LED bulb, it is important to consider factors such as brightness (measured in lumens), lifespan, battery runtime, color temperature, and recharge time.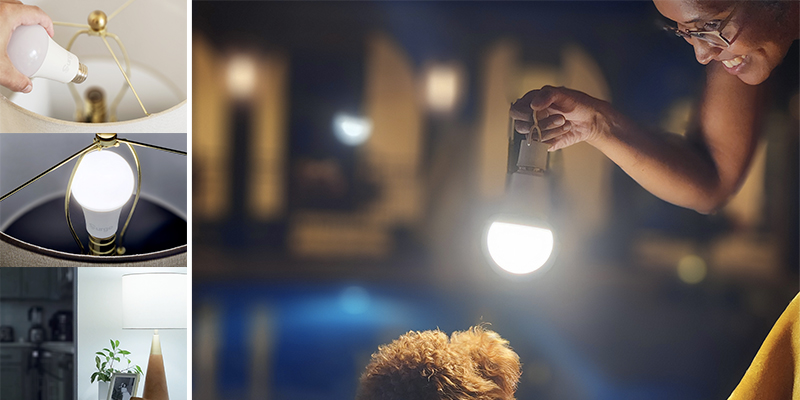 To help you make the best choice, we have compiled a list of the top rechargeable LED bulbs available on the market. Our first recommendation is a high-quality bulb that is both reliable and affordable and offers a range of features that will keep your home well-lit and safe during a power outage.

Best Emergency Light Bulbs Comparison Table
---
When it comes to emergency lighting, it's essential to have a reliable and efficient solution in place. The Surge light bulb is designed to provide just that. With its ability to automatically turn on during power outages, you can be sure your home will be well-lit and safe.
Ease of installation is a top priority with the Surge bulb. It screws in like a regular light bulb and fits into standard Edison sockets. What's more, it self-charges, so you never have to worry about replacing batteries. This means you can know that your emergency lighting is always ready when you need it. In addition to being convenient, the Surge bulb is also energy-efficient, using 80% less energy compared to traditional emergency lights. This not only saves you money in the long run, but it's also better for the environment. With up to 6 hours of backup lighting, you have enough time to safely evacuate your home or find alternative lighting solutions during a blackout.
The Surge light bulb provides a warm, comforting light that's not only easier on the eyes but it's also easier on your wallet. So, whether you're looking for an efficient emergency lighting solution for your home or office, the Surge light bulb is an excellent choice.
Key Features of Surge Emergency Bulb
Produces 800 lumens of brightness
25,000-hour life span
Edison bulb base type
Comes with a hook attachment which also enables you to easily use it as a flashlight
---
The Safelumin rechargeable light bulb is a stylish and bright option for your home. With a 5,000K color temperature, it delivers a crisp and bright light that makes small details stand out.
The E26 (Edison Screw) design of this bulb makes installation a simple task, making it an ideal replacement for traditional light bulbs in your home. The air-gap design separates the LEDs from the battery, ensuring reliable performance for years to come.
Not only is this bulb easy to install, but it also offers added functionality. For example, with just a 3-second hold or a simple press of the ON/OFF button, you can easily test the battery level or use it as a flashlight.
In the case of a power outage, the Safelumin emergency bulb can provide illumination for three hours, allowing you to continue with your activities. Backup light run time might not be like with Suge, but it's a decent option to consider. Once the lights come back on, the bulb recharges automatically. The LED technology also means that this bulb is energy-efficient, helping to keep your monthly electric bills low.
Key Feature of Safelumin
5,000K light color temperature
3 hours of backup light
Edison screw base for easy installation
Air-gap design for reliable performance
Button for testing battery level
---
The GE Lighting rechargeable LED bulb is the perfect solution for emergency lighting. Its warm, soft-white glow creates a comfortable and inviting atmosphere, making it a great choice for rooms like the kitchen, bedroom, or bathroom. With its larger A21 bulb design, it has effective heat dissipation, so you can enjoy a reliable performance for years to come.
This bulb delivers a bright 760 lumens of brightness, making it ideal for small to medium-sized rooms.
With a battery life of around five hours on a single charge, it provides plenty of illumination before power is restored. The only downside is in case of a power outage, you need manually switch the light to backup or battery mode, which is not as convenient as previous bulbs.
Whether you're studying or working late into the night, you'll appreciate the energy-efficient performance of the GE Lighting LED+ bulb, which helps keep your electricity bills low.
In addition to its primary function as a light bulb, the GE Lighting also has a built-in switch that transforms it into a handheld flashlight. So it's perfect for camping trips, nighttime walks, and more.
Key Feature of GE Lighting LED+
A21 LED bulb
Soft white light color temperature
760 lumens of brightness
5 hours of backup light
Built-in switch for flashlight mode
---
The Neporal emergency light bulbs are an ideal choice for those looking for a product that offers great value for money. It provides excellent illumination in larger rooms, allowing you to see the true colors of whatever object it illuminates, thanks to its 80+ CRI (Color Rendering Index). Each bulb is equipped with an auto backup and auto-charge feature, so they will automatically turn on in case of a power outage and can provide 4 to 5 hours of backup lighting.
The bulb also comes with a hook that has a screw base that lets you hang it or use it as a flashlight. The Neporal emergency light bulbs are an excellent choice for those who want a good product that offers great value for money. With its long-lasting design, energy-saving features, and bright illumination, this is one product you won't regret buying.
Key Feature of Neporal Bulb
Support E26/E27 lamp base
Automatically switches to the backup light
6000K white light
800 lumens of brightness
4-5 hours of backup light
---
The JackonLux is a high-tech bulb that can help you during a power outage. It features a cozy 3,000K color temperature range with a subtle yellow tint that adds a sense of warmth to your living space. Its eye-friendly design makes it ideal for living rooms, kitchens, or any other area where people spend most of their time.
The light will be automatically switched on in case of a power outage. Also, emergency lights can last 3-4 hours.
This bulb delivers enough brightness to light up your house when the power is out. It is capable of providing 850 lumens of brightness when in AC mode and up to 500 lumens when in DC mode. JackonLux also includes a screw-on base with a hook, so you can hook or use it like a flashlight or camping light. Overall good emergency bulb, looking at the features it has.
Key Feature of JackLux Bulb
E26 lamp base
Automatically switches to the backup light
5000K white light
850 lumens of brightness
3-4 hours of backup light
Charging time 8-10 hours
Tips for Choosing the Right Emergency Light Bulb
You probably did not know, but emergency light bulbs come in different shapes, sizes, brightness strengths and ways on how they work. So, in short, we are going to explain each one so you can easily decide which one better suits your application.
Shapes
Usually, emergency bulbs are the same looking as conventional led bulbs, but there are also brands that make their bulb with side openings or air gaps, which separate the LED chip and light diffuser from the base of the bulb. This way, generated heat from the bulb can better dissipate and keep the bulb cooler, prolonging the overall bulb life.
Base Type
You might not consider this while purchasing the bulb, but these types of bulbs are designed for the wider market. So they come in different base types, such as E26, which is based in the USA or in E27. There is also the "third" model, which is intractable between both E26 and E27. It's because the bulb thread is made so it can be screwed in both bases.
Bulb Size
Emergency bulbs can be bigger in size compared to conventional bulbs because of their structure and additional components, such as a built-in rechargeable battery. The bigger the battery, the bigger the bulb size. Why is this important? It's because when you need to consider where it will be used, the bulb might not fit in all lamps.
Brightness
Emergency bulbs are not only used when is a power outage; they replace your conventional LED bulb, so it's important that emergency bulb brightness ratings are the same or close to your standard room bulb.
Also, keep in mind that when a bulb switches to backup light, it will lovers its brightness, for example, from 800 lumens to 500 lumens, so that the battery lasts as long as possible.
Backup Time
The battery backup time of an emergency light bulb is the most important factor to consider when making your purchase. Most emergency light bulbs available in the market offer a battery backup time of between 3-5 hours. However, if you are looking for longer-lasting light, there are bulbs that can provide up to 6 hours and more. This will ensure you have a reliable light source for an extended period.
Backup Light Modes
What really makes an emergency light bulb what it is, is the ability to remain working in cases of a power outage. Some brands claim their bulbs as emergency bulbs, but in fact, you, when the power goes out, you need manually which bulb to the backup light. In case you unknowingly buy this type of bulb and place it, for example, in a ceiling lamp or hard-to-reach wall lamp in case of emergency, that bulb won't work until you switch it on manually. Basically is unusable for this purpose.
Final Words
In conclusion, the best emergency light bulb is an invaluable asset for any home, offering a reliable source of light in the event of a power outage. This type of light bulb is designed to be energy efficient and long-lasting, as well as offer a range of features and a competitive price. Whether you need to navigate your home during a power outage or need a reassuring presence, the emergency light bulb is the ideal choice for anyone looking for a dependable source of light in an emergency.
---
Abdo is a Zoopy writer who loves spending his free time outdoors, camping, and enjoying the peace that nature brings. He also enjoys fixing things - he's particularly good with electronics. His favorite movie is I Am Legend, and he's fascinated by survival gear and safety.
---