A handheld GPS is a valuable tool for any outdoor enthusiast who likes to get out and explore. A high-quality device with the ability to view detailed terrain, plan routes on it, and log data will make your next trip more enjoyable than ever before.
And when compared against smartphones or other types of navigation devices, this type has significant advantages. However, some handheld GPS devices, for example, have low-quality batteries and durability. So save yourself some trouble by getting a good quality GPS unit like the ones we will mention in this article.
The portable GPS devices on this list will get you through any natural disaster with ease, but we still recommend bringing an old-fashioned compass and map as well in case technology fails.
We will list the units that are best in their category:
Best Overall
Best Budget
Best for Messaging
Best Rugged
Best Waterproof
Best Touchscreen
Advertisement
Continue reading below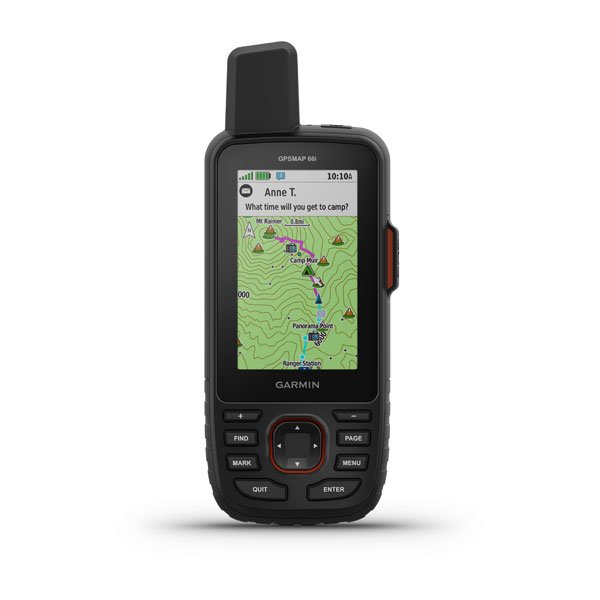 The Garmin GPSMAP 66i is built to take on any adventure, and it has military standards for thermal, shock, and water performance.
The 1.5" x 2.5" screen is visible in all lighting conditions, so you can easily see the screen no matter where you're going.
It's compatible with night vision goggles too, which makes this an incredible night accessory.
This GPS device has durable housing, which allows it to withstand the harshest weather conditions. It also includes three sensors that will measure changes in altitude and ambient pressure to have accurate coordinates and measurements at all times.
You can track your location and send an SOS message to a 24/7 response center in an emergency. The battery lasts for up to 200 hours on power mode and 35 hours on default mode, which monitors your location every 10 minutes.
Their GPSMAP 66i weighs 8 ounces, and the display has a resolution of 24×400 pixels.
Features
Two-way Messaging
With two-way messaging, you can send messages to family and friends or post updates on social media or even communicate with another inReach device.
Global Iridium Satellite Network
When it comes to emergency communications, you need a dependable system that can't be disrupted. That's why the global Iridium satellite network is used for sending your messages and alerts in case of trouble with cell phone coverage or service.
InReach Weather Forecast Service
GPSMAP 66i provides a whole bunch of excellent features. For example, it will give you a full detailed forecast, and you can even request it for any location or waypoint you're planning on going.
Multi-GNSS Support
Get more accurate navigation in challenging environments using both GPS and GLONASS systems.
Built for Adventure
The military-grade standard (MIL-STD-810) of this unit ensures that it can withstand the most challenging conditions. It's also compatible with night vision goggles.
Interactive SOS Alerts
If you're in an emergency or feeling unwell and need help fast – trigger an SOS message. The 24/7 Garmin International Emergency Response Coordination Center will respond.
Location Sharing
You can share your location with those at home or out in the field so they will be able to see where you are and your progress.
Flexible Satellite Airtime Plans
The Iridium network is a great way to stay connected when exploring remote areas. For Iridium access, you need an active subscription. You can choose the package from an annual or monthly plan.
Birdseye Satellite Imagery
Get access to high-resolution, photo-realistic maps. Easily find trails, pick out parking locations and create waypoints so you can navigate confidently with ease.
Garmin Explore™ App
With the Garmin Explore app and website, you can plan waypoints for your trip. You'll also be able to review completed activities from anywhere.
Best For Messaging: Garmin inReach Mini (GPS/Satellite Messenger)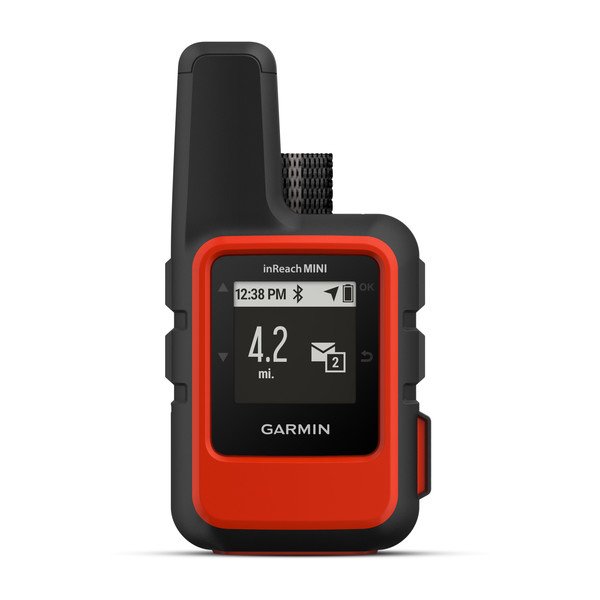 For those looking for a lightweight, easy-to-carry satellite messaging device that offers some navigation features as well, the Garmin inReach Mini could be just what you need.
The unit's primary function is sending messages and alerting friends or family members when things go wrong (a feature we see more often on GPS devices). But don't let its small size fool you; this little gem packs plenty of punch.
The inReach Mini is a popular safety measure amongst hikers, climbers, and backcountry skiers. It has garnered rave reviews for its minimalist size, providing plenty of features to make your outdoor adventures more enjoyable.
We especially love how you can share your position at regular intervals and plot it on the map, so friends/family will know exactly where you are when out there alone. However, the share feature is only available when you enable MapShare through your account on the Garmin Explore Website.
The inReach Mini is a perfect tool for any outdoor enthusiast. It's small and lightweight, with built-in batteries that give you up to 90 hours of use at the default 10-minute tracking mode. When used in power-saving mode, the battery can last up to 24 days. You can even get your navigation done if you pair it with the Earthmate app, available for iOS and Android smartphones.
While some models can use various satellite systems to retrieve data from multiple sources like GLONASS and Galileo, the inReach Mini only operates on GPS. In addition, the lack of an altimeter or compass is also present with this model, which hinders its accuracy when choosing routes over long distances without using mapping software such as Earthmate by Garmin.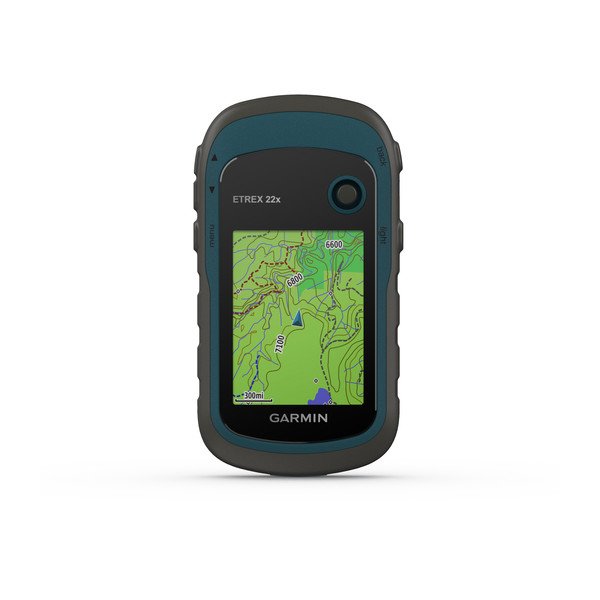 Expensive GPS devices offer an overwhelming and, for some, an excessive number of features. Therefore, there is a need to find the best balance between cost-efficiency with other essential factors like outdoor use or longevity.
The eTrex 22x offers this by being affordable while still containing many key necessities that satisfy most users' needs.
The eTrex is a dependable, affordable GPS device. It's simple to use with 8GB of internal memory and can withstand harsh conditions, including water resistance for hikes in wet areas or even underwater adventures up to 1 meter.
Though not perfect (it lacks touchscreen capabilities), this small screen has all you need at an unbeatable price point around $200 bucks.
The eTrex 32x is the company's latest GPS device that includes a compass and barometric altimeter in addition to its standard functionality. It costs an additional $100 over the basic model but has plenty of features not found on other units for approximately the same price.
eTrex 22x features:
The addition of GPS and GLONASS satellite systems means that your tracking will be more accurate in challenging environments.
The display is 2.2 inches in size with 240×320 resolution for better readability, and it can be readable under bright sunlight like every other modern-day device.
The TopoActive maps are preloaded onto a GPS device for easy access, no matter where you cycle or hike.
Be safe with 8 GB of internal memory and an expandable microSD card slot for card downloads.
You can expect this GPS unit to last up to 25 hours on a single charge with the help of two AA alkaline batteries.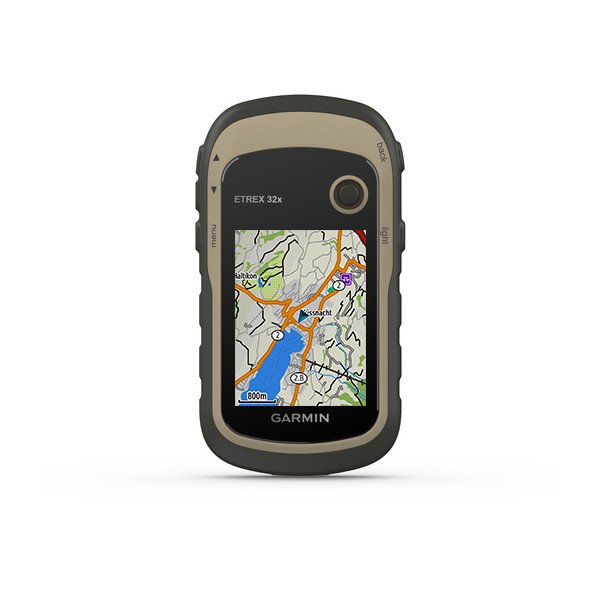 The Garmin eTrex 32x is a high-performing yet simple GPS that offers more features than its price suggests.
As a result, it can be used by anyone who needs both simplified and professional performance in their handheld device without breaking the bank.The new version is more accurate in its navigation capabilities.
In addition, it features an electronic compass and barometric altimeter, which enhance off-trail accuracy when navigating.
This unit's lightweight yet rugged and compact design makes it a highly versatile option for any adventure. In addition, the preloaded topo maps make navigation easier while on the move, especially if you're not sure where your destination is located.
Garmin eTrex 32x is the same as eTrex 22x, except eTrex 32x adds a 3-axis compass and barometric altimeter.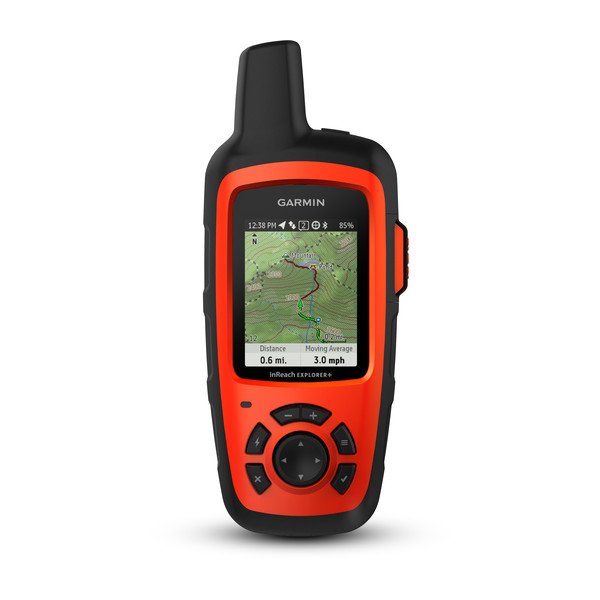 The Garmin inReach Explorer+ is a must-have for when you're disconnected from the outside world. This device proves that satellite phones aren't necessary and allows hikers to cut ties entirely if they choose to.
This is an excellent unit for those who spend their time off the grid. It's got satellite messaging, letting you stay in touch with friends and family using both telephone numbers or email addresses as well.
Designed to take advantage of worldwide GPS technology and tightly integrate with the Iridium satellite network, you'll be able to use this GPS unit not just for sending messages but also for making phone calls without having a cellular signal.
You get the perfect safety net for your next adventure with an Interactive Emergency Response SOS signal sent directly to local emergency responders, depending on where you are located.
Specs:
24/7/365 emergency SOS signal
Worldwide GPS coverage and messaging technology
Preloaded Topo Maps From Garmin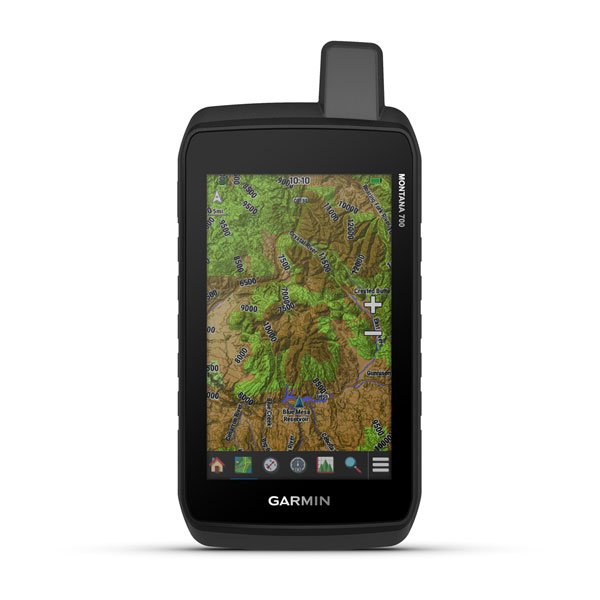 As a handheld GPS unit, though likely more useful mounted on your vehicle than actually in the palm of your hand, the Garmin Montana 700 is an investment for serious backcountry sportspeople.
A high-resolution 5-inch touchscreen offers superior display quality and easy access to customizable preloaded maps, additionally supported by unlimited BirdsEye subscription with Garmin's database satellite imagery available at no cost.
The Montana 700 is the largest and heaviest unit in this review, making it less versatile for backpacking or hiking. However, this feature-rich GPS unit packs all the necessary sensors to provide accurate navigation.
Though large and heavy for backpacking or hiking, this capable device would make an excellent mounted unit perfect for hunting trips where weight isn't as important.
Advertisement
Continue reading below
Final Words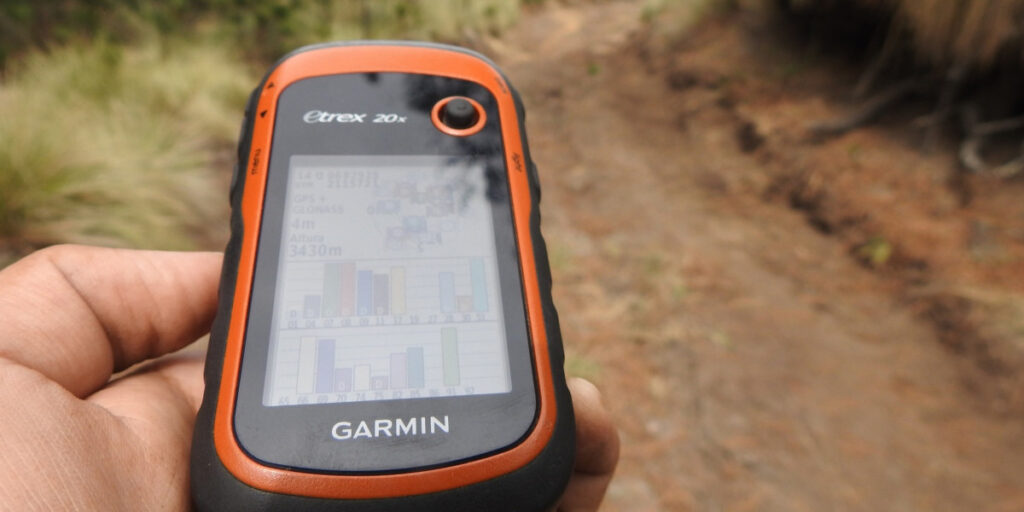 No matter what outdoor adventure you are taking on, a GPS device will have your back. Whether you need to find your bearings in the backcountry or open water, and even if it's just for navigating campground trails during hiking season, these devices can help make sure that everything goes according to plan.