Top 10 Best Key Organizers in 2021
Small tools can be very effective when solving some frustrating problems. We can all agree that carrying a bunch of keys can be annoy especially if it consists of many keys. Keeping them in the pocket makes it bulgy and unpleasant. With a key organizer, you can solve the problem.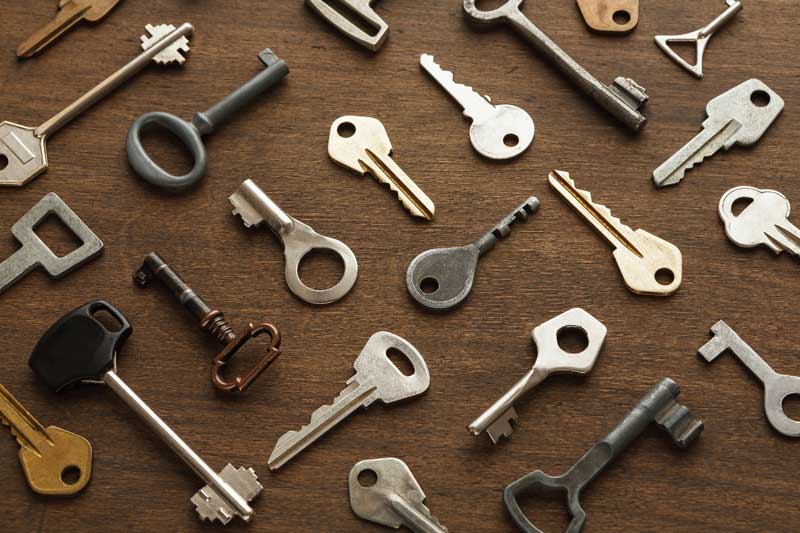 What is a Key Organizer and How Do They Work?
Key organizers (keybar or keysmart) are special tools that help you in keeping your keys together in an orderly way. The device allows you to organize your bunch of keys into a small device that is foldable like a utility multi-tool device. While the device's focus is keys, it can also hold other small handy tools that can fit into it. The most obvious benefits of the key organizer include reducing the jingly noise of keys in your pockets, the key pokes on you as you walk, and the bulges in your pockets that can be a sight sore. Innovation has allowed key organizers to incorporate other features such as bottle opener, Bluetooth, and USB among many others.
Types of Key Organizers and How to Use Them
Most Everyday Carry (EDC) devices within the same category have similar features. Similarly, most key organizers are alike in many aspects. However, they differ on the material composition, which affects the cost and as a result the price of each device. Some of the material making up most key organizers include copper, titanium, brass, aluminum, leather, carbon fiber, plastic, and faux leather. The choice of material is hugely dependent on the manufacturer and the model of the device. However, all the devices have a similar structure that involves a metal pin or pivot in the key organizer on which to attach the keys.
The device may also come with extra loops to attach other devices like key fobs. One major difference among the different types of key organizers is their capacity. While some can fit up to 60 keys, others can only fit 5 keys. The number of keys you have will definitely determine the type of organizer you buy.
Your organizer should be able to fit all your keys with some extra capacity in case you get a few more keys or tools to attach. Long or big keys can be a challenge. That is because the bigger key organizers are not meant for your pockets. Rather, they suit hanging on the wall. One of the best options for such big keys is the bestselling DecoBros letter rack and key holder. The following selection of top key organizers gives you different options that you may consider when looking for a suitable organizer for your keys.
TOP 10 Key Organizers List
KeySmart Compact Key Holder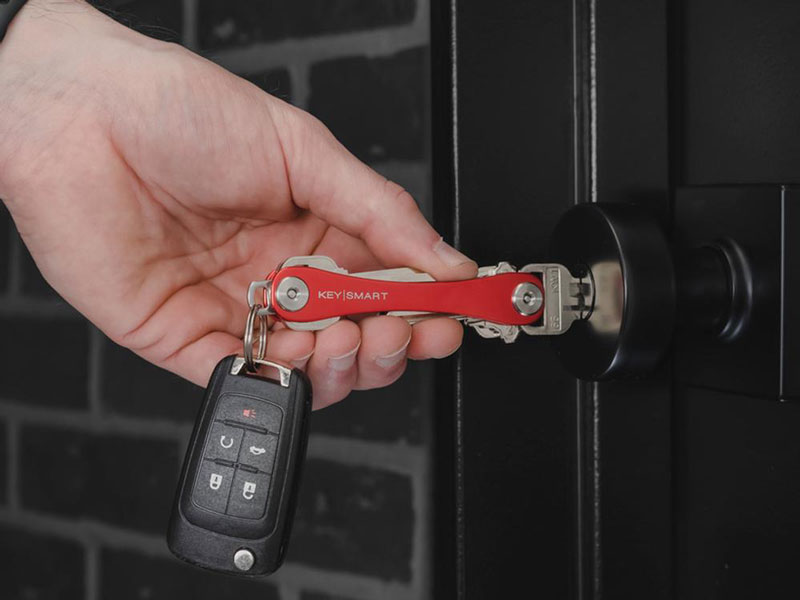 The KeySmart key organizer is an S-shaped gadget. It has durable steel posts at the ends to hold the keys firmly. It also has a loop for the bigger keys and key fobs. It has a capacity of 8-10 keys. There are spacers to separate the keys and allow them to slide in and out of the organizer easily. The organizer has an expansion kit that allows you to add keys later on. It is compatible with different types of keys.
KeySmart also offers a range of accessory tools that you can add to your organizer. Some of the accessories available for KeySmart key organizers include an LED nano light, pocket clip, bottle opener, and USB flash drive. With the nano light, you do not have to fumble in the dark looking for the right key. You also do not have to struggle getting your key into the keyhole at night. It provides the light you need to open your locks at night.
One of the best features of the KeySmart key organizer is that it is compact. It also weighs just 0.8 oz, which makes it light and portable. Another feature of note is the tough durable material. The manufacturer uses durable lightweight material like aluminum, stainless steel, and titanium ensuring your gadget serves you for years. You do not have to worry about the device breaking even when it falls.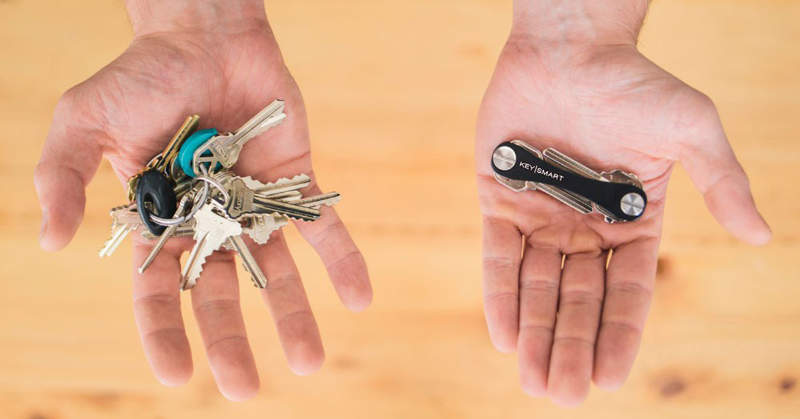 Pros
Has a durable design
Compact design
Can accommodate 8-10 keys
Allows additional accessories
Lightweight material making it portable
Cons
May loosens as you use it
Difficult to add keys
Unsuitable for large keys
KeyBar Key Organizer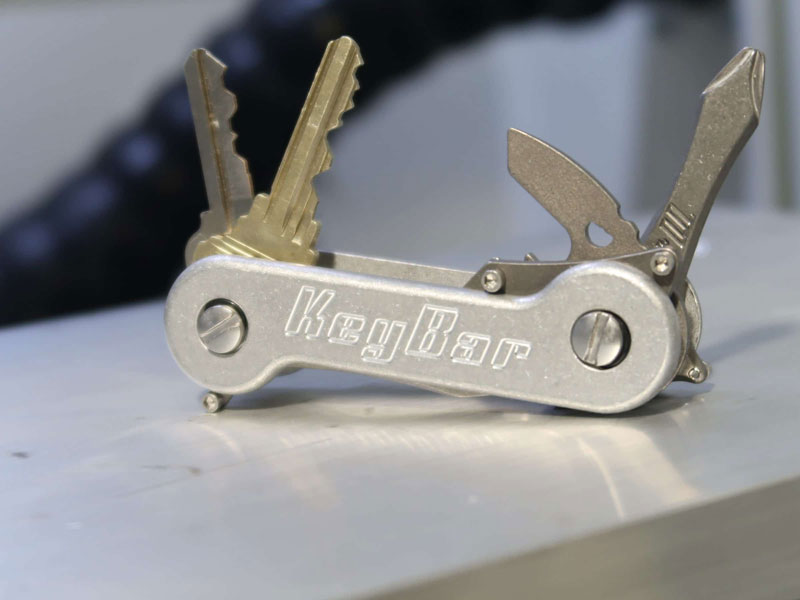 The KeyBar key organizer is a heavy-duty US key organizer consisting of a titanium pocket clip. The KeyBar organizers are also made of, copper, aluminum and carbon fiber, making them tough and durable. It has a simple design that allows easy access to the keys. The double-pivot design makes it easy to have many keys without making the organizer bulky.
The organizer has a capacity of up to 12 keys but is expandable to accommodate 28 keys. The varying-length screws allow you to adjust its size to fit your keys and tools as well as your preference. There are key spacers to separate the keys and allow easy movement of keys in and out of the organizer. It allows you to add other mini tools such as a screwdriver, pocket clip, flash drive, and bottle opener among others. It also has an attachment point for your car fob. The organizer weighs 1.76 oz.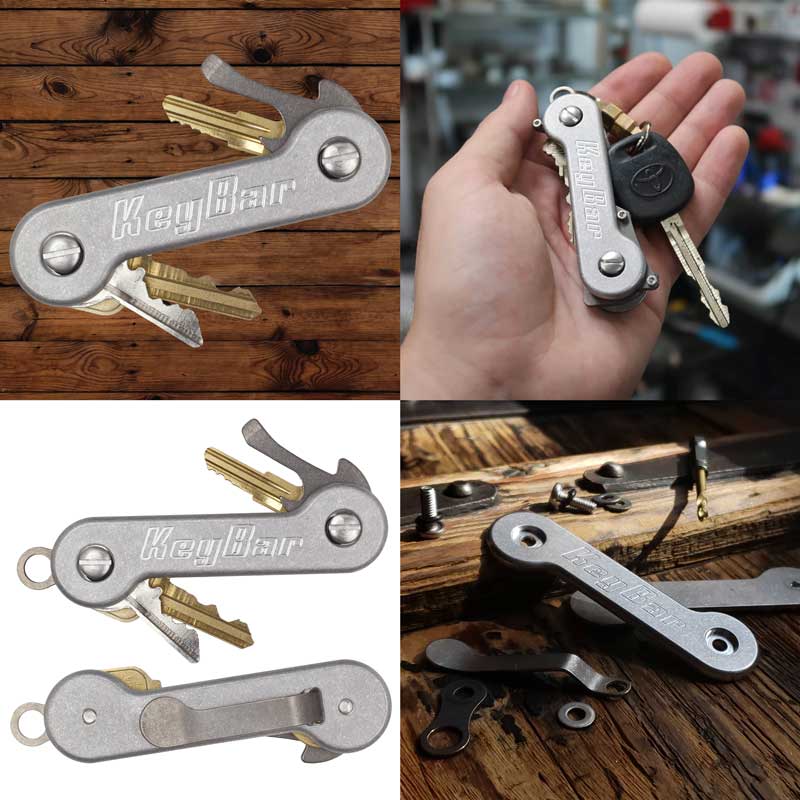 Pros
Simple to assemble and attach keys
It comprises of durable material
It has cool aesthetics
It has an impressive key and tool capacity
It has an innovative attachable pocket clip
It has lost and found technology
It has a built-in LED flashlight
It has a convenient collapsible design
Has sufficient key capacity
It has a locking mechanism
Cons
Not ideal for some odd shaped keys
The screws are too big to fit into some keys
A bit heavy
The screws are soft and can easily deform
Can be bulky
The paint chips off easily
Advertisement
CONTINUE READING BELOW

OrbitKey Leather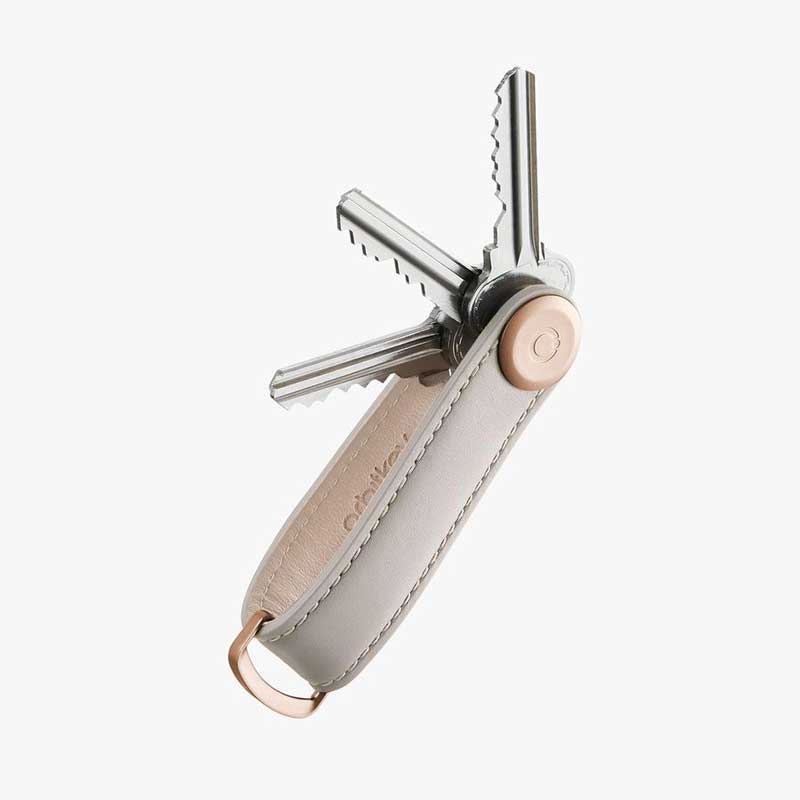 The OrbitKey key organizer features some innovative elements. It has a simple design that is functional, yet easy to the eye. It has a tracking device to allow you locate your keys in case you misplace them. It has a compact single-pivot design that is comfortable in your pockets. Its small capacity of seven keys means it can easily fit into your pocket.
The organizer is made of top grain leather. The material composition gives it both flexibility and strength. It also comes with a D-ring for your car fob as well as add-on tools such as a USB drive, bottle opener, and a multi-tool. With the add-on tools, you can enjoy more functionality for your day-to-day tasks. The leather design makes the OrbitKey a comfortable gadget to hold and carry. It has a nicer and warmer feel than the metal key organizers. The key organizer also has a good length that can fit your long keys.
Pros
It has a soft, pocket-friendly design
It has a D-ring for car fob attachment
It is lightweight
It has durable stainless steel material
It has a sleek, beautiful design
Can accommodate long keys
Cons
It has a small key capacity
It is a single pivot organizer, making it bulky
It is made of leather, which may not be very durable
It can be hard to set up and difficult to draw the keys out
It is too short and may not fit long keys
The screw loosens over time, making the keys loose
ArfKey Carbon Key Holder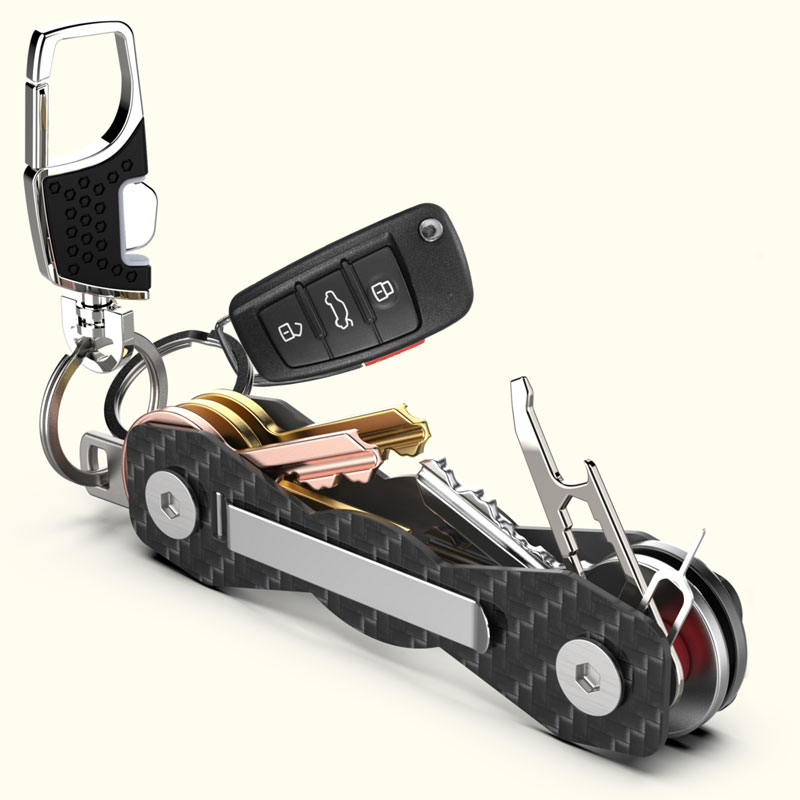 The ArfKey key organizer has one of the biggest capacities among key organizers. It has an anti-loosening system that holds together up to 18 keys. It is simple to assemble and add keys later on. The ArfKey key organizer also has additional features such as a ring for your car key or fob, sim card pin, bottle opener, and a chain to attach it to a belt.
The major downside of this organizer is that it weighs 4 oz., making it quite heavy. It is made of stainless steel and carbon fiber. The simple design of the ArfKey key organizer makes it easy and convenient to assemble.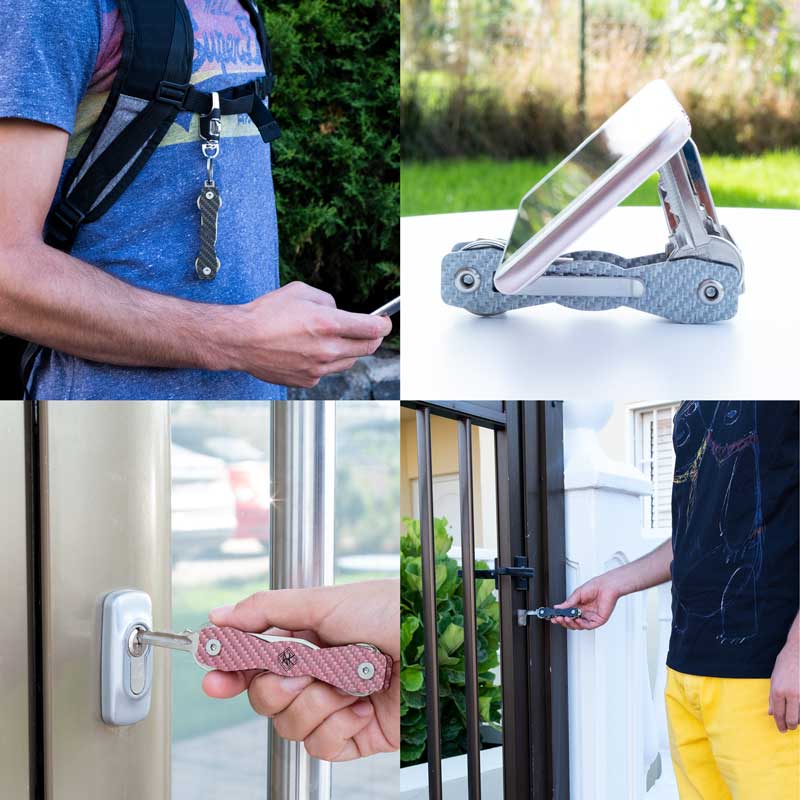 Pros
The organizer consists of quality durable materials
It has a large key capacity
It has an impressive range of additional accessories
Provides a ring for your bigger keys
Simple and easy to assemble
Cons
Cannot fit bigger keys such as car keys and fobs
Very heavy compared to other key organizers
KeySTAX Key Holder & Organiser

The KeySTAX key organizer is made of high quality polycarbonate and stainless steel. Due to the durable high quality material, it can last many years. It has a capacity of eight keys with an expansion pack to allow you add some extra keys. You can expand its capacity to hold up to 100 keys, although that is unlikely to happen. It also has a USB flash drive. Other accessories available for this organizer include a pico pen, glow fob, and bottle opener. It further has a loop for your key fobs and the large keys.
The KeySTAX key organizer is small and compact, fitting easily into your pocket as a pack of gum would. It can fit almost any key. The Organizer weighs just 0.32 ounces, making it very portable. At a length of 88 mm, the KeySTAX key organizer can accommodate longer keys than most of its competitors. This compact key organizer allows you to enjoy carrying your keys around as it eliminates the poking and the jingling in your pockets. It is big enough to fit your keys, yet small enough to fit into your pockets.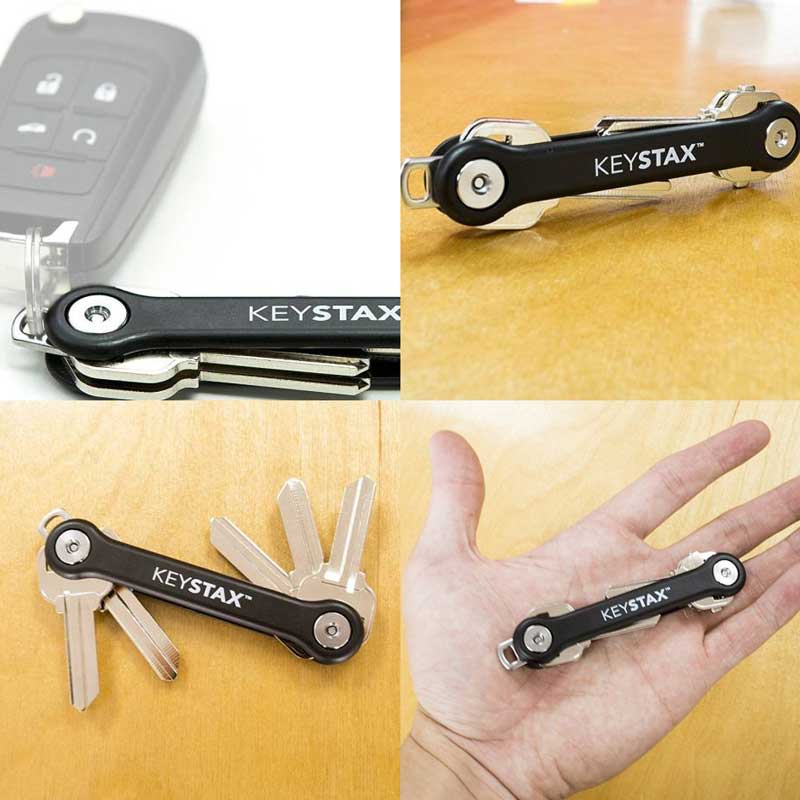 Pros
It is made of high quality material for enhanced durability
Allows you to expand capacity up to 100 keys
It is lightweight for greater portability
It has a loop for the larger keys and car fobs.
Cons
The organizer has a small key capacity
It may get bulky as you add keys
KeyPort Pivot
The KeyPort key organizer is a device with a goal to make your life easier. It is comparable to Orbitkey and KeySmart and has a similar layout. However, it integrates smart technology to make it an effective gadget that you can customize to your liking. While it allows you to organize your keys, it also offers you handy tools for your everyday tasks. It includes a flashlight and a multi-tool. You can also customize it further by adding a pocketknife or pen. It is made of aircraft grade aluminum, making it both light and durable.
You do not have to worry about it breaking down after a short period. It has a single pivot with a capacity of up to nine keys. However, the single pivot limits the organizer's capacity. The more keys you have, the bulkier the organizer becomes, as all the keys are stacked on the same end. It also has a pivot locking system that clicks and locks every 90 degrees you turn to ensure the keys do not become loose. The KeyPort key organizer is more functional than it is attractive in design. However, it still has a beautiful design.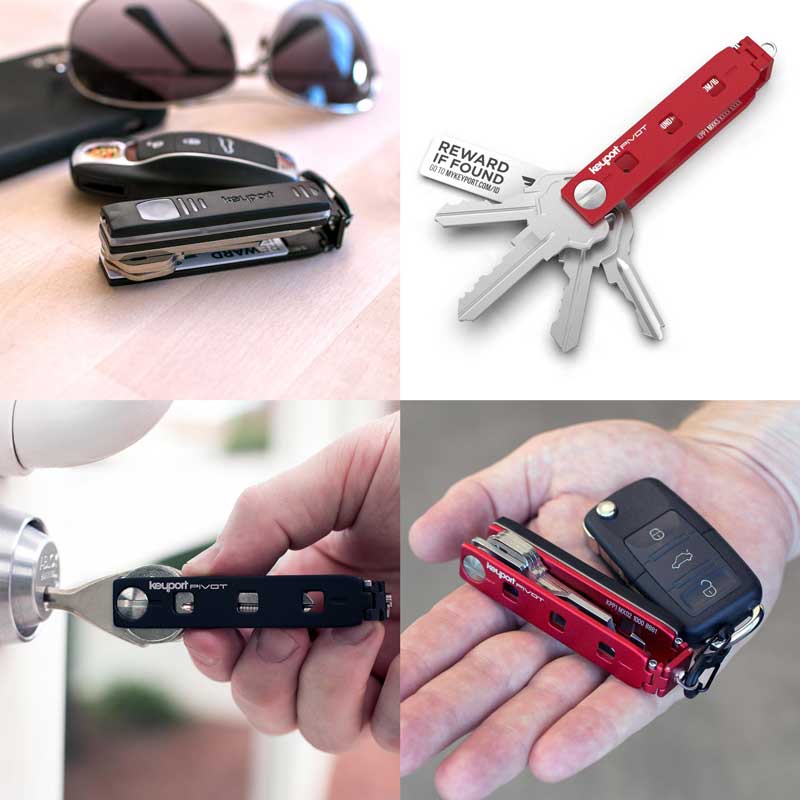 Pros
It is made of tough durable material
It includes an LED flash light and a 10-in-1 tool
It has a car fob attachment point
It has a lost and found feature for locating the keys when misplaced
Comes with easy-to-follow set-up instructions.
Cons
It is single pivot, which can make it bulky
It has a small capacity
NorthWall Metal Key Holder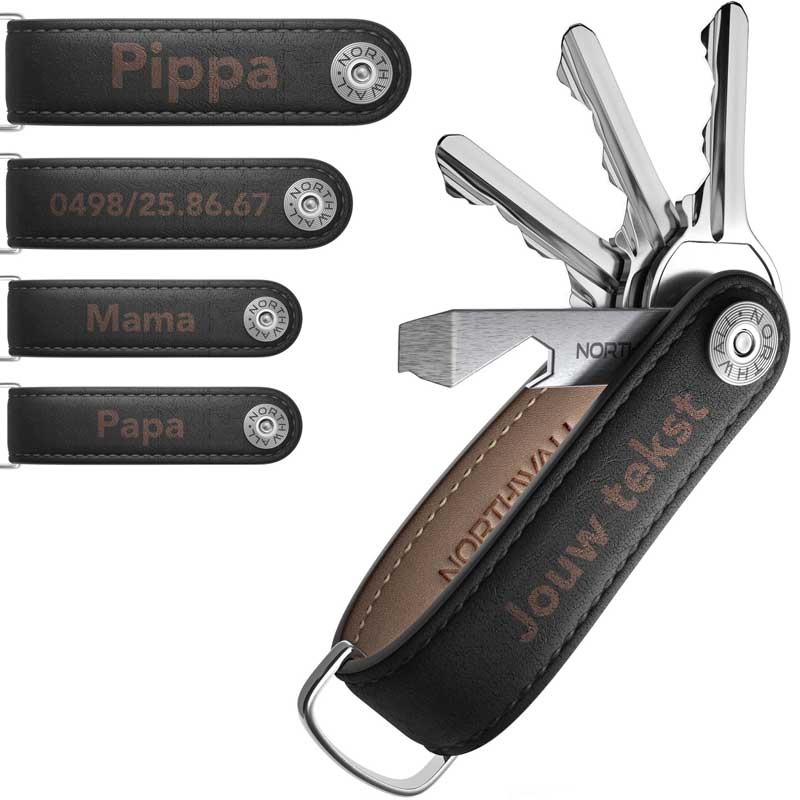 The Northwall key organizer is a practical device. It has a design that matches sleekness with ruggedness in its aesthetics. Unlike most key organizers, it is capable of handling flat keys, key fobs, and small tools. While you may want to add some tools to your key organizer, the Northwall organizer comes with a box opener, bottle opener, and a flathead screwdriver. That makes it a handy device for your daily tasks.
Its material make-up consists of stainless steel material. The material makes it durable, giving you years of service. It also has a quality tanned leather casing that can be in brown or black. The leather case forms a cushion between your keys and other items in your pocket, minimizing the probability of damage. It has a capacity of 10 keys and weighs 1.41 ounces. If you need a simple yet sleek and stylish key organizer, the Northwall key organizer is a great choice.
Pros
It includes a multipurpose tool
It has options for leather color choice
It balances aesthetic appeal between rugged and sleek
It can accommodate car fobs and small fobs
It includes small accessories such as a bottle opener
It has durable steel and leather material
Cons
The key spacers are not enough
Weighs a bit more than most key organizers
It has low-quality attachments
E&M Compact Key Organizer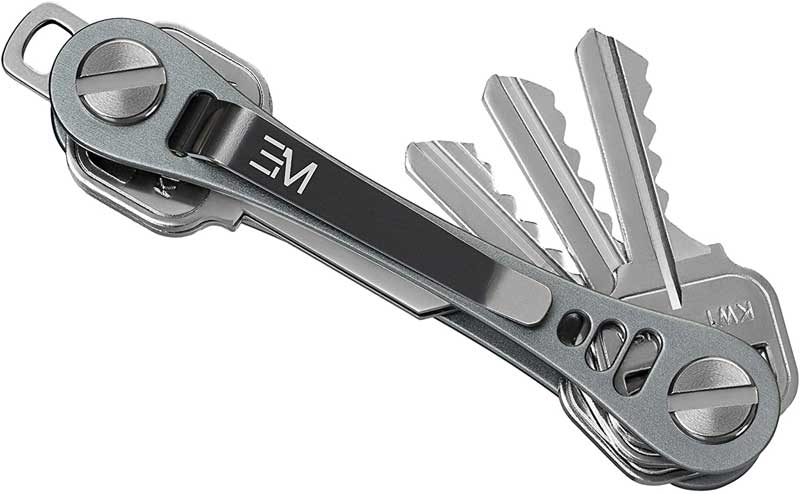 The E&M compact key organizer has a slim design. It has a large key capacity of up to 20 keys. The organizer is made of light but strong aluminum, which makes it light and durable. It has rubber washers to separate the keys and allow for easier movement in and out of the organizer. It also has a car fob attachment as well as a pocket clip for attaching your organizer to your pocket or bag. It also has a detachable keychain loop for larger key fobs. The design of the organizer is double-pivot, which means you can fit more keys without it becoming too bulky.
The E&M compact key organizer has an elegant, stylish design. It also has improved functionality. The pocket clip allows you to secure your keys onto your pockets while also allowing you easy access to the keys. The organizer further has multi-sized screws to allow you assemble it easily with all types of keys. It has graphite key spacers to separate keys and reduce friction between them. They make it easy to draw keys. If you are looking for a gift idea, this can be a perfect gift for your friends and family.
Pros
It has a large key capacity
It has tough durable material
It is lightweight
It has an expandable design
It includes a car fob attachment loop
Has graphite washers to separate the keys
It is easy to assemble
Cons
The screw heads can shear off when tightening
Clips Smart Compact Key Organizer
The Clips Smart Compact Key Organizer is an excellent organizer. It has a very strong and durable body made of carbon fiber and stainless steel. The carbon fiber material makes the organizer light, increasing its portability. It is also corrosion resistant and can thus last a lifetime. The key organizer has a capacity of up to 18 keys, each separated from the other by washers.
The anti-loosing system ensures the keys remain contact. The organizer also has other attachments such as a bottle opener, carabiner, and SIM tray ejector for your convenience. The add-ons make this device a versatile handy gadget for day-to-day tasks. It also comes with a keyring and a loop for the big keys and car fobs. At 89 mm, the organizer is just about the right size to fit comfortably into your pocket without causing bulges.
Pros
It is lightweight
It has a nice stylish design
It is made of strong, durable carbon fiber material
It has a large key capacity
It has add-ons for increased functionality
It has anti-loosening washers to separate keys and ensure they can move easily
Cons
It can be challenging to assemble
Carbocage KeyCage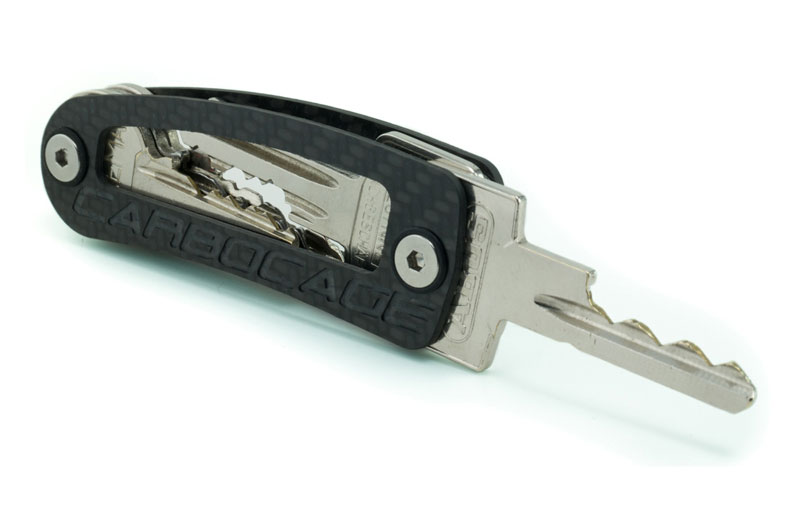 The Carbonage Keycage key organizer is a device for the outdoors expert. It does not have flashy sophisticated features such as modern apps to allow you locate your keys. However, it thrives in its durability. It consists of lightweight, solid and durable material such as carbon fiber and steel. It has a simple design with stainless steel bolts to hold the keys into the organizer. The quality of the material ensures that your gadget lasts for a very long time. The design of the organizer makes it convenient for you to locate your keys. The double-asymmetrical design allows you to arrange the keys in an easy-to-find structure.
The design also involves a cutout that allows you to see your keys. It can accommodate up to 14 keys. The KeyCage organizer has eight bolt lengths to allow flexibility as you can increase its capacity. It weighs 0.48 ounces. The CarboCage Key cage organizer has an interesting unique design that can be appealing especially when you need to be sure of the keys you draw out. The cutout is an innovative idea for this device.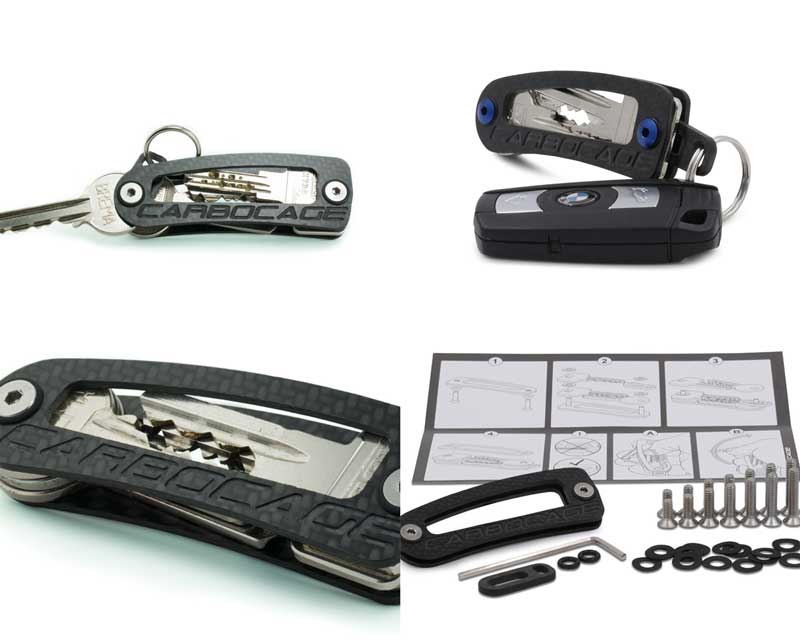 Pros
It has reliable, durable material such as steel and carbon
It has a double-asymmetrical design that is convenient
It has a light-weight material composition
It has a large capacity for flat keys
It has smooth edges
Its cutout allows you to see your keys
It has double-pivot to allow more keys without making it bulky
Cons
No provision for car fobs
Hard and time consuming to assemble
Not easy to access keys
Conclusion
We all have had problems with keys at one time or the other. Keys can pose several challenges, especially when you have a huge bunch of keys. They can cause an uncomfortable jingly noisy sound in your pockets as you walk about. They can also be a constant pain on your thighs as they keep poking you as you go about your activities. A big bunch can also be messy and you may constantly find trouble getting the right key.
A key organizer helps solve most of the problems that your keys pose. It helps you keep your keys in order, allowing you to master the position of each key. It thus becomes easy to locate your keys when you need them. It also keeps your keys compact, eliminating the jingly noise. Keeping the keys compact further eliminates the poking on your thighs as you walk. Lastly, an organizer ensures you do not have an ugly bulge in your pockets due to your disorganized keys. It compacts all your keys into a small smart device that is easy to carry. Getting a key organizer for your keys can be a great way to solve your many struggles with keys.