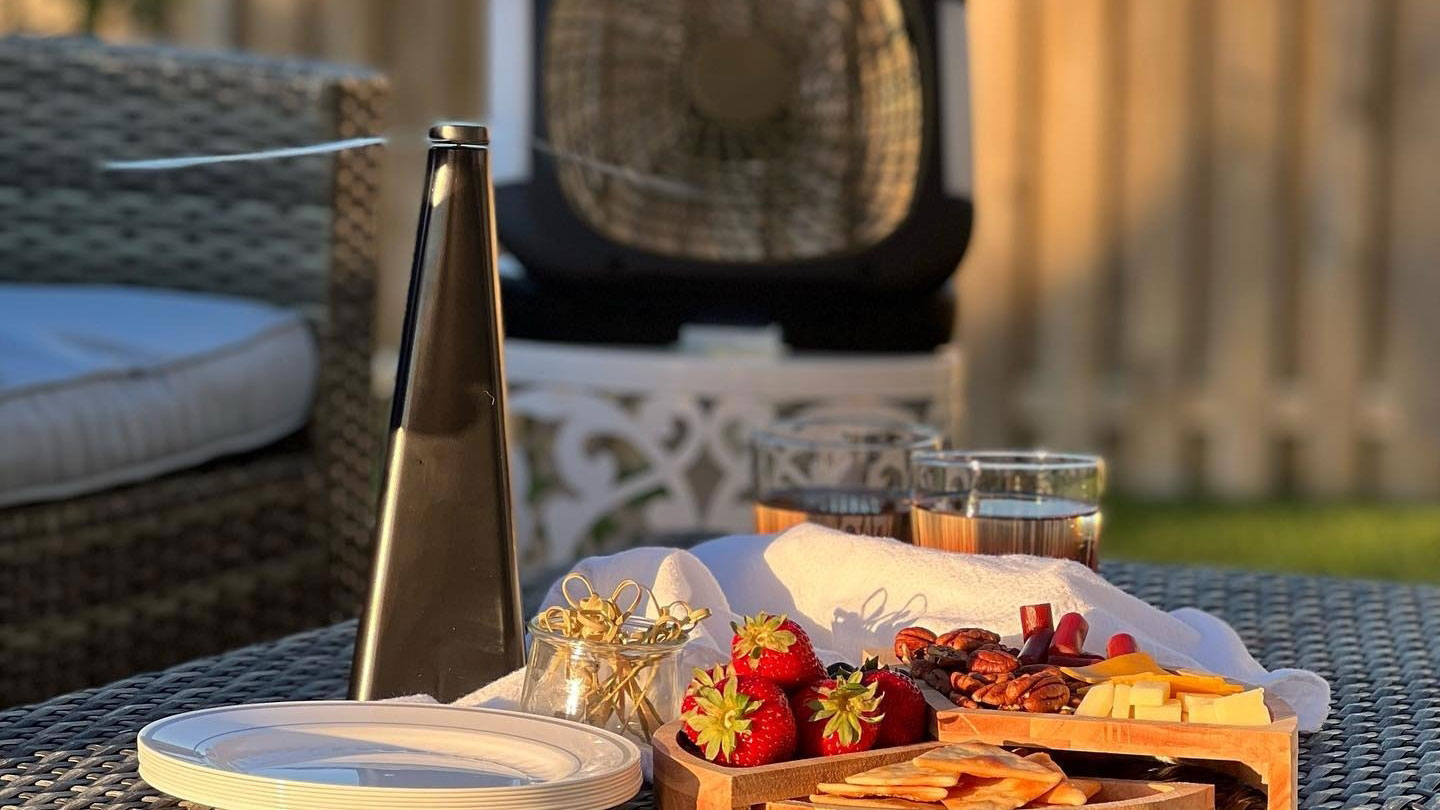 This is our review of the best outdoor fans for repelling mosquitoes in 2023.
The best fans for this purpose generate strong airflow and are optimized for outdoor use.
Outdoor gatherings can be fun-filled.
But the persistent mosquitoes can be a real buzzkill if you don't have the right equipment to keep them at bay.
With the help of an entomologist, I have extensively researched the best outdoor fans for mosquitoes and other flying nuisances to ensure you have an insect-free outdoor experience.
And I found that the Treva bug fan is the best overall fan for keeping mosquitoes away.
Every environment is different. So, I've included reviews of the best brands for every type of outdoor setting.
Let's dive in.
Our Best Outdoor Fans for Mosquitoes and Other Flying Insects
5 Best Outdoor Fans for Mosquitoes and Other Flying Insects Reviewed
All outdoor bug fans included on this list meet the standard guidelines for mosquito repelling. Always consult with an expert or read reviews before making changes to your outdoor setup.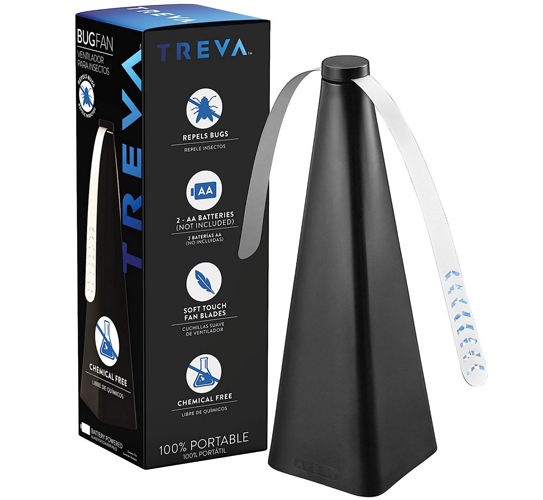 The Treva Bug Fan offers a breakthrough insect-free approach. Its compact design creates an effective 360° "bug force field."
The fan deters pests in two ways: constant blade motion and holographic reflections. This light refraction repels insects, ensuring bugs stay away.
Sleek and functional, the fan suits all outdoor setups. Battery-powered, its portability is unmatched: simply set, activate, and enjoy.
Compared to sprays and candles, the Treva Bug Fan stands out. It's chemical-free, affordable, and has a 90-day guarantee. While sprays and candles deplete over time, the Treva Bug Fan stands as a long-lasting solution to your bug problems.
Its aesthetic design complements any environment. Users appreciate its efficacy, though some note a few limitations.
---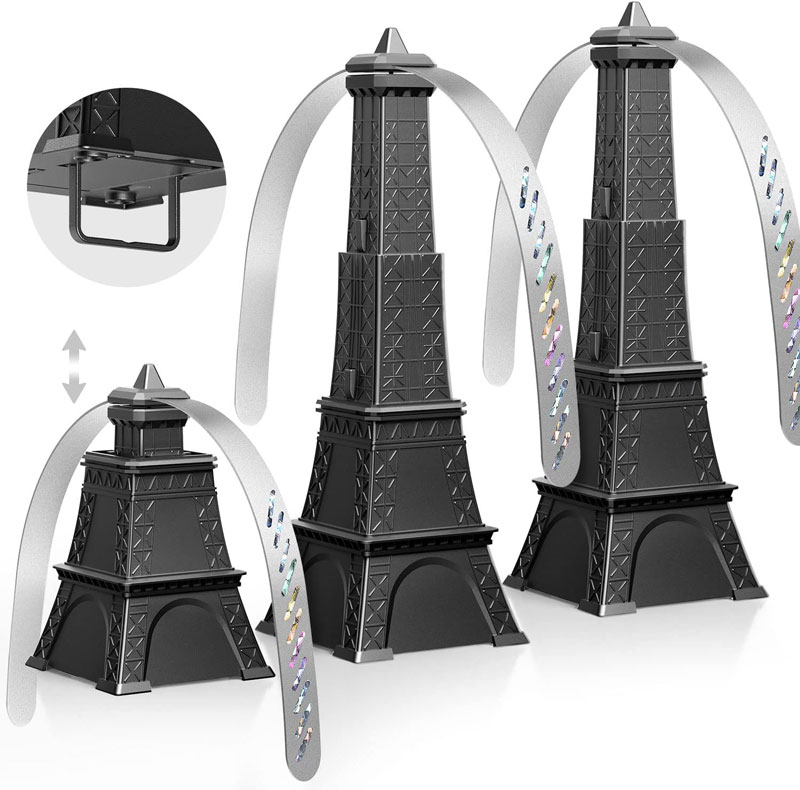 The TYIUHELAS fan, extending to 45cm, covers a large area. Its spinning blades refract light, effectively disorienting and repelling flies from food.
Its unique design includes a bottom hook, suitable for both indoor and outdoor activities such as picnics, BBQs, and gatherings.
This portable fan is powered by 2 AA batteries (not included), ensuring hassle-free outdoor dining experiences.
The fan's unique Eiffel Tower design pairs functionality with aesthetics. Using a physical method, it repels flies without chemicals, ensuring a delightful dining experience.
Safety is prioritized with soft, touch-sensitive blades. This upgraded version includes an enhanced motor and a holographic pattern on the blade, which further deters insects. The fan's hook design adds versatility, making it a perfect fit for various settings.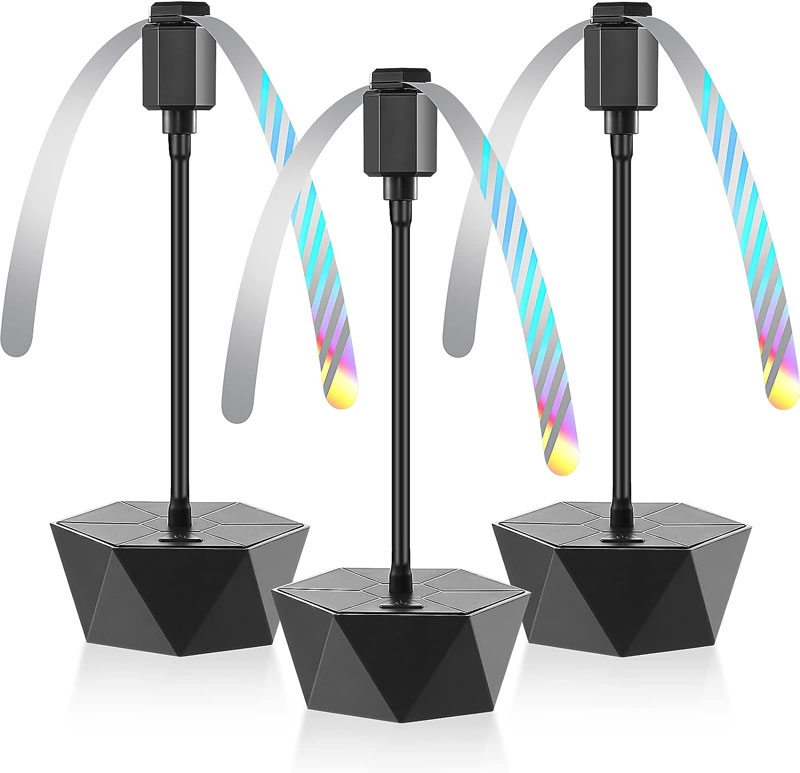 The 2023 Chemotex Fan comes with a rechargeable feature, lasting up to 15 hours. Its innovative design, mimicking a flower pot, blends seamlessly with table decor and offers protection against various flying pests.
Designed like a blooming flower, it not only repels pests but also adds aesthetic value to gatherings, making your meals more pleasant.
Powered by a 1500mAh Li-ion battery, it includes a Type C charging cable, ensuring versatility in charging options and extending its outdoor usability.
Incorporating a 360° flexible goose-neck, the fan direction can be manually adjusted. Its soft-stop blades with reflective holographic patterns deter flies and mosquitoes while ensuring safety for children and pets.
The Chemotex Fan is a chemical-free solution, ideal for both indoor and outdoor settings like BBQs, picnics, and patio gatherings.
---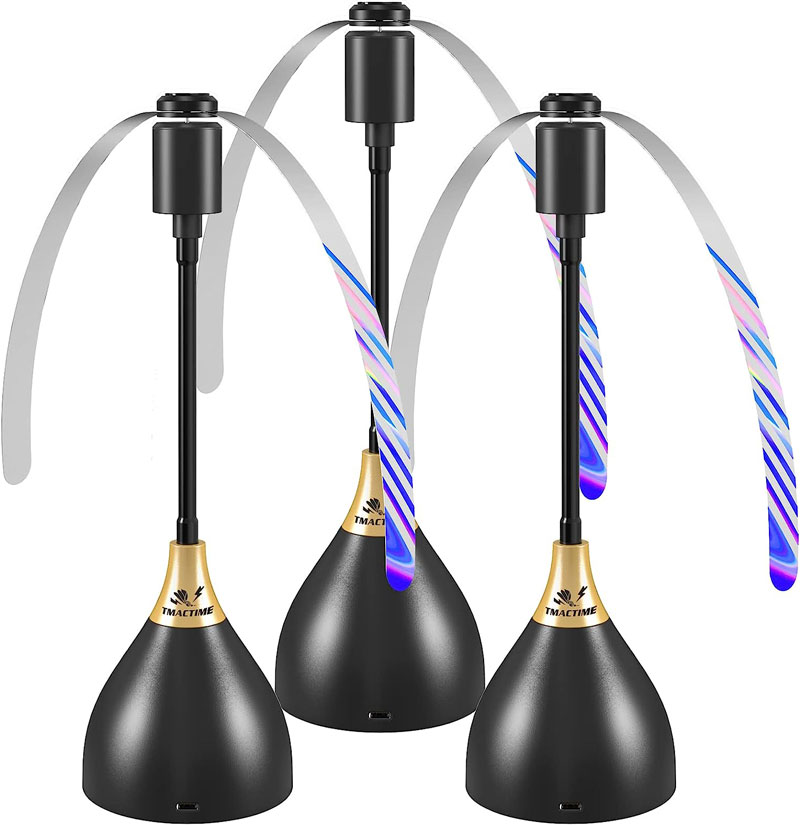 The TMACTIME Fan offers a silent and soft approach to deter flies. With an eco-friendly design, it ensures harm-free operation to humans and the environment.
When its soft blades encounter any object, including a hand, the motor immediately stops for safety. The holographic pattern on the blades refracts light, deterring flies effectively.
TMACTIME fans have earned rave reviews, especially among families with children. They're lightweight, durable, and come with safety features such as motion sensors and flexible blades.
Offering versatility, these fans can operate on AA batteries or via a USB C cable. Although they don't provide significant cooling, they circulate air and repel flies efficiently in various lighting conditions.
However, users should exercise caution: using regular batteries while connected to a USB can risk overheating or potential fire. Only rechargeable AA batteries should be paired with USB usage.
The IPLUCKER Food Fan is an expandable and collapsible device, adjusting to three heights (6.3″, 8.4″, and 10.3″). Simple rotation ensures easy height setting.
Its 17.72-inch soft-touch blade offers broad coverage, halting immediately on contact, ensuring safety. This fan, designed for versatility, features a hook, enabling hanging on various surfaces.
Powering up with two AA batteries, this energy-efficient and quiet fan is portable and user-friendly. Its lighthouse design not only complements décor but also disperses pleasant aromas when essential oils are added.
Crafted with dual-sided reflective blades, the IPLUCKER ensures pests stay away from your food. Whether at home, office, or outdoors, its unique design and functionalities promise a comfortable ambiance.
---
What to Look for When Buying an Outdoor Fan for Mosquitoes
When choosing the best outdoor fan for mosquitoes, you'll need to consider several factors.
Features
Adjustable Heights: Opting for a fan with adjustable heights provides you with versatility, suiting a range of table settings and environments. Whether on a low coffee table or a high dining setup, you can position the fan perfectly.
Blade Safety
Especially in homes with curious children, fans with soft-touch blades are crucial. These blades are designed to stop immediately upon any contact, ensuring the safety of anyone who might accidentally touch them while in operation.
Power Source
Different power sources offer varying conveniences. While battery-powered fans can be easily portable, rechargeable ones save on the cost of buying batteries. Fans with a USB plug-in option give the flexibility of being powered by devices like laptops or power banks.
Design
Beyond functionality, a fan's design can be an aesthetic addition to your space. Modern fans come in designs, like lighthouse or flower pot shapes, that can seamlessly blend with and even enhance table decor.
Essential Oil Tray
For those who appreciate a multi-functional device, fans with trays for essential oils can not only repel pests but also spread pleasant aromas, enriching the dining experience.
Potential Problems
Durability
A common concern with outdoor gadgets is their durability. Before making a purchase, it's advisable to peruse user reviews. This ensures your chosen fan can withstand elements and regular use without malfunctioning.
Noise Level
A noisy fan can be more of a disturbance than a boon. It's crucial to choose models that are silent or emit minimal noise, ensuring your peaceful meals remain undisturbed.
Battery Life
For battery-operated fans, longevity between charges or replacements is crucial. A fan that frequently requires charging can be inconvenient, especially during long outdoor events or in places without easy access to power.
Safety Concerns
It's essential to ensure the product is safe. Some fans, if plugged in while batteries are installed, might overheat. Always opt for designs that prioritize user safety.
Use Cases
Outdoor Dining
Fans specifically designed for outdoor dining are a godsend, making BBQs and picnics more enjoyable. These fans are often designed to be sturdy, weather-resistant, and effective at keeping flying pests away.
Indoor Use
In certain seasons, indoor spaces attract fruit flies and other pests. A good tabletop fan can ensure your indoor dining spaces remain fly-free, especially during warm months when windows are kept open.
Special Events
Nothing ruins an outdoor wedding or birthday faster than a swarm of flies. For special outdoor events where food is served, a powerful tabletop fan can keep pests at bay, ensuring guests dine in comfort.
Travel & Camping
For those who love the great outdoors, portable and collapsible fans are invaluable. Their compact design ensures they fit easily in travel bags, providing convenience during camping trips or excursions.
Additional Considerations
Warranty & Customer Support
A product backed by a solid warranty and good customer support is always a better investment. It ensures that if you face any defects or operational issues, you have recourse.
Reflective Blades
Certain fans come equipped with holographic or reflective patterns on their blades. This design serves a dual purpose: aesthetic appeal and increased effectiveness in repelling flying pests.
Hook or Hanging Design
Some fans feature hooks or designs that allow them to be hung up. This design can provide broader coverage and can also be an aesthetic choice, depending on where and how it's positioned.
In summary
In your pursuit for the ideal tabletop food fan, it's imperative to strike a balance between aesthetics, functionality, and safety. Reading reviews, perhaps trying a fan firsthand, and keeping these points in mind will guide you toward the right purchase.
Our Verdict
Outdoor settings are often marred by the nuisance of mosquitoes. A reliable fan can significantly enhance our outdoor experience by effectively keeping these pests at bay. After a meticulous comparison of various products, Treva stands out as the best choice for an outdoor fan specifically targeting mosquitoes. Its robust design combined with unique features tailored to repel mosquitoes makes it a superior choice.
Moreover, user reviews and feedback consistently highlight Treva's effectiveness and durability. Its blend of power and user-friendly features adds to its appeal, making outdoor events more enjoyable and mosquito-free.
In conclusion, while there are several mosquito-repelling fans on the market, Treva takes the crown. For those looking to invest in a reliable and efficient solution, Treva is undoubtedly a top recommendation.
---
Nerko is a writer for Zoopy, and he's been working there since 2019. He loves to ride his motorcycle and bicycle, especially in the summertime! He also enjoys watching science fiction movies, and his favorite movie is Interstellar. Nerko is also a competitive gamer - so if you're looking for a good competition, he's your man!
---