What is a Smart Scale and How to Choose One?
A smart scale is a helpful tool that records many of the user's health biometrics. From BMI to bone mass, this data helps you understand your body more. Other health data that these devices record includes heart rate, muscle mass, percentage of visceral fat, and (of course) weight. With the many benefits, they have almost become as necessary as a measuring tape or running shoes.
Once collected, the scale uploads the information to the compatible app on your phone. Most smart scales are compatible with many apps, like Fitbit, Apple Health, and Google Fit. Luckily, many fitness trackers are available nowadays, so you will have no shortage of choices.
The best smart scale is one that is going to suit your lifestyle and budget.
The smart scales from our list are a simple and affordable way to measure your body composition. However, if you want premium features like connected coaching or diet guidance, these devices aren't for everyone.
Health Metrics That Smart Scales Have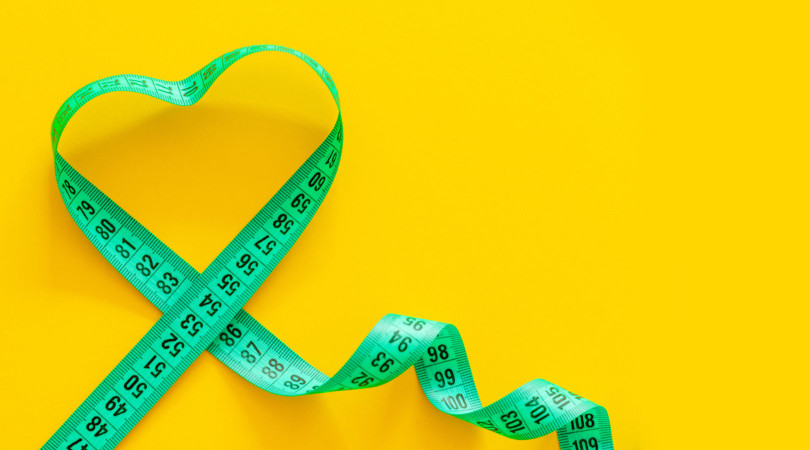 Smart scales are much more than regular scales, which only measure your weight. Smart scales, on the other hand, can track additional measurements like:
Body fat
BMI
Visceral fat
Lean mass
Body water
Bone mass
Pulse wave velocity
Heart rate
BMI is a great way to determine if you're overweight. A smart scale considers both your height and weight to calculate your real weight.
Which Type of Connection to Choose, Bluetooth or WiFi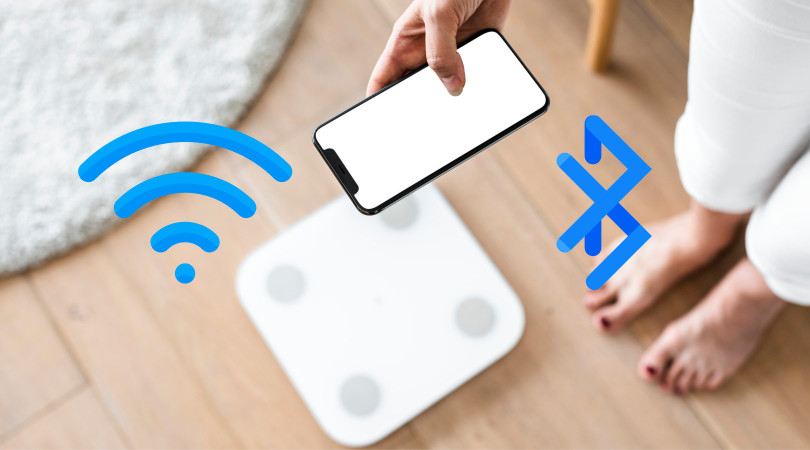 Bluetooth and WiFi scales may offer the same features with the only difference: connectivity. The more expensive scales support both Bluetooth and WiFi connectivity.
If you are getting measurements using Bluetooth, you need your scale and smartphone close in range to connect and sync data. This is not a problem with some better scales because they can save measurements on the scale until the next sync with a smartphone or fitness tracker.
WiFi-enabled scales don't have problems syncing collected data with your tracking device and app. The smart scale will sync your data as long you have a signal from a WiFi router. This way, you don't need to worry about where your device is. In addition, the reliability of WiFi syncing is much higher than Bluetooth, which can fail at any time. So if your budget allows you, go with a WiFi-enabled scale, or for an alternative, pick a scale that has Bluetooth and the option to save measurements safely on the scale.
Things to Consider When Buying a Smart Scale
Investing in a smart scale can improve an entire workout. While each one is fairly different in what they offer, many considerations must be factored in before making a purchase. Let's go over some of those considerations, as well as what benefits to prioritize.
Accuracy
When it comes to something as important as your health, inaccuracy just won't do. You need a scale that tells you the correct data at all times. Smart scales are known for their accuracy, but each one has different ways of collecting that information. Check the scale you buy for additional sensors and other features that keep it accurate.
App Sync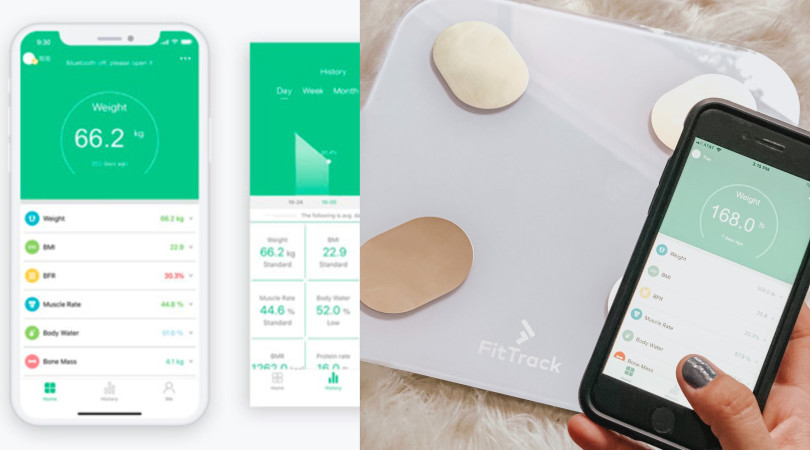 Even with all of the data, you need something to do with it. Smart scales can link up the information with different fitness apps, often over an internet or Bluetooth connection. The most commonly used apps are Apple Health and Fitbit, but a good scale can connect to more. Always check to see what apps can upload to the smart scale that you choose for the best information.
Multi-User Friendly
Not every smart scale has the power to record multi-user data. If you live alone, that's not a problem. However, if this investment is made for the whole family, you still need to keep it in mind. With a larger household, choose a scale that allows you to save multiple profiles at the same time. This organization will save you the hassle of confusing your information with someone else's.
Finding the Best Smart Scales
To bring you the best recommendations, we scoured the web for a broad range of the best smart scales. We came up with quite a selection, ranging from $20 to $180, but our top choice is the Withings Body Plus.
Priced right in the middle at $90, you won't have to pay for the most expensive model to get what you need. Along with your weight, the Withings Body Plus connects to its proprietary app over Wi-Fi. With the data collected, you can see your entire body composition to understand your physique better. If you have a fitness app that you prefer instead, that isn't a problem – the smart scale can also be paired with Weight Watchers, MyFitnessPal, and other top fitness apps.
Note: Keep in mind that the price of a smart scale can make a big difference. Some low-price smart scales may seem affordable, but they take unreliable measurements or have poor app support. Most important thing about a smart scale is that it gives you accurate body readings.
If the Withings Body Plus is a little high-priced, there's also the Withings Body for $59.95 instead. While you won't have access to quite as many features, but it still connects with the Health Mate app (by Withing). It can also sync with MyFitnessPal. If tracking your heart rate is a priority, stick with the Withings Body Plus. However, if this data doesn't rank as high on your priority list, then the Withings Body should meet your needs.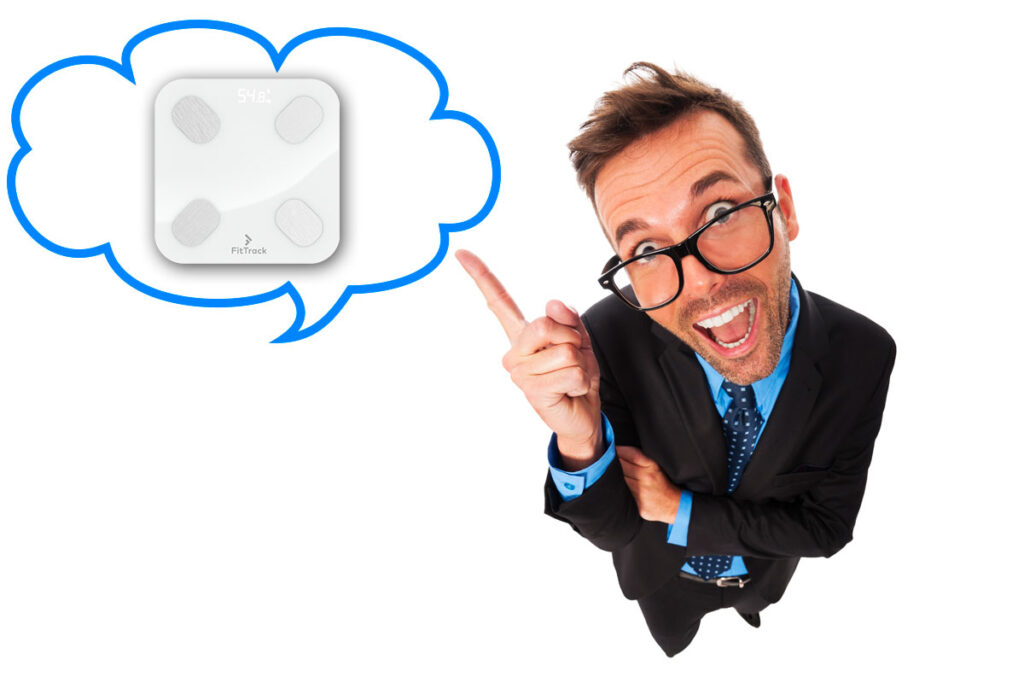 For people who are new to smart scales, the Wyze Scale is incredibly user-friendly and cost-efficient. At $20, users can store up to eight different users at the same time. It tracks 12 different metrics that will expand on what you know about your body. The display is specially designed to show many of these biometrics. To upload the data, it will need to pair with a Bluetooth-enabled device.
Top 10 Smart Scales
We've curated a list of top ten smart scales for you to make an easy choice and to make it easier for you to know the benefits of each, thus eventually leading you to the right decision.
Some of the best smart scales in the business are:
FitTrack Dara BMI Smart Scale
FitTrack Dara helps you manage and track your progress on your fitness journey. It reads your body measurements and sends readings to a smartphone app via Bluetooth. For example, the FitTrack Dara scale measures 17 body vitals that would help you access your health and weight goals.
When you step on the scale, it sends low-frequency electrical signals that pass through your feet to body fat tissue, where they get resistance measured and used to calculate your body composition.
With FitTrack, you can follow the progress of your health and fitness goals with real-time insights. Get notifications on how to stay motivated or reach a new milestone in life. FitTrack allows up to 8 users per device. Also, you can connect the scale to Apple Health and Google Fit. FitTrack Dara uses 4 AAA batteries for power, but they are not included.
This smart scale is known for its accurate results and may help you reach your goal way faster than others. It not only allows you to see how much weight you have gained or lost but also how fit you've generally become over time.
It's never too late to start living healthier – take control today by checking out the FitTrack Dara smart scale.
EUFY Smart Scale
EUFY Smart Scale can track up to 16 users from one account. Once you've set up your user profile, all you need to do is step on the scale, and it will automatically determine which person is according to their weight. In addition, the scale can store up to 100 readings when your smartphone is connected, and the scale will sync all recorded data to the smartphone.
EUFY Scale uses Bluetooth to connect with a smartphone app that can take 12 body measurements.
The scale's ability to pair with multiple devices is a huge time-saver and eliminates the need for reconnection when changing users. You can connect with Apple Health, Google Fit, and Fitbit App to store all your recorded data for the best convenience. However, Eufy advises that the Smart Scale is not suitable for pregnant women and users with pacemakers.
The scale only shows your weight when standing on or next to the scale. An app is necessary for all other measurements except weight for the Smart Scale.
RENPHO Smart Body Fat Scale
This smart scale is one of the popular options in the field, and users usually love it. It helps you measure and keep a track of a lot of things including weight, muscle mass, bone mass, water weight, and much more!

When you stand on the scale, it gathers all information and then transfers it via Bluetooth to your smartphone's Renpho application. Renpho smart body fat scale is compatible with third-party apps like Apple Health, Google Fit, Fitbit app, and Samsung Health.
This scale is the perfect example of the best quality at affordable rates. This smart scale allows you to add an unlimited number of users. The batteries come with the device for easy installation and usage.
The RENPHO body fat scale tracks your daily progress and provides an overview of key metrics. With 13 different measurements, the scale will provide valuable insight into what areas need more attention and help improve overall health.
The Renpho scale can also take the weight of babies and pets. Add a baby by following instructions on the app to measure the baby. However, the function does not work for measuring infants under 4 pounds or 2kg so keep that in mind.
Renpho Smart Body Fat Scale is a good smart scale with 13 essential body measurements at an affordable price.
Withings Body Smart Scale
Withings smart scales have an inbuilt technology that equips it to perform a 30-second body scan to access the various parameters and give you accurate results. The wifi-driven scales give you an elaborate picture to help you stay positive throughout your fitness journey by giving you a clear picture of where you stand.
The Withings smart scales are among the best smart scales on this list. Withings Body smart scale, unlike others, is equipt with WiFi and Bluetooth, so it's easy to keep the connection with your devices, gathering all important information and presenting the data to you in an easy-to-understand app. In addition, every weigh-in appears in the companion Health Mate app automatically via WiFi or Bluetooth sync. Besides the Health Mate app, you can sync data with Apple Health and Google Fit. Withings supports up to 8 users with independent sync.
Withings smart scale has many unique features, and a daily weather forecast is one of them. It's kinda weird to have a weather report on your scale, but after a while, you get used to it, and it becomes a useful feature.
Greater Goods Smart Scale
Unlike most other smart scales that use Bluetooth for syncing data, this one lets you transfer the details about your body via wifi. By using wifi, your data will sync with the app right away. In addition, its premium-quality sensors have been specially designed to present accurate results to you. The auto user detection will automatically recognize up to 8 different users.
Scale is made from non-slip and scratch-resistant feet surface. Also, the scale surface is made from large tempered glass, which can stand up to 400 lbs.
This scale helps you monitor your body weight, water weight, muscle mass, and bone mass and can connect to eight different devices at the same time, allowing multiple user capacity. The scale will calibrate itself as soon as you step on it and would switch off on its own as and when you step down.
Manufactured warns of the danger of using smart scale while having electronic implants such as a pacemaker.
Pregnant women are also advised not to use this device. It should also not be used for children ten years or less in age.
Qardio Base 2 WiFi Smart Scale
Qardio Base 2 is a wifi-driven smart scale that has been specially designed to fit your home and blend in to give it a more elegant look. It is ideal for all foot sizes – even the larger sizes can reap its benefits.
QardioBase automatically detects up to 8 unique users. Also, it has an automatic process for guests too.
The advanced sensor system helps you get quick and accurate results. It also comes with a rechargeable battery that lasts up to 12 months with frequent use over time. Moreover, this scale comes in two different styles – Arctic white and volcanic black.
It does measure not only your body weight but also calculates the Body Mass Index and other body vitals like the fat content, muscle, and bone mass, as well as water.
QardioBase is the perfect solution for people who are looking to make healthier lifestyle choices. It encourages you with personalized goals and incentives, but it also has a pregnancy mode so that moms-to-be can keep track of their progress while pregnant.
You can connect the QardioBas scale with your device via a free Qardio App available for iOS, Kindle, and Android, including Apple Watch. It also supports third-party apps such as MyFitnessPal, Samsung Health, Apple Health, Google Fit, Alexa Skills, and Siri.
Withings Body+ Smart Scale
Withings scales give you high accuracy results by scanning the full body vitals. It is known to be a great body coach if you are looking for a motivational support system in your fitness journey. It also facilitates the automatic recording of your body data. Furthermore, it uses an advanced technology system like trend screens and nutrition tracking to help you give the desired results and achieve your health goals.
The Withings Body Plus smart scale readings, are very precise and accurate. It uses position control technology which helps you to position and stand correctly, so you get more precise reading. The Wi-Fi connection offers a robust, automatic syncing capability to keep your data updated with the Withings Health Mate app. Like the Geater Goods scale, Withings Body + automatically recognizes up to 8 different users with no need for actions from you.
Some say that rechargeable batteries are better and longer-lasting, but you would be surprised that Withings Body + smart scale on standard AAA included batteries can last up to 18 months.
Another thing that makes this smart scale stand out is that it adjusts itself to the gravity compensation, which is a phenomenon that causes your weight to change depending on where you are on the globe – making it a win-win for everyone.
It also analyses more than just weight. It also calculates your bone mass, muscle mass, trends, and water weight. The fat mass calculation is also a great feature of this smart scale.
FitBit Aria 2 Smart Scale
Fitbit Aira 2 smart scale also might be a good match if you are looking for a reliable and accurate scale. All the information you give to the system is analyzed thoroughly to give you a clearer picture of your fitness journey. It also has built-in wifi that automatically syncs stats to your devices and tracks your progress with easy-to-read graphs.
This smart scale and the application that it uses to sync and process your data can also be used to track your food intake, thus giving you a reality check when your eating habits get out of hand.
As for the users, like most smart scales, it supports up to 8 users, wille all personal data is private and only can be seen by you.
After you have done the initial setup of the scale, next time, you just need to step on it for it to read all your necessary body vitals. Moreover, it can also work like a normal, old-fashioned scale (displays only weight) when somebody hasn't registered on it.
With the Fitbit app, you get very useful tools that can help with your progress. For example, you can set weight, hydration, activity, nutrition, and sleep goals. Then, follow your progress over time to see how you are doing. By logging your meals and using calories, you can compare your calorie in and out, so you get a better picture of your diet changes and health progress.
Note:
ABYON Bluetooth Smart Scale
This one has the potential to become your perfect health partner as it helps you stay focused on the necessary body vitals and health stats. It is immensely helpful if you want to reach your fitness goal faster and more efficiently. It makes for a great weight tracker that would do you a lot of good in the long run.
This could be the best choice if you are a bodybuilder or are actively working on losing weight. The app lets you create a virtual graph so that you can keep a clean note of your progress and deterioration over time. It also helps in managing your BMI while also helping you to focus on the right kind of food that you should be eating to stay as fit as possible.
It has been specially designed to be very compatible with your android and apple devices and can easily connect to more than 20 fitness applications on your phone. This smart scale has a lot of satisfied customers around the globe.
Etekcity Smart Bluetooth Scale
Another good option for fitness enthusiasts, this product lets you sync with multiple fitness apps, making your experience all the merrier. It works with Bluetooth and is compatible with certain android and apple models.
It helps you with a full-body analysis and gives you measurements for about 13 necessary vitals including your weight, body fat, BMI, muscle and bone mass, and body fat. It is a useful product both with and without a phone. The data would automatically sync with the application on your phone once it connects back.
It is known to be highly accurate and is especially useful for bodybuilders and those on a mindful weight loss journey. It comes with batteries and allows for easy weight management unit change. Etekcity gives you a one year buyer's assurance as well as lifetime support for this particular product.
Choosing a Smart Scale for Your Needs
When you decide to add a smart scale to your home, you don't want one that will fall apart constantly. You need a device that can withstand the constant checks for your weight, body mass, and all of the other information it tracks. Choosing a reliable device is crucial, and price should not ultimately determine the model you use. Take a moment and invest in yourself via the smart scale, opting for a machine that tracks everything you want. With the right machine, it could last years longer than some cheap knock-off.
Make sure you learn what metrics your chosen smart scale offers before you invest. If you want a model that keeps track of your heart rate, don't order one that skips this data. If body mass index is a priority, seek out that feature as well. If you want to get the most value from the money you spend, the Wyze Scale works in a pinch.
While the Wyze Scale may not be your permanent smart scale, it still holds up against the wear that you may put it through. If you live in a small apartment or duplex, it may be the best choice you have.
For users with health concerns, check your chosen smart scale for a "safe mode" or similar setting. The electronic impulses in these devices may not be safe for individuals that use pacemakers or women who are pregnant. With a safe mode, users can often choose to only record weight, rather than run a bioelectric impedance analysis (BIA). If you aren't sure about the possible health risks, consult a medical professional.
How the Top Smart Scales Were Chosen for This List
Before we curated this list of the best smart scales, we wanted to consider multiple factors, starting with the accuracy of the reading. We checked the scale readings against a standard scale (the EatSmart digital scale) to ensure that these numbers matched up. The only way that we considered the scale is if the weight measurements were within 0.25 pounds of each other. Plus, if the reading took too long, it was kicked off the list.
Though the price was on our minds, we prioritized the metrics recorded more. We wanted to find special features, like the ability to connect multiple users or a user-friendly app. Even if it connected with an app by the creators, we also wanted to find models that worked with the most popular fitness trackers.
Weight loss and building muscle already take up so much of your mind, and we didn't want to bring smart scales that added stress. With the right set of metrics and impressive compatibility, we're confident that you will find what you need from the list above.
Editor's Choice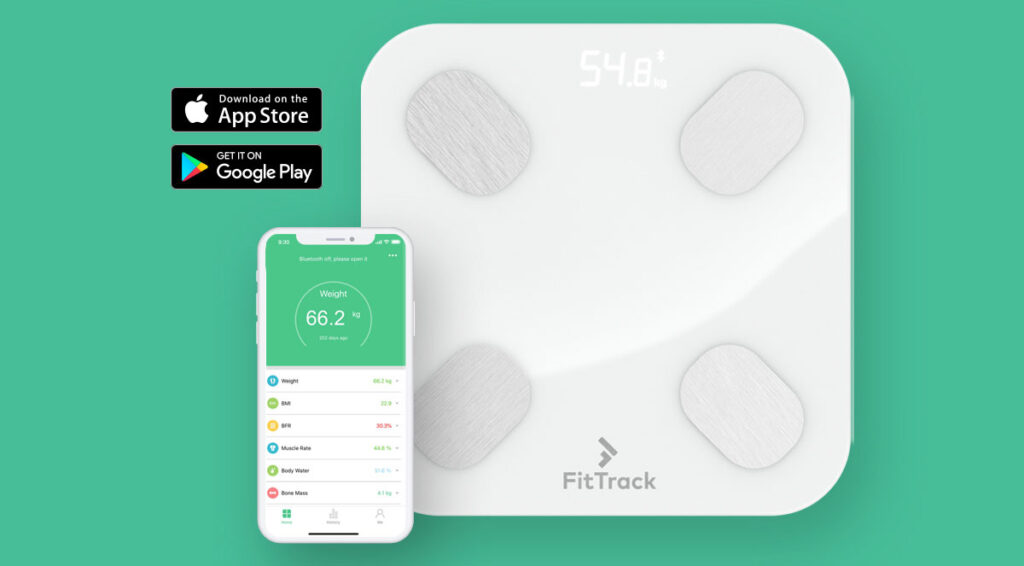 Smart scales indeed do much more than measuring your weight. They help you analyze much more set up a fitness regimen for yourself. Some of them even take control of your diet, effectively guiding you to your health goals.
The top 10 list of the best smart scales gives you an idea of what to choose and what to leave out. It would not only help you in making the right choice but will also give you value for your money without having to waste your time researching the best product in business.
The editor's choice is the FitTrack smart scale that gives you a comprehensive study of all your body vitals and speeds up your fitness journey to a large extent. However, others are pretty great to choose from.
So, have you made your decision on what to choose yet?