Want better digestion, a stronger immune system, or more energy? Thinking about trying a probiotic? Biotics 8 could be your solution. We've dug deep into what this men's formula offers. Check out our quick, no-nonsense review to see if Biotics 8 is the right pick for you.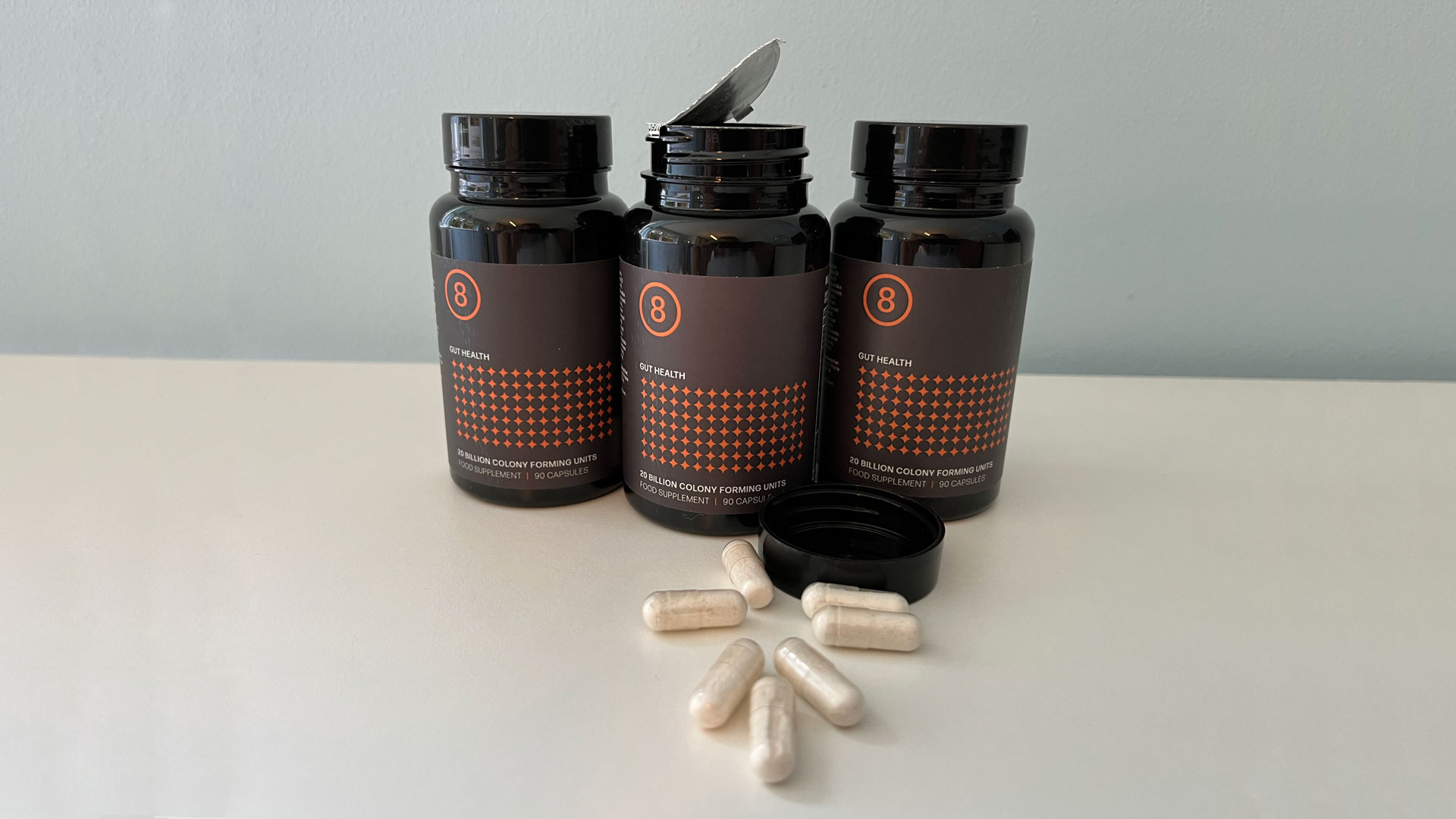 What is Biotics 8?
Biotics 8 is a probiotic that claims to be the first performance probiotic. It is designed specifically for men's gut health with the busy, high-achieving man in mind. This premium formula delivers more than just beneficial bacteria; it's been crafted to supercharge your gut health and help you perform at your absolute best.
By enhancing gut health, Biotics 8 promotes better nutrient absorption, boosts energy levels, supports the immune system, and contributes to a balanced mood. It may also help in maintaining a healthy weight, strengthening the body's defenses, and improving overall vitality. Additionally, it sharpens mental clarity, fosters motivation, and slows down signs of age-related health decline.
According to them, Biotics 8 is backed by science, with each of its 10 strains handpicked for their proven effectiveness in re-colonizing and restoring gut microbiome to its peak state. The formula delivers 20 billion CFUs without causing any stomach discomfort.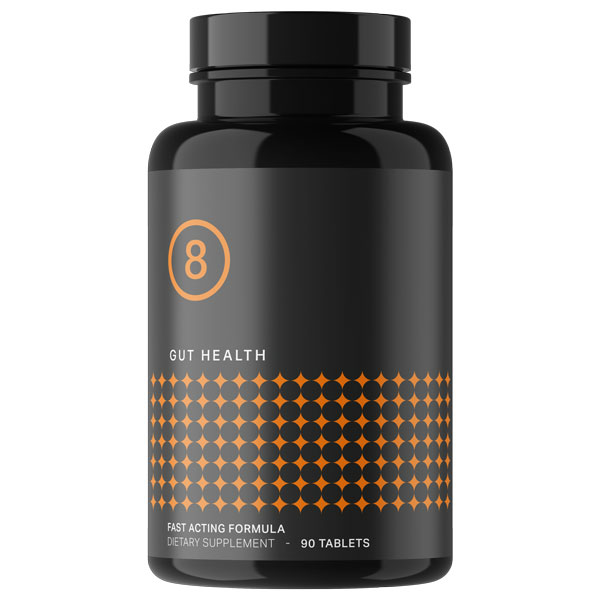 Editors Rating:
What we like
Natural ingredients backed by science
It does not need to be refrigerated
The formula is made in the US in a GMP-certified facility
It uses ingredients that may help eliminate IBS
It's dairy, soy, and gluten free
High probiotic count
What we don't like
Intended for men only, but they also offer YourBiology Gut+ for for women
It takes up to 3 months for the full results to show
It's expensive
About the brand
Biotics 8 is made by Wolfson Holdco Limited, a well-known UK health company. The company has been acquired by a Glasgow-based wellbeing group The Original Fit Factory in 2022 They've been around for over 10 years and make other great supplements too, like YourBiology Gut+, PhenQ, and TestoPrime among many others.
Benefits of consuming Biotics 8
Here are the benefits you can expect from using Biotics 8:
Enhanced digestion
Whether your daily routine involves working in an office, taking care of a busy household, or managing numerous tasks, you may often find yourself experiencing digestive discomfort. This discomfort can be exacerbated in those with poor gut health. Formulated with various digestive enzymes, Biotics 8 is designed to optimize digestion by efficiently breaking down fats, proteins, and sugars.
Improved focus
Maintaining focus in a day filled with diverse tasks can be challenging, especially when your cognitive functions are not at their peak. Biotics 8 aims to enhance focus through its specially designed formula that strengthens the gut-brain axis.
Just as certain ingredients and supplements can help in muscle growth and fat reduction, the components of Biotics 8 have the potential to bolster your cognitive abilities. Imagine accomplishing more in a day due to enhanced mental endurance and focus.
Mental wellbeing
A well-functioning body is excellent, but it doesn't automatically correlate with mental well-being. Individuals from all walks of life, including those in peak physical condition, can experience stress and mental health challenges. Biotics 8 addresses this by providing a specially designed formula to promote mental wellbeing.
The probiotics and vitamin D3 in Biotics 8 can contribute to the restoration of a balanced gut microbiome, which in turn may enhance serotonin levels and help alleviate stress. This focus on the gut-brain connection aims to foster a sense of mental balance and boost immune health, addressing the unseen but vital aspects of overall well-being.
Increase in testosterone
Research indicates that consuming bacteria-rich probiotics, like those found in Biotics 8, may potentially enhance testosterone levels. Just as testosterone is known to stimulate fat metabolism and aid muscle toning, probiotics may have a similar effect on male hormonal balance.
Men who incorporated probiotics into their regimen reported an increase in testosterone levels, coupled with an improvement in sperm concentration, volume, and motility. While conventional testosterone treatment often focuses on muscle development and body toning, Biotics 8 offers a potentially beneficial addition to your health regimen, focusing on the bacterial balance in your gut.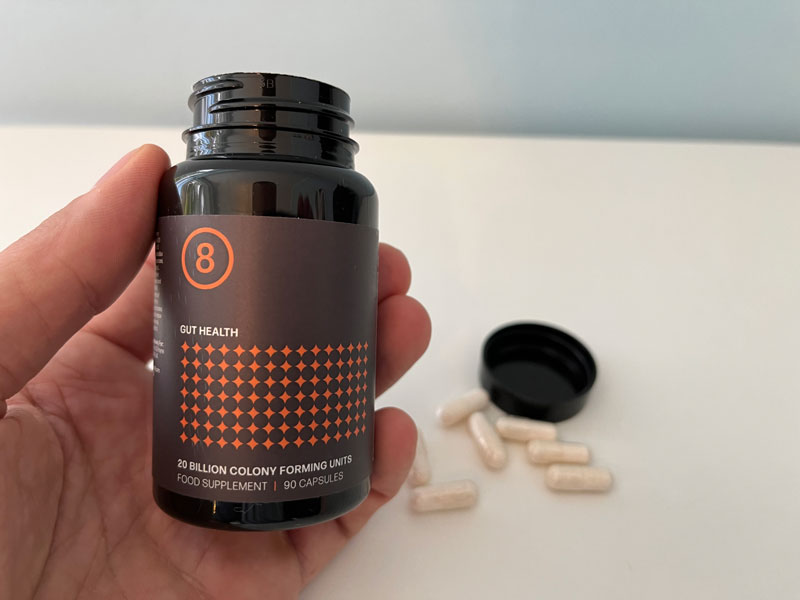 Weight loss
Several studies have pointed out the potential benefits of probiotics and prebiotic fibers, like those in Biotics 8, in assisting weight loss. Just as how testosterone treatment could improve body strength, enabling longer and more intense workouts, a good balance of gut microbiota can aid in the efficient breakdown of food, potentially facilitating weight management.
Men using Biotics 8, with its specific blend of probiotics and prebiotic fiber from chicory root, may experience natural appetite control, more effective digestion, and even the shedding of excess fat through regular bowel movements.
Enhanced muscle development
The potential benefits of probiotics on muscle growth are increasingly coming to light, as demonstrated in a research study conducted on mice. Specifically, the probiotic strain Lactobacillus plantarum was shown to positively impact muscle growth, energy, and endurance. Although the study was conducted on mice, the findings suggest promising implications for human health. 
By aiding in muscle growth and enhancing energy and endurance, Lactobacillus plantarum could be a key player in supporting athletic performance and overall physical health. Further human-based research is necessary, but these findings provide an exciting insight into the potential of probiotics in muscle development.
Better immune system
A robust immune system is critical for warding off illnesses and maintaining overall health. Research indicates a direct link between the condition of your gut microbiome and the strength of your immune response. In essence, a healthy and balanced gut microbiome can significantly enhance the immune system's ability to fend off diseases. In other words, by ensuring your gut microbiome is in its best shape, you're effectively fortifying your body's defense mechanisms against illnesses.
Ingredients

Biotics 8 has several different parts in its mix. Here's how they work:
Saccharomyces Boulardii
Saccharomyces Boulardii is a kind of yeast that can be good for your gut. It helps calm down swelling in the colon and can prevent upset stomachs. It's even been shown in a study on rats that it might boost stamina. While there's more to learn, early signs point to Saccharomyces Boulardii possibly helping you perform better physically and feel better overall.
Lactobacillus casei
Lactobacillus casei is a type of good bacteria that helps make your bowel movements more regular. Studies also show that it could help reduce stress by boosting serotonin levels, the "happy hormone" in your body. In tests with medical students under stress, those who had a daily dose of this bacteria saw improvements in anxiety, physical symptoms and even had more serotonin in their systems. In short, Lactobacillus casei might not only make your tummy happier but could also make your mood brighter.
Lactobacillus rhamnosus
Lactobacillus rhamnosus is a type of helpful bacteria that could assist in maintaining a healthy gut. Some research suggests that this strain might help prevent "leaky gut," a condition where unwanted particles pass into your bloodstream due to a weak gut lining. L. rhamnosus works by reinforcing this gut lining, helping to reduce symptoms related to irritable bowel syndrome (IBS). In short, having this bacteria in your system could mean less gut-related discomfort and a stronger barrier against potential gut problems.
Lactobacillus plantarum
Lactobacillus Plantarum is a handy helper for your digestive health. It works to keep your gut happy, and it's known for calming problems like IBS and stomach cramps. But that's not all it does. Interesting enough, Lactobacillus Plantarum might even give a boost to men's fertility, improving both the quality and activity of sperm.
You can check out the complete list of ingredients by clicking here.
Does Biotics 8 really work?
If you're wondering if Biotics 8 really works, you're not alone. Many of us seek out supplements to improve our health and well-being but finding the one that truly works can be a challenge. Biotics 8, however, stands out from the crowd. This formula is crafted with select probiotics, including Saccharomyces Boulardii and Lactobacillus strains, which are well known for their gut-boosting abilities. They help calm digestion issues, reduce inflammation and even support a better mood. You'll find people across the board who swear by the benefits of Biotics 8 and claim it's helped them find better balance in their health.
However, like any health supplement, the effectiveness of Biotics 8 can vary from person to person. It's important to remember that everyone's body is unique and so, the results can differ. But, the good news is that Biotics 8 uses ingredients backed by scientific research, meaning it's not just a shot in the dark. It's designed to support your gut health and immune system, improve your physical stamina, and potentially even help you achieve a fitter physique.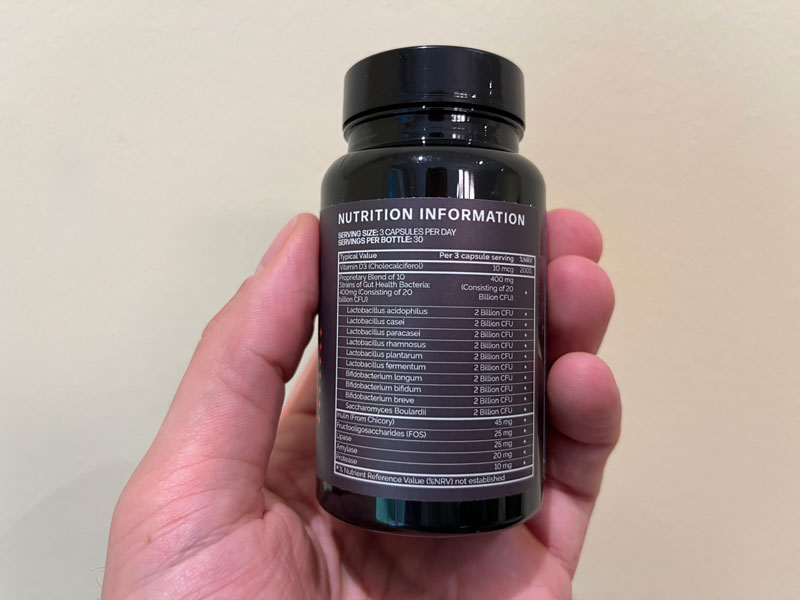 When and how to take Biotics 8?
Using Biotics 8 is straightforward and can easily fit into your daily schedule. To get the most out of Biotics 8, take three capsules each morning with a glass of water.
Maintaining a consistent routine over several months is crucial for effective results. By doing so, you'll be consistently supplying your gut with the beneficial bacteria it needs to function optimally.
Are there any side effects?
Biotics 8 generally doesn't cause recurring side effects in healthy adults. Still, everyone's body is unique, so it's not guaranteed to be safe for everyone.
If you have a complicated health background or a major illness, you could possibly experience unexpected effects. So, if this sounds like you, it's best to talk to your doctor before starting with Biotics 8.
Like any supplement, there's a small chance of allergies to certain probiotic strains. So, check the ingredients in Biotics 8 to make sure you're not allergic before you start using it.
According to official sources, Biotics 8 is totally safe. It uses only proven, live probiotic strains that are natural and gluten-free, and they don't have any known side effects.
What's more, Biotics 8 probiotic formula is made right here in the USA in a GMP-certified facility. Every batch goes through strict testing to make sure each bottle is packed with live probiotic strains. If it doesn't pass the test, it doesn't get shipped.
This means you can trust that every dose of Biotics 8 is packed with real, live cultures, each dose packed with 20 billion CFUs ready to help your gut.
But remember, before starting any new health routine, it's always a good idea to chat with your doctor.
Cost, shipping and returns
Biotics 8 offers several affordable purchasing options. For a one-month supply, containing 90 capsules, it costs $64.99, which is $15 less than its retail price. If you're aiming for better savings, there's a popular choice of buying two months' supply and getting an additional month free, costing $129.99, saving you about $109.98 from the retail price. And for the greatest discount, you can buy a three-month supply and receive two months free for $194.99, letting you save a substantial $204.96. The good news is, all these options come with fast and free shipping.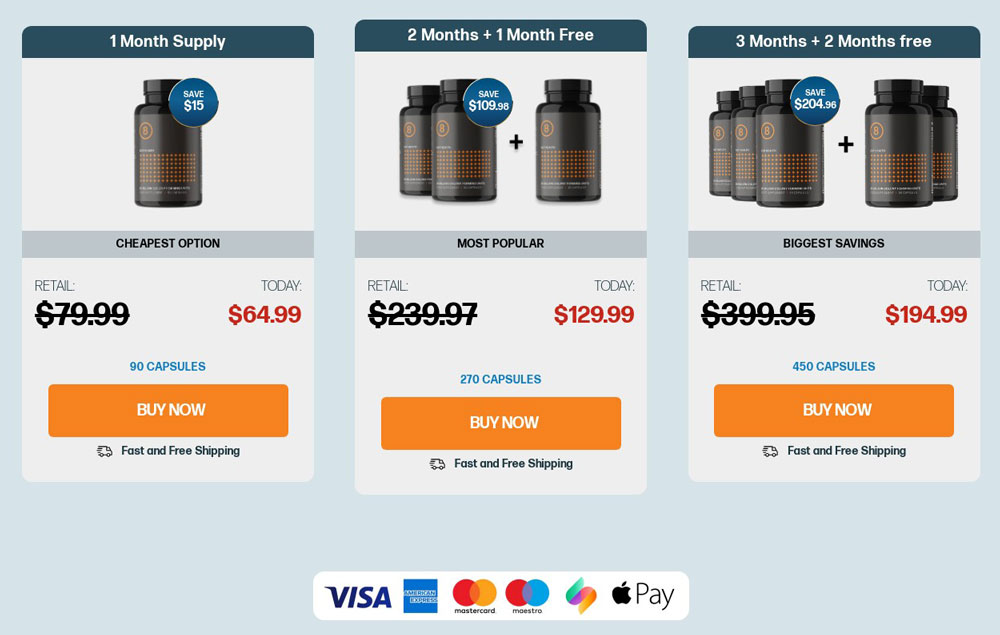 A standout feature of Biotics 8 is their customer-friendly 60-day money-back guarantee. This is particularly useful if you're trying out their 3 or 5-bottle packages. So, if you're not entirely happy with your results, you can send back your order within 60 days of purchase and get a full refund.
According to the information available, they ensure the safety of your credit card details by using a secure, encrypted payment processing system. The company reportedly doesn't access or store customers' credit card information.
As for shipping, if you're based in the United States or the United Kingdom, you can expect your package within 5 business days. For those in Australia, Canada, or France, it takes about 10 business days.
Customer reviews
The feedback for Biotics 8 is largely positive, as reflected on their official website. Most users have shared their beneficial experiences with the supplement, highlighting its effectiveness in improving gut health.
One user, who had previous discomfort with other probiotics, was delighted with Biotics 8, saying: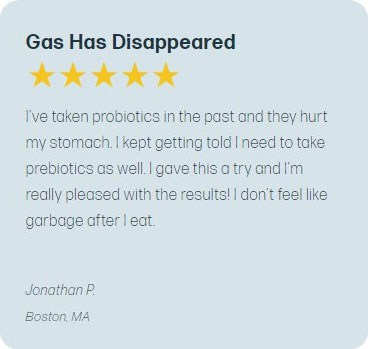 Another user, who dislikes traditional probiotic foods like sauerkraut, kefir, and kimchi, had a positive experience with Biotics 8. They shared: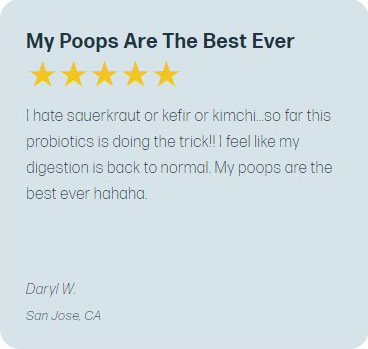 You can check the rest of the reviews by clicking here.
Final word
Biotics 8 seems like a smart choice for those looking to support their digestive health. It doesn't claim to provide instantaneous results, but rather, it promises gradual improvements in gut health over time.
Judging by the product's details, Biotics 8 is designed to be a beneficial part of your daily routine. When consumed regularly, it may improve digestion and potentially reduce digestive discomfort. The key is consistency and giving the product enough time to work.
Importantly, Biotics 8 appears to be most effective when it's part of a comprehensive approach to health. That means maintaining a balanced diet, getting regular exercise, and ensuring adequate sleep. Just like how a good diet supports overall health, it can also enhance the effectiveness of supplements like Biotics 8.
In other words, Biotics 8 is not just a band-aid solution, but rather a tool in your toolbox for better gut health.
---
Nerko is a writer for Zoopy, and he's been working there since 2019. He loves to ride his motorcycle and bicycle, especially in the summertime! He also enjoys watching science fiction movies, and his favorite movie is Interstellar. Nerko is also a competitive gamer - so if you're looking for a good competition, he's your man!
---