Bubble gun toys are more than just an enjoyable form of playtime entertainment for kids – they're an integral part of early learning and development. For example, they help promote visual tracking as rainbow-colored bubbles float in the air. In addition, these bouncing bubbles encourage movement and motor skills as your little one reaches and chases after them.
For children, it's all about balance and physical coordination, like running, jumping, laughing, and interacting with bubbles. All these create opportunities to develop muscle density while improving fine motor skills, hand-eye coordination, and spatial awareness.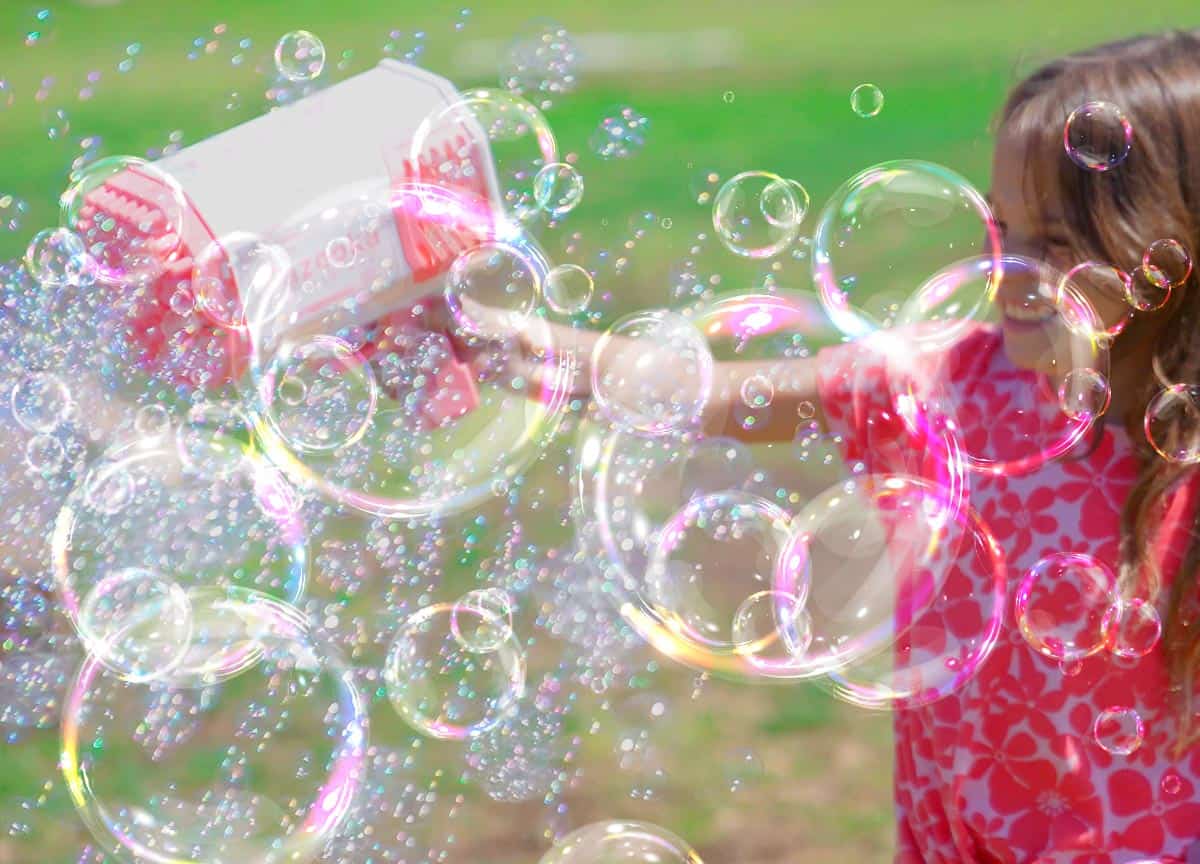 In addition to the health benefits that bubble play brings, there's a good dose of fun! It doesn't take much effort to engage your child's imagination in healthy games like "Catch The Biggest Bubble!" When you choose Bubble Toys for your growing family, it will be clear why blowing bubbles have stood the test of time.
Bubble Toys are certainly the smart choice if you're looking for a practical solution that offers fun playtime activities while helping promote overall growth and development in your child.
History of Bubble Toys
For centuries, children have blown bubbles as a form of indoor play; even 17th-century Flemish painters filled their scenes with youngsters engaging in the activity. But it wasn't until the beginning of the 20th century that bubbles became widely available as a toy. That's when people saw an opportunity to make some extra money by selling bubble-blowing equipment and bubble-making liquid.
Over the years, bubbly amusement has consistently captivated and amused kids of all ages. From basic bubble wands to fancy bubble machines, there's something for everyone on the market. These toys can transform your backyard into a shimmering wonderland of fun with just a few bubbles.
Bubble Gun Toy Benefits
These toys will keep your child entertained for hours on end
It helps children learn colors and shapes
Kids continually build upon movement and motor skills
It helps develop hand-eye coordination
It helps children learn through play
It encourages creativity and imagination
These toys will make your child's eyes light up with excitement
Watching them play with these toys will bring you joy
Are Bubbles Safe for Children?
When it comes to fun, bubbles are probably at the top of most kids' lists. Of course, it's easy to see why – colorful orbs of light floating through the air are an experience nothing short of magical. And for parents, the best part about bubbles is that they are generally safe for children.
However, there is a large selection of bubble solutions. When picking one for yourself, just make sure it doesn't contain polyethylene oxide. This polymer can cause skin irritation and may cause problems if swallowed. So, to be safe, look for non-toxic options, as they guarantee a hassle-free playtime session!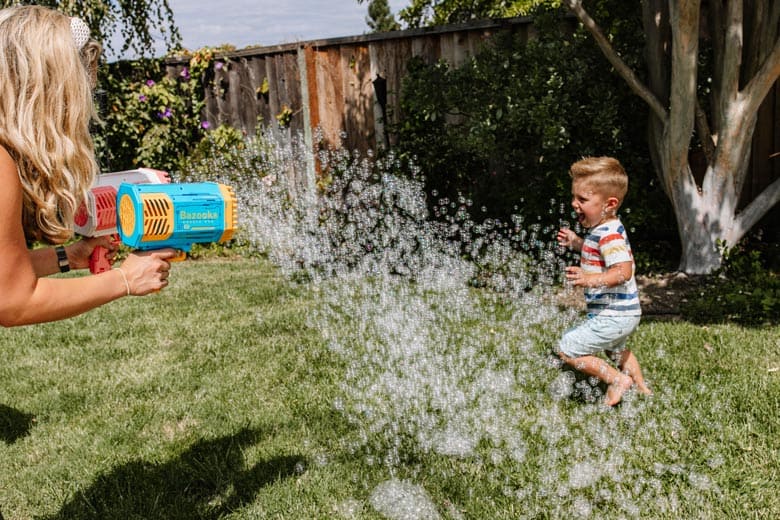 Can Children Eat Bubbles?
The answer is yes! There are edible bubbles that are safe for kids and provide them with a unique and tasty treat. With a range of flavors to choose from, your child can find the bubble they love best without the risk of harm.
Of course, it's still important to advise moderation – if your child eats too many bubbles in one sitting, they may experience a gentle tummy ache due to their delicate digestive systems.
Top 7 Best Bubble Gun Toys
The best bubble gun toy is the one that fits your child's individual needs and preferences. Unfortunately, with so many different types of bubble guns on the market, it can be hard to decide which one to buy. That's why we've put together this list of the top seven bubble guns based on our findings from extensive research. We hope you find it helpful in deciding which one to pick for your little ones.
Grass Lawn Mower Bubble Machine

Bubble Leaf Blower Machine

1000's Of Bubbles In Seconds

Over 7000 per minute

Fire a Barrage of Bubbles

30 seconds to create a continuous stream of bubbles

A multitude of events, from grand galas to daily merriment. Birthday bashes, nuptials, poolside shindigs, photo ops, outdoor activities & more. Ideal for day and night festivities.

Ideal for indoor and open-air festivities such as birthdays, nuptials, classroom gatherings, and many more.

This item is ideal for an event with a theme, such as a birthday celebration, wedding, Halloween gathering, school classroom setting, outdoor water game, beach outing, camping excursion, carnival, or backyard bubble bash. It is also great to use as party favors.

This product is ideal for birthdays, bathing merriment, rites of passage, celebratory events, nuptials, outdoor excursions, and various other occasions

It is appropriate for multiple events such as wedding ceremonies, birthdays, gatherings, themed celebrations, and more.

Excellent present notion for toddlers during summer, birthday, garden sport event, and any celebration party.

Perfect for summer festivities, whether indoors or outdoors.

1 bubble solution (118ml)




2 bottles of 148 ml (5 oz) bubble solution

Doesn't come with bubbles solution.

400ml

2 bottles of 118ml bubble liquid

3.7 volt rechargeable battery (and USB charging cable)

Plug-in/USB charging or Batteries (included batteries)

2 charging modes, via USB (USB charging cable included) or 4 AA batteries(Batteries Not Included)

4 AA Batteries (Batteries not Included.)

3 AA Batteries (Not Included




3 AA Batteries

(Batteries Not Included)

88 bubble holes with 4 colored lights

Completely safe for both children and adults to use

Non-Toxic

Safety test approved

Non-Toxic. Solution Meet All Safety Tests (TRA, USP51, USP61 etc).

Non-Toxic. No dye. Solution Passes All Safety Tests (TRA, USP51, USP61 etc.).

1) Max Bubble Gun
If you're looking for a simple yet innovative way to bring endless joy to your party, look no further.
The Max Bubble Gun is designed with convenience in mind. It's easy to use – just pour your favorite bubble liquid into the tray, dip the gun into the solution, and pull the trigger.
Then, send showers of bubbles into the air and enjoy the colorful show.
Even better? The Max Bubble Gun is also engineered with color-changing LEDs, so you can also have a bubble-filled extravaganza in the dark.
This bubble blaster takes outdoor fun to a whole new level with a unique design that features 88 bubble holes. That means you can run around creating THOUSANDS of bubbles in no time.
2) Gatling Large Bubble Gun
The Galing Bubble gun is designed to be sturdy, non-toxic, and compliant with all US toy standards. With no sharp edges or foul smell, the toy is kid-friendly, so your family can focus on soaking up the joy of bubbles!
This Gatling bubble gun includes easy-to-install plug-in/USB charging or batteries (included), so you don't have to worry about a complicated setup.
Simply pick up your Gatling Bubble Gun, fill it with its included 118ml bubble solution, then fire away! Just keep an eye out for flying bubbles while you take advantage of its superior quality firing ability that kids everywhere love.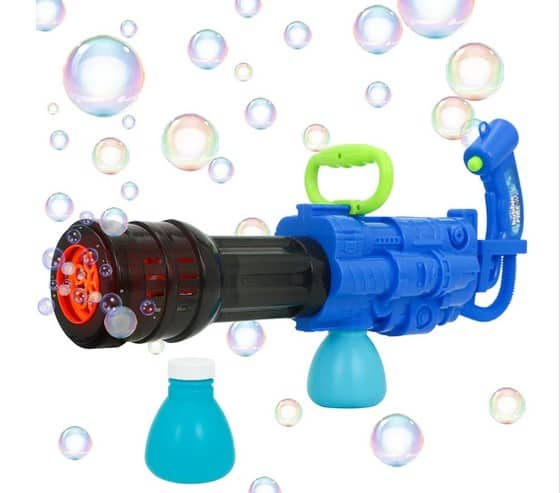 Whether indoors or outdoors at parties, weddings, classrooms – or just running around the backyard – you and your little ones will experience hours of unforgettable fun together.
3) Joyin Bubble Gun Blower
This 2-piece set packs a punch for your bubble fights – there's no reason to be without ammunition; you have two guns and two 148 ml (5 oz) bubble solution bottles.
And don't worry about being too rough with the actual guns – they are designed to be super durable, so your fun can last longer.
In addition, the superior quality sends a barrage of bubbles at your opponents or friends, ensuring you never run out of bubbles during an outdoor game.
This summer toy is perfect for any outing or party. So toss them in bags, and bring them to camping trips and parties. And never fear; these bubble guns and bubble solutions are incredibly safe on kids' skin and face due to passing USP51, USP61, and other safety tests.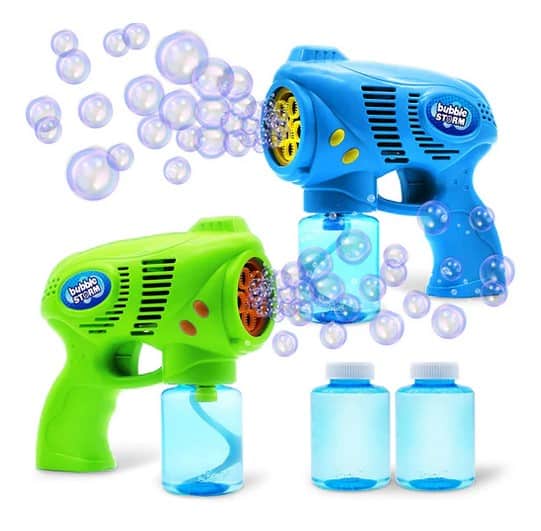 4) White Bubble Machine
The White Bubble Machine is the perfect way to create memorable experiences. From birthday parties to backyard summer fun, it's guaranteed to make any occasion extra special.
Kids of all ages will love feeling like they're in a bubble wonderland with its steady stream of colorful bubbles that can fill any room in no time!
And you won't have to worry about spills with its sturdy construction and stability. Plus, it has the added assurance that it's safe for children, meeting all necessary standards and safety tests. Just pop some batteries in (not included), hit start, and let the bubble-filled magic begin!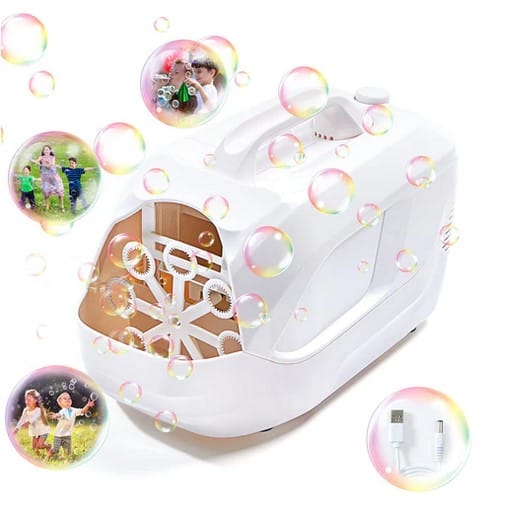 5) Bubble Machine Frog
The Bubble Machine Frog is ideal for anyone looking to introduce a bit of extra fun into their family gatherings and activities.
It gives kids an immersive experience with its efficient and effective bubble production, and it's also safe and compliant with US toy standards.
Its battery-powered design makes for a convenient setup that won't slow you down.
With two included machines in each set, everyone can enjoy the froggy fun of Bubble Machine Frog – perfect for outdoor parties and celebrations.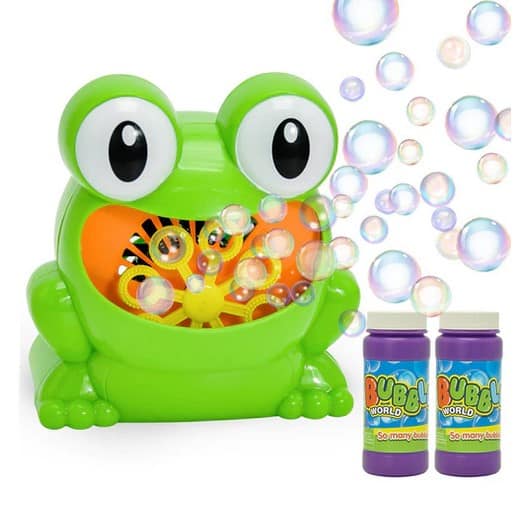 6) Automatic Grass Lawn Mower Bubble Machine
Turn your backyard into a magical wonderland with the Automatic Grass Lawn Mower Bubble Machine.
This fascinating bubble toy is incredibly easy-to-assemble, with two 118 ml bottles of non-toxic solution that passes all safety tests.
Perfect for children's summer parties, birthdays, lawn game parties, or any celebration, it will delight little ones and make any gathering truly special.
Use the mower to create an endless stream of bubbles and send toddlers running after them with wide-eyed glee – hours' worth of effortless fun.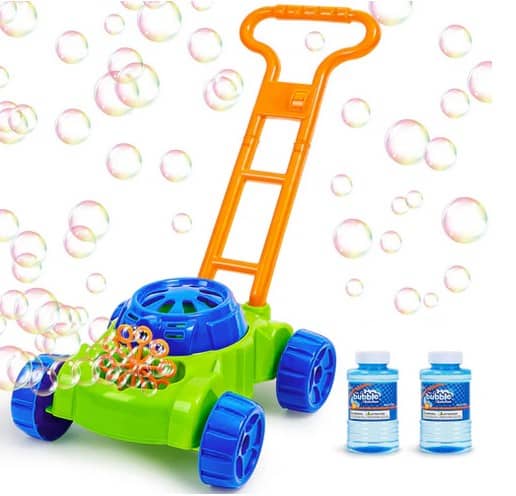 7) Bubble Leaf Blower Machine
Easily fire barrages of bubbles for any educational event, indoor or outdoor party.
With the Bubble Leaf Blower Machine, there's no more pulling out the wands and bottles – simply open up the machine, pour in the 4oz bubble solution, and begin creating a mesmerizing bubble haven that kids will find hard to pull away from.
Plus, its Camera Bubble design makes it even more fun and creative!
In addition to promoting healthy outdoor playtime with friends, the Bubble Leaf Blower is also totally safe for kids of all ages – containing non-toxic materials, so you can rest assured your little ones are in safe hands.
In addition, this machine meets US toy safety standards and has been tested by experts to ensure quality entertainment.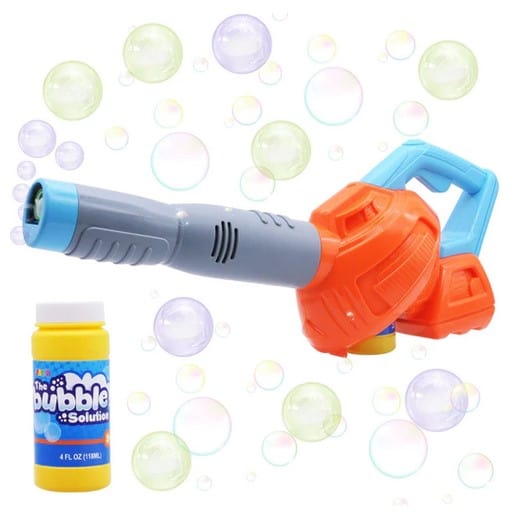 How to Choose the Best Toy Bubble Gun
Are you ready to take your bubble-shooting game up a notch? There are plenty of exciting bubble guns available for all ages and levels. But how do you ensure you get the best toy bubble gun out there? Well, with the right set of conditions, you can easily find what works for you.
First, consider the tank capacity: Make sure your bubble gun's tank is big enough to hold enough solution – because that means more bubbles! That way, you don't have to keep refilling it every few minutes. Then, depending on the size and usage of your device, choose a tank capacity that suits your needs.
Second: Make sure you're paying attention to the material. Look for plastic or rubber material that is durable and resistant to tears and splashes. Your toy bubble gun will stay in good condition even after intensive use!
Third: look at speed options. If speed options are important to you, then make sure your device comes with variable speeds so you can achieve the shooting effect of your preference for maximum fun. Plus, this could work great for various types of parties and events!
Fourth: Don't forget the power supply! The power source for bubble guns comes in two forms: batteries or AC power adapters.
Last but not least: Does it have a solution? You may be surprised at just how many products don't offer any type of solution! So always double-check that one is included before making your purchase – otherwise, you might be left blowing with frustration literally!
In summary: Don't let yourself get overwhelmed by all these factors when it comes to buying a toy bubble gun – once you know what qualities to search for, choosing 'the one' will be easier than ever before.
Conclusion
Built to last and designed with your child's safety in mind, these bubble toy guns can be used indoors or outdoors so your children will never get bored of them.
Each bubble gun offers different features that make them the perfect gift for any day of the year. Max Bubble Gun is a great option for those who want something easy and simple. Its long-lasting bubble solution ensures that your kids have hours of uninterrupted playtime with plenty of bubble-blowing action.
The Gatling Large Bubble Gun includes an extended barrel for extra large bubbles and an anti-spill system that keeps your surfaces mess-free. And if you're looking for something totally unique, check out the Automatic Grass Lawn Mower Bubble Machine.
We also offer several unique designs, such as the Bubble Leaf Blower Machine, White Bubble Machine, and Bubble Frog, for those looking for something extra special for their bubbling fun. The best part is that all these cool gadgets come at an affordable price without compromising quality.
These toys offer plenty of fun, encourage children's fine motor skills development, and help them learn about cause-and-effect relationships through their experiments with bubbles.