At a glance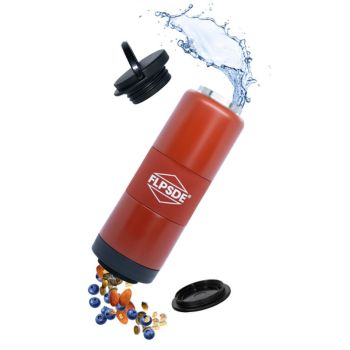 What we like
2-in-1 design for convenient storage of both drink and snack
20oz drink capacity
Bottle is leak proof
Water bottle keeps drinks hot or cold for hours
BPA-free plastic snack storage container
Wide mouth for easy insertion of ice and cleaning
Silicon strap grip and carry handle for easy handling and transport
What we don't like
Not suitable for use with carbonated drinks
Are you tired of carrying around multiple containers to stay hydrated and nourished during your workouts or outdoor adventures? We all know how important it is to stay hydrated while staying active, but what about when you need a snack to refuel? We came across an FLPSDE Dual Chamber Water Bottle, the new solution to keep both your drink and snack in one convenient container. No more juggling between your water bottle and snack container – with FLPSDE, you can have both at your fingertips.
What is FLPSDE Water Bottle?
The FLPSDE Water Bottle is an innovative product that combines the functionality of a water bottle with the convenience of a snack storage container. With its unique design, the FLPSDE features a storage compartment located at the bottom of the bottle that can be easily accessed by unscrewing the container cap.
While similar concepts have been seen in the past with protein shake bottles, the FLPSDE takes it to a whole new level with its practical and functional design. Unlike previous iterations, the FLPSDE has been thoughtfully crafted, resulting in a well-constructed and user-friendly product. Moreover, the 2-in-1 bottle is patented, ensuring that you won't find a similar product on the market.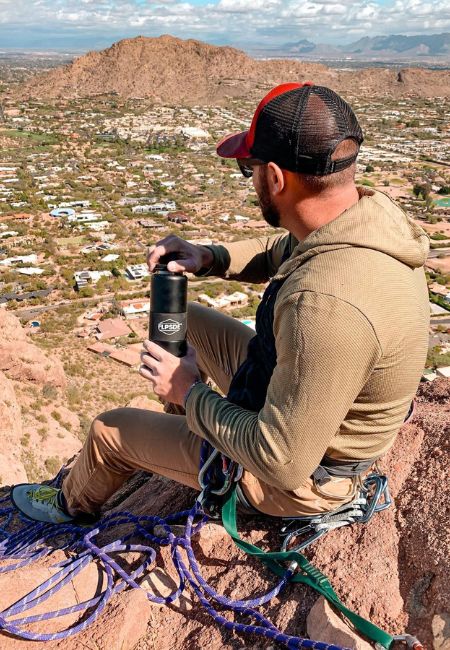 How is FLPSDE Water Bottle Made?
The FLPSDE Water Bottle is designed to keep your beverages cold and your snacks fresh, all while being made with high-quality materials. The bottle is made up of two containers merged into one, featuring a double-walled stainless steel water bottle in the upper part and a 7oz snack container in the bottom. The water bottle is designed to keep your liquids hot or cold for hours, thanks to its insulated construction. 
It's worth noting that the duration for which the bottle keeps your drinks hot or cold can depend on how frequently you open the bottle, as well as external temperatures. However, the bottle is not intended for use with carbonated drinks.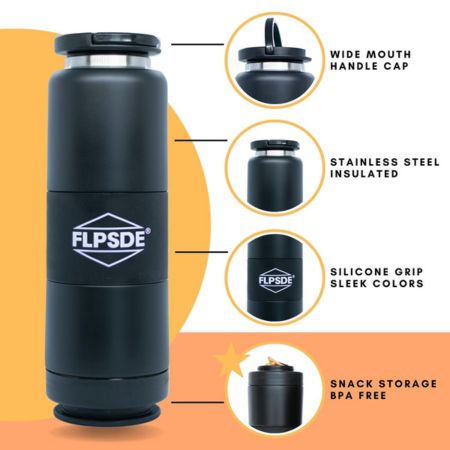 The snack storage container is made of BPA-free plastic, which means it's safe for your snacks. If you choose to use your FLPSDE for hot drinks such as coffee, it's possible that you may experience some temperature transfer to your snacks. Nonetheless, the bottle is designed to keep your snacks fresh and ready to enjoy whenever you need them.
FLPSDE Water Bottle Features and Benefits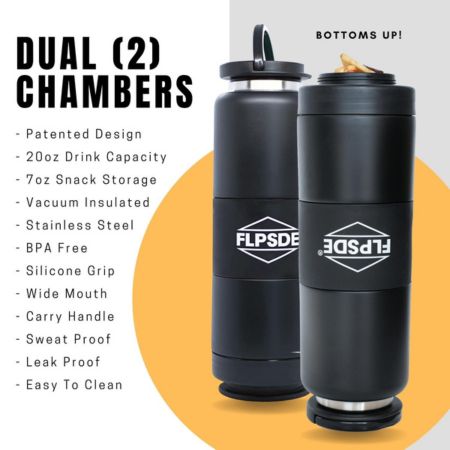 FLPSDE Water Bottle is a versatile and practical product with many features and benefits that can make your everyday activities easier and more enjoyable. Here are some of the most notable features and benefits of this water bottle:
2-in-1 Design: The FLPSDE Water Bottle's 2-in-1 design is a practical solution for anyone who wants to have their drink and favorite snack all in one place.
20oz Drink Capacity: The bottle is designed with a sufficient capacity to ensure you don't run out of water or drink during your activities, and can maintain hydration levels throughout the day.
Stainless Steel Insulated Water Bottle: The vacuum-insulated walls of the bottle keep your drinks hot or cold for hours, and the stainless steel material prevents any plastic odor or taste from affecting your drink.
7oz Snack Storage: The BPA-free plastic snack storage container is perfect for keeping your snacks fresh and safe, and its location at the bottom of the bottle makes it easily accessible.
Wide Openings: The wide mouth of the bottle allows for easy insertion of ice, while also making it easier to clean the bottle and storage container.
Silicon Grip: The silicon strap grip on the middle of the bottle provides an extra layer of grip, making it easier to hold the bottle, especially during physical activities.
Carry Handle: The handle on the bottle cap is ideal for easy carrying, hanging or attaching the bottle to a backpack, and the handle can also be folded flush with the cap if not needed.
Leak-Proof: The tight cap of the FLPSDE Water Bottle ensures that it is leak-proof, preventing any spillages in your backpack or gear. Additionally, the fast cap removal and attachment make it easy to use on-the-go.
Overall, the FLPSDE Water Bottle is an excellent choice for anyone who wants a versatile and practical water bottle that also allows for snack storage, ensuring you stay hydrated and nourished throughout the day.
FLPSDE Trail Snack Mix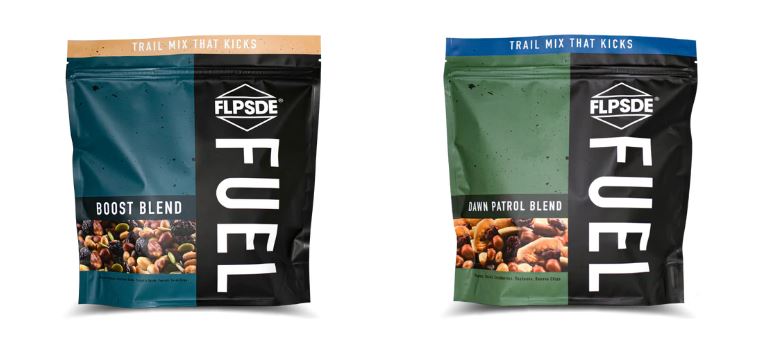 In addition to its popular water bottles, FLPSDE offers two types of trail mix: Boost and Dawn Patrol, both of which are designed to fuel an active lifestyle. Each bag of trail mix is priced at $20 and contains a unique blend of ingredients that provide essential nutrients to keep you energized throughout the day.
Boost Trail Mix
Priced at $20, Boost trail mix is a perfect combination of pumpkin seeds, peanuts, raisins, and carob chips. The blend of protein and fiber helps you stay satiated and fueled up, making it the ideal snack for outdoor activities such as hiking, cycling, or running.
Dawn Patrol Trail Mix
Dawn Patrol Trail Mix is also priced at $20 for a 2lb bag. The blend features vitamin-rich banana chips, soybeans, and peanuts that provide a good source of protein. In addition, sweet raisins and cranberries are added to give you a nutritional boost, keeping you fueled, focused, and energized throughout the day.
Overall, FLPSDE Trail Mix is a perfect snack for anyone who leads an active lifestyle and wants to stay nourished and energized. With two unique blends to choose from, you can pick the one that best suits your taste and nutritional needs.
Pricing and Where To Buy FLPSDE Water Bottles
The FLPSDE Water Bottle is currently priced at $34.99 on the official website, and customers can also take advantage of ShopPay's interest-free installments if their order is over $50. Additionally, the company offers free returns and exchanges within 30 days of the purchase date, ensuring customer satisfaction.
It's always recommended that customers purchase products from the official website to ensure the authenticity of the product and receive full benefits such as discounts, warranty and money-back guarantees. FLPSDE is an independently-owned company that takes pride in its community and is operated in Omaha, Nebraska.
Warranty
A Friendly Lifetime Warranty backs FLPSDE Water Bottles with Snack Storage against any manufacturer's defects for the life of the product. Suppose you encounter any issues with your FLPSDE Water Bottle that are deemed to be due to manufacturing defects. In that case, the company will replace the product free of charge, provided that it is within the scope of normal and appropriate use.
It's important to note that FLPSDE will only approve warranty claims if the product was purchased from an authorized dealer. Therefore, customers should ensure that they purchase FLPSDE Water Bottles from the official website or authorized retailers to be eligible for the Friendly Lifetime Warranty.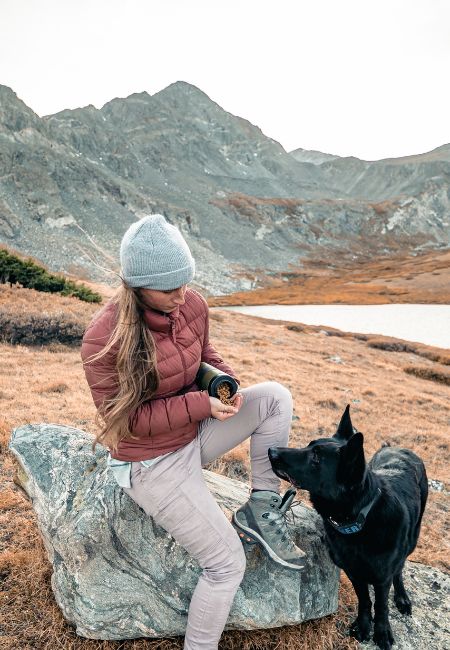 FLPSDE Water Bottles Maintenance
For the best cleaning results, we suggest washing FLPSDE water bottles by hand, despite their dishwasher-safe design. There is no need for any specialized brushes or cleaning tools to reach the hard-to-reach spots; simply use hot water, soap, and a sponge or cloth. However, if you prefer to use a dishwasher, we recommend following these guidelines for disassembling the bottle:
Stainless Steel Outer Chamber: Place on the top or bottom rack.
Caps: Place on the top rack.
Gaskets: Place in the silverware tray.
By adhering to these cleaning instructions, you can maintain the quality and longevity of your FLPSDE water bottle.
---
Abdo is a Zoopy writer who loves spending his free time outdoors, camping, and enjoying the peace that nature brings. He also enjoys fixing things - he's particularly good with electronics. His favorite movie is I Am Legend, and he's fascinated by survival gear and safety.
---