At a glance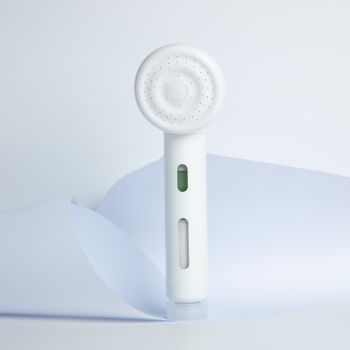 What we like
Filters harmful chemicals and minerals from hard water
Offers spa-like experience with aroma capsules
Provides four distinct scents to choose from
Enhances skin and hair health
Easy to install and replace.
Backed by clinically proven results
What we don't like
Requires regular replacement of scent capsules and filters
If you have a showerhead that's been plagued by mineral buildup, leading to blocked water flow and the growth of mold and mildew, you know the frustrations it can cause, especially for those with sensitive skin. Perhaps you've tried various products that promised to solve this issue, only to be disappointed by their ineffectiveness. Now, there's a new solution on the market called H201 Shift—a "reinvented" showerhead that aims to go above and beyond.
It not only tackles the common problems but also offers an invigorating aromatherapy shower experience right in the comfort of your own home. In the following review, we'll delve into the features and benefits of the H201 Shift shower starter kit, examining whether it lives up to its claims.
What is H201 Shift Shower Head?
H201 Shift is an innovative showerhead that offers a unique and refreshing aromatherapy shower experience while also addressing the well-being of your skin and hair. Unlike traditional showerheads, H201 Shift incorporates a built-in shower water filter and vitamin capsules, working together to enhance the overall quality of your shower.
This thoughtful design allows you to replace your existing showerhead seamlessly, making it a convenient upgrade to your bathing routine. With H201 Shift, you can indulge in a spa-like shower experience while reaping the benefits of improved skin and hair health.
Features of H201 Shift
The H201 Shift showerhead boasts a range of impressive features that enhance your shower experience and promote skin and hair health. One notable feature is the spa-like sensation it offers, making you feel like you're indulging in a luxurious spa treatment right in your own bathroom.
The showerhead includes a designated area where you can insert aromatic scent capsules, which emit delightful aromas into your hot or cold shower. These capsules are infused with skin-nourishing nutrients, adding an extra element of rejuvenation to your bathing routine.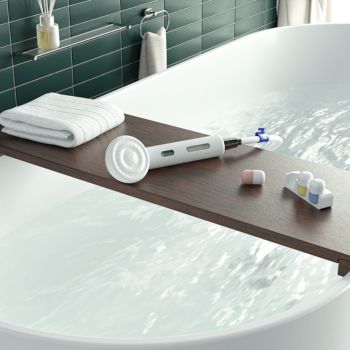 You have the freedom to choose from four distinct scents, each lasting for a duration of 2 weeks or more. The Ginger and Bergamot scent provides an invigorating citrus aroma, perfect for energizing and refreshing your mornings. For evening showers that promote relaxation and calmness, the Tea Tree and Lavender scent creates a soothing ambiance. If you're aiming for a romantic and intimate atmosphere, the Patchouli and Rose scent is an excellent choice. Lastly, the Basil and Grass scent is ideal for awakening your senses and invigorating your mornings.
In addition to the scent capsules, the H201 Shift showerhead is equipped with a built-in shower water filter that is formulated with vitamin capsules. This filter functions like a typical filter, effectively removing debris and impurities from your tap water. Doing so ensures that your shower water is of the highest quality, further contributing to the overall health and well-being of your skin and hair.
Benefits of H201 Shift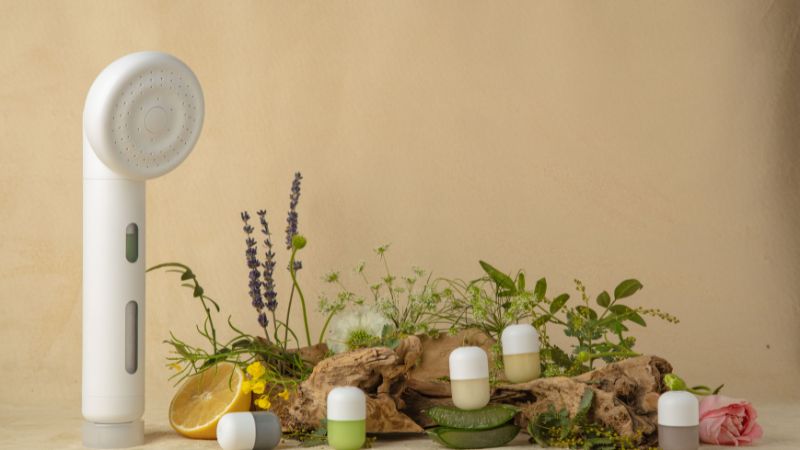 The H201 Shift showerhead offers a range of benefits that go beyond its water filtering and aromatic capabilities.
When we take our daily showers, we often expose our hair and skin to harsh chemicals present in the water. These chemicals can lead to the buildup of residues, leaving our hair and skin in an unhealthy state. However, the H201 Shift showerhead offers a solution by incorporating a built-in filter and vitamin capsules that work in tandem to effectively remove these chemicals and debris.
The filter within the showerhead plays a crucial role in capturing pipe rust, dirt, and sediments as small as 5μm. By trapping these impurities, the H201 Shift ensures that your showers are free from unwanted particles, contributing to cleaner and healthier water. Additionally, the showerhead's filtration system neutralizes chlorine, a common chemical found in tap water. Chlorine can be drying to both hair and skin, but with the H201 Shift, it is effectively removed, helping to alleviate potential dryness and irritation.
In terms of benefits to your skin and hair it:
Deeply hydrates skin
Reduces skin irritation
Reduces frizziness
Improves hair shine
The H201Shift filtration system addresses two important processes: filtering harmful chemicals and minerals found in water.
In many American homes, nearly 90% of them, hard water is a common issue. Hard water contains high levels of calcium and magnesium, leading to scaling and buildup in water lines. This can result in various problems, including the ineffectiveness of detergents and soaps due to water being either too acidic or too alkaline. When the water is hard, it tends to be more alkaline, which can increase the alkalinity of your skin and cause damage to the skin barrier. This weakened barrier becomes more susceptible to inflammation, irritation, and infection.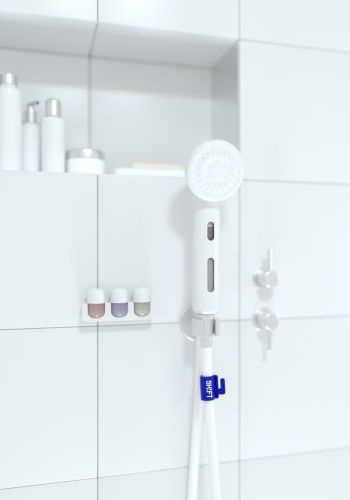 While hard water doesn't pose a direct health hazard, it does have uncomfortable effects, such as itchiness and discomfort. These effects are particularly noticeable on hair, including dryness, flatness, frizziness, hair damage and breakage, flaky scalp, tangles, and hair color issues.
On the skin, the most common impact of hard water is dryness. Individuals with sensitive skin, psoriasis, or eczema may experience worsened symptoms due to the exacerbation of dryness caused by hard water.
Furthermore, hard water can also affect the health of your nails. The nail bed, which is the formation of cells beneath your nails, is vulnerable to drying out. Hard water contributes to this dryness, resulting in thin, brittle, discolored nails that may not grow as long as usual.
The H201Shift shower head's filtration system is designed to address these issues by effectively filtering out harmful chemicals and minerals present in hard water. By reducing the levels of these substances, it helps to alleviate the negative effects on your skin, hair, and nails, allowing you to enjoy healthier and more vibrant results.
Clinical Study
According to the findings of an independent clinical study conducted in 2021, an impressive 94% of participants reported experiencing an improvement in their skin after using the H201Shift showerhead.
The H201 Shift Shower Starter Kit Lite is backed by clinical results that speak for themselves. Here's what our testers had to say:
Clearer Skin: In just 4 weeks, an impressive 94% of testers noticed a significant decrease in acne breakouts and enjoyed clearer, healthier-looking skin. These results were obtained from a diverse group of 40 female testers ranging from 20 to 53 years old.
Enhanced Skin Hydration: 24% increase in skin hydration after 4 weeks. Testers reported more skin hydration. These findings were based on the experiences of 40 female testers aged 20 to 55.
Reduced Redness: After 72 hours, participants experienced a remarkable 20% reduction in skin redness. These results are received from 20 female testers ranging in age from 20 to 55.
*Results observed in clinical studies 2021: Global Cosmeceutical Center by Semyung University. Please note that the clinical results are based on the experiences of testers, and individual results may vary.
Who is H201 Shift for, and Who Needs This Shower Head?
The shower head is suitable for everyone who wants to improve skin and hair health during showering. Also, for those who like and enjoy a spa-like shower, they will really appreciate the H201 Shift shower head, which also makes it a great gift for loved ones.
Other people that may find this shower head soothing are those with:
Dry and sensitive skin
With eczema and psoriasis
Dry and dull hair
Those who to incorporate aromatherapy into their shower routine
Those who look an easy way to improve their skincare
Ingredients of Scent Capsules
The H201 Shift scent capsules are packed with beneficial ingredients that promote the health of your skin and hair. Alongside the impressive 6000mg of Vitamin C, equivalent to the amount found in 120 lemons, these capsules contain a carefully selected blend of other beneficial components. Here are some of the key ingredients:
Aloe Vera
Coconut Oil
Shea Butter
Trehalose
Oatmeal Powder
These carefully selected ingredients work synergistically to provide numerous benefits for your skin and hair, including soothing irritation, improving moisture retention, and supplying valuable nutrients and powerful antioxidants. As an additional assurance, capsules are dermatologically tested and free of allergens, ensuring a safe and enjoyable experience for all users.
| Ingredient | Benefits |
| --- | --- |
| Aloe Vera | Moisturizes and hydrates the skin, repairs damaged skin |
| Vitamin C | Boosts the radiance of the skin, improves hair growth and thickness |
| Coconut Oil | Improves skin's elasticity, strengthens and repairs damaged hair |
| Shea Butter | Helps to prevent dry skin and control frizz |
| Trehalose | Helps to protect the skin, hydrate dry and damaged hair |
| Oatmeal Powder | Soothes and calms sensitive skin, soothes an itchy scalp, and controls dandruff |
How to Install and Use H201 Shift Shower Head?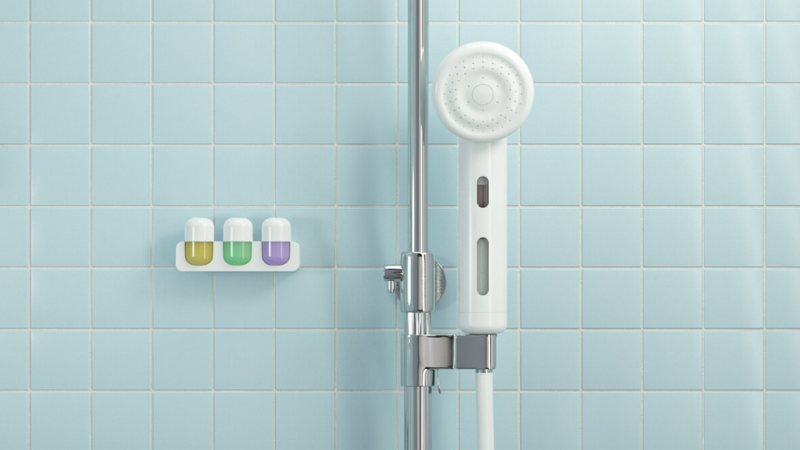 Using the H201 Shift showerhead is a simple and hassle-free process. Here's a step-by-step guide to help you get started:
Prepare the shower head: Hold the shower head with one hand and the H201 Shift handle with the other. Rotate the handle counterclockwise and pull it down to open the compartment for the scent capsule. Place the capsule inside and close the compartment by reversing the previous steps.
Insert the filter: Twist the open button cap of the shower head to access the filter compartment. Insert the filter with the rubber ring facing upward. Once the filter is in place, close the button cap securely and ensure it is tightly locked.
Installation: To install the H201 Shift shower head or replace your existing one, unscrew the current shower head from the shower arm. Then, screw the H201 Shift shower head onto the shower arm using the bottom caps.
If you encounter difficulty in unscrewing your current shower head due to scale buildup, you can use scale cleaner or immerse the shower head in vinegar to dissolve the scale. Adding a few scoops of baking soda to the vinegar can enhance its cleaning power.
Duration of capsules and filter: Each scent capsule is designed to last for over 20 showers, providing a long-lasting fragrance. The water filter, on the other hand, has a lifespan of approximately 6 months.
Filter replacement indicator: The handle of the shower head features a window that allows you to monitor the condition of the filter. Initially, the filter is white when it's new. As it is used, it gradually darkens, serving as a clear indicator that it's time for a filter replacement.
Additional product specifications:
The H201 Shift shower head is made with high-impact ABS plastic, ensuring durability.
It fits standard 1/2" IPS threads, commonly found in the United States.
The shower head has a diameter of 3.3 inches or 87mm.
It provides optimal water pressure, with a water flow rate of 1.75gpm for specific states (CA, CO, HI, NY, WA) and 2.45gpm for all other states.
The filtration system incorporates reverse osmosis to remove impurities and sediments. The Vitamin C filter effectively neutralizes chlorine and addresses minerals such as calcium and magnesium through chelation.
Where to Buy H201 Shift Shower Head?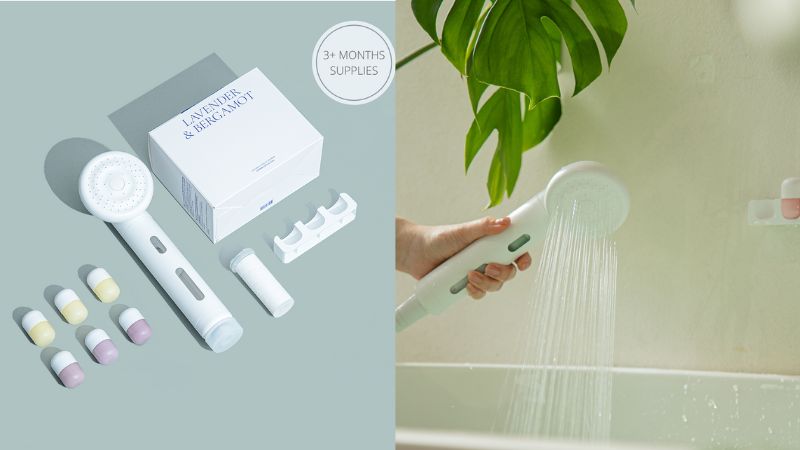 To purchase the H201 Shift shower head, it is recommended to buy directly from the official website.
Due to the popularity of this product, there are numerous counterfeit versions available in the market claiming to be genuine H201Shift.
Currently, the H201Shift Shower Starter Kit is priced at $62.22 on the official website. By purchasing from the official site, you can have peace of mind knowing that you are getting the original product and reliable customer support.
---
Abdo is a Zoopy writer who loves spending his free time outdoors, camping, and enjoying the peace that nature brings. He also enjoys fixing things - he's particularly good with electronics. His favorite movie is I Am Legend, and he's fascinated by survival gear and safety.
---