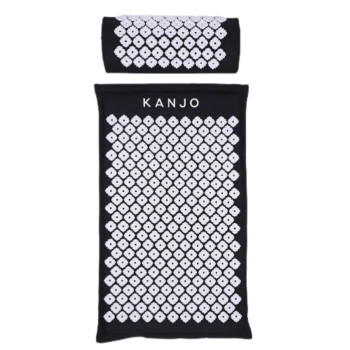 Overall Score: 9.3/10
What We Like
It has a memory foam core with a cotton cover
Unique and high-quality acupressure spikes
FSA/HSA-eligible
It comes with a pillow and travel bag
You can use it in many positions
What We Don't Like
It's not budget friendly
Takes time to adjust to
Our everyday life requires sitting down for a long time at work with minimal movement, which at the end of the day leaves our body tense, especially our back and neck.
But this problem doesn't only occur with people working desk jobs. People who have prolonged walking or standing during the day can strain the muscles in the lower back and legs, leading to tension and pain.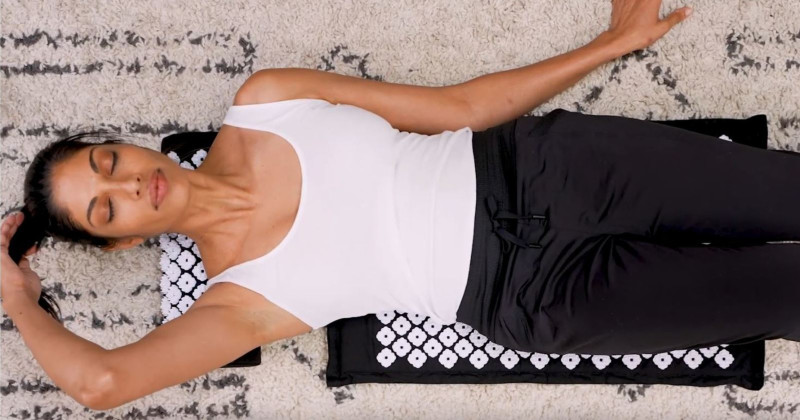 Acupressure is a great way to reduce back and neck pain because acupressure has been shown to increase blood flow to skin and muscles where acupuncture has been applied.
Whether you're seeking relief from back pain or simply want some stress relief, acupressure mats are an affordable and effective solution. These small mats feature many pressure points that can be applied to your body by lying on the mat. The pressure points nestle into sensitive areas, such as the neck, head, arms, hands, back, legs, and feet.
One such acupressure mat is the Kanjo mat set, and in this review, you'll find out everything there is to know about it.
What is Kanjo Acupressure Mat Set
The Kanjo mat is a simple and effective home solution for your neck and back pain relief. However, it differs from the competition because it's made with memory foam. The high-density memory foam from Kanjo mat targets acupressure points that reduce pain throughout your body.
Kanjo's custom-designed stimulators ensure maximum coverage for your back and neck. In addition, they include an acupressure pillow which provides additional relief from soreness, tension, or stress as you sleep.
Another great thing about Kanjo mat is that it is FSA and HSA-eligible.
How Does Kanjo Mat Work?
Kanjo acupressure mat offers relief from head to toe. Here are just a few pain reliefs and benefits:
Pain in neck, shoulders, and back
Fibromyalgia and Sciatica Nerve Pain Relief
Improving circulation
Headaches and migraine relief
Improved sleep
Overall reduced stress
You might feel slight discomfort when lying on the mat for the first time, but don't worry because that's normal until your body adjusts. After that, it's smooth sailing.
The Kanjo mat set also comes with a pillow so that acupressure can be applied from head to foot.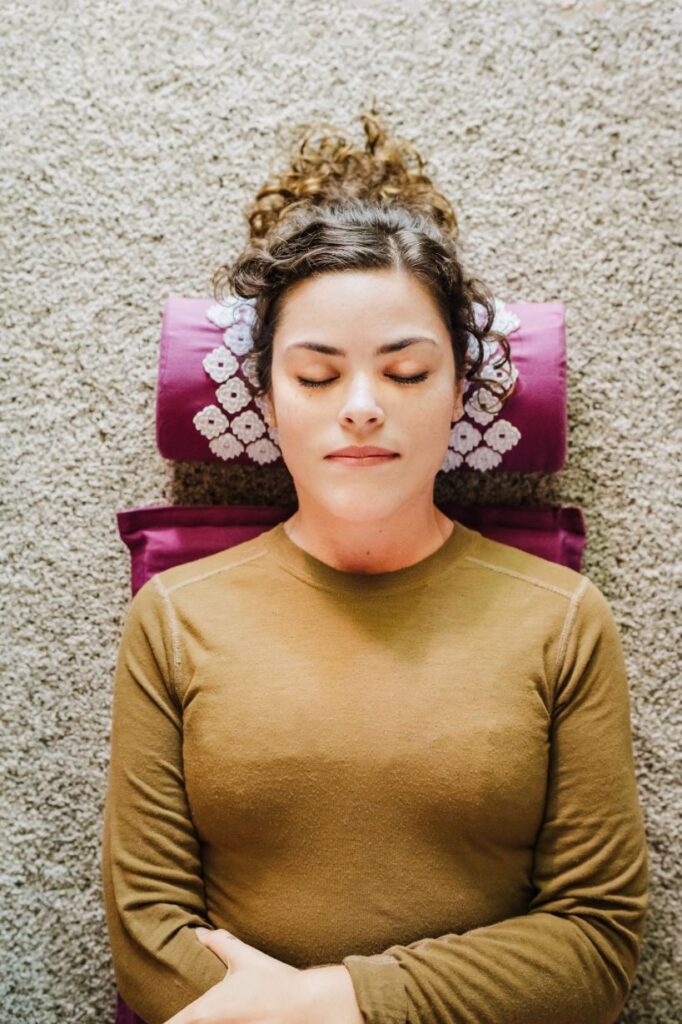 People reported that they feel waves of warmth that massage their body and have a pain-relieving effect on the neck, back, and shoulders. The mat also provides an unusual sense of relaxation for many people.
Benefits of Acupressure Mats
Like your favorite foam roller, acupressure mats promote blood flow to an area and release tension. The unique design of these pressure points makes them perfect for recovery after a hard workout or long day. The benefits of using an acupressure mat are quick and easy to see, as it only takes about twenty minutes per day.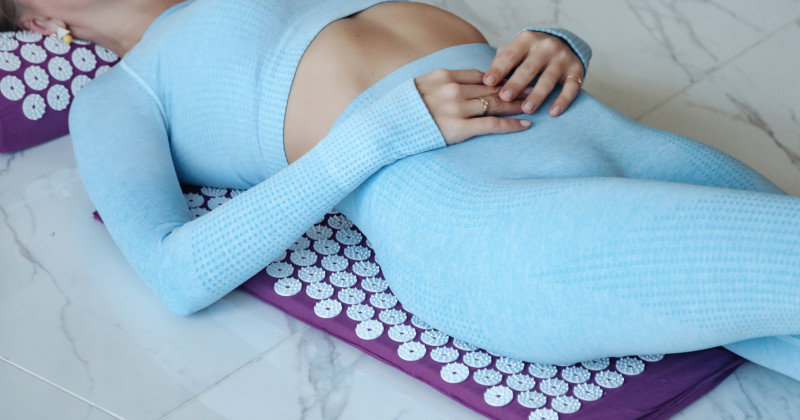 How to Use Acupressure Mat
If it's your first time using it, the pressure points on the mat can be uncomfortable at first, but after several minutes of use, your body will get used to it and start feeling good.
Using the acupressure mat for 20 minutes is usually enough to reach a state of euphoric Zen, as the makers of Kanjo say.
Here are some more tips so you can get a more pleasant experience:
For first-time users, you can wear a shirt to soothe the unpleasantness of the mat's pressure spikes. Make layers between you and the mat so you get comfortable.
Don't rush to lie down because you will get a sharp and painful experience, after which people stop using the mat. Instead, lay down slowly and let the body get used to it.
When you lie down on the mat, don't move around. Moving can cause the mat spike to penetrate your skin or make scratches.
If you are new to mat therapy, it may take some time. But give this product time and try not to be discouraged if things don't work at first.
To start using the mat with your feet, you need to go progressively. First, sit on a chair and place your feet on the mat to lower the pressure on your feet.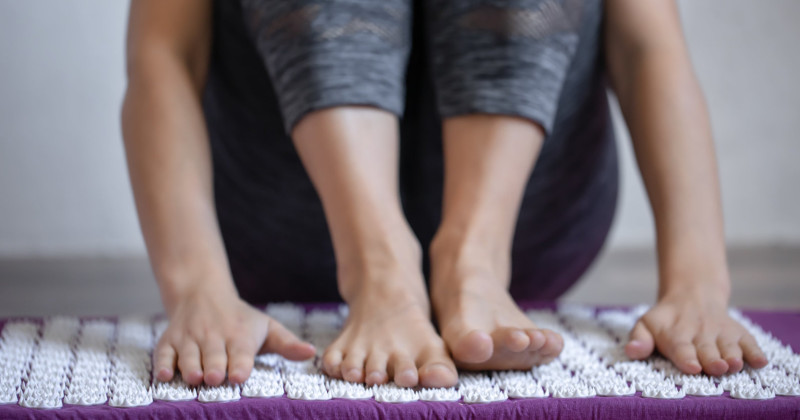 Once you are comfortable with that pressure after some time, then you can stand up while leaning on some stable surface like a countertop or chair for better moderating pressure on your feet.
The last step is to stand on the mat with full body weight. Using a mat for your feet helps with blood circulation and foot pain.
Position You Can Use With Kanjo Acupressure Mat
Other acupressure mats only show using a mat on your back and feet. With Kanjo mat, you can go even further with its uses and positions, such as:
Back – flat resting position without pilot
On the stomach position with your head resting on your hands (massage position)
Hip resting on the mat position
Bottom resting position
Laying on a mat with a neck pillow
Laying on the back with a neck pillow under your lower back
Foot resting on the mat
Place it on a chair and sit on it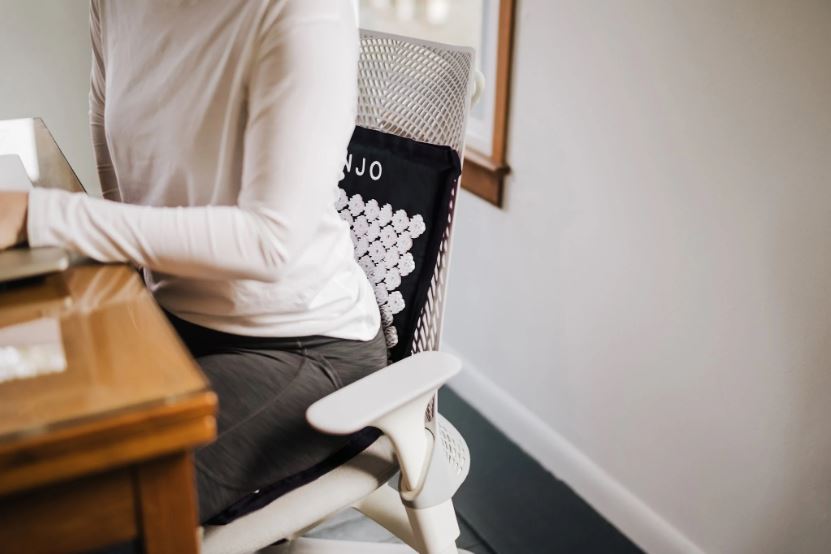 Kanjo Acupressure Mat Compared to Other Mats
Let's first start with how a Kanjo acupressure mat is built. You can expect high-quality materials, which are key for the durability and longevity of the product.
Also, the big difference between mats is the mat's core; with Kanjo, you get a high-density memory foam core, and with other brands, you get conventional foam.
Kanjo Acupressure

Mat Set

Back pain relief
Neck pain relief
May improve circulation

Stress relief
Headache relief

Core: Memory foam

Cover: 100% cotton

Core: Conventional foam

Cover: Synthetic

Unique BPA-Free plastic Stimulators

Mat: 28" x 17" x 1"

Pillow: 14" x 6" x 4"

With some yes, but generally you need to buy separately
Number of Spikes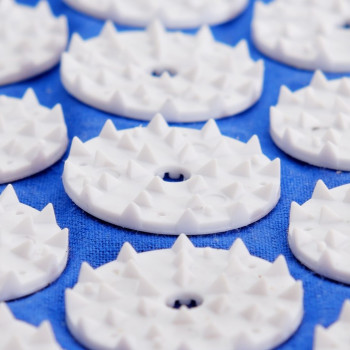 The number of spikes is the second thing you must check when purchasing an acupressure mat.
Low-quality mats have a lower number of spikes and are not as densely grouped as higher-quality mats like Kanjo. This can be easily checked when you look at the spikes grouping.
The style of spikes that Kanjo mat uses are unique and designed to minimize discomfort without losing the function of relief.
Cheap acupressure mats use spikes without any design that basically puncture your skin like needles, which are scary even to look at.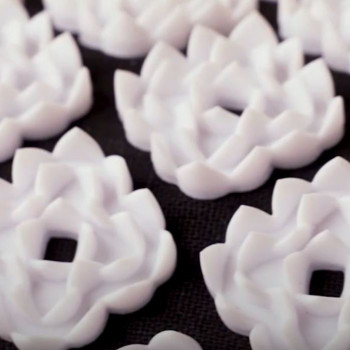 Size
Size is also a big factor because you want the one that fits your needs. After all, they come in a variety of shapes and sizes. With Kanjo, you can cover the upper body, so it's the perfect fit.
Pillow
Regarding the neck and head, you need apillow, and Kanjo comes with one, whereas other brands only include mats.
Customer Reviews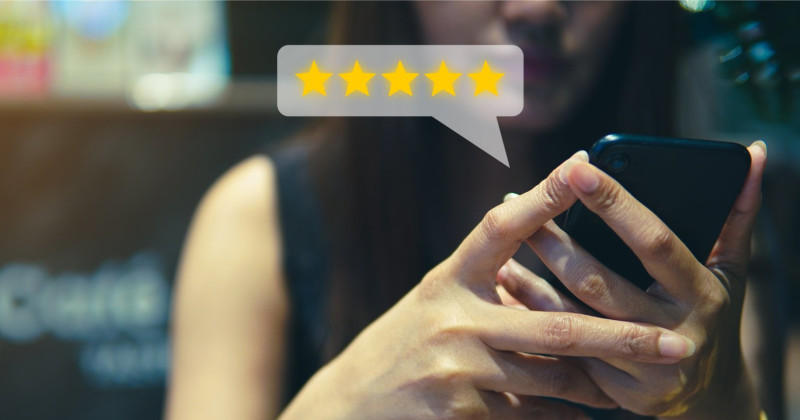 When checking customer reviews, we usually go to sites such as Trustpilot, Yelp, and Sitejabber, where we find authentic customer reviews full of details.
Unfortunately, we did not find any reviews to testify to our positive view of the Kanjo mat set. On the other hand, at Amazon, we found plenty of reviews from satisfied customers and an overall 4.3 stars rating from 1,229 customers.
The Bottom Line
Acupressure mats and pillows are worth a shot if you have back or general body pain and are looking to relieve it. Unfortunately, they can be slightly difficult to get used to. However, the benefits may be worth it in your quest for relief.
So, with that said, we can safely recommend the Kanjo acupressure memory foam mat set as a high-quality product.
---
Abdo is a Zoopy writer who loves spending his free time outdoors, camping, and enjoying the peace that nature brings. He also enjoys fixing things - he's particularly good with electronics. His favorite movie is I Am Legend, and he's fascinated by survival gear and safety.
---