I'm a gadget guy. Until recently, I carried both my keys and my multi-tool set in my pants pocket and just lived with the fact that they would wear holes in my pockets. My new job requires me to wear suits. I didn't want to ruin the pockets of my good suits, so I had to find a solution.

Comparison Table
Product
KeySmart

KeyBar

Rating

4.1 out of 5

4.5 out of 5
Where to buy
OpticsPlanet
Amazon
OpticsPlanet
Amazon
Capacity
Up to 14 keys
(depends on which version you buy)
Up to 28 keys
(only if you buy the extension screws, the standard is 12 keys)
Material
Plastic, stainless steel, aluminum, titanium, leather
(depends on which version you buy)
Aluminum, titanium, copper, carbon fiber
(depends on which version you buy)
Length
76mm
88mm
Accessories
File, ruler, pliers, pen, scissors, blade, clip, torch, wrench, multitool, USB, deep carry pocket clip, folding knife, stylus, pocket clip, cork, mag connect, quick disconnect, bag hang
Sawtooth, multitool, carabiner, flashlight, deep carry clip, nail file and tweezers, magnut, pick and tweezers, USB, nail file, comb, hook, golf divot, fork, philips screwdriver, flathead screwdriver, can opener
Easy assembly
Yes
Yes
Lightweight and discreet
Yes
Yes
Made in
USA
USA
Warranty
2 years
Lifetime
What is KeySmart?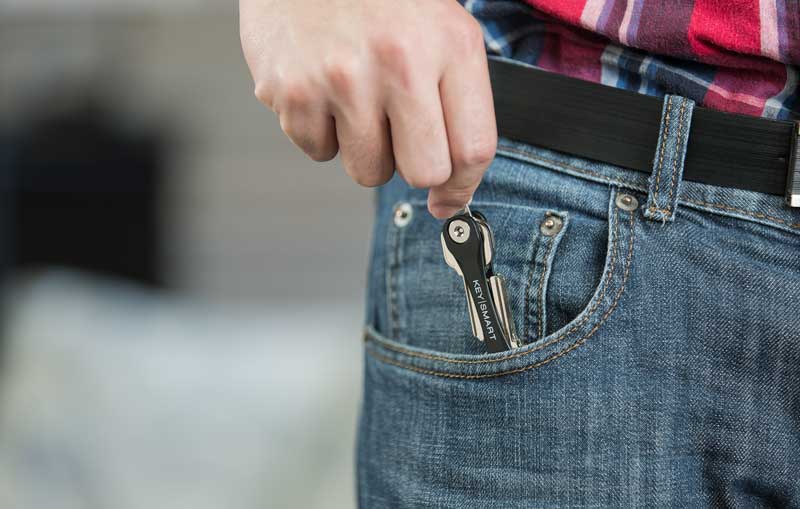 How is a KeySmart constructed?
A KeySmart key organizer is a lightweight, sleek aluminum and steel device that keeps keys stored in a compact manner. Its concept is similar to that of folding pocket knives and camping utensils. It comes with a key fob accessory that you can attach to the end so that you can keep your most-used keys permanently ready for use.
KeySmart offers several designs for their key organizers. You can also purchase mini-tools and some awesome add-ons that stack nicely in the metal housing among the keys.
KeySmart Offerings
KeySmart offers eight housing designs, which include Star Trek, Army, various Mossy Oak designs, and others. You may want to upgrade to the eye-catching and extra-strong titanium version, which comes with a laser-engraved KeySmart logo. Keep in mind that KeySmart's colored keys would help you more easily identify the various keys when they're tucked away within the KeySmart housing.
Alternatively, you can order the KeySmart Mini organizer. This smaller organizer eliminates both the housing and the second post that the regular KeySmart design has. It's a quiet, compact version of the traditional keys-on-a-hoop. You can stack up to five keys in it. Like the KeySmart, the KeySmart Mini includes a car key fob. You can also customize it with the same add-ons that fit the larger organizers.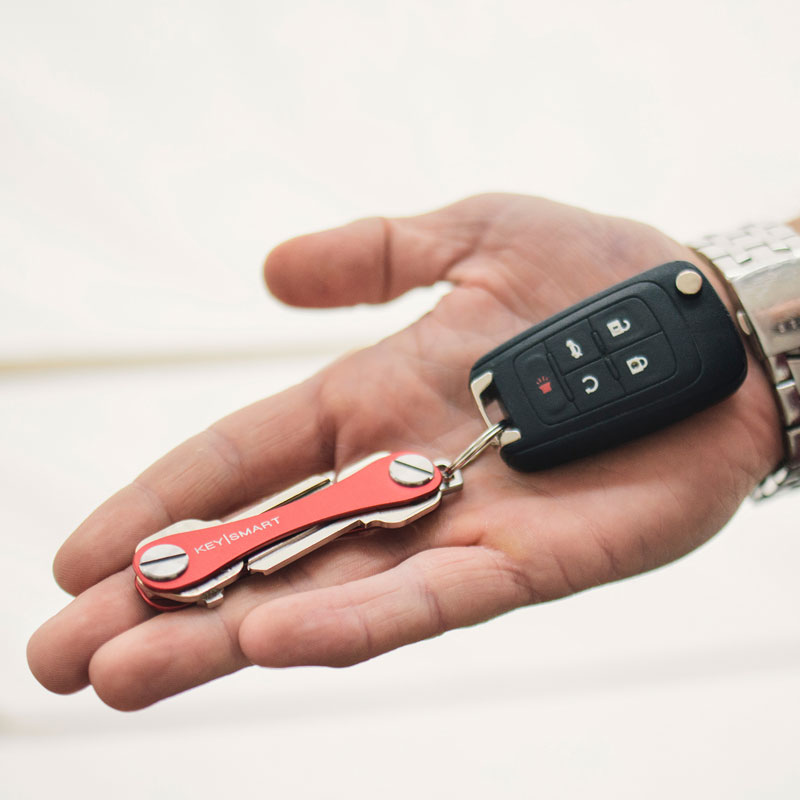 Add-ons include such things as a folding knife, pliers, bottle opener, fire starter and mini-tool set. Add a nano light, nano wrench, nano socket, nano scissors, nano ruler, nano torch, and/or a nano pen. Choose a handy 3.0 USB drive between 16 – 128 GB. Grab a USB phone charger and nano stylus.
All of these items stack like keys and fit within the organizer housing.
You can also order a belt clip, pocket clip or dangler if you want to wear your KeySmart organizer. You may find either the mechanical key-fob disconnector or the magnetic key-fob disconnector useful. Everyone can benefit from the anonymous lost and found tag.
Please note that some items are only offered during the checkout process.
Branching out into other types of useful things, KeySmart also sells:
A variety of cleaning products
The waterproof TacTiv Bolt Action Pen, which has a rugged grip and a pocket clip
Three types of wallets
Backpacks
Briefcases
Messenger bags
Elastic grid organizers
Tile Slim tracking app
Urban Airpods cases
Urban Organizers
A KeySmart's Capacity
A KeySmart holder holds up to eight keys, gadgets and spacers without post extenders added. It holds up to 16 items if you use the extenders. Organizers come with a free extension pack, miniature car fob, and spacers. The fob accommodates the extra thickness of car keys and keeps them handy.
How to Assemble a KeySmart
Before you assemble your key organizer, consider how easily you will be able to locate various keys when they're mostly hidden within the housing. You may want to order the colored key blanks and have duplicate keys made from them for use in your KeySmart.
When you're ready to load your KeySmart, unscrew the posts to disassemble the housing.
Load the keys, gadgets and spacers to a post on one end or the other, keeping in mind the frequency with which you will use each key or gadget. Be sure to use the enclosed spacers because they keep things level when the posts are not otherwise loaded to capacity.
Attach the key enclosed fob if you want to use it.
Screw the housing back together when you're done.
Accessing Things
To use a key or add-on, you simply pull it out from the side of the housing like you would pull the blade of a folding knife out of its handle. The organizer's body/housing provides a sturdy handle for the implement you are using.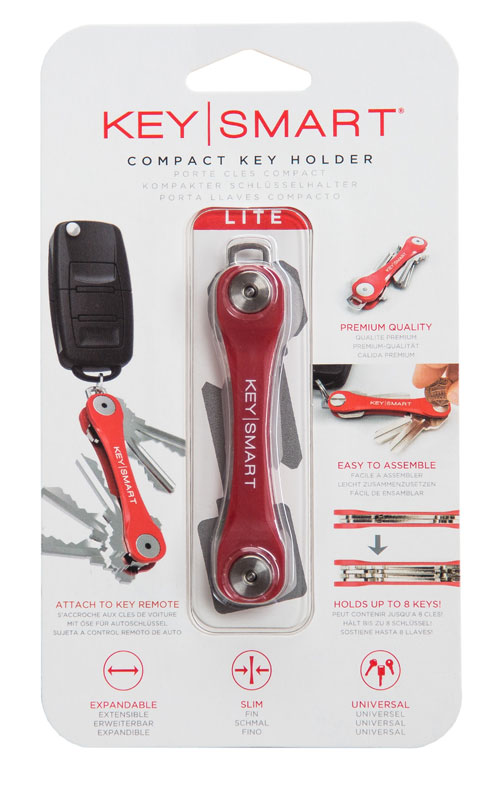 Benefits of a KeySmart key organizer
Durability – Built with aircraft-grade aluminum and stainless steel, the housing on this key organizer will last for many years.
Light in weight – Being made with a lot of aluminum and weighing less than 0.3 ounces, the KeySmart is almost weightless before you add keys and things.
Minimal design – This compact organizer takes up minimum space.
Quick, easy and painless key change-outs – Key change-outs are a breeze on this type of organizer. All you do is unscrew the device, make the change to your collection and screw it back together. You won't hurt your fingers or break your fingernails with a KeySmart like you would may when using a regular keyring.
Includes spacers – Spacers keep things level and let you adjust tension.
Includes a compact key hoop – The KeySmart includes a compact key hoop/fob that is just large enough for fatter keys, such as vehicle keys, to fit on.
Quiet – Your keys won't make noise when you search for a key, turn a door knob, put the organizer into your pocket or purse, or set the organizer down. With a quiet set of keys, second shift workers can make a stealthy arrival home to a partner who is sleeping. Everybody can experience a little more peace.
Easy on furniture – When setting this organizer down on furniture, there are few contact points to scratch the furniture.
Accommodates all keys – The KeySmart accommodates any size, shape or type of key that you have.
Mini-tools available – Unlike key wallets, this type of organizer is designed so that it can serve as the handle for mini-tools and gadgets. KeySmart offers miniature tool options for just about any common tool. That eliminates the need to carry around a separate mult-tool set, which frees up much pocket space and keeps you comfortable.
Other useful add-ons available – KeySmart offers many useful add-ons in addition to the mini-tools.
Protects clothing – Since the keys and gadgets fold into the organizer's hard aluminum body, your clothing is protected.
Keeps keys and things accessible – Unlike key wallets, the KeySmart keeps everything as readily accessible as a pocket knife blade. And since you organize your organizer when you assemble it, you can place a much-used key at the top of one key stack and a favorite tool or other gadget at the top of the other stack.
2-year manufacturer's warranty – Your satisfaction is guaranteed or your money back.
Made in the USA – You're "buying American."
What is KeyBar?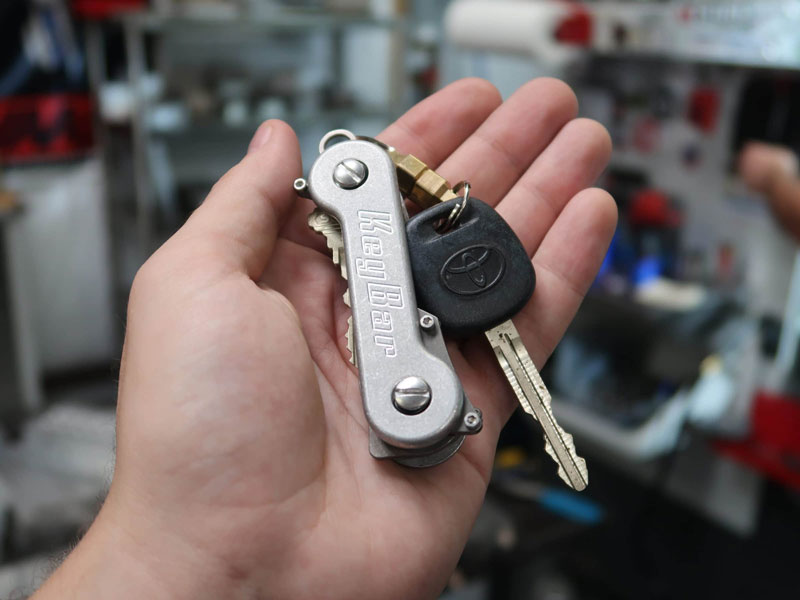 How does KeyBar work?
How is KeyBar constructed?
Like the KeySmart key organizer, the KeyBar keeps keys neatly stacked in a compact case and includes has add-ons. Unlike KeySmart, KeyBar organizers are made in a choice of three metals – aluminum, titanium or carbon fiber – and come with an attached titanium pocket clip.
KeyBar Offerings
KeyBar offers its key organizers in several housing shapes, 48 exceptionally beautiful designs and a wide range of colors. It has one silver-colored organizer that features a beautiful, intricately-engraved housing that resembles leatherwork done in a Western-style motif. Other designs include landscapes, etched diamond crosshatch patterns and other things. All organizers are made with a pocket clip.
KeyBar offers an extremely wide variety of add-ons, including mini-tools and everyday carry items. You'll even find a fork add-on and grooming add-ons such as a comb, tweezers and nail file. You'll also see a few random things like stickers and titanium beads for decorating the organizers.
Unlike the KeySmart, you'll find a lot of extra parts for sale that you might need for your key organizer. These include such things as a spare key fob link, extension screw kit, hardware (screws, spacers and key fob) kit and a variety of colored pocket clips.
KeyBar offers colored key tabs for your existing keys rather than colored key blanks that you'll have to have duplicate keys made with. Color coding lets you quickly identify keys when they're tucked away.
A KeyBar's Bapacity
A KeyBar holds up to 12 keys and/or add-ons. It can hold up to 28 items if you purchase the extension screw set. Besides the smaller screw set, your KeyBar key organizer will come with O-ring spacers and titanium links for your key fob.
How to Assemble a KeyBar
Assembly of a KeyBar works pretty much like it does on the KeySmart version, with the exception that KeyBar offers color-coded key tabs rather than colored key blanks.
Attach color tabs to your keys if you bought tabs.
Unscrew the posts to disassemble the housing.
Load the keys, add-ons and O-rings onto both posts. Load them so that your most frequently used keys and/or gadgets are on top and near the top. The O-rings serve as spacers between your items, allowing you to control the tension.
Attach the key fob.
Screw the your organizer back together.
Accessing Things
Pull the key or gadget out of the housing as you would take a folding knife's blade out. The housing serves as a sturdy handle for the keys and add-ons.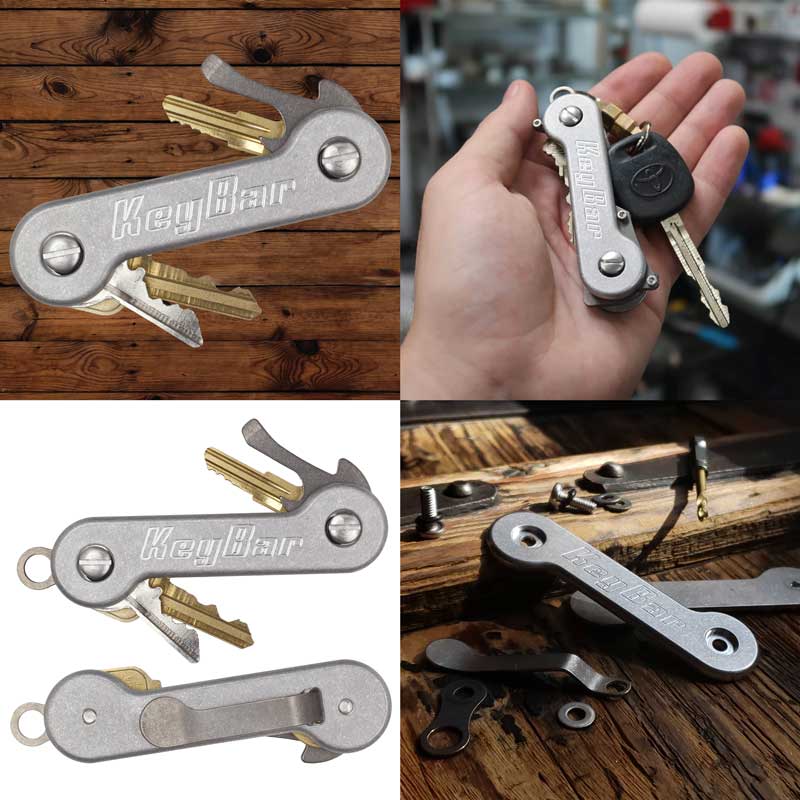 Benefits of a KeyBar Organizer
Many of the benefits echo those of the KeySmart, so I won't elaborate on the KeyBar benefits.
Durable – The KeyBar is tough, being made from aerospace aluminum, titanium, carbon fiber and other high-quality materials.
Wide range in prices – There's an organizer within just about everybody's reach.
Light in weight – KeyBars weigh less than 2.0 ounces.
Minimal shape – The KeyBar stores keys compactly.
48 beautiful designs – With two laser engravers and a CNC milling machine, KeyBar can turn out absolute works of art.
Easy change-outs – You just unscrew the screws, change the keys and/or add-ons, and then screw your organizer back together.
Handles a large number of keys and add-ons – A KeyBar can hold up to 12 keys and/or add-ons with the provided screws. The extension screw set, which is sold separately, handles up to 28 items.
Includes o-rings – These spacers go between your keys and things. They let you adjust the tension.
Includes a titanium link for your key fob – Your keys will stay securely in place for years to come.
Made with a titanium pocket clip – Unlike the KeySmart, you won't have to purchase a pocket clip separately.
Quiet – With the keys and things tightly stacked, you won't hear any key jingle.
Easy on furniture – There are few contact points when all the keys don't hit the furniture.
Accommodates all keys – All key sizes, shapes and types fit into a KeyBar.
Mini-tools available – You can carry miniature, stackable versions of your favorite hand tools right there with your keys.
Useful add-ons – KeyBar offers an unusually large selection of both useful and unique add-ons that go beyond what KeySmart offers.
Protects clothing – Your clothes are protected when all keys and things are tucked inside the organizer's metal body.
Keeps items accessible – Your items are as accessible as the blade of a folding knife.
Product guarantee – Your key organizer will be up to standard or you'll get your money back.
Made in the USA – You're "buying American."
Where to Buy KeyBar?
Visit www.keybar.com to get your keybar or you can buy it from Amazon.
KeySmart vs KeyBar Differences
Both KeySmart and KeyBar produce quality key organizers that are identical in concept and close in both overall design and quality. However, KeyBar has managed to do quite a bit better than KeySmart has, even though KeySmart has been in business a year longer.
KeySmart offers a lot of nice-to-have quality products (produced by other manufacturers) that have nothing to do with a keys or key organizers. In contrast, KeyBar focuses on manufacturing key organizers. More specifically, KeyBar creates an enormous variety of eye-catching designs and provides many relevant upsells. KeyBar's offerings solve key-related problems and appeal to everybody.
KeySmart Pros
Offers an upgraded titanium version
Offers a mini version
Made with sufficient quality materials (aluminum and steel)
Has many beneficial features
Offers other useful products, though not related to keys
KeySmart Cons
Offers only eight designs
Offers designs that mainly only cater to outdoorsmen
Holds only eight keys on the provided screws
Holds only 16 keys if using an extension package
Order quantities are dictated
Some items are only presented during the checkout process
---
KeyBar Pros
Offers 48 designs
Offers exceptionally attractive designs that include etching, engraving, vibrant colors, pastel colors and plain silver options
Offers designs that feature landscapes, etched diamond crosshatch patterns, engraving, and other things.
Offers variations in shape
Offers a choice of three types of metal
Holds 12 keys on the provided screws
Holds 28 keys if using an extension package
Made with a choice of three quality materials (aluminum, titanium and carbon fiber)
Has many beneficial features
Has an exceptional selection of designs
Has an exceptional number of add-ons
Has unusual add-ons in addition to the usual ones
Includes a pocket clip
Offers a key organizer for every budget
Summary
Since their 2013 and 2014 launchings, KeySmart and KeyBar have revolutionized the key organization industry. Built with a design concept similar to folding camp utensils and pocket knives, the compact metal key organizers these companies make solve a lot of problems. Now gadgeted-up office guys like me can rejoice that our suit pants pockets will be protected. And nobody will miss the noise.
---
Nerko is a writer for Zoopy, and he's been working there since 2019. He loves to ride his motorcycle and bicycle, especially in the summertime! He also enjoys watching science fiction movies, and his favorite movie is Interstellar. Nerko is also a competitive gamer - so if you're looking for a good competition, he's your man!
---