You can never have enough measuring cups. Of course, you need them for the ingredients, but you also really want them so that your cooking will turn out perfectly every time. To cook like a pro, you need more than just the right tools. You also have to show off your cooking skills with accurate measuring cups to help create better dishes. The problem is you end up with dozens of cups that take up a lot of space in your kitchen.
So when we found out about an all-in-one measuring device called The Kitchen Cube, we immediately ordered it to find out if it would make our cooking easier and more organized.
The Kitchen Cube
The kitchen cube is a trustworthy brand, and there are several reasons you should buy this measuring cube. They have partnered with a non-profit, so you will be donating a meal to a child in need when you make a purchase. This tool is a worthwhile investment for anyone who likes convenience and is tired of looking for measuring cups and spoons whenever they cook.

Multiple colors
Made from an FDA approved material that is food safe
Affordable
Space saving
Imperial and metric measuring system
Only available on the official website
Not capable of measuring large amounts
What is The Kitchen Cube?
The Kitchen Cube is a small all-in-one device that combines 19 measurement tools in one compact design. You can use it to measure all your dry and liquid ingredients.
It is microwave and dishwasher safe and uses both metric and US measurements. Also, The Kitchen Cube is made from a material that is BPA-Free, non-toxic, and food safe.
It is an excellent must-have tool, especially if you cook a lot since it reduces the clutter of measuring cups and spoons.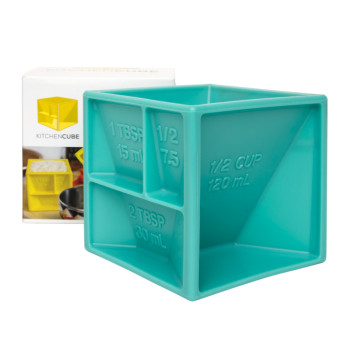 Besides offering you convenience, this device also gives you precise measurements and is durable. 
The Kitchen Cube Features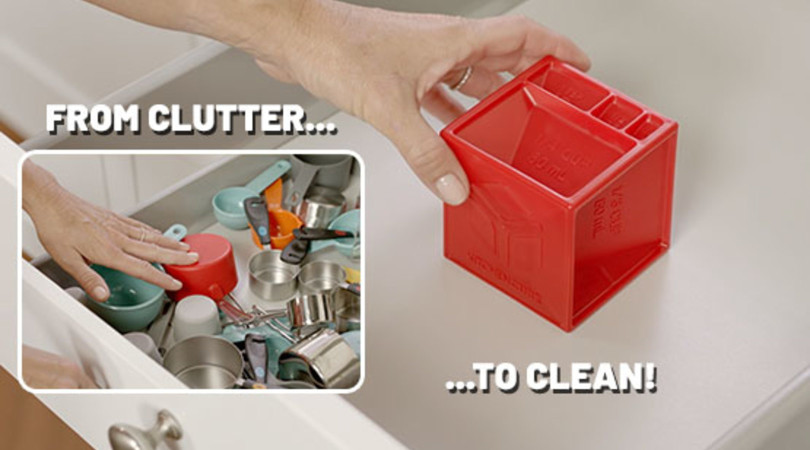 The kitchen cube can fit in a drawer easily. However, its most impressive feature is the 19 different measurements it comes with. Below we singled out some of the best features this little device offers.
Dishwasher and Microwave Safe

This measuring tool is both dishwasher and microwave safe. Therefore, you can melt butter in the microwave if you need it instead of making a microwave-safe bowl dirty. When it comes to cleaning, the manufacturer recommends putting Kitchen Cube on the top rack of the dishwasher for the best result.
Food-Safe Material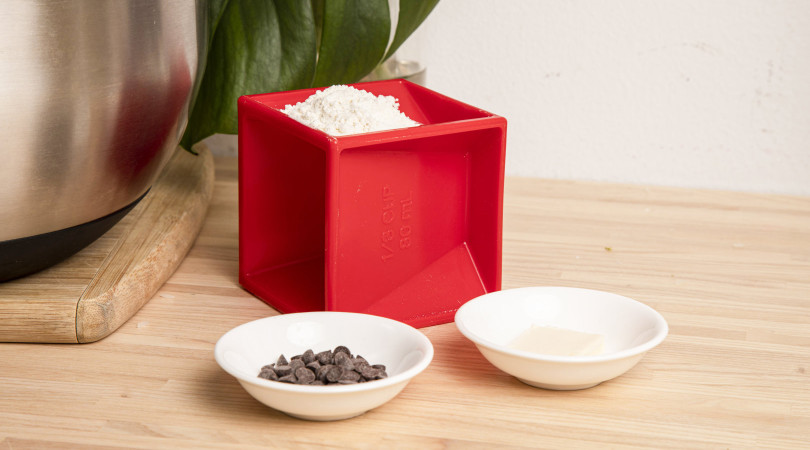 The kitchen cube is made using durable and food-safe material. This measuring tool can survive being dropped or stepped on without getting damaged. Since it is made from food-safe material and is BPA-free, you will be preventing yourself from being exposed to toxicity by using it to measure your ingredients.
All-in-One Measuring Tool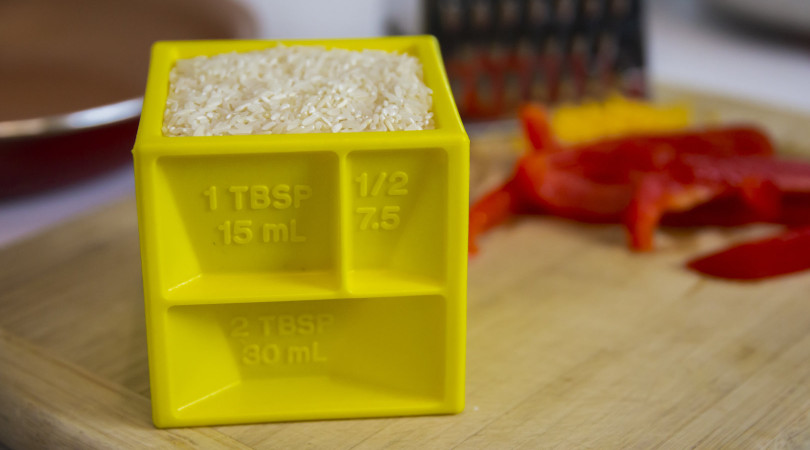 You no longer have to deal with multiple measuring spoons and cups. This cube is multi-functional, which helps you reduce the clutter in your kitchen. You can use it to measure grains, liquids, and powders using the US or metric measurements. This includes 120 ml, 80 ml, 60 ml, 30 ml, 15 ml, 7.5 ml, 5 ml, 2.5 ml, 2 ml, ¼ tsp, ½ tsp, 1 tsp, 2 tsp, 1 cup, 1/2 cup, 1/3cup, and 1/4 cup.
Fairly Small
This square-shaped measuring tool will not take up much space in your kitchen cupboard or drawer.
Crack Eggs
You can use the cube's edges from each side to crack an egg. It eliminates the need to crack it on the thick edge of your mixing bowl, which is not always practical.
Advertisement
Continue reading below
Using the Kitchen Cube
Kitchen Cube makes cooking and baking faster because it's straightforward to use, eliminating the need for conventional clutter in multiple measurements. In addition, you won't have trouble finding the correct measurement you're looking for with the Kitchen Cube!
Here is a step-by-step guide on how to use it:
Add Your Ingredients
This cube's compartments are designed to hold different amounts of baking or cooking ingredients you will be using. You will select a system that suits you best and pour the first ingredient into the appropriate compartment in your cube.
Transfer Your Ingredients into a Bowl
After adding your first ingredient into the appropriate compartment, pour it into a mixing bowl.
Repeat
Depending on what you are making and how many ingredients you are using, repeat the first and second steps until everything you need is in the mixing bowl. The quantity will determine which compartment of the cube you have to use. It will help if you rinse a compartment before reusing it to ensure it has no residue of the previous ingredient.
Complete Baking or Cooking
Once everything is in your mixing bowl, you can complete your baking or cooking. After that, you can clean the kitchen cube in the dishwasher.
Essentially, the kitchen cube works like any other measuring tool. The only difference is that all its measurements are compact. They are also labeled clearly, so it is easy to use and locate them.
Benefits of the Kitchen Cube All-in-One Measuring Tool
The kitchen cube has plenty of benefits and is the perfect measuring tool if you are looking for one that will last you a lifetime. Below are a few of its benefits.
Imperial and Metric
The kitchen cube's measurements are separated into geometric compartments, including millimeters, teaspoons, tablespoons, and cups. These have their metric equivalents. You will no longer have to worry about how to do conversions of international recipes. Whether you are well versed with the metric system or the US system, it works perfectly for everyone. It is also worth mentioning that the measurements will not rub off on the food or fade when you wash the kitchen cube since they are engraved clearly.
Range of Color Choice
The kitchen cube is available in three different shades you can select. This is great because if you make plenty of meals, you can get them in different colors to differentiate what you use them for.

Space Saving
Kitchen Cube is space-saving, so you will not clutter your drawers with clunky cups. Your cooking will also be more organized, and you will have sufficient counter space for all the essential ingredients and tools because of the kitchen cube's streamlined format.
Safe for Children
Your children can help you out in the kitchen when you use the kitchen cube because it has no sharp parts that could cut their fingers. It is also easier for them to grasp since it is square-shaped, unlike a measuring cup or a spoon.
Affordable
The kitchen cube is relatively affordable. It is practically a steal for the all-in-one measurements and under $20 too. It is also a one-off purchase since you do not have to keep replacing it as you would with measuring cups if one got lost.
Special Promo
Offer on Now
Buy 2, Get 1 FREE – Total $49.98!
This discount is valid for a limited time only.
Quantities are limited – act now!
Claim your discount now
Online Recipe Book
The official website has a recipe book you can use to prepare over a hundred different recipes with ingredients that require measuring. If you are learning how to cook, this book can be a helpful resource since it will guide you on where to start.
Where To Buy Kitchen Cube?
You can buy Kitchen Cube only through the official website and Amazon. In addition, we found that on Amazon, many products look the same as Kitchen Cube and claim to be genuine products that are not.
This is a more safety problem because you don't know from what materials they are made of and which chemicals can be released by putting a fake Kitchen Cube in the dishwasher or microwave. Therefore, to safely purchase genuine Kitchen Cube, we recommend buying from the official website, which also offers:
30-day money-back guarantee policy if you are not satisfied with the product
Excellent customer support and offer free and fast shipping in the US. They also provide shipping worldwide
You are guaranteed to receive a high-quality product
Kitchen Cube Pros
Multiple colors
19 measurement
Reduces clutter
Made from a material that is food safe
Dishwasher and microwave safe
Saves drawer space
Imperial and metric measuring system
Affordable
It can be an excellent gift
Kitchen Cube Cons
Only available on the official website
Not capable of measuring large amounts
Wrapping Up
In short, The Kitchen Cube tool will make your cooking more simple and organized. Besides that, it's a great tool for learning to cook because it is simple to understand how to take correct measurements. This is why Kitchen Cube is a worthwhile investment for anyone who likes convenience and is tired of looking for measuring cups and spoons whenever they cook.