The last time I had a cold, I must've gone through twenty tissues a day. I felt guilty, knowing I was wasting money and adding piles of tissues to the landfills, but I couldn't go more than five minutes without having to sneeze or wipe my nose. If I'd known about Last Tissue at the time, I could've saved myself and the environment a lot of trouble.
Things to Consider Before Buying a Last Tissue
Last Tissue really will be your last tissue. It's a six-pack of washable handkerchiefs that allows you to save money–and help the environment–by reusing tissues, instead of tossing handfuls of throw-away tissues into the trash. Here's what you should consider before investing in a Last Tissue pack of your own.
Are you looking to save some extra money?
It might not seem like you spend a lot of money on tissues, but when you've got a cold, it adds up pretty quickly. And beyond that, think about how often you use tissues in your everyday life. Blowing your nose, taking off makeup, wiping your eyes–after every use, you're tossing another tissue into the trash. The average box of tissues costs about $5: that's enough for a cup of coffee. Imagine how much you could save if you never had to buy a box of tissues ever again.
Are you prepared to wash and reuse your tissues?
LastTissue does have a little more work involved than the traditional single-use tissues. Once all six tissues are dirty, you'll have to throw them in the washing machine. It doesn't require a massive amount of effort, but it's a little more involved than using them once and throwing them away. And some people might be "grossed out" by the thought of reusing a tissue that they blew their nose with.
Do you have kids in the house?
If you've got kids in the house, be warned–they probably won't like the idea of using a reusable tissue when they're sick. You might want to keep some disposable tissues in the house just for them.
A Brief Rundown of Last Tissue
The thought of a reusable tissue might sound a little strange at first, like reusing napkins or toilet paper. But when you think about it, people used handkerchiefs for decades, and disposable tissues are a fairly new invention.
The Last Tissue is essentially a repackaged set of handkerchiefs. However, the Last Tissue does come with special features that you won't find with a cloth handkerchief, like a handy carrying case and plush, ultra-soft fabric.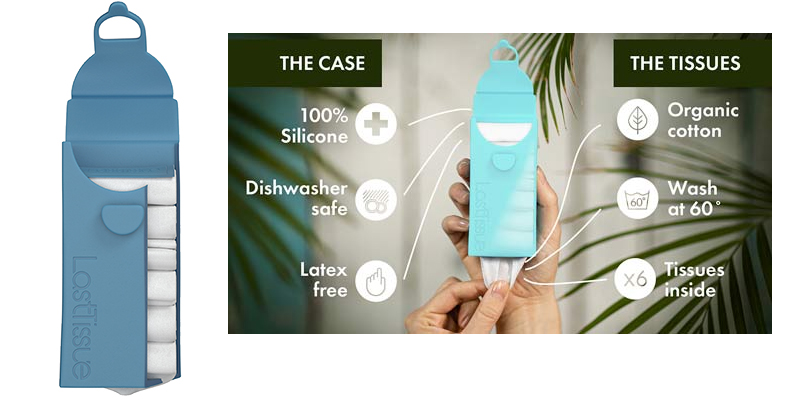 Using a pack of Last Tissues is simple. Just use a tissue, store it in the top of the pack, and pull the next tissue from the bottom. Once you've used all six, you'll wash them and repackage them. It's a great way to save money and eliminate unnecessary waste in your household. Plus, Last Tissues come in a convenient carrying case that you can easily store in your purse, bag or glove compartment.
Features and Benefits
Still need convincing? Here's a rundown of all the features and benefits that Last Tissue has to offer.
Reusable Set Of Tissues
The most obvious benefit of the Last Tissue is that it offers a fully reusable tissue whenever you need one. No more wasting money on boxes and packages of tissues that you have scattered around your house. Each tissue can be washed up to 460 times, which should give you enough washings for a lifetime. And if you lose a tissue or accidentally throw one away, don't worry–you'll have five more waiting in the pack. It's the perfect way to cut back on extra costs that you didn't even know you had.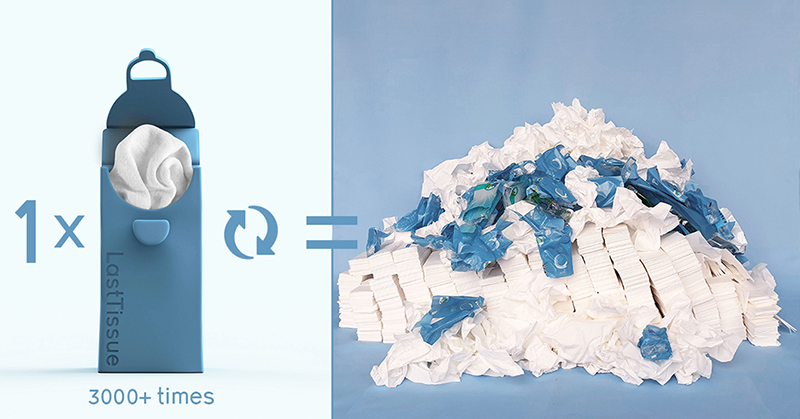 Convenient Carrying Case
If you've ever stored a pack of tissues in your purse, you know that over time, the plastic starts to tear and degrade and the tissues get soiled and ruined. You end up throwing away the entire pack before you've even used it. With Last Tissue, your reusable tissue set comes in a sturdy carrying case that can stand up to just about anything. You can throw it in the dishwasher to clean and disinfect it, then toss it back in your bag or glove compartment. The case is made from hard silicone that won't bend, crack or warp even in harsh conditions.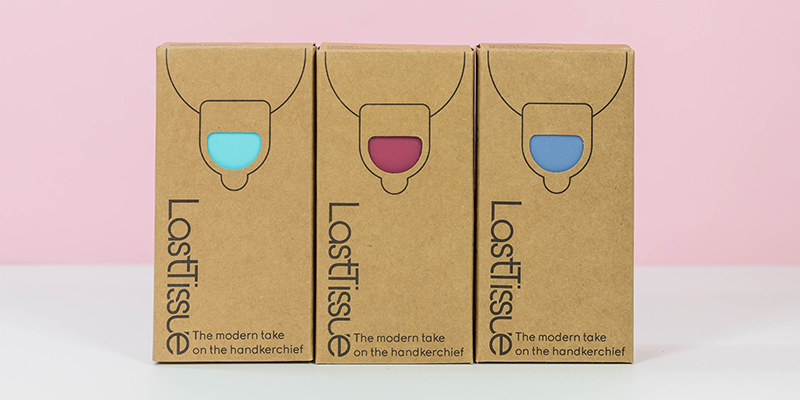 Soft, Plush Fabric
One of the downsides of carrying around a handkerchief is that the fabric can be rough and coarse against your skin. Even disposable tissues can be harsh and abrasive, and have caused some people to have allergic reactions. Fortunately, Last Tissues are made from 100% all-natural cotton. They're soft and plush and won't damage or irritate your skin. You might find that you actually prefer these to the disposable tissues in your bathroom.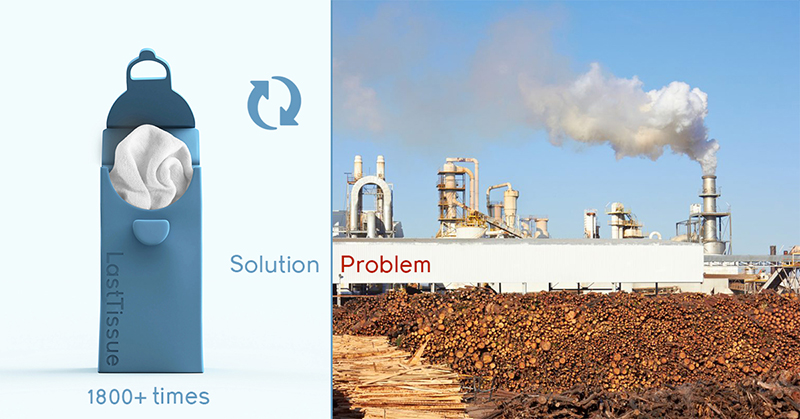 Easy To Clean
When all six tissues are dirty, simply take them out of the package and toss them in the washer. They're sturdy enough that they won't tear apart in the wash, although you can extend their lifespan by using a laundry bag. If you prefer, you can also wash your tissues by hand. Either way, once they're clean, it's a simple task to repackage them in the container so they're ready for use again.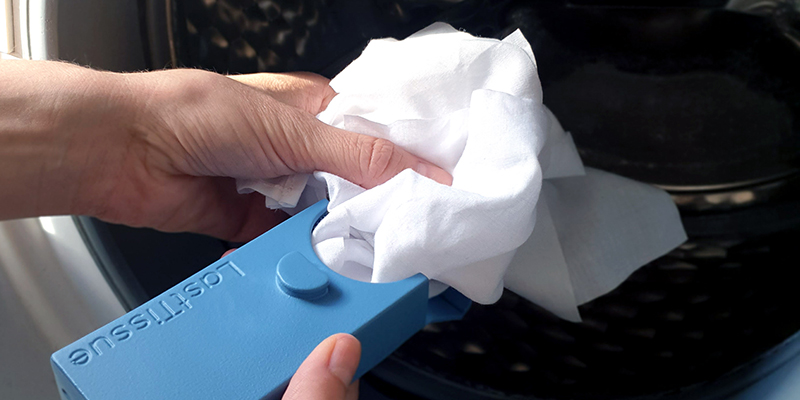 Help You Save Money
A reusable tissue pack costs more money up-front than a box of tissues. But how many boxes or packages of tissues do you go through a year? Maybe four or five? After the first year, your Last Tissue pack has already paid for itself. And in every subsequent year, you're actually saving money. Get one for everyone in your household, and they'll be saving money, too.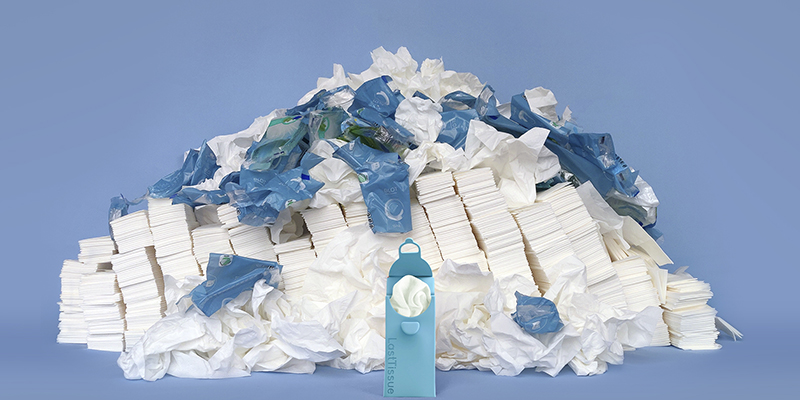 More Hygienic
The thought of a reusable tissue might not strike you as being particularly hygienic. But think of that nasty, torn-up package of tissues you've got sitting in the bottom of your purse. With Last Tissue, you'll be able to toss out that package for good and have a pack of clean, neatly packaged tissues whenever you need it. And since these tissues are made of cloth, they can also be sterilized and disinfected–something that's not possible with disposable tissues.
As for the tissues themselves, the dirty tissues are completely separated from the clean ones by a silicone barrier, so you don't have to worry about germs or mucus transferring across the tissues. You'll have a clean, hygienic tissue ready to go whenever you need it.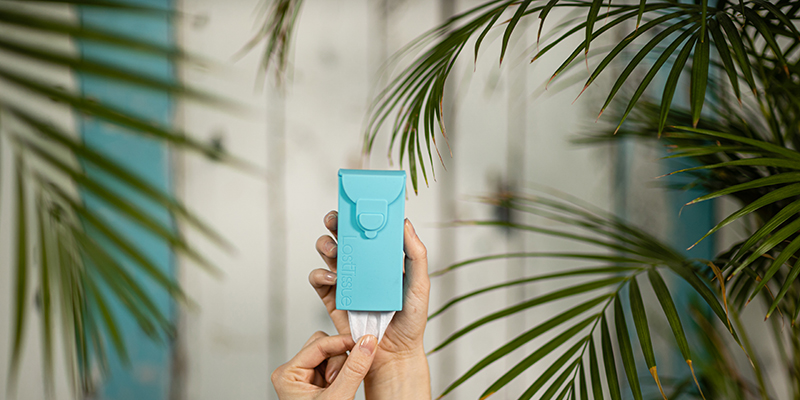 Better For The Environment
It probably goes without saying, but using a pack of reusable tissues is much better for the environment than using disposable tissues–particularly if you're sick and burning through ten tissues an hour. The Last Tissue website that one pack of handkerchiefs can replace 2,800 disposable tissues. That might not seem like much, but imagine a pile of 2,800 wadded-up tissues sitting in a landfill. By investing in a pack of reusable tissues, you're doing your part to cut back on waste and help the environment.
Speaking of the environment: the case that your tissues come in is 100% biodegradable, so if you lose it or throw it away, you don't have to worry about creating unnecessary landfill waste.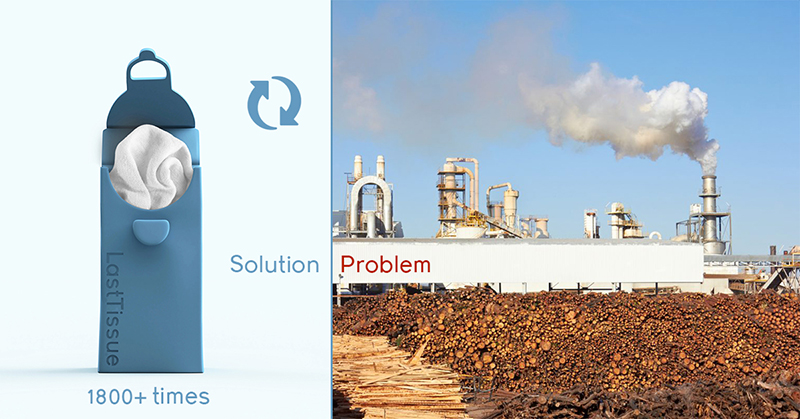 Offer More Convenience
You could just buy a handkerchief, but once it's been used, you'll have to wash it before you can use it again. With Last Tissue, you'll have a rotating supply of six tissues, so you'll always have something to blow your nose with. This is especially important if you're sick and going through a lot of tissues. Just remember that you'll have to keep them clean–if you're sick and sneezing a lot, you'll probably have one or two tissues in the washer at all times.
Advertisement
Continue reading below
Social Media Reviews
So far, most of the reviews across social media seem to be largely positive. Most people like the convenience of the tissues and appreciate that it helps them cut back on waste. Some have pointed out that it costs a little more up-front than a typical box of tissues, but it pays for itself in the end. Plus, the handkerchiefs are softer and gentler than the traditional paper tissues.
Conclusion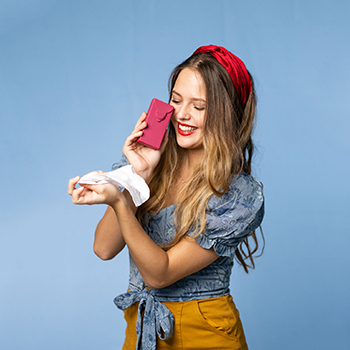 Overall, the Last Tissue might require a bit of an investment up-front, but it's worth the money. You'll help the environment by producing less waste, and help yourself by freeing up a little extra cash every month.
It's clean and hygienic, and made from all-natural cotton that's soft and soothing against your skin. Plus, it comes in a convenient carrying case that's tough and sturdy and can withstand being knocked around in your purse.
If you're interested in buying your own pack of Last Tissues, you can buy them online here.
The carrying case offers a few different color options, so you can buy one for every member of your household and not have to worry about getting them mixed up.