People are constantly trying to find daily ways to make chores like laundry easier. There are hundreds of products out there, but it's impossible to try them all. When it comes to making laundry easier, Miracle Laundry Detergent Sheets are the way to go.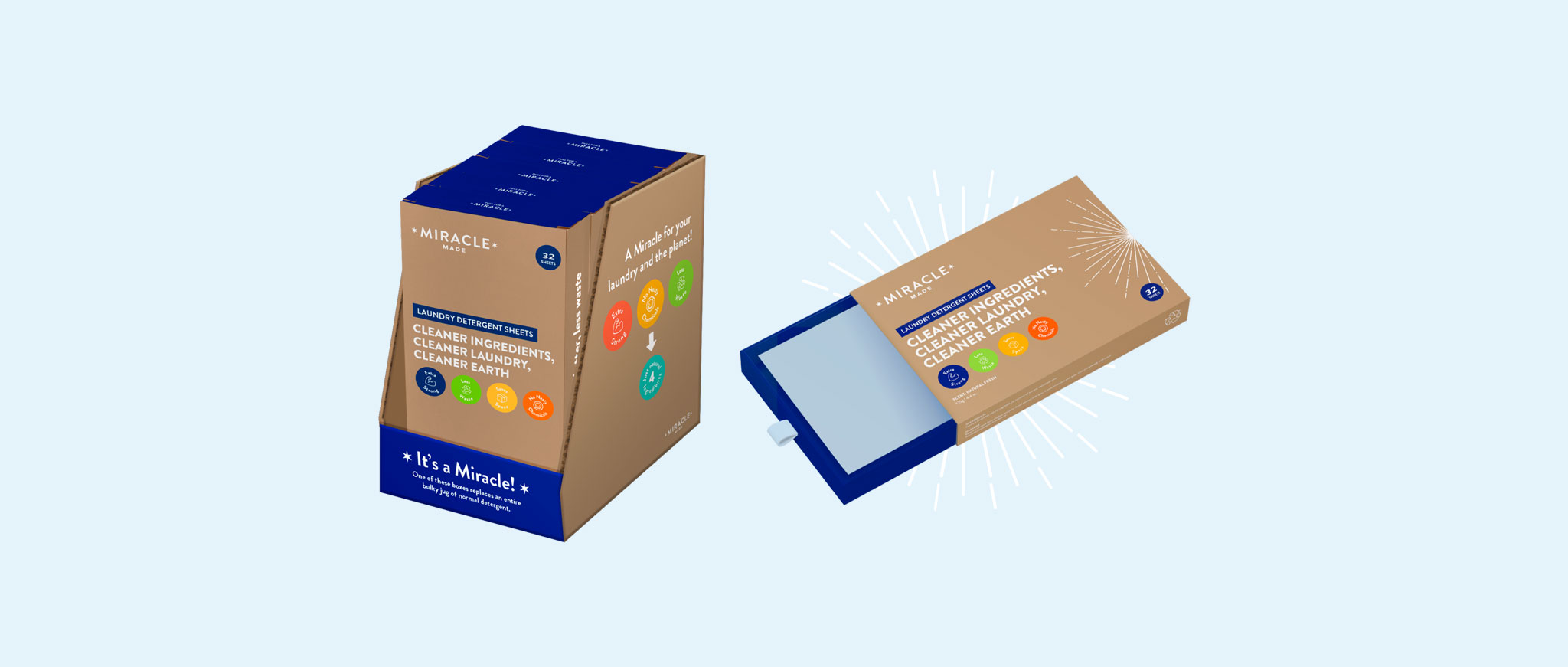 They have been growing in popularity on the market as more people are trying this new eco-friendly way to do laundry. If you don't have time to try them yourself, no need to worry! This review will give you all the info you need to know if miracle laundry detergent sheets are perfect for you.
What Are Laundry Detergent Sheets
Every year, there seem to be new laundry products to better your life. Laundry detergent sheets are one of those products that are newer to the market. Traditionally people use liquid laundry detergent or laundry detergent pods.
Laundry detergent sheets are paper-thin sheets that dissolve when put in your washing machine. They have all the active ingredients that make up a laundry detergent but in sheet form. The sheets save tons of space as they are lightweight, thin, and come in a small box. They don't have plastic like the traditional tubs of laundry detergent, making them really eco-friendly.
Laundry detergent sheets consist of multiple ingredients that provide powerful cleaning ability while maintaining a compact form.
Each box of Miracle Laundry Detergent Sheets contains 32 sheets, providing enough detergent for 32 loads of laundry.
Some ingredients include:
Vegetable oil
Coconut oil extract
Deionized water
Alcohol
Coconut oil
Laundry detergent sheets can replace your traditional detergent or powder, making your life easier. There's no difficulty when it comes to figuring out how these sheets work with your laundry.
How Do Laundry Detergent Sheets Work
When sheets are mentioned in laundry, it's usually about bed or dryer sheets. But how do laundry detergent sheets work?
Laundry detergent sheets are made of concentrated ingredients. They include all the cleaning abilities of a traditional detergent but in a convenient sheet that's pretty easy to use.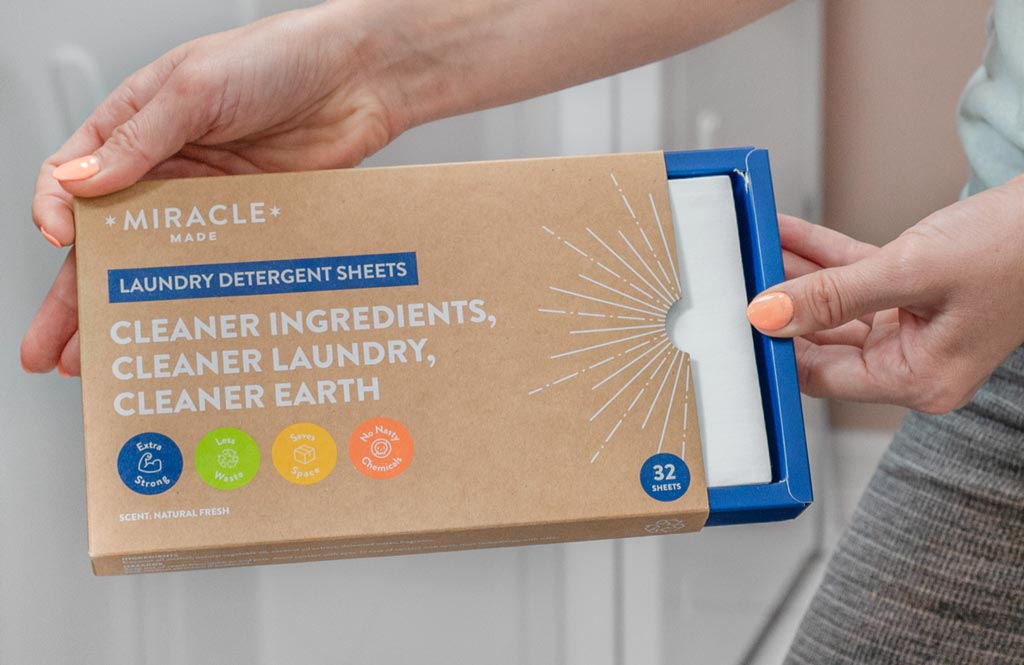 Similar to a laundry pod, you would place your laundry into the machine first, then toss in one of the laundry detergent sheets. You can add an extra if your clothes are heavily soiled, but be sure to check the directions label, so you don't add too many. These sheets are concentrated ingredients, so no need to worry about not adding enough. Typically one sheet will do the job just fine.
Once you've added the laundry sheet, you can start the machine and watch the magic happen. Laundry sheets save you the mess of measuring a liquid detergent and lower plastic use, which helps lessen plastics in the environment overall. 
Eco-Friendly Laundry Alternative
Not all eco-friendly products are effective. Miracle laundry detergent is one eco-friendly product you can count on to effectively clean your laundry. One big reason laundry detergent sheets are eco-friendly is they don't use large amounts of plastic in their production. 
Oftentimes, plastic jugs can take up a lot of space in your laundry room and create a mess if there's a spill. Laundry detergent sheets don't have this problem as they are packaged in a biodegradable cardboard box and are mess free when used.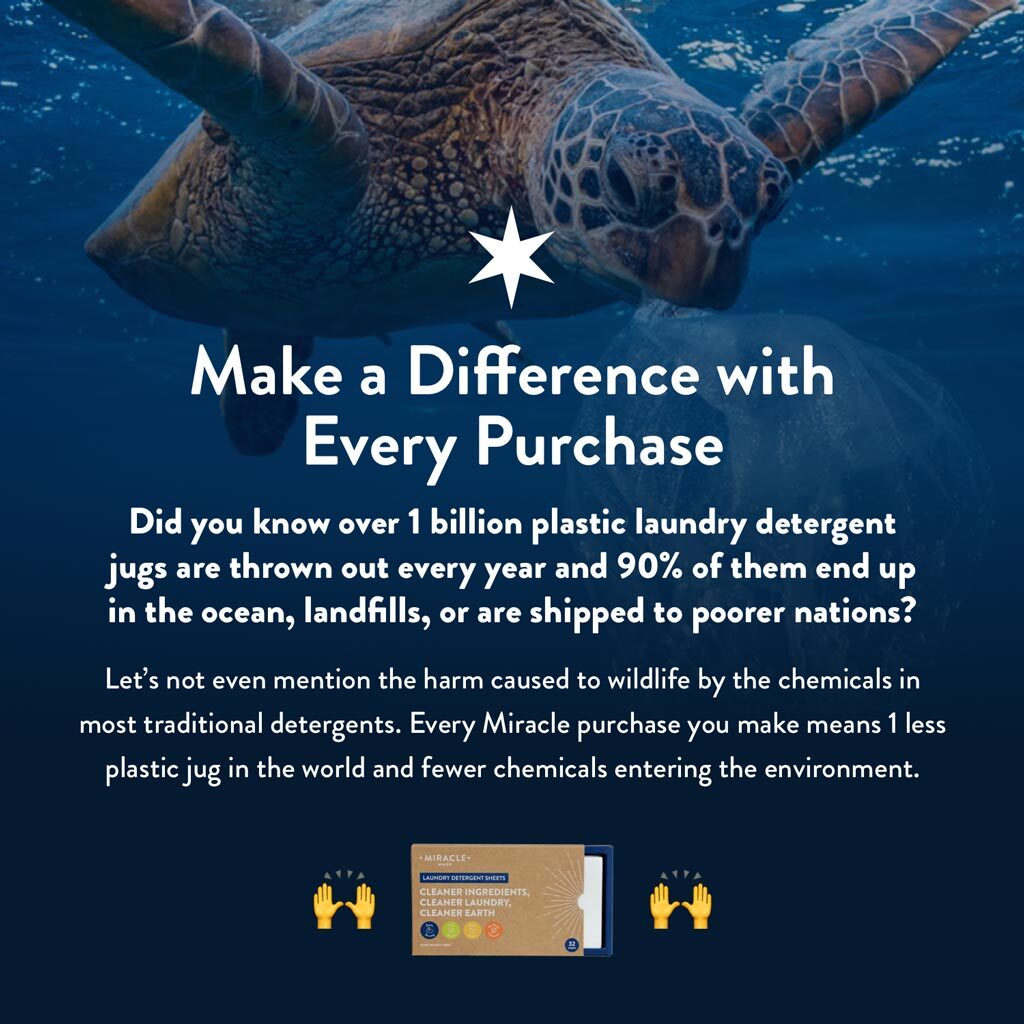 Another way miracle laundry detergent is eco-friendly is its use of natural ingredients. They don't use any harsh chemicals that a lot of detergents use to be able to clean properly. Miracle laundry detergent achieves that clean you need without the need for harsh chemicals that can irritate the skin, cause allergic reactions, or more. This product is free from parabens, phthalates, phosphates, bleach, and dyes.
Incorporating eco-friendly products into everyday lifestyles has been popular lately. Miracle laundry detergent is an easy way to change your traditional detergent for something more eco-friendly and effective.
Why Use Miracle Laundry Detergent Sheets
Here are some things you should keep in mind if you consider using Miracle Laundry Detergent Sheets.
All-Natural Ingredients
These laundry detergent sheets are made from all-natural ingredients that are safe for sensitive skin and avoid harsh chemicals. Some detergents on the market can have 20+ ingredients that are harmful chemicals that can be toxic to your skin.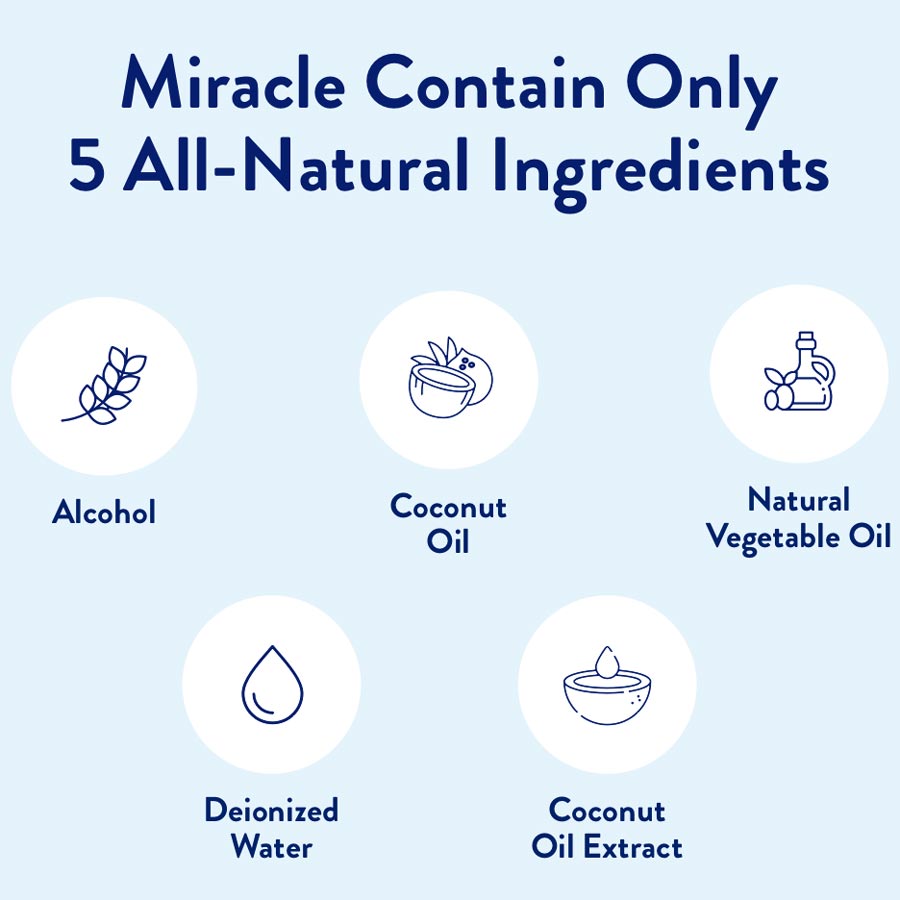 Miracle laundry detergent sheets don't need those toxic chemicals to work magic on your dirty laundry. The sheets feature concentrated ingredients that are safe and eco-friendly, so you don't have to worry about harsh chemicals in your home.
Zero-Plastic Waste
Plastic jugs are prevalent in the laundry world. Almost 90% of plastic ends up in oceans and landfills worldwide, causing environmental issues. Finding ways to lower plastic use can help fight plastic waste in our oceans.
Miracle Co. laundry sheets do this by using 100% plastic-free materials. They are biodegradable, septic tank safe, and zero-waste. Making small changes like this in your everyday life over time can make a big difference in the world. 
Stain Fighting Power
Some detergents on the market may look like they fight stains, but they are actually 90% water. This makes it so you have to use a whole lot more detergent to actually clean your laundry. You end up buying more of the product leading to more plastic usage and emissions being spread into the environment.
Miracle detergent sheets are concentrated ingredients, so no water is being added to the sheets to dilute the product before it cleans your laundry. You can save space and save the number of washes needed for your clothes to be clean and fresh out of the laundry.
No Bulk Cluttering Your Laundry Space
Laundry jugs can be large and heavy, making it hard to use and store them in your laundry space. Rather than lug around 40-pound plastic jugs, Miracle Co. makes it easy with a small biodegradable box that could fit in a drawer. Weighing .24 pounds per box, miracle co laundry detergent sheets are a lightweight solution to laundry. 
Mess-Free Laundry
Liquid detergents can leave a real mess when using them. The jugs can get sticky, and detergent can spill all over the place. Rather than deal with sticky and messy detergent, laundry sheets are a simple and mess-free alternative. You no longer have to worry about spilled detergent or messes with a detergent sheet.
No Mistaking This Detergent for Candy
Oftentimes, laundry pods or liquid can be mistaken by kids as candy. No need to stress about keeping that stuff out of reach anymore. Laundry detergent sheets don't look appetizing, aren't brightly colored, and are less likely to be mistaken by your children as something they can eat.
And If That's Not Enough Here's a Table Comparing It to a Traditional Detergent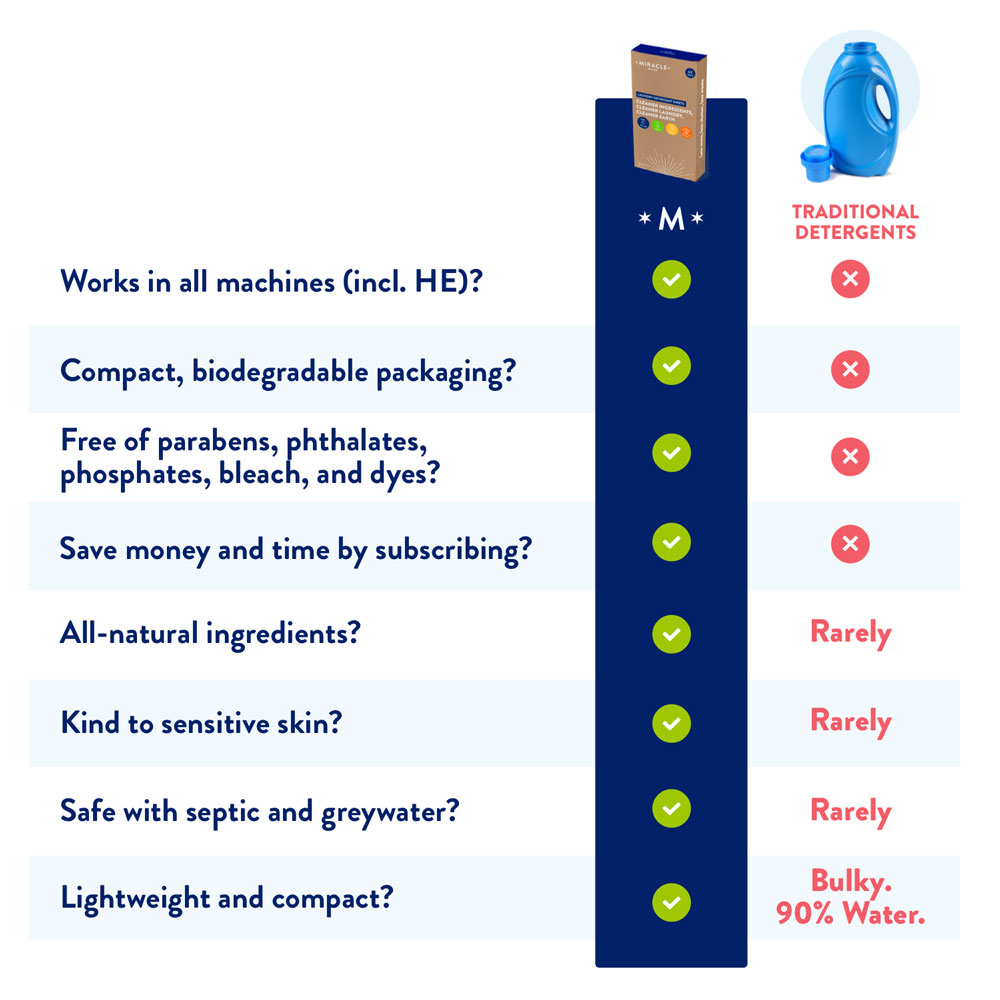 What Are Consumers Saying About Miracle Laundry Detergent
Over 200,000 people have tried miracle laundry detergent and left raving reviews about the product since. Word has gotten around regarding the benefits of the MIracle Laundry Detergent Sheets.
People are ecstatic that it can prove to be a more eco-friendly option and that it can keep up with even the big-name brand detergents. Katherine King and Li'el Morris both proclaim the effectiveness of Miracle Detergent and how it works just as well as their old detergents while being a great option for those trying to lower their impact on the environment.
People like Andrea M. are surprised at how well they work and love how much better their clothes feel on their skin. Jon Swan echoes this sentiment and says this is his go-to choice for his baby's clothes for their family's sensitive skin.
Dorothee E., a mom of three, is thankful for the work that she saves in having to keep big jugs of detergent. The answer seems clear from these customers: Miracle Laundry Detergent meets the industry standard for cleaning clothes while providing an eco-friendly option that is compatible with sensitive skin. 
Where Can You Find Miracle Laundry Detergent
You can purchase miracle laundry detergent sheets on their website, or you can find them on Amazon. When it comes to pricing, miracle laundry detergent sheets are competitive as their website always has good deals and ways you can save money on your purchase.
On their website, they offer a variety of bulk buying options and a subscription service to save you money.
One box is $24.99, or you can get three boxes at $16.66 per box totaling $49.98. Lastly, the bigger option is the 5-box option at $14.99 per box – this totals $74.95 and saves you 40%.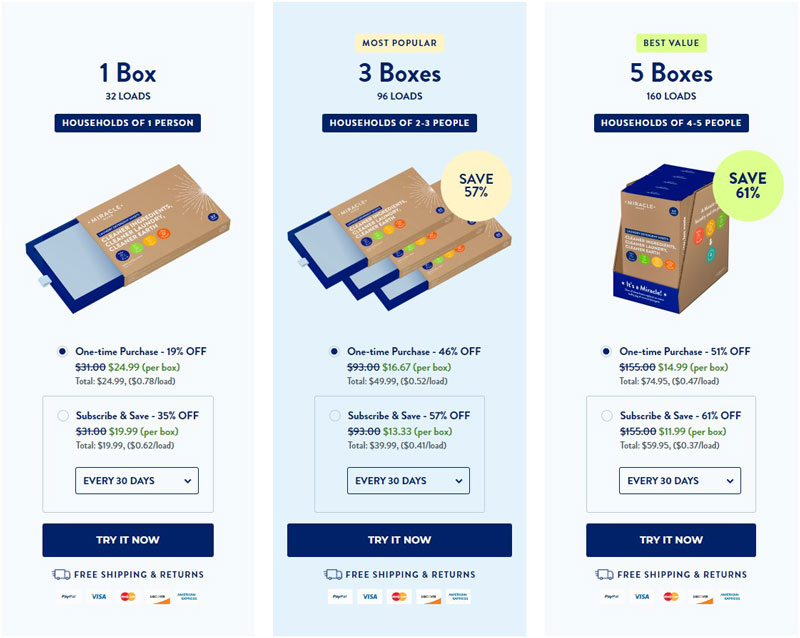 They also offer a subscription service that has even more savings for you and your family. No matter if you live alone or you're a family of six, Miracle Co. has a bulk option that will work best for you and your needs. 
1 box: 32 loads
Every 30, 45, or 60 days.
Price per box: $19.99
Total: $19.99
Savings: 35% off
3 box: 96 loads
Every 30, 45, or 60 days.
Price per box: $13.33
Total: $39.99 
Savings: 57% off
5 box: 160 loads
Every 30, 45, or 60 days.
Price per box: $11.99
Total: $59.95 
Savings: 61% off
Miracle laundry co offers a risk-free trial. You can try the product for 30 days, and if you don't love it at the end of the 30-day trial, you can receive a full refund.
FAQ's
Here are some of the most common questions related to the Miracle Laundry Detergent Sheets.
How do you adjust or cancel your subscription?
To adjust or cancel your subscription, use the management tools on their website, or email [email protected] for assistance.
How are miracle laundry detergent sheets manufactured?
Miracle Laundry Detergent Sheets are manufactured using a natural, biodegradable process and are lightweight, reducing emissions during transportation and shipping.
Can miracle laundry sheets be used on wool, silk, or cotton? 
The sheets can be used on any machine-washable fabrics, including wool, silk, and cotton, but always check the label on your clothes first.
Do miracle detergent sheets have a shelf life?
The detergent sheets have a shelf life of up to three years if stored unopened in a dry, ventilated place.
Are miracle detergent sheets safe for children?
The sheets are safe for children and those with sensitive skin as they are made from eco-friendly, natural ingredients. However, if you have extremely sensitive skin or allergies, consider using a special detergent.
Final Thoughts
In conclusion, Miracle Laundry Detergent Sheets offer an eco-friendly, effective, and convenient alternative to traditional laundry detergents. They are made from natural ingredients, which are gentle on the skin and better for the environment.
With numerous positive reviews, affordable pricing, and a money-back guarantee, making the switch to Miracle Laundry Detergent Sheets is an easy way to incorporate a more sustainable product into your daily life.
---
Nerko is a writer for Zoopy, and he's been working there since 2019. He loves to ride his motorcycle and bicycle, especially in the summertime! He also enjoys watching science fiction movies, and his favorite movie is Interstellar. Nerko is also a competitive gamer - so if you're looking for a good competition, he's your man!
---