When it comes to traveling, it can be frustrating not knowing how to communicate with the people around you.
Nowadays, countless apps and devices can translate languages on the go, and having a device like that can easily remedy that awkward feeling of not knowing what to say or what the person in front of you is saying.
In this article, I'll be taking a look at the Enence translator from Muama. So stick around till the end of this Muama Enence review to find out what I have to say about this portable translator.
At a glance

Trustpilot Rating:
3.5 /5
What we like
Over 40 languages
Portable size
Durable construction
Long battery life
Easy to use
What we don't like
Can mistranslate sometimes
Not great for life-or-death situations
It has to be used with a smartphone
---
What Is MUAMA Enence Instant Translator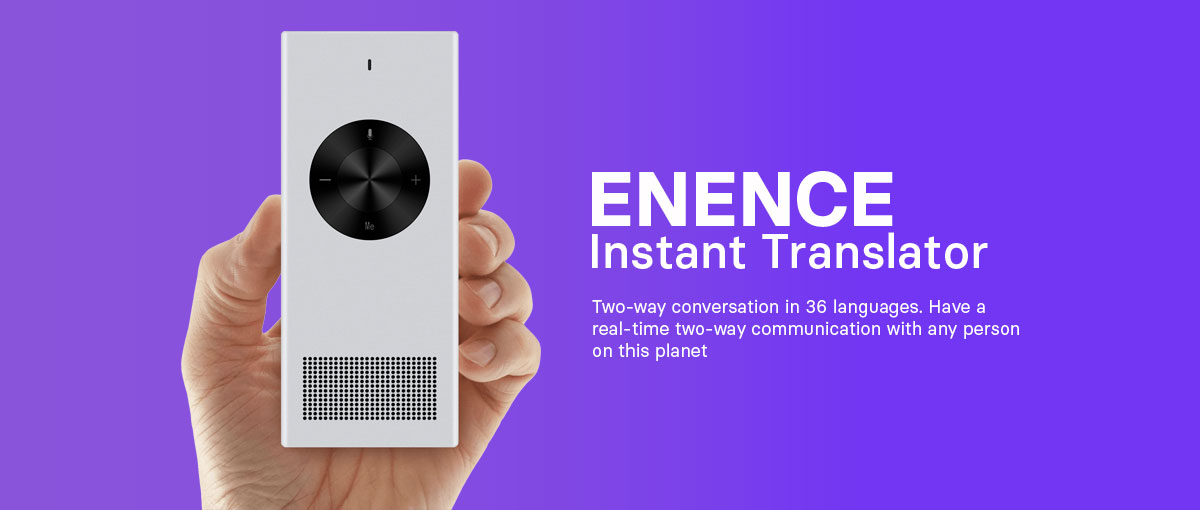 The Muama Enence instant translator is a small device that allows you to converse with people from foreign countries without needing to learn their language.
This translator is great because it can translate both ways. So, for example, if you ask something in your language, it will translate it to their language, and when they respond, it will translate it back to your language.
The small size of the Muama Enence translator makes it great for travelers because it can easily fit into your pocket or bag and can also be worn around your neck as it comes with a lanyard. But, unfortunately, it has to have internet access to work properly, which is a negative.
What Comes in the Box
Translator: The device has a silver metal body resembling old mp3 players. On the top, it has a small indicator light. In the middle are the volume and the start/stop recording buttons, and finally, on the bottom are the small holes where the speaker is.
Charging Cable: The cable is a Type-A to Micro-B USB charging cord. You can use the existing power brick to charge your translator device.
Lanyard: The package also contains a strap that you attach to the device so you can carry it around your neck for quick and easy use.
User Manual: As with every purchase, you get a user manual showing you how to set up the device so you can start using it to translate.
What Does Enence Translator Have to Offer
There are many features that the Muama Enence instant translator comes with, and each of them helps to make it stand out from the others that are on the market. Some are great, while others could use some work.
Supported Languages
The Muama Enence translator comes with 36 different languages programmed into it, which means you'll have no trouble navigating the earth when traveling. Of course, this is not the largest number of languages you can find when buying a translator, but it has all the required basics.
Full list of supported languages:
🇸🇦 Arabic:
🇪🇬 Egyptian Arabic (Egypt)
🇸🇦 Arabic Standard (Saudi Arabia)
🇧🇬 Bulgarian (Bulgaria)
🇨🇳 Chinese, Mandarin:
🇭🇰 Simplified Chinese (Mainland China, Hong Kong)
🇹🇼 Traditional Chinese (Taiwan)
🇭🇷 Croatian (Croatia)
🇨🇿 Czech (Czech Republic)
🇩🇰 Danish (Denmark)
🇳🇱 Dutch (Netherlands)
🇬🇧 English:
🇦🇺 English (Australia)
🇨🇦 English (Canada)
🇮🇳 English (India)
🇮🇪 English (Ireland)
🇬🇧 English (United Kingdom)
🇺🇸 English (United States)
🇫🇮 Finnish (Finland)
🇫🇷 French:
🇨🇦 French (Canada)
🇫🇷 French (France)
🇩🇪 German (Germany)
🇬🇷 Greek (Greece)
🇮🇱 Hebrew (Israel)
🇮🇳 Hindi (India)
🇭🇺 Hungarian (Hungary)
🇮🇩 Indonesian (Indonesia)
🇮🇹 Italian (Italy)
🇯🇵 Japanese (Japan)
🇰🇷 Korean (South Korea)
🇲🇾 Malay (Malaysia)
🇳🇴 Norwegian Bokmål (Norway)
🇵🇱 Polish (Poland)
🇵🇹 Portuguese:
🇵🇹 Portuguese (Portugal)
🇧🇷 Portuguese (Brazil)
🇷🇴 Romanian (Romania)
🇷🇺 Russian (Russia)
🇸🇰 Slovak (Slovakia)
🇸🇪 Swedish (Sweden)
🇪🇸 Spanish:
🇪🇸 Spanish (Spain)
🇲🇽 Spanish (Mexico)
🇸🇮 Slovenian (Slovenia)
🇮🇳 Tamil (India)
🇮🇳 Telugu (India)
🇹🇭 Thai (Thailand)
🇹🇷 Turkish (Turkey)
🇺🇦 Ukrainian (Ukraine)
🇻🇳 Vietnamese (Vietnam)
Voice Recognition
This translator comes with unique voice recognition, which means it learns your voice and instantly picks up on what you are saying to translate it in the best way possible. The two-way intercom translates what someone is saying to you and what you are trying to say to them.
Bluetooth
Enence translator uses Bluetooth to connect to a smartphone. Make sure your phone is close to the device to avoid any problems. It can usually be up to 30 feet away before you start noticing connection issues.
Compatibility
The great thing about this translator is that you can pair it with an Android and an IOS device. Many other translators only pair with one of them, not both.
Rechargeable
This translator is easily recharged and does not take long to recharge. It can last for about 4 to 5 days before it needs to be charged again. However, if you're planning on using it often during the day, the battery will drain faster.
Durable
The build quality of this translator makes it very durable. That means it can go through a lot of abuse without breaking down and needing to be replaced. It can also handle trips between locations, even very bouncy trips.
Portable
The size of this translator is smaller compared to others. This means it is easy to carry while walking around and touring a foreign place. Furthermore, it can be easily slipped into a pocket when not in use, which makes it easy to access when needed. You can even attach it to a lanyard and carry it around your neck for easy use.
How to Use Enence Instant Translator
Using Enence is pretty straightforward. You can do it in 4 steps:
Step 1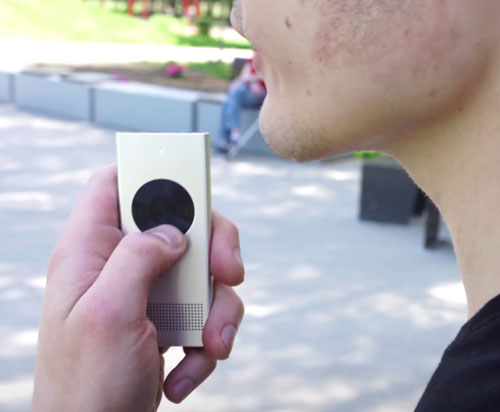 Press and hold the "A" button and then speak your language.
Step 2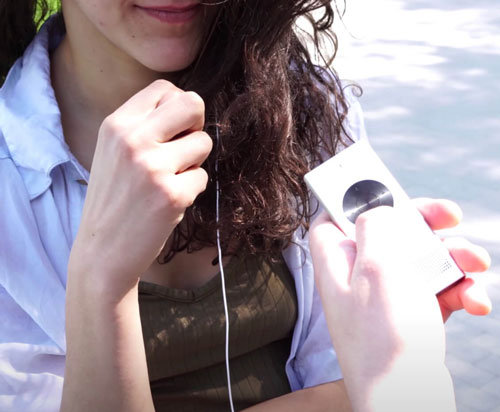 Release the "A" button so the foreigner can hear the translation.
Step 3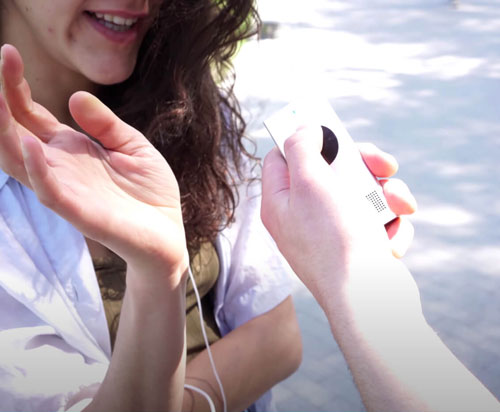 Press and hold the "B" button to let the foreigner speak.
Step 4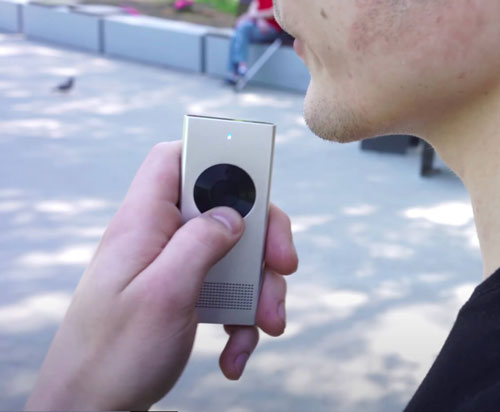 Release the "B" button so you can hear the translated response from the foreigner.
What to Pay Attention to When Purchasing an Instant Translator
Here is a list of things you should consider when buying a translator device.
Languages
Be careful when it comes to supported languages. Some will only translate a handful, while others can do lots more. It's best to check if the translator supports the language of the country you're planning on visiting.
Translates Both Languages
Find a translator that can translate both languages. So, for example, if you say something in your native tongue, it will translate it to other person, and if they say something in their language, it will translate back to you.
You don't want to be stuck with a device that only translates what you have to say, so you end up not knowing what the other person is saying.
Quality of Translation
Quality of translation is paramount because the device might translate some typical question to a bad word making the other person uncomfortable or even angry with you. So, if you don't want to find yourself in those situations, it's best to find one with good-quality translations.
App or Stand-Alone
Some translator devices will require you to connect it to your phone and install an app to work properly. Some are standalone, meaning it works without needing third-party devices like phones or apps.
Having to use your phone with the device just makes it more cumbersome, as it involves multiple steps until you get it working. However, the benefit of connecting it to your phone means you'll get more features.
Speaker and Microphone Quality
Having a good quality microphone is really important because you'd want it to pick up when you or the other person is speaking without any issues. The same goes for the speakers. You need it to be loud enough so both parties can hear what they're saying because you might be in a loud street with cars passing by or whatnot.
Battery
A translator device needs a strong battery that will last you a full day minimum. The last thing you'd want is to go outside to explore new things and meet new people, only for the translator to stop working in the middle of a conversation. Trust me; you do not want to be in an uncomfortable situation like that.
Internet Connection
Most translators require an internet connection to work. This can cause many problems if you travel somewhere new with too high roaming charges. In that case, I suggest you buy a local sim card with a fixed data plan. That way, you won't rack up a huge bill when you get back home.
What Other People Have to Say
"As the consultant for the company I work at, I find myself traveling a lot. This translator has made it so much easier for me to get my work done without relying on someone else."

Jason Clark
"As a writer, I do a lot of traveling because I need a firsthand feel for a place. This translator has made it easier for me to talk to people."

Jeremy Griffin
"I work on a cruise ship and am exposed to so many languages. This device makes my job easier."

Randy Peterson
Conclusion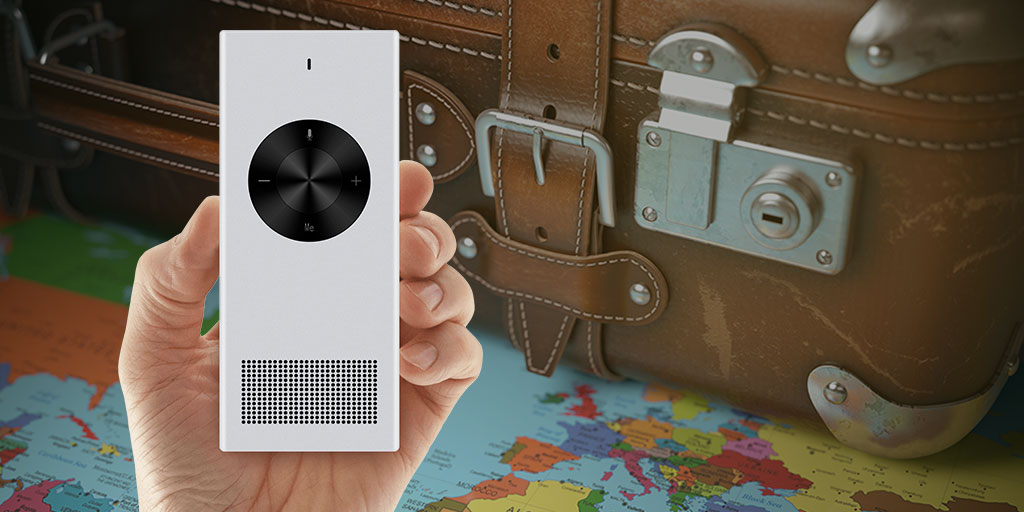 Traveling to foreign countries can be very hard because of the language barrier, but a small translation device can fix that. Now that you have heard about the Muama Enence instant translator, you can decide if it is the perfect one to meet your needs.
In the end, it's a great option because it has 36 different language options, can translate both conversation participants, and is very portable.
---
Nerko is a writer for Zoopy, and he's been working there since 2019. He loves to ride his motorcycle and bicycle, especially in the summertime! He also enjoys watching science fiction movies, and his favorite movie is Interstellar. Nerko is also a competitive gamer - so if you're looking for a good competition, he's your man!
---