Dropping items into hard-to-reach places and not being able to pick them up is frustrating for people of all ages. Objects roll underneath seats or get stuck behind desks all the time, but having the right tool can help reach and grab the things in question. One device that can do that is ODii, a grab-it gadget that can help you reach items with claws and use the built-in flashlight to see in dark corners.
At a glance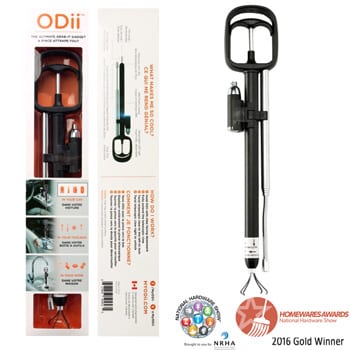 What we like
It has a telescopic claw and a flexible, strong detachable magnet for easy retrieval of items.
Holds and grabs items up to 10 pounds or 2 pounds when you use a magnet.
It includes detachable LED light
You can quickly collapse it for convenient storage
What we don't like
You cannot pick up more than ten pounds
It is challenging to grab objects that have a large or smooth surface.
What is ODii?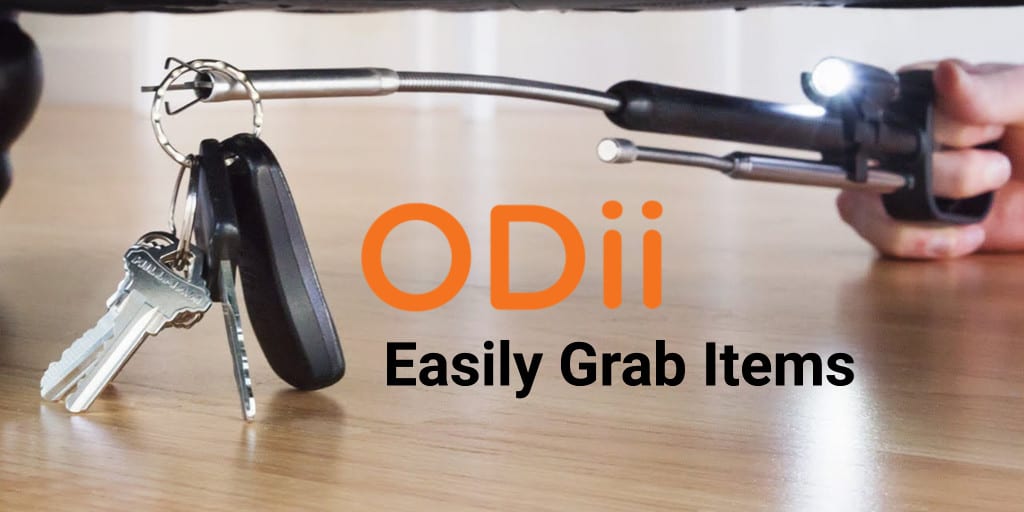 ODii is an easy grab-it tool. This unique tool makes it easy to retrieve items out of reach, like on a shelf or if you dropped it below a low-hanging shelf. The design of ODii allows it to be a three-in-one tool, which includes a nineteen-inch grabbing claw that can pick up to ten pounds.
The grabbing tool has multiple accessories to help you grab what you need, including a magnet on a goose-neck for picking up dropped metal items and a bright flashlight to see where the dropped thing is located.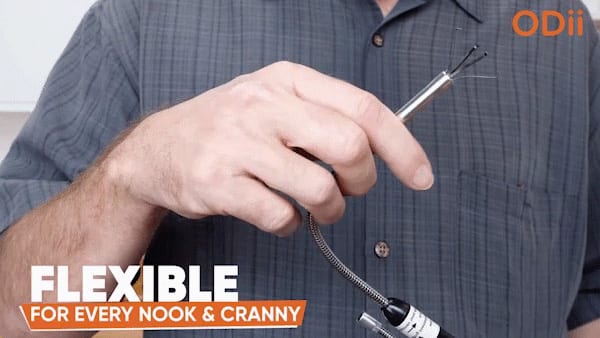 The Grabbing Tool is for anyone who has trouble reaching things that are high up or have fallen. The multiple features of the tool make it easy for older adults or people with health problems to grab out-of-reach items.
How To Use ODii?
Odii is a pretty simple and easy-to-use grabber claw that you can set up and start to use in just a few steps:
Firstly you need to extend the telescopic rod with a claw on end.
Depending on the length of the place you want to reach, you can adjust the rod length for a more sturdy overall grip.
The second step is to place ODii in a good position so you can firmly and safely pick up things.
To grab the item, you need to open the claws. To do that, you need to squeeze the ODii handle.
When you position the claws over an item, slowly release the grip, which will start to contract the claws and grab the item.
The last step is to extract the item from hard to the reach place and squeeze the handle again to release the item from the claws.
ODii Main Features
ODii has multiple features to make the busy parent's job of retrieving toys quicker and easier. It comes ready to use and is a tool every household can use for reaching and grabbing.
Extendable Claws
The tool comes with claws that extend out from the protective tube. The claws are strong enough to grab most regular small items, and the design helps you to grip each tightly. In addition, the claw also allows you to control how strongly it grips the object. The maximum weight it can handle is ten pounds.
LED Flashlight
The power grip tool comes with a bright flashlight to help you see into dark places while you pick up your dropped item. It is perfect for reaching and seeing behind your refrigerator, stove, or behind bed frame.
It illuminates the darkness from areas where light does not penetrate, like behind your washer and dryer. So you will never lose that sock behind the washer again or have trouble picking up your car keys.
Goose-Neck extension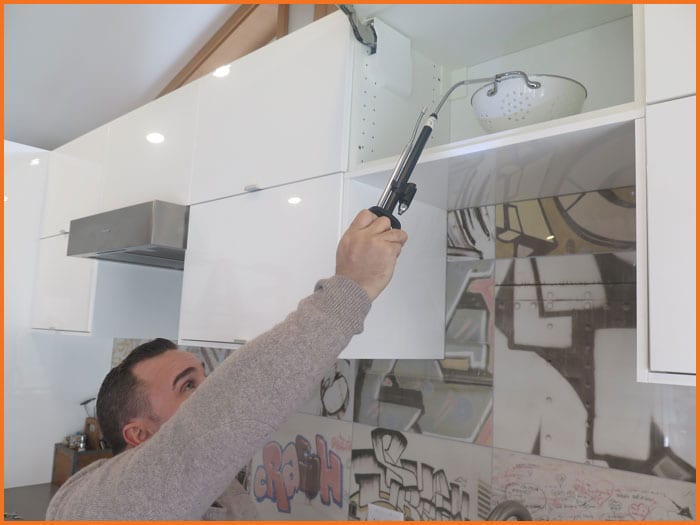 The design of the tool includes a bendable and flexible neck. You can extend or retract it as you need to wrap around corners or underneath tight spaces. The power grip helps you to reach behind, above, and underneath anything tight and small. These areas include areas around your car or in your bedroom.
Magnet
The tool comes with a detachable magnet that is twenty-three inches long.
The magnet is powerful enough to pick up dropped metal objects, including change, keys, etc. The magnet immediately attracts the item dropped and sticks to it until you remove it.
The magnet is perfect for searching beneath a car seat or couch cushion for the change that falls out of your pocket. It also removes the need to bend down to retrieve dropped change.
Easy to Store
The design allows it to shrink down for secure storage around your house. It takes up little room and can fit into small storage spaces like in the drawers of your kitchen or the glove compartment of your car.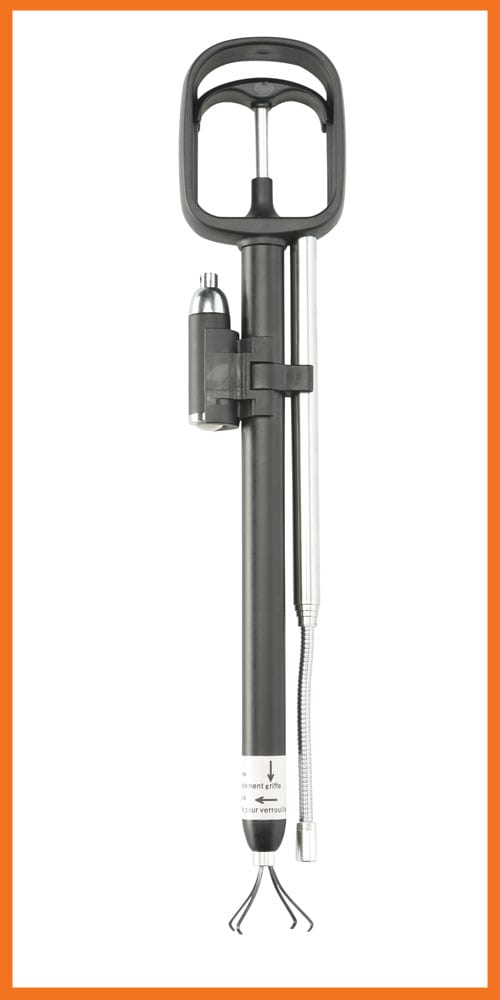 What ODii Can Help You With
In our everyday life, we always come across some things where we need some helping tool. Here are a few situations where ODii would be out of great help and solution.
Collecting Items After Kids and Pets and Cleaning
Cleaning a house sounds easy, but that task becomes a nightmare when you have kids, pets, or even both.
Kids and pets are known to scatter the toys and items around, usually under cabinets and couches. In this case, ODii is a great solution for extracting items beneath the furniture. Also, by grabbing a rag with its claws, you can use it to clean the dust in hard-to-reach places behind the furniture.
Extracting Items and Jewelry From Sink
One of the common problems is dropping items and jewelry into the sink, which can sometimes result in calling the plumber if you don't know how to extract by yourself.
Using the slim and flexible claw gooseneck, you'll get your things out of the sink in no time.
Extracting Bolts From Car Engine Bay
Car professionals and hobby enthusiasts know what I am talking about just from heading. You end up having a panic attack just thinking about putting bolts or screws anywhere around the car but particularly inside the engine bay.
That's why it's best to plan and protect all openings so that you don't have to remove half the engine later to extract the bolt. But even if it falls inside, that's no problem because, as you already know, ODii comes with a detachable and flexible magnet that holds 2 pounds and can go into deep and curved places and extract your bolt or screw without giving you a headache.
In short, ODii can help you with anything you can think of as long as you adhere to its capabilities presented by the manufacturer.
Where To Buy ODii Grabber?
Currently, there are lots of fake products that you can buy similar in design to ODii. In order to get the original ODii grabber and have a safe purchase, the best place to get one is to buy from the official website or the Amazon store.
What Are People Saying About ODii?
Verified buyers of ODii are surprised and pleased by the strength of the grip. They like the ability to reach behind everything and retrieve a dropped item. They also love how well-made the tool is compared with cheaper knockoffs.
They also take pleasure in how light the tool is. They do not need to worry about straining themselves to reach high or behind furniture to reach dropped items or items on high-up shelves. They can reach between their car seats with the magnet to retrieve their lost change without digging around, hoping to find it.
Many buyers expressed pleasure at being able to use it while they work. The claws help retrieve lost paperwork behind their desks, and the magnet works well for automotive maintenance when bolts and screws fall inside the engine holes or the engine bay. It greatly simplifies their work.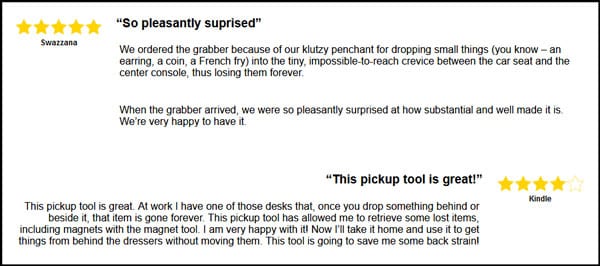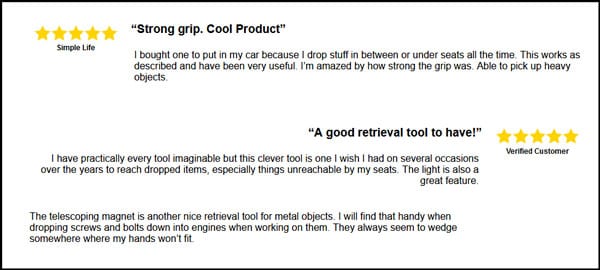 What Should You Consider Before You Buy a Grab-it Gadget Tool?
Ease of Use
Before you buy any type of grabbing tool, you need to consider how easy it will be for you to use. Some grab-it tools are clumsy or hard to use. The tool that works best for you is the one that fits your hand and does not cause you physical problems. The tool must fold in and out without wasting your time or causing problems.
Material
Some grab-it tools are cheap plastics that break or crack after the first use. The tool you need must be made of heavier-duty plastics or metals that you can use multiple times without breaking or showing signs of wear. The right tool material will give you many years of use because it is made of top-quality material.
Length
Some types are too short to be really useful. You need one that will be whatever length you need. A quality extendable mechanism will save you time and effort when stuff falls behind the couch or into the car. Having a longer pole also makes it easier for you to reach things on the top shelf of your kitchen or in your garage.
Accessories
Most grab-it gadget tools only come with claws to pick up the dropped piece of clothing or other items. If you want a full-use grab-it tool, you should see if it comes with anything else to help you pick up hard-to-pick-up items like change. Having a flashlight in dark places can be helpful as well. A magnet or different sizes of claws help as well.
Storage
How you store your new tool can make a difference in whether or not you choose to buy it. The tools that are too long or do not fold up will take up room in your closet or garage. That's why you should look for one that folds up so you can store it in a small compartment or a drawer.
Final Thoughts
The right tool for any home is the one that does the job. When you have trouble reaching out for dropped objects or trying to see behind a dark couch, you need a tool that can do it all. The ODii is a flexible and useful tool to use at home, in your car, at the office, and in the garage. It is a universal tool that helps you get the job done.
Before you get too frustrated over that lost change in the car or that item on the top shelf that is out of reach, consider using ODii to help you retrieve them quickly and efficiently.
---
Abdo is a Zoopy writer who loves spending his free time outdoors, camping, and enjoying the peace that nature brings. He also enjoys fixing things - he's particularly good with electronics. His favorite movie is I Am Legend, and he's fascinated by survival gear and safety.
---