What we like
Lightweight Design
Easy to Transport
Artificial Intelligence Technology
360° Functionality
Face Tracking Software
What we don't like
USB Charging Feature
It is Not Interchangeable With Other Cameras and Devices
Comes at a High Price
With the increase in content creation as a hobby and a career, the need for powerful and efficient camera accessories is more present than ever before. If you're not one of the creators that make enough money to have their own cameraperson, you will be happy to know that there are solutions available to help you get the high-quality footage that you desire for a much more reasonable price.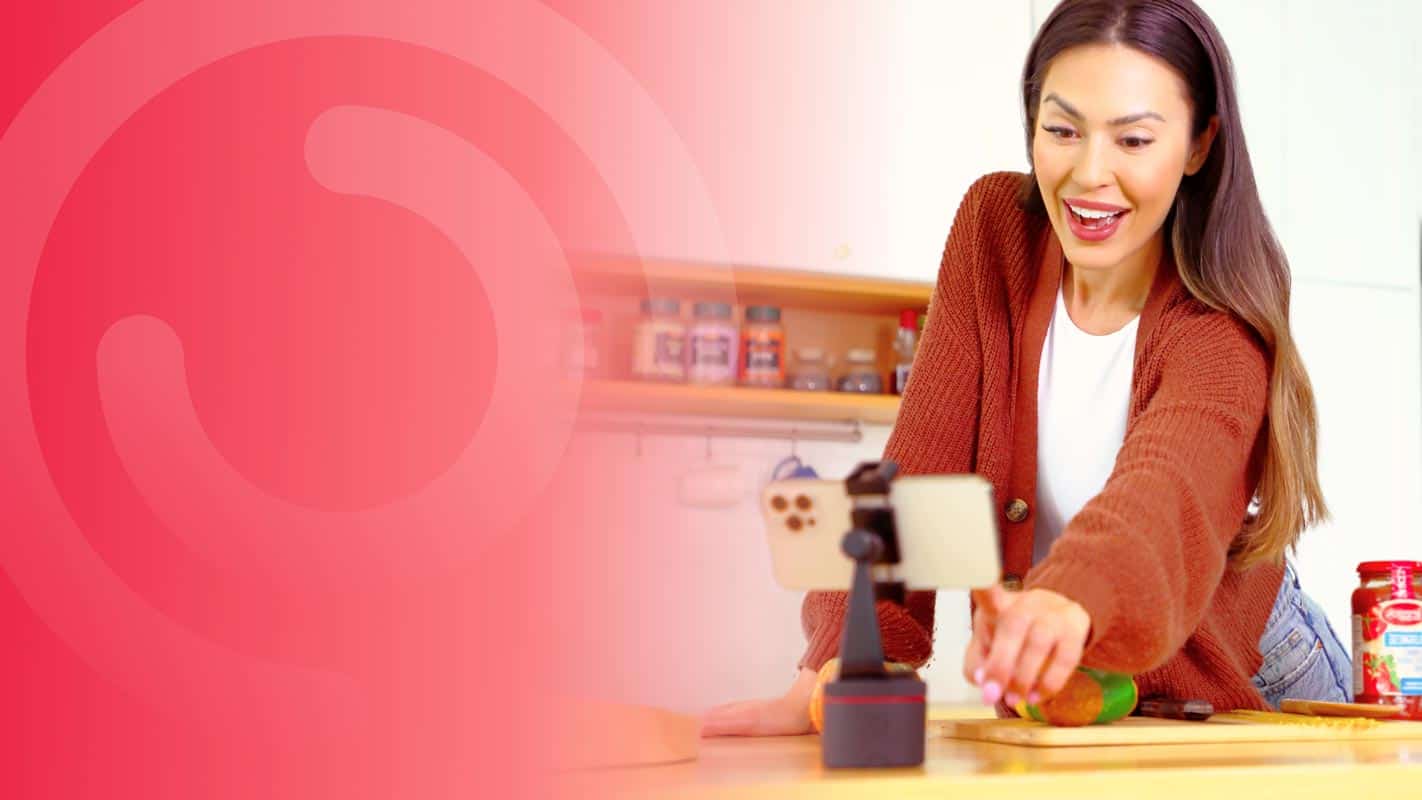 The Pivo Pod tracks your movements while you are recording. With its streamlined operations, you can insert your smartphone into the lightweight device and begin shooting, only to have the Pivo Pod follow your movements seamlessly.
Are you interested in learning more about this incredible accessory? Please continue reading to discover all the details in our Pivo Pod Review.
What Is the Pivo Pod?
A Pivo Pod is a small device that holds your smartphone for recording. The Pivo Pod can fit in your hand and is easy to transport in your purse or backpack for on-the-go recording.
With embedded artificial intelligence, once you set it up, it uses the technology to record you and your movements.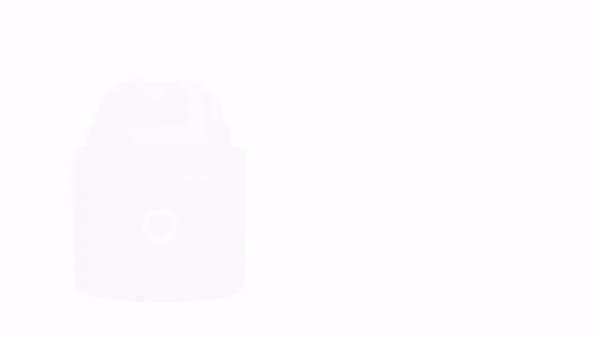 Having a Pivo Pod at your disposal means you will enjoy a hands-off experience with automatic tracking. Adding a long-lasting battery means you can create for hours on end without interruption.
What's more, the Pivo Pod operates as a 360° camera stand, offering complete focus tracking no matter which way you move. Throughout this Pivo Pod review, you will learn how this incredible technology can benefit your content and give the appearance of having a personal videographer.
There are two versions of the Pivo Pod, both of which are conducive to your desired result. However, the higher-end option comes with an extra accessory that can make the process even more efficient than it already is with Pivo Pod.
Which Pivo Pod Should I Get?
For those in the market for a Pivo Pod, there are several directions you can take due to the versions offered, the edition packages, and the extra accessories. To help you decide which is the best, we highlight the details of each below.
One option that is available for purchase is the Pivo Pod Lite.
As you'll see in this comprehensive Pivo Pod review, the Lite comes with the primary 360° face tracking phone holder.
When you buy just the Lite, you won't receive any accessories, and the product won't be part of any listed additions.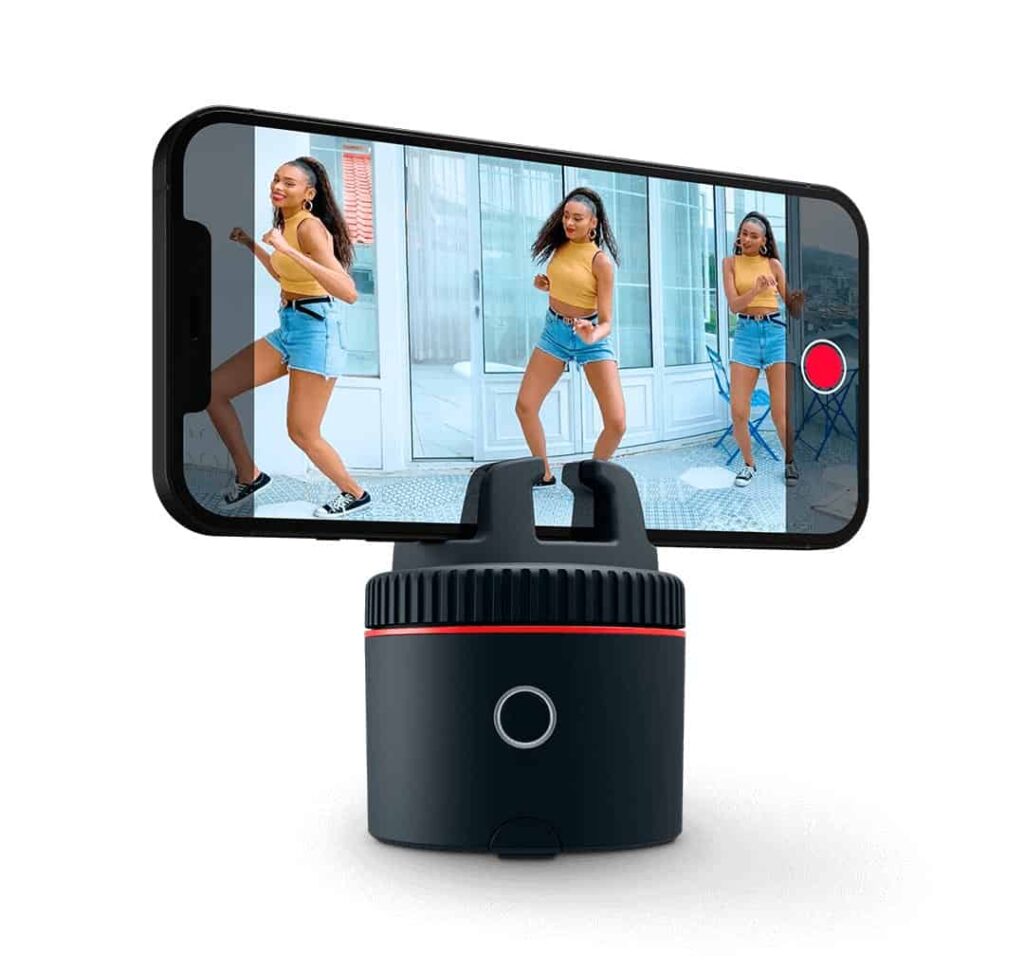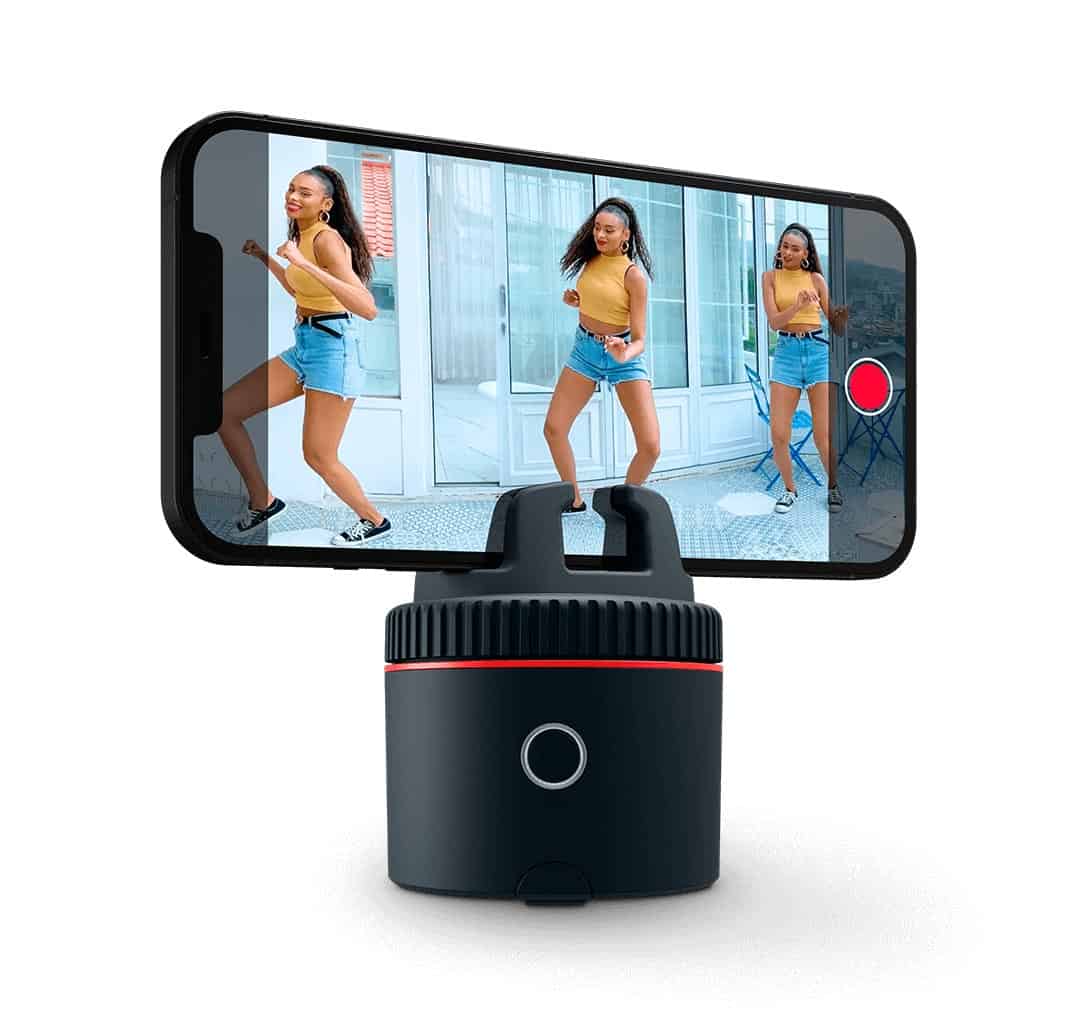 YouTubers, vloggers, photographers, and other aspiring creators.

Cooking and instructional videos, social media dances, video conferences and zoom calls, sports and entertainment and so much more.

Smart Tracking: Face and Body Tracking powered by AI

Action Tracking: Allows you to track anything by just drawing a box on the screen to select your target

iPhone 8 or above with iOS 13.0 or higher.
Premium Android phones from 2017 and later with Android version 9.0 and higher.

Works With Instagram & TikTok:

Compatible With Any Tripod:

Pivo Pod has 2X speed, only taking 4 seconds to complete a full rotation.

With Pivo, you can easily select how you want your subject to frame — left, center or right.

Many Me

Time Lapse

Magic Edge

Auto Pan

Clone Trail

2.87" (7.3cm) x 2.48" (6.3cm) x 2.48" (6.3cm)

Each Pivo kit includes your Pivo Pod, a charging cable, and the manual. It also comes bundled with 3 Apps: Pivo+, Pivo Play, and Pivo Cast.

5 -7 business days in the United States. International shipping times will vary depending on country/customs etc.
Pivo Pod
Purchasing the Pivo Pod means you get the device and a small remote to operate the Pivo auto-tracking from a distance. These two items will come bundled together. If you don't feel that adding the remote is necessary, then the better option would be to purchase the Pivo Pod Lite.
Pivo Pod Active Edition
If you are an individual who consistently trains for upcoming athletic events, then you understand the importance of being able to watch the playback of your performance and practice sessions. Whether you are a professional ice skater or a track star, being able to review your movements is critical in these situations.
The Pivo Pod Active Edition makes this possible by including everything you need in one package. Not only do you receive the Pod itself, but you will also have the following:
Pivo Cast
Tripod
Smart Mount
Remote Control
Pivo+ App
Pivo Play
Travel Case
The included application and casting functionality allow you to project your footage onto other devices from your phone. Additionally, you can stream your activity in real-time with others, which will enable you to receive feedback or participate in group sessions as if you were in person with each other.
Pivo Pod Equestrian Edition
If you are in the equestrian world, you understand that there are circumstances in which having recordings of your ride or showmanship is critical to moving forward. With the fast movements of horseback riding, you need something that has strong attention to detail and will capture all the right angles.
This Pivo Pod review will show you that the Equestrian Edition includes everything that the Active option has, as well as the Pod itself, but with the addition of an extra accessory.
Smart Mount
Mini Travel Case
Remote Control
Pivo+ App
Pivo Play
Travel Case
Pivo Cast
Tripod
The mini travel case allows for extra protection of the Pod and will enable you to carry it separately for the times when you don't require the additional items.
Pivo Pod Solo Creator Edition
One thing that this Pivo Pod review makes clear is that the device is highly beneficial for those in the content creator industry. Although many are aware that having a dedicated camera person to shoot footage increases the quality of the content, it isn't always in the budget. The Pivo Pod Solo Creator Edition performs as a human would but for a fraction of the price.
The Active and Equestrian Editions have similar elements, except for the mini travel case included in the latter. However, the Solo Creator Edition has a few different pieces that speak to its focus. These items are in addition to the Pod.
Smart Video Light
Pivo Play
Tripod
Action Mount
Smart Mount
Wireless Mic
Remote Control
Pivo+ App
Pivo Cast
Since content creation comes with specific needs, having an action mount, wireless mic, and smart video light is critical to getting quality footage. As one of the most popular packages sold, Pivo is on the right path to providing for those in this category.
Additional Accessories
In addition to the product itself and the Editions that the company provides for the purchase, you can also buy the package accessories separately. Not only that, but Pivo Pod has many other accessory options available to increase your video and photography game.
Tripod
As you've seen throughout this Pivo Pod review, your Pod will remain on the ground or atop another platform. A tripod provides a safe solution to keep your Pod sturdy. If you don't require a full-size tripod, you can opt for the Tripod Mini instead.
Smart Mount
With the purchase of a Pivo Pod, you can insert your smartphone on the top portion. However, utilizing a Smart Mount will allow you a more secure option and the ability to capture more angles. You may also be interested in the Action Mount or the Magnetic Mount.
Travel Case
To keep your Pivo Pod and all accessories safe, having a travel case is essential. If the classic look isn't what you want, you can also check out the Travel Case Mini or the Travel Case Leather.
Studio 360
We have all seen the vibrancy that comes with studio shots. Incorporating Studio 360 into your photography will give your images a clean, crisp look that rises above the rest.
Remote Control
As you read earlier in our Pivo Pod review, the Pivo Lite only comes with the Pod. If you previously made that purchase and are now interested in adding the remote control, you can purchase it separately as an accessory.
Stabilizer Weight
If you find yourself shooting content in windy conditions or your footage comes out wobbly from time to time, adding a stabilizer weight can help. While it's not always needed, it can make a difference in the image quality in certain circumstances.
Wireless Mic
When you are a content creator, it's critical to have quality sound as part of your videos. Typically the microphone that comes in the device isn't sufficient enough for all circumstances. The Pivo Wireless Mic helps pick up what the other misses, giving you crisp, quality sound no matter what.
Smart Video Light
Similar to using an external microphone, adding extra light makes for better quality in your images and videos. As you move around the camera mount that follows you, you want a light source that does the same. The Pivo Smart Video Light will provide adequate illumination for your content.
Pivo Pod Software
When you purchase the Pivo Pod, you will need the application to operate the device fully. However, you can use multiple different software programs to get the full Pivo effect.
Pivo+
As the primary app for the Pivo Pod, Pivo+ allows you to operate your device without a remote. You can get this app for iPhone and Android through their respective stores.
Pivo Play
Through the use of Pivo Play, you can easily edit and trim your videos and images. This program is a free download that you can find in both iPhone and Android app stores.
Pivo Cast
For those who plan to use their Pod for video calls or presentations, the Pivo Cast allows you to conduct these meetings hands-free.
Pivo Studio
As an addition to Pivo Play, the Pivo Studio gives you more tools to customize your content before putting it on the internet or sending it to others.
Pivo Live
For those who frequently engage in live streaming, the Pivo Live application comes with all the necessary elements to make the process go off without issue.
Pivo Tour
Something that has risen in popularity in recent years is the use of virtual tours. The Pivo Tour app helps to create these experiences in just a few clicks.
Pivo Present
If you are preparing to give a presentation to a group of colleagues, having productive software behind you is beneficial. Pivo Present helps you to display your information and go through slides without the clunky interface of many software.
How To Use Pivo for Instagram
Throughout this Pivo Pod Review, we have stipulated how the device works but haven't highlighted the opportunities on social media that thrive with the Pod. To display the various qualities of the Pivo Pod, we will speak to its use with the Instagram platform.
When you set up your 360° camera stand, you can utilize it for several purposes. Many with a successful platform will take self-portraits to display on their profile for their followers, which can be done by striking a pose and capturing images from various angles as the stand moves.
Others may decide to create a video that depicts them doing something. Perhaps the creator wants to get a video that emphasizes certain elements throughout a room. With the Pivo auto tracking, your smartphone can capture all the different areas of your location.
Another common element of Instagram comes in the form of live streaming. When a person performs this task, they interact in real-time with their followers. At times they are sitting in one place. However, the Pivo Pod and its 360° face tracking phone holder allow those individuals to walk around without repositioning the camera.
Pivo Pod Review Summary
Seeing the influx of content creators over the years, it's essential to have products that meet those needs. The Pivo Pod utilizes leading technology through Artificial Intelligence to provide a 360° version of events. While this is amazing in its own right, there are many other advantages to the Pivo Pod that take it to a different level.
Between the face-tracking functionality, the surplus of applications for every communication and creation need, and the multitude of accessories available, Pivo Pod has what they do down to a science. With this in your back pocket (literally – due to its small size), your content will rise in quality with the push of a button.
---
Bato is the father of three beautiful children. When he's not dealing with product reviews and comparisons, he enjoys hiking through untouched nature. He loves adrenaline sports such as skiing, hiking, rafting, and scuba diving. In addition, he likes to grill and discover new exciting food.
---