Safe Alarm For Personal Security Full Review
Is It The Ideal Portable Alarm For Your Defense?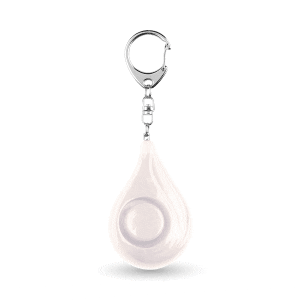 My children are grown now, but I used to worry about their safety when they walked home from school through a secluded area. Someone could have attacked them there, and my kids had no kind of safe alarm. Had a safe personal alarm existed then, it would have brought relief.
Things to consider before buying a safe personal alarm for personal security
It's a dangerous world we live in where violent people harm others, sometimes for no reason at all. We and our loved ones cannot always walk in groups or have the legal right to carry a weapon. But we can all wear a safe alarm.
Whistles have been used for personal safety, but they've also been used for other purposes, such as for starting a race. Besides its drawback of having multiple purposes, a whistle only makes sound when someone blows into it. While in a victim's mouth, a whistle can be easily located, confiscated, and discarded.
An electronic safe alarm, by contrast, is known to only be used as a distress signal - everyone hearing one sounding off would know they are hearing a call for help. Wearable alarms do not go into the mouth like a whistle, and they're not easily confiscated or shut off by people unfamiliar with them. As they make noise, they allow the victims the freedom to shout for help and to physically fight.
Alarms of any kind catch attackers off guard and force them off of their plan. Either the bad guy will run away or else help will arrive and stop the attack.
An electronic safe personal alarm will not work if it's subjected to water or if the batteries are allowed to go dead. So, people who would not, or cannot, find a way to keep this kind of alarm dry and equipped with a fresh battery would be better off with a whistle. Otherwise, a safe personal alarm is ideal for the weaker people among us, such as children and seniors, and for anyone who must regularly go into a secluded, dark, and/or dangerous area alone.
Presenting the product
Safe Alarm, which the website spells as one word in all down case letters, is a loud alarm on a keychain that people wear on their clothing, put in their pocket, or otherwise keep with them to for personal protection. With a sound capability of more than 125dB, its manufacturer says it is loud enough to be heard by people who are within 650 meters of it. This alarm is similar to others on the market in both loudness and appearance.
The Safe Alarm benefits children, the elderly, women, and anyone else who is vulnerable to violence or theft. Since this electronic alarm needs to remain dry and powered up, only people willing to protect it and keep its battery fresh should use it.
Safe Alarm Pros:
Loud enough to be heard by many people
Attachment feature prevents loss
Attaches to clothes, bags, etc.
Safe Alarm Cons:
Cannot get wet
Bold colors call attention
Features and Benefits
Immediate protection
Unlike home alarms and car alarms, this alarm travels with you wherever you go (except in water). After all, you are more important than your possessions are. And if you are attacked, you will likely not know of your attacker's presence until he is in contact with you. Once you are trapped by an attacker, you would need to have an alarm on your person to scare him away and/or summon help. This alarm is available for your immediate use if you keep it somewhere on your body.
Easy to wear
Weighing only 45 grams, the Safe Alarm is light in weight. It's also small. Being both light-weight and small, you would hardly notice you are wearing this life-saving device. It is equipped with a key ring-type attachment that doubles as the pull chain that is connected to the pin that sounds the alarm if pulled out.
Ideally, you would attach this alarm to your belt loop or carry it in your pocket. If your outfit doesn't present a way to attach or carry the alarm, you can attach it to a purse strap, backpack, or actually use it as a key ring.
These come in black, white, turquoise, and pink. The more vibrant colors of turquoise and pink would call attention to the alarm. In my opinion, using one as a key chain may be unnoticeable to an attacker, but it would not be a good thing to openly wear or to display one of these devices on a bag. That is because attackers often know their victims and much about the victim's habits and possessions. The best place to keep this item of protection is on a belt loop with a shirt covering it and the best policy is to not show it off or even mention it to anyone!
Has a long battery life
This alarm comes with a 12-volt battery, which is a long-lasting one that won't leave you unprotected just when you need your alarm to work. Made with resistant materials, this alarm actively protects the battery. Still, it should be kept out of the rain and it should never be submerged because it would cause the battery to rust, and a rusty, corroded battery would not work.
Easy turn-on/turn-off
If attached to a belt loop, this personal safe alarm can be immediately activated by a quick yank on its colorful body. The yank would cause the pin part of the chain to come out of the alarm's body, which would sound the alarm. To turn it off, you just put the pin back in. This pin concept is much like a pin on a grenade, where you pull out the pin and the grenade explodes soon afterward.
If an attacker finds the alarm, the button-like circle on the alarm's side may appear to be a turn-on/turn-off button that he may push on in an attempt to shut off the alarm. You could pretend it is a shut-off button that just won't work. This ploy would buy you time that you're not being attacked. Meanwhile, help is on the way. After just a little bit of time, the would-be attacker would panic and leave the scene. With any luck, he would be nabbed on his way out.
Sufficiently loud
The Safe Alarm emits its alarm at least as loud as 125dB. An electronic distress signal that loud is loud enough to be heard as far away as 650 meters. Many people located within 650 meters in any direction would hear your alarm. Some of them would come to your aid, especially public servants of all types. Police in the field are especially familiar with all kinds of alarms and are well-trained and well-equipped to respond to emergencies. This little alarm could therefore save your life, cost your attacker precious get-away time, and summon the right people to effectively nab the would-be attacker.
Social Proof
I really like this personal alarm. These are great for kids loud enough to get someone's attention. I have my kids attach one to their backpack or purse. My kids walk to school in the morning about a mile…These are great gifts for kids.
These alarms were a great buy! I work in the social work field and sometimes I'm going to some really sketchy areas. I feel so much safer knowing I have something like this on me. It's super loud an easy to activate…
Alternatives
Alternative #1: KOSIN Safe Sound Personal Alarm, 6-Pack
For the fashion-conscious and/or well-prepared, this lighted six-pack set will match your outfit and illuminate your path. The KOSIN gives you six alarms in six warm colors, and each alarm has an LED flashlight. By contrast, the Safe Alarm offers four colors (two bright ones) and no light. The KOSIN is also louder than the Safe Alarm is.
Features of KOSIN Safe Alarm
Design: Egg-shaped & 2 false buttons Teardrop
Dimensions: 2.7 x 1.7 x 0.7" 2.6 x 2.3 x 1.8"
Colors: Gold, Blue, Silver, Black, Purple, Pink
Weight: 30g 45g
Attachment Keychain-like
Turn-on method Pin
Number of batteries needed are Three
Battery type AG13/LR44
Decibels 140dB 125dB
Max audible distance 600 feet (183M)
Alarm sound length up to 40 minutes
Comes with Six pcs LR44, 110mA, 6V Three LR44 batteries and user manual
Guarantee Lifetime Money-back guarantee
You can check out the KOSIN alarm HERE.
Alternative #2: Sunrich Safe Personal Alarm for Women, 3-Pack
Upgraded and rechargeable, the Sunrich alarm/LED light set will most assuredly be ready to protect anyone who needs protection. In addition to having a light that the Safe Alarm does not offer, this option is slightly louder.
Features of Sunrich Safe Alarm
Design Slightly upgraded/high db Alarm whistle
Dimensions 2.6 x 2.3 x 1.8"
Colors present are Blue, Black, Pink
Attachment Keychain-like
Turn-on method Pin
Number of batteries needed One Three
Battery type Rechargeable LR44
Battery length of life One-year standby and 40-minute charging time One year
Decibels 130dB 125dB
Max audible distance 606' (184m)
Extra features Double LED light/two-mode alarm sound
Comes with USB cord/rechargeable battery/after-sale card User manual/3 LR44 batteries
Money-back guarantee
You can check out the Sunrich alarm HERE.
Alternative #3: WOHOME Safe Personal Alarm with LED Light
You get a whopping eight alarms in eight warm colors plus a lighted path when you order this lighted alarm set. By contrast, the Safe Alarm offers half the number of alarms in louder colors and without an LED light in each alarm. The Safe Alarm is also slightly less loud than the WOHOME.
Features of Sunrich Safe Alarm
Design Egg-shaped Teardrop with false button
Dimensions 7.9 x 5.6 x 1.6" 2.6 x 2.3 x 1.8"
Number of colors Eight
Weight 11.2oz 45g
Attachment Keychain-like
Turn-on method Pin
Number of batteries needed Three
Battery type Replaceable LR44 LR44
Decibels 130dB 125dB
Max audible distance 606 feet (184 meters)
Comes with Three batteries Three LR44 batteries/user manual
You can check out the WOHOME alarm HERE
Conclusion
We all need protection from would-be attackers from time to time. The vulnerable among us are the ones who need it the most. As a light-weight, wearable item, a personal safe alarm such as Safe Alarm is available for use in a time of need. Once activated, a safe alarm knocks the bad guys off their game and alerts people that someone needs help.
You can check out the Safe Alarm here.