Gardening might seem daunting, especially when you are just starting out, however with a product like SeedSheet, it gets a bit easier.
SeedSheet, as the name suggests, is a sheet containing curated seeds that you can easily plant and use them yourself. Each SeedSheet comes with organic, non-GMO seeds that are packaged in a biodegradable, dissolvable pouch which facilitates easy growth and sprouting.
Can This Product Help You Grow Your Own Garden Healthy & Naturally?
One of the best things about the SeedSheet is that it comes in an anti-weed fabric that further encourages weed-free gardens. You can easily order SeedSheet separately, however, if you want an optimal experience, you can order a garden container as well as supportive soil to make it a singular purchase that does everything.
The Seed Sheets kit is a revolutionary way to grow your food without the need for large spaces, heavy equipment, or even soil. The makers of SeedSheet believe that anyone can be an effective gardener and grow their own food.
SeedSheet is basically made for people who don't have access to land and live in cities, this allows them to grow their own garden without any problems.
What Is SeedSheet?
The SeedSheet is an herb garden that comes in easily dissolvable pouches that contain non-GMO and organic seeds. The small sheet is highly convenient and can be planted either in your own garden or in a separate container.
We can easily say a SeedSheet is a healthy and thriving herb garden you can get in a box. And when we say thriving, we aren't using marketing speak, each SeedSheet is capable of producing $92 worth of produce, which is simply incredible.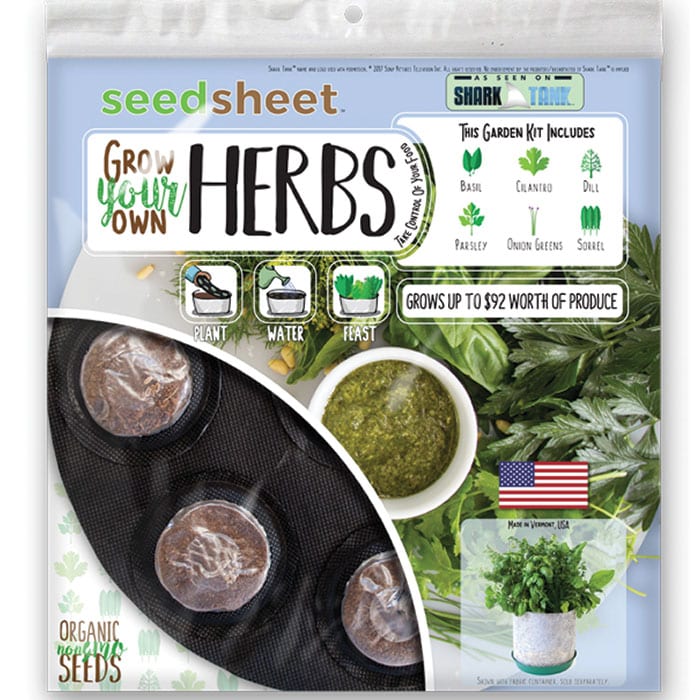 It may seem like a complicated product to use, especially if you have no prior experience in cultivation or gardening. However, the reality is completely different.
All you need to do is simply place your SeedSheet in a pot containing soil, send a text message to SeedSheet, and just add water when you get an alert.
A single sheet contains 6 different herbs as well: cilantro, parsley, dill, onion greens, basil, and sorrel. You don't have to worry about weeds growing in your garden either, all you need to do is simply water it whenever you get a text.
Benefits Of Using SeedSheet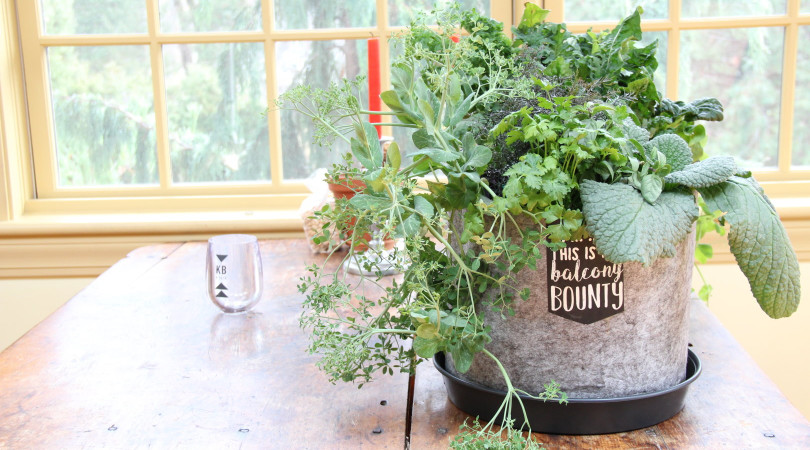 When you purchase the Seedsheet gardening kit, they provide helpful videos that show how to plant and care for your vegetables, but there's also a free app that will text you when your plants need water. It also notifies you when they've grown so you can start eating the produce.
One of the best features is everyone in the family will get involved with this project. Kids might discover their favorite food isn't just grown on trees outside, and they can watch the complete process of growing and taking care of plants, from tiny seeds to healthy, tasty food.
You can find a variety of organic and non-GMO right from USA seeds in each pouch, ensuring that they will germinate.
You Don't Have to Worry About Space
With the Seedsheet gardening kit, you can grow fresh produce anywhere. It's so easy. Just place this product in a sunny location and watch it take off. Whether you have a small backyard or live in an apartment, the SeedSheet gardening kit will provide excellent results.
Safe and Fresh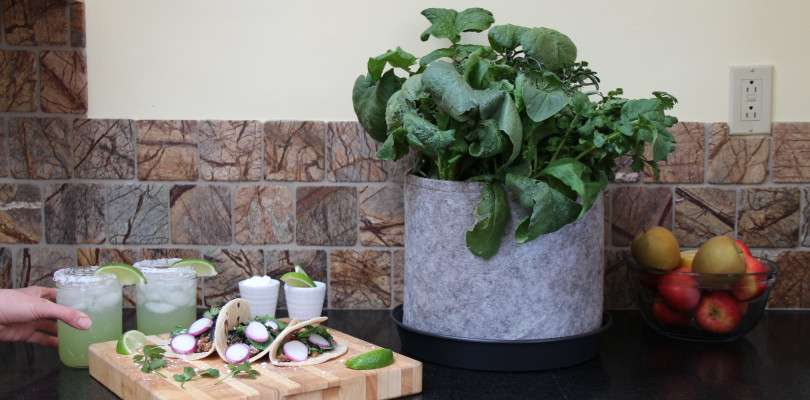 When you have your organic garden, buying unsafe food is the last thing on your mind. But unfortunately, many people are turning to alternative sources for their needs in this day and age of climate change and natural disasters. This is why we need more direct control over what gets put into our bodies.
Growing your vegetables is a great way to eat healthier and always have fresh food. You can even grow them at home without searching for organic farmers' markets.
SeedSheet App
The Seedsheet free app provides:
Instructional videos and tips
Text reminders for plant watering
It notifies you when plants are ready to eat
Suggestions of tasty recipes harvested from the plant garden you've just created.
If you have multiple versions of SeedSheet gardens, they should be registered separately to ensure that you receive the full benefit and 100% satisfaction.
Register one garden completely before starting registration of another variety of gardens. In addition, this will help you understand how plants grow in different conditions when combined with other gardens.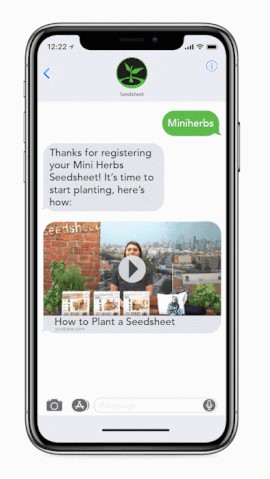 SeedSheet currently does not offer notifications for custom Seedsheets. However, they plan on building this functionality into their new native app.
What's In SeedSheet Herb Garden?
The SeedSheet contains six unique herbs that are mostly used for our day to day lives. The herbs include green onions, basil, parsley, sorrel, dill, and cilantro. The specially selected herbs add a much-needed layer of flavor in your homemade food.
If you decide to buy they will offer you a Pizza Garden at 30% OFF. This offer only shows up when you click "ORDER" on one of the packages. The Pizza garden contains sun gold tomatoes, scallions, basil and purple basil.
Why is SeedSheet So Special?
Unlike other DIY gardening kits, SeedSheet comes with an app that will text you when your plants need to be maintained. Plus, it provides everything you need for success: no more forgetting or over-watering.
Who Is This For?
Everyone. That's right, everyone can easily use SeedSheet. If you live in a small apartment, you can use it. Live in a big city flat? Yep, you can use it as well. Even if you are a student living on campus, you can use SeedSheet to add homegrown ingredients in your food. It is that simple. Even kids can use it, it's that easy to use.
How to Use SeedSheet?
Here is 5-step tutorial on how to start using Seedsheet.
Plant Seeds

The very first step you need to follow is simply placing the SeedSheet in a container of soil. The seed side of the sheet should face the soil and by using your hands gently flatten the SeedSheet.


Place Stakes

There will be 3 green stakes given with each SeedSheet package. You need to place them through the "X" slits that are located on the very edges of the sheet.


Pouch Dissolving

You will need to dissolve the pouches by applying water to them every 10 seconds. After the water is applied, you will have to wait around 30 seconds to see if the pouch is dissolved or not. Repeat the process until the pouches are completely dissolved and gone.


Provide Sunlight

This final step can be tricky, especially if you live in a place that doesn't get direct sunlight. You can use your windowsill or patio, wherever there is ample sunlight and place the container there. You will find instructions on each of the SeedSheet version inside the package. This will tell you the exact time when you need to harvest the plants.

SeedSheet Indoor vs. Outdoor Gardening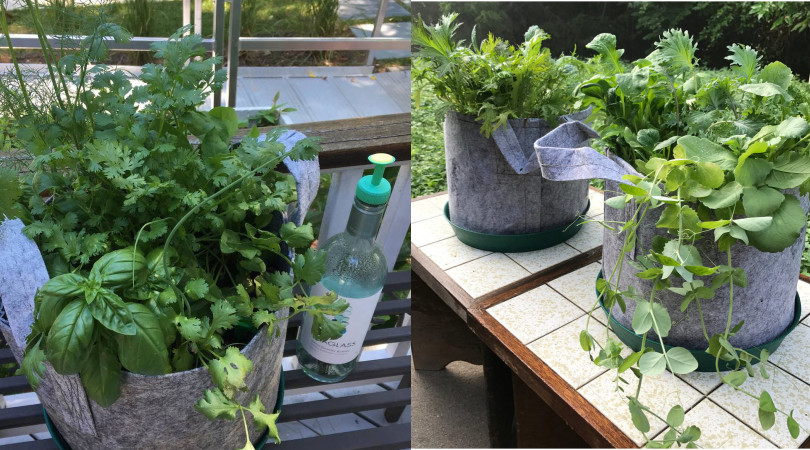 Whether gardening in the backyard or outside, plants need natural sunlight, indoor growing is an excellent alternative for those who don't have the space or outdoor access to plant fresh herbs. All it takes are some simple adjustments in your home's environment, like installing grow lights or making spot side windows with plenty of natural light, and you'll be able to enjoy all sorts of delicious spices year-round.
Germination is the process of sprouting seeds. Indoor conditions are stable and safe from pests, making it ideal for starting Seed Sheet gardens indoors before moving them outside into direct sunlight once one pod has reached 1-inch in height. It's normal if other pods remain small or ungerminated at this time.
When growing indoors, the essential element to consider is light. Maintaining an adequate amount of light can be difficult, but it will lead you on your path towards success.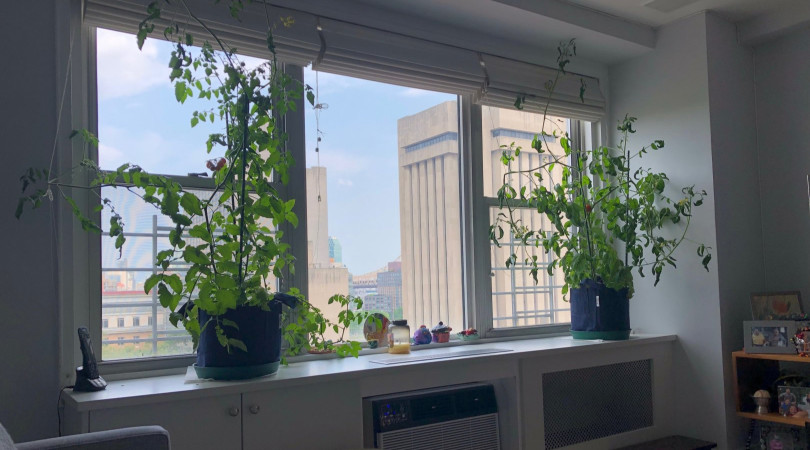 The ideal window for natural light is a south-facing one with at least eight hours of direct sunlight per day. If you live where this isn't possible, try checking full-spectrum LED lights which are a great way to replace natural light.
The right LED grow light will help your garden much easier. When selecting a light for your mini or large container gardens, you should consider the cultivated plant life type. For example, a mini Seedsheet with herbs and greens requires less energy than a larger pad with fruiting varieties such as tomatoes.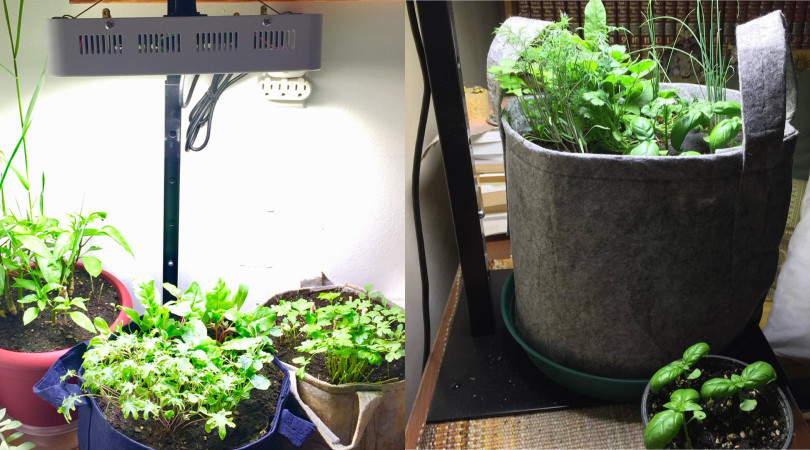 LED light wattage recommendation for growing:
75W mini garden
150W for balcony container garden with greens and herbs
600W for balcony container garden containing fruiting plants
For balcony container garden with larger fruiting plants, take 1200W with a large span area, or consider using two 600W lights adequately spaced
You should set your lights on a timer for 12 hours per day and hang them 6-12 inches away from foliage, so it doesn't burn the leaves.
Saving Money With SeedSheet?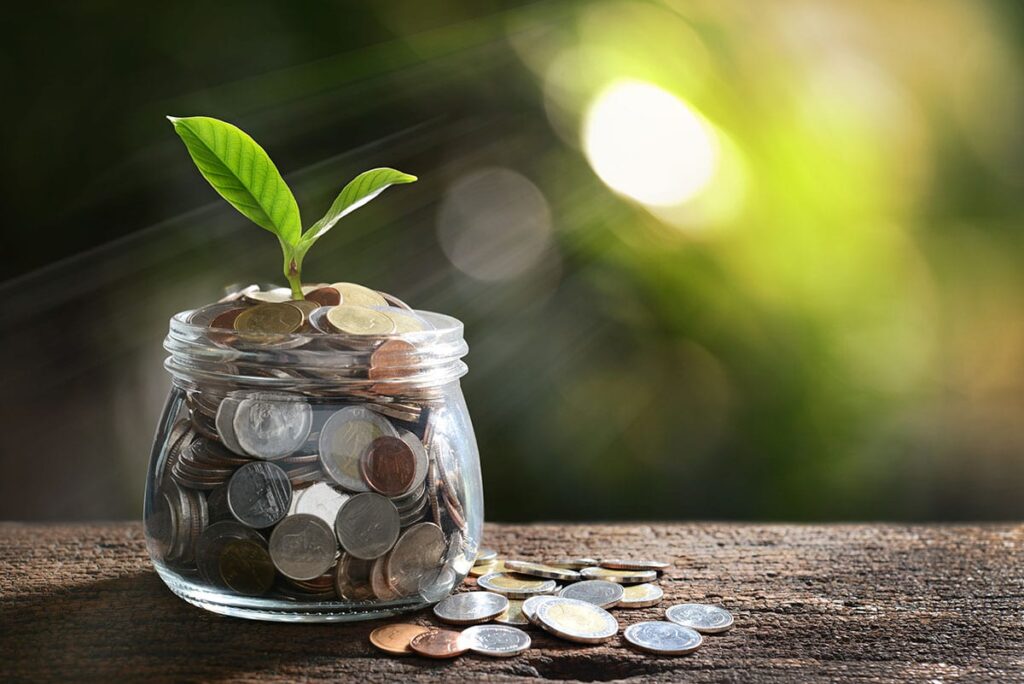 With a small investment in terms of seeds, you will be getting produce down the line that is way more expensive. Usually, it takes around 40 days to see the results and getting that first harvest is an amazing experience. If kept with care, a single SeedSheet will save you a lot of funds.
Of course, there is a chance that it may not work as intended. Maybe you forget to water it regularly or maybe there isn't enough sunlight. However, in most cases, a SeedSheet is capable of producing fresh vegetables and herbs without any problems.
How to Purchase SeedSheet?
It is highly recommended that you get SeedSheet from the official website.
Due to the custom nature of these products, all sales are final. However, they want you to enjoy gardening as much as their Greenthumb Guarantee. Therefore, they will happily replace any pods that fail germination.
We recommend sending an email to [email protected] and including a photo of your garden so they can help diagnose what went wrong.
SeedSheet pros:
Great for beginners when it comes to gardening
No Weeding – The SeedSheet comes in an anti-weed fabric that makes it virtually impossible for weeds to grow. The fabric is constructed using non-woven polypropylene fabric that makes the water drip through and as a result, avoids mold.
It doesn't require a large space to grow
No Herbicides or Pesticides – With SeedSheet you don't need to use herbicides or pesticides at all.
SeedSheet cons:
Wait Time – You need to wait around 40 days for the first harvest, which is understandable as you are growing them not purchasing them outright.
Indoor Problems – You can have trouble growing produce indoors if you don't get direct sunlight.
Frequently Asked Questions
Are seeds included?
Yes. The dissolvable seedpod contains the best organic and non-GMO seeds from their partners High Mowing Seed Company, and Johnny's Select Seeds. In addition, the pod includes multiple plants in each capsule so that you can expect a higher chance of success with your gardening.
Do I need to bury a SeedSheet?
No, place the Seedsheet on top of your soil. The dissolvable seed pods contain organic nonGMO seeds and a buffer layer of soil, ensuring that they will be protected. Seeds are already buried beneath their protective layer.
How long do SeedSheets last in their packaging?
The Seedsheets will last two years in their packaging so that you can buy now and plant whenever convenient. Unfortunately, after two years of storage, the germination rates for these seeds gradually decrease.
Do I have to use herbicides or pesticides?
SeedSheet uses a farming system that's sustainable and helps you avoid using harmful chemicals. In addition, the company features companion planting, where mutually beneficial plants naturally attract pollinators and pests away from the garden while improving soil quality with their weed-blocking fabric, preventing sunlight from germinating weeds or photosynthesizing and providing a physical barrier against growth.
Conclusion
The SeedSheet is a worthwhile product that allows you to grow your very own herbs. They are fresh, safe, and can save you money down the road. If you are health conscious and want to save some money cooking homemade food, this is one of the best ways to go.
---
With the continual development and increase in technology, gadgets, and gizmos, Amar never has a dull day researching new gadgets. Being an enthusiastic gamer, traveler, soccer lover, and avid car driver means that he always looks for the next cool thing to try out.
---