I recently started having foot pain, and when researching how to remedy the pain, I found that an excellent orthotic insole could help with foot pain. In addition, if you have flat feet, lifting the arches with the help of shoe inserts could also help you avoid injuries.
As such, finding the proper insoles is crucial. Most importantly, insoles can also provide support for plantar fasciitis, a common cause of heel pain.
Having that in mind, I ventured into the market to find insoles that could provide me with excellent arch support. And that's when I came across the Soul Insole. So, how effective is it when it comes to arch support?
Well, why don't you stick around and find out everything there is to know about it in this Soul Insole review.
At a glance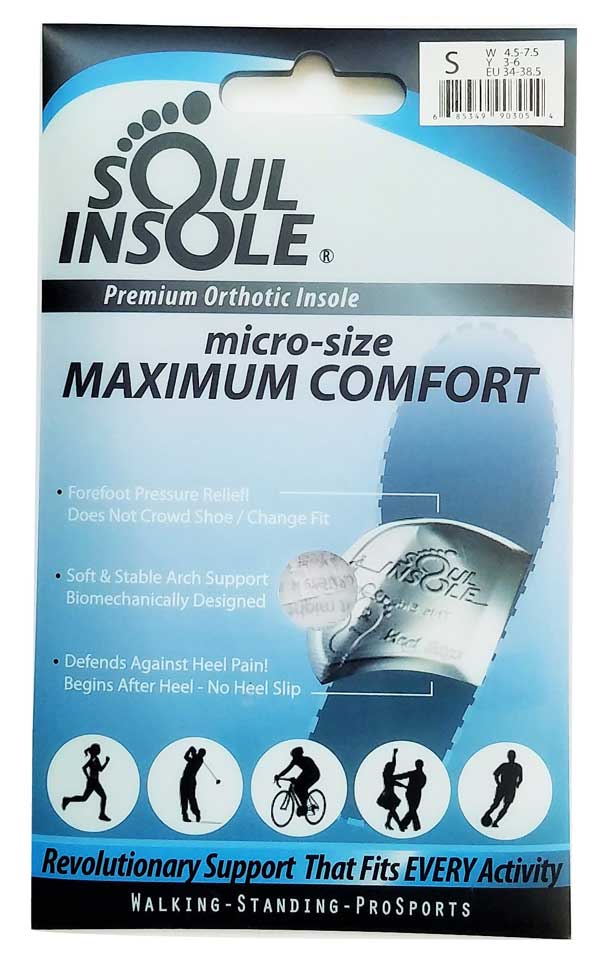 Trustpilot rating:
4.7 /5
What we like
It has a versatile design, meaning you can use it on any footwear
It's excellent for plantar fasciitis
It provides excellent arch and forefoot support
It's made of skin-friendly material that doesn't stink
It reduces foot pain
It prevents overpronation
It's economically priced
It supports flat feet and high arches
It's easy to clean
What we don't like
It is not a full-length insole
The insole loses its stickiness after some time of use, but there are replacement adhesives you can purchase
What Exactly Is a Soul Insole Shoe Bubble
The Soul Insole is an orthotic gel insole that gives your feet proper alignment. The design enables it to relieve foot, back, and body pain. It also creates a soothing feeling at your heels and arches.
It is ideal for people suffering from plantar fasciitis, metatarsalgia, heel spur, overpronation, and heel pain, among other foot issues.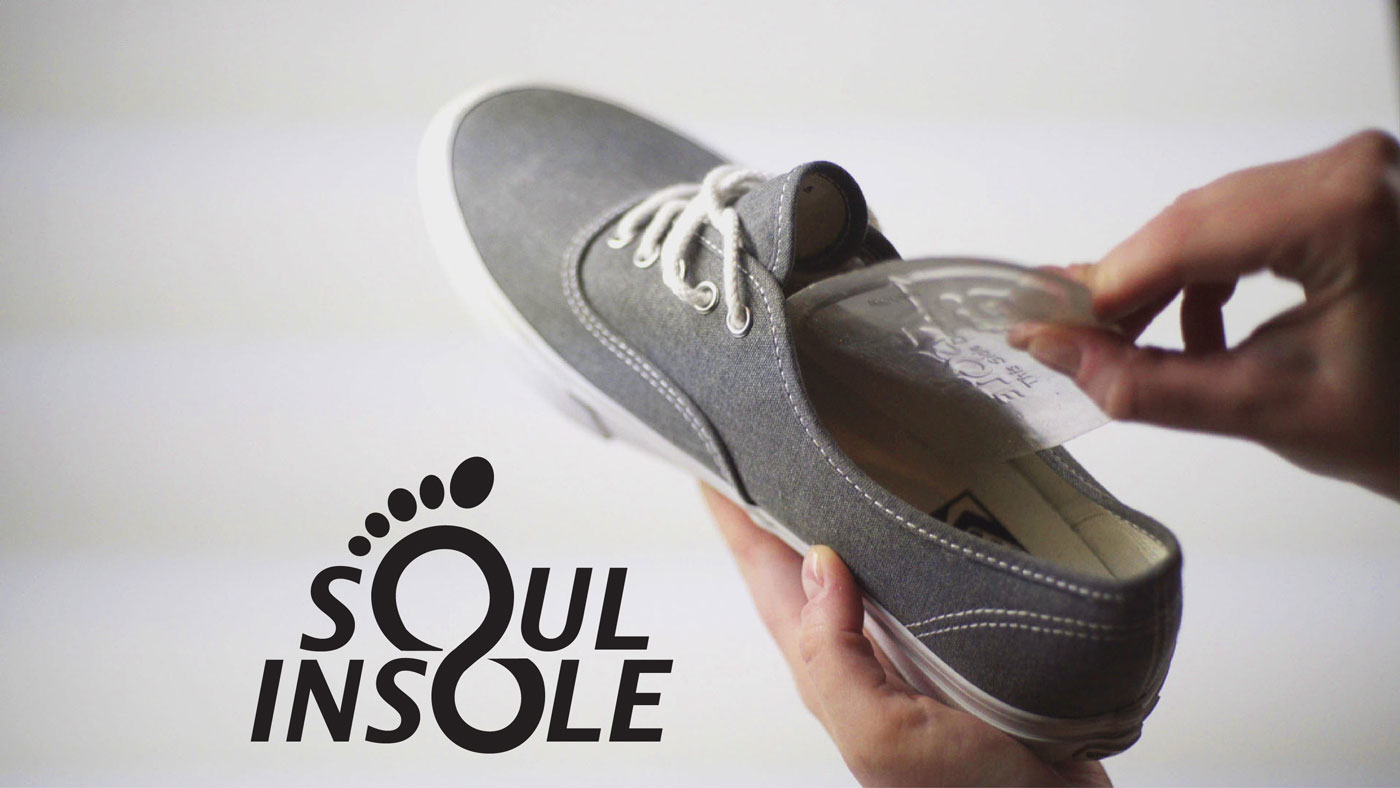 The inserts are designed to improve balance and support and will fit almost any shoe size. So it doesn't matter whether you're wearing boots or sandals, it's gonna work regardless. Moreover, it can be used by men, women, and kids.
This insole is made of a non-porous, soft medical-grade memory gel, which is friendly to your skin. As such, the insole will not stink even if you wear it daily. The insole also features premium-quality construction to make sure it provides you with arch support while maintaining its shape.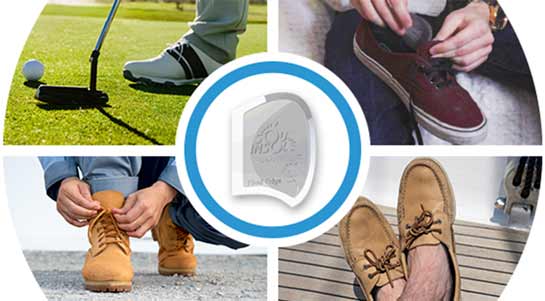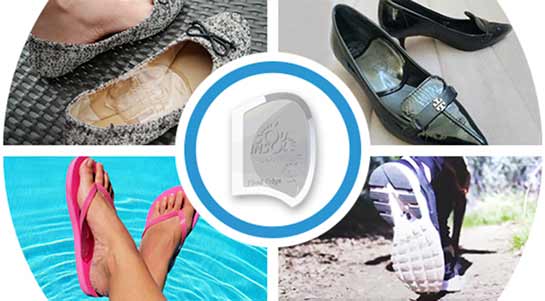 Besides having a lightweight design, the insole provides front foot relief. The best part is that it does not crowd your shoe. The insole works great for people with flat feet and high arches to promote proper balance and alignment.
The adhesive will keep the insole stuck in place when you place it in your shoe, thus guaranteeing comfort. When cleaning, I found that washing with water is perfectly fine.
The official website is having a sale where if you buy 2 pairs you'll get 1 for FREE, but I don't know how long this deal will last. Click here to find out if the sale is still active.
Why Would Someone Need a Shoe Insert
These flexible orthotics make a BIG difference in the way your shoes feel. It relieves pressure from your heel and forefoot in EVERY shoe without changing the fit.
Here are a few examples of how a shoe insert could benefit you:
It adds support & offloads pressure for all-day comfort
You can use it for both high arches and flat feet
It stays firmly in place but you can also swap it between other shoes
It promotes improved alignment and balance
It saves you hundreds of dollars in buying special shoes
What Makes Soul Insole So Good
Here is a list of all the things that make Soul Insole on of the better options on the market for a micro-sized orthotic:
Type of foot pain relief
plantar fasciitis, heel pain, ball of foot pain, overpronation
Support for flat feet and high arches
Yes
Relieves pressure from the heel and forefoot
Yes
Promotes better posture, alignment, and balance
Yes
Arch booster
Yes
Odorless
Yes
Washable
Yes, but only with warm water and hands
Reusable
Yes
Fits every shoe (incl. sandals)
Yes
Trustpilot rating
4.7 out of 5

Package contents
Left and right insole
Money back guarantee
Yes
60 days
Price
$29.99
Comfort
The sole purpose of wearing insoles is to improve comfort. Looking at Soul Insoles, you'll see they feature a small design, which means they won't crowd your shoes. That way, you will not feel as if your feet are cramped inside the shoe.
Besides, the insole does not have a heel section, something that works to eliminate the occurrence of blisters or getting irritated. If you suffer from plantar fasciitis, it's as if the manufacturer designed this insole for you. How so? Well, the insole delivers soothing comfort to eliminate the pain.
And there's more. The sole is designed to fit in a variety of shoes, including slippers and office shoes. That way, you get proper support regardless of what's on your feet. Additionally, the insole adheres to your shoe. This means that the insole won't move around even when you're running.
As long as you place them correctly, you will enjoy their comfort. Moreover, Soul Insoles come in three sizes – large, medium, and small. Therefore, you can select a product that suits your shoe size.
| Small | Medium | Large |
| --- | --- | --- |
| Women: 4.5-7.5 | Women: 8-11 | Women: 12+ |
| Youth: 3-6 | Men: 7-10.5 | Men: 11+ |
You can find international sizing on the official website.
Ease of use
I found that the inserts are simple to install. That way, you won't need to worry about placing them inside shoes. When you remove the inserts from the package, simply stick them inside your shoes and that's it.
Their small and lightweight design also makes it easier to stick them inside your shoes. You can place them in the perfect position that seamlessly provides the necessary support. However, if it is your first time using this type of insoles, it may take some time to position them perfectly.
That's why the manufacturer recommends that you play around with the insole for a bit until they take the ideal position. And the best part? They are removable insoles! So, you can remove them whenever you'd like and even insert them in a different pair of shoes.
Support
The ideal insole needs to provide proper support, especially if you have some foot issues. Luckily, the Soul Insoles shoe insert is perfect for flat feet. They also work great if you're looking for insoles that support high arches.
In fact, they can also help people with the following feet conditions:
Pronation control
Heel pain
Fat pad atrophy
Morton's Neuroma
Metatarsalgia
Plantar fasciitis
They also provide excellent support to your lower back, ankles, and body to relieve you of the excruciating pain associated with these parts.

Stickiness
By now, you're probably wondering if Soul Insoles have some stickiness. Right? Will they adhere to your shoes to deliver the support and comfort you need?
Luckily they have good adhesive quality, which makes them stick on any shoe you place them in. And that also includes when you switch them from one pair to the other.
Over time, however, you will feel that the insoles have lost their stickiness. But that should not worry you. This mostly happens when the insoles are dirty. So, what do you do to get the stickiness back? Simple. Rinse the insoles with water.
When rinsing or cleaning the insoles, avoid using soap. Otherwise, they'll lose their stickiness. I once did this myself and thought that I'd ruined my insoles. But when I rinsed them with water, the insoles worked just as well as before.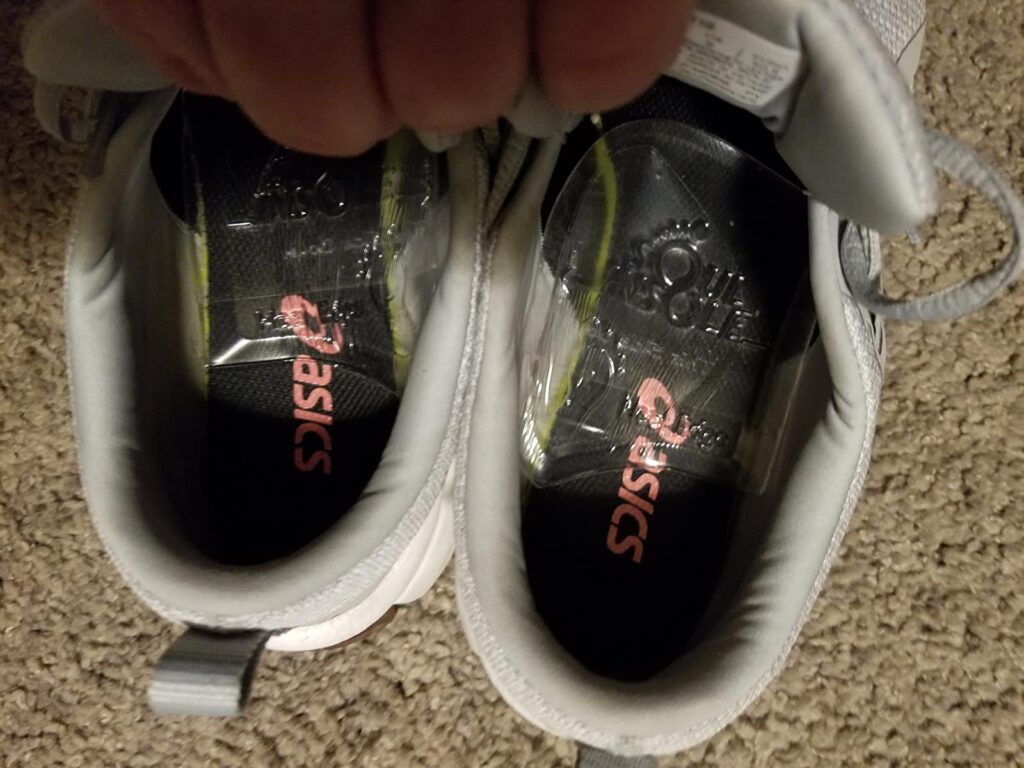 Breathability
When you go out looking for replacement insoles, then breathability should be a major consideration. After all, nobody wants to feel uncomfortable in their shoes. However, considering that adding some things to your shoes could compromise air circulation, you must be careful when buying an insole.
Luckily, Soul Insoles are quite breathable. How come? Well, they are not full-length insoles. As a result, their small design leaves much room for proper airflow in your shoes.
Energy Boost
Soul Insole's energy-boosting benefits are perfect for runners or overweight people. The soft foot pads (gel pads) make you feel lighter than air while running.
Durability
Whenever you buy some insoles, their durability is a major concern. Naturally, you want to ensure you purchase a product that will last. Fortunately, the manufacturer does not compromise on the durability of the Soul Insoles.
Here, I'll show you.
For starters, the insoles are made of BPA-free medical-grade gel, a material that seems quite durable. Moreover, the insoles don't get any pressure or force from the heels. That way, they will last longer as compared to full-length insoles.
Because the insoles are made of a high-quality material, they retain their shape even after you've worn them for years.
Bottom line? Soul Insoles have a long life expectancy.
Shock Absorption
Frankly, the shock absorption of Soul Insoles is not such a great concern. Why? Well, because they are mainly meant for arch support. But they still offer some shock absorption to your midfoot. So, when you get these insoles, you should not expect shock absorption on your heels or forefoot. However, they still deliver forefoot pressure relief.
Flexibility
The main points for having insoles are comfort and support. In order to achieve those two things, flexibility is a key factor. Although Soul Insoles are not full-length, they still give you that flexibility to your midfoot area.
Washable & Reusable
You can easily hand wash them using warm water, and because it's made from durable material, there's no need to worry about ruining them forever like other reusable inserts. When washed, just hang it outside, where sunlight will quickly dry it. Oh, and by the way, it's not machine washable, so be careful not to throw it in there.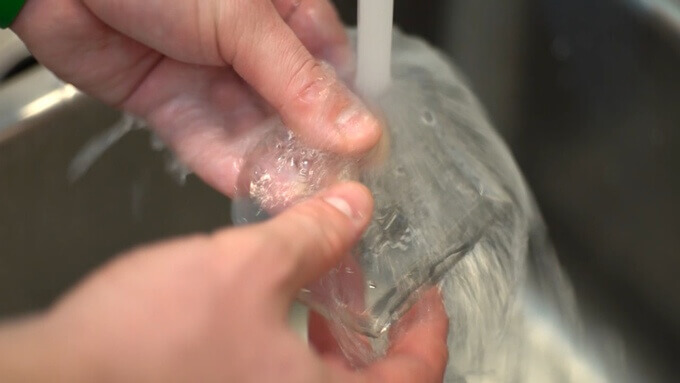 In summary
Using Soul Insoles comes with the following benefits:
The shock absorption on your midfoot helps to boost energy.
The insoles give you better balance.
They help reduce stress.
Online Reviews
Seeing how Soul Insoles helped alleviate foot pain and other conditions, I searched the market to find what users had to say. Interestingly, I found plenty of positive comments. Here's what some had to say.
Madison Alexander said that the insoles changed the game for him. He has flat feet, and the insoles worked excellently. By the time he wrote the review, Madison had owned five pairs.
Another reviewer, Tiffany, said that she'd struggled with plantar fasciitis for a while but couldn't find insoles that could solve her needs. However, once she got the Soul Insoles, they provided excellent support, and she couldn't notice any pain.
Another user, Dain, claimed that the insoles saved his feet. They provided a huge relief for his plantar fasciitis. He further went on to say that they're much easier to use as compared to full-length insoles.
Where To Buy Soul Insole Shoe Insert Bubble
The company's official website is the best place to buy the product [https://getsoulinsole.io].
Here are the three options you can choose when purchasing Soul Insole:
1 – Soul Insole Pack that retails at $29.99 plus shipping and handling.
3 – Soul Insole Packs that retails at $59.98, which is $29.99 cheaper because you buy 2 and get 1 free.
5 – Soul Insole Packs, which retail at $89.97. This offer allows you to save significantly because you pay for 3 and get 2 free.
Keep in mind that every pack contains left and right insoles.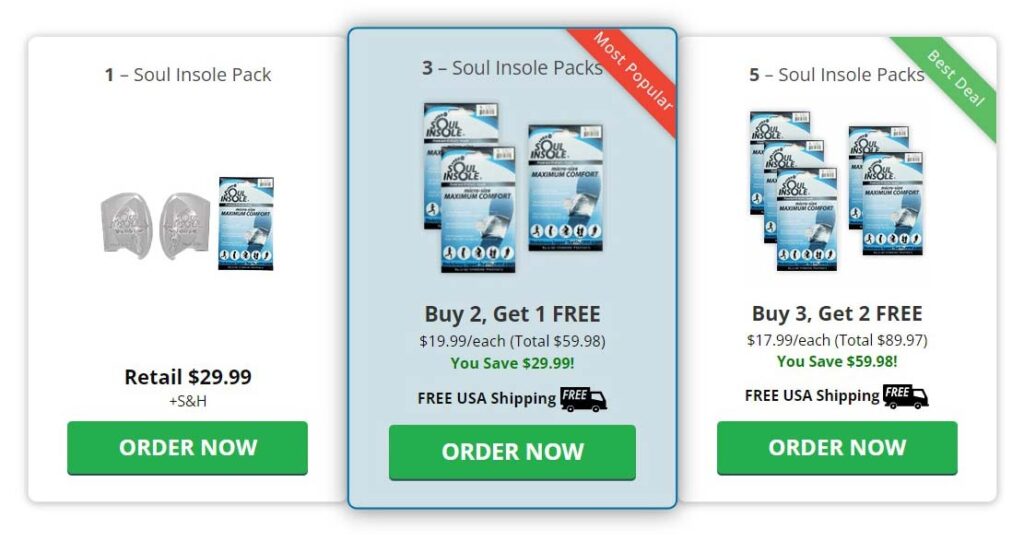 Additionally, the manufacturer gives you a 60-day money-back guarantee that allows you to get a refund in case you're dissatisfied with the product after purchasing it.
FAQ
Before finishing it off with the conclusion, let's take a look at some of the frequently asked questions regarding this shoe bubble.
Does this come as a pair for both left and right?
It comes in a pair for left and right, so there is no need to worry about mixing them up or ordering separately.
How long does Soul Insole last?
It can vary depending on how you take care of them. If they are properly maintained, they can last for years.
Which shoes are compatible with the Soul insole?
You can put the shoe bubble in any type of footwear. You might think that only certain types are compatible, but it's actually pretty universal.
Conclusion
From my analysis of the Soul Insole Shoe Insert, I can attest that it is an excellent product. For starters, it solves many health issues, including plantar fasciitis, overpronation, heel pain, and many more.
Moreover, it can help resolve issues related to poor posture. It has a small and compact design, which only covers your midfoot. You can also use it on any pair of shoes, regardless of the make.
As if that's not enough. The insert is odorless and has a long life expectancy.
---
Bato is the father of three beautiful children. When he's not dealing with product reviews and comparisons, he enjoys hiking through untouched nature. He loves adrenaline sports such as skiing, hiking, rafting, and scuba diving. In addition, he likes to grill and discover new exciting food.
---