Phone mounts are often simple and utilitarian, prioritizing functionality over aesthetics. However, the Tenikle 360 mount breaks this mold by offering a unique blend of style and practicality. Unlike traditional mounts, it embraces a visually captivating design while delivering exceptional versatility.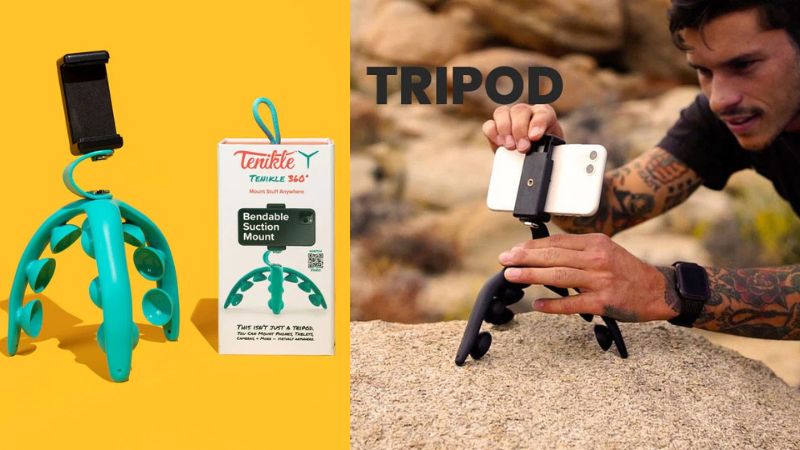 You might already be familiar with the Tenikle 360 mount from its memorable appearance on the popular TV show Shark Tank. The brainchild of inventor and Tenikle CEO Hans Dose, this accessory draws inspiration from the graceful flexibility of an octopus. Its unconventional shape sparks intriguing associations with Lovecraftian imagery, making it a truly unforgettable tool. But the Tenikle 360 goes beyond its eye-catching looks and provides a multitude of benefits through its innovative design.
What is the Tenikle 360 Phone Mount?
The Tenikle phone mount is a unique and versatile accessory designed to hold your DSLR camera or iPhone securely in various situations. While traditional tripods are excellent tools for stability, they may not always provide the flexibility needed for specific angles or unconventional scenarios.
When it comes to capturing videos or recording moments on the go, the Tenikle mount stands out as a reliable solution. Inspired by the agility of an octopus, it features three flexible legs adorned with powerful suction cups, reminiscent of tentacles. These sections provide a strong and secure grip, ensuring that your device stays firmly in place.
Attaching your phone is a breeze. Simply use two sections of the Tenikle on one of its arms to hold your device securely. The suction cups create a reliable connection, granting you peace of mind as you capture your favorite moments or record videos from various angles. Whether you're sitting on your couch or moving around, the Tenikle mount offers the mobility you need while keeping your device stable.
The Ease of Attachment and Device Stability
Upon unpacking the Tenikle 360 mount, you'll immediately notice its familiar and sturdy tripod-like structure. However, it goes beyond the mere aspect of stability, offering an impressive degree of flexibility. Each of its three tentacle legs can be effortlessly bent and adjusted to suit various spaces, enabling you to quickly and precisely frame your photos or videos. Enhancing its customization options, the inclusion of the 360-degree arm allows you to effortlessly twist and turn the mount, capturing and displaying images from a wide range of angles on your device.
The versatility of the Tenikle 360 mount extends even further with the utilization of its suction cups, which line each leg. Thanks to the pliability of these legs, the mount can conform to nearly any surface, while the reliable suction cups ensure a secure grip. Throughout our comprehensive testing, the Tenikle 360 consistently exceeded expectations across various scenarios.
Just imagine folding all the legs flat and effortlessly affixing the mount to a wall—it stays securely in place. Need to secure it around the handlebars of your bike for on-the-go adventures? It snugly holds your device, ensuring stability.
The Tenikle 360 has generated substantial interest due to its remarkable versatility and user-friendly design. One notable feature is its seamless interchangeability between the included phone mount and the 360-degree arm, allowing you to effortlessly switch to a webcam or camera, providing a refreshing level of adaptability.
According to the company, the Tenikle 360 can support weights of up to 33 pounds, although I personally didn't test it beyond the weight of a tablet. Throughout my experience, the suction cups reliably held my phone securely in place. However, it's worth noting that the phone mount itself raised some concerns. It felt somewhat flimsy compared to the overall construction of the Tenikle 360. On a few occasions, my Google Pixel slipped out of the mount when I applied sudden force or rapid movements.
There were also reservations regarding the long-term durability of the 360-degree arm. While it bends easily, there is a possibility that it may develop kinks over time, similar to the behavior of a paperclip that cannot be completely straightened by hand. However, it's important to mention that the arm is not essential for fully utilizing the Tenikle 360's potential. I have successfully used it as a full-time webcam mount without relying on the arm, and it has performed exceptionally well.
With a price tag of $45 on the Tenikle website, the initial impression might be that it is relatively expensive compared to other phone mounts or consumer tripods of similar size. However, the versatility and premium feel of the product make it a worthwhile investment. It exudes a unique sense of design that sets it apart from conventional options. Additionally, Tenikle frequently offers discounts, providing an opportunity to acquire the product at a more favorable price point.
Tenikle Features
Tenikle offers a range of impressive features that enhance its functionality and ensure a reliable user experience.
Simple Flexibility
The Tenikle mount provides effortless flexibility, allowing you to position your phone at any desired angle with ease. Its 360° arm incorporates an improved internal core, providing 2.8% more rigidity for added stability.
360° Motion
With the addition of a 4th arm attachment, the Tenikle mount grants you the freedom to move your phone in a complete 360° motion. This feature enables you to capture videos or take photos from various angles without limitations.
Enhanced Suction
Tenikle values user feedback and has incorporated suggestions to develop the strongest silicon suction cups ever. These powerful suction cups ensure a secure attachment between the mount and your device, offering peace of mind even during dynamic activities.
Impressive Weight Capacity
Designed to accommodate various devices, the Tenikle mount boasts an impressive weight capacity of up to 30 lbs. This robust capability ensures that your device remains steady and firmly held in place, regardless of its size or weight.
With its simple flexibility, 360° motion, enhanced suction, and remarkable weight-holding capacity, the Tenikle mount provides a reliable and versatile solution for securely mounting your phone or camera.
Which Surfaces Can Tenikle Stick On?
Tenikle is designed to stick or suction to a wide range of smooth, non-porous, and non-textured surfaces. Some examples of surfaces that Tenikle can adhere to include:
Glass
Porcelain
Fiberglass
Smooth, gloss-painted wood or drywall
Metal surfaces
Plastic surfaces
However, it's important to note that Tenikle may not stick effectively to uneven, rough, or textured surfaces. Examples of surfaces where Tenikle may not adhere securely include dashboards, leather, concrete, and textured walls. In such cases, it's recommended to find a smooth and non-textured alternative surface to ensure optimal performance and stability.
---
Abdo is a Zoopy writer who loves spending his free time outdoors, camping, and enjoying the peace that nature brings. He also enjoys fixing things - he's particularly good with electronics. His favorite movie is I Am Legend, and he's fascinated by survival gear and safety.
---