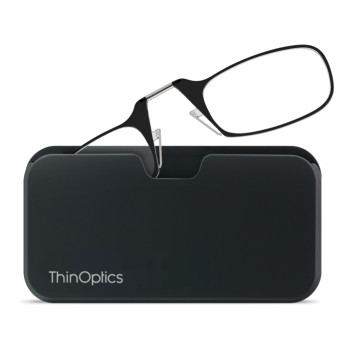 What we like
Top-notch quality
Highly portable
Lightweight and compact
Sturdy, shatterproof design
Flexible build prevents accidental breakage
Special easy-to-carry cases
Various lens strengths and frame color options
What we don't like
It takes time to adjust to because you wear it without temples
Weak eyesight is part and parcel of the aging process for many. Accordingly, farsighted individuals must turn to glasses for clear vision when viewing objects nearby, such as reading a book.
Many prescription glasses wearers complain of fatigue with thick and heavy glasses. These glasses available at drugstores might be cheap but often do not provide the perfect fit and can be bothersome to wear for some and carry around easily.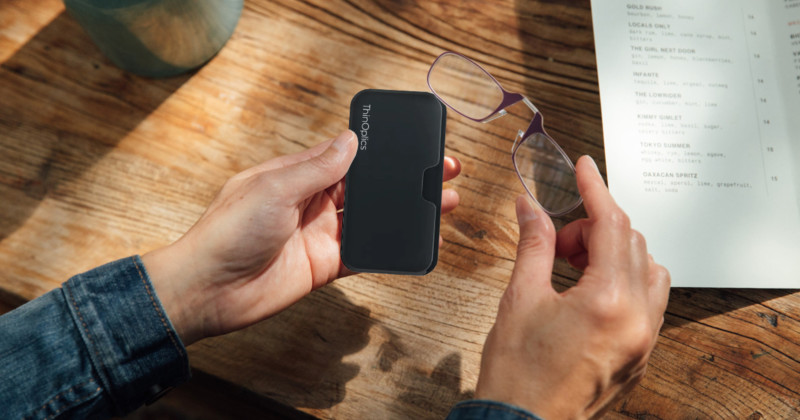 Thus, lightweight and thin glasses are gaining popularity among many users.
ThinOptics is an innovative eyewear company that lives up to its name. The brand is famous for producing sleek, lightweight glasses without compromising style or quality. This innovative brand allows carrying hassle-free. The pairs can conveniently fit into small spaces such as wallets or your pocket while offering maximum resistance to breakage.
Accordingly, the chances of forgetting your reading glasses when stepping out of the house are minimal. This ThinOptics glasses review will further explore the qualities of these handy-yet- highly durable glasses!
About the Company: ThinOptics
The idea of easy-to-carry eyeglasses struck in 2010. Teddy Shalon revolutionized the eyewear industry by introducing the world's sleekest reading glasses. One of the standout features of ThinOptics is that it allows you to carry your reading glasses attached to the back of your smartphone.
The concept behind this is derived from the simple fact that as long as you have your phone with you, your glasses are with you too! The California-based company ships to more than 130 countries, ensuring its product availability on every continent.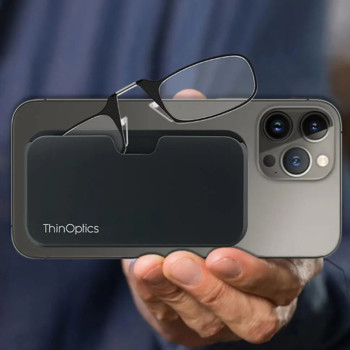 It was the runner-up of the Personal Accessory Award at the Design awards held in 2019. Its success is attributed to the high-grade materials the company uses to manufacture the glasses and the ease with which you can carry these thin glasses around in your pocket, wallet, and jacket.
This unique eyewear is an amalgamation of elastic metal alloys and a robust polycarbonate lens. The combination results in incredibly slim yet highly durable reading glasses that can withstand immense weight and pressure, including sitting or standing on them.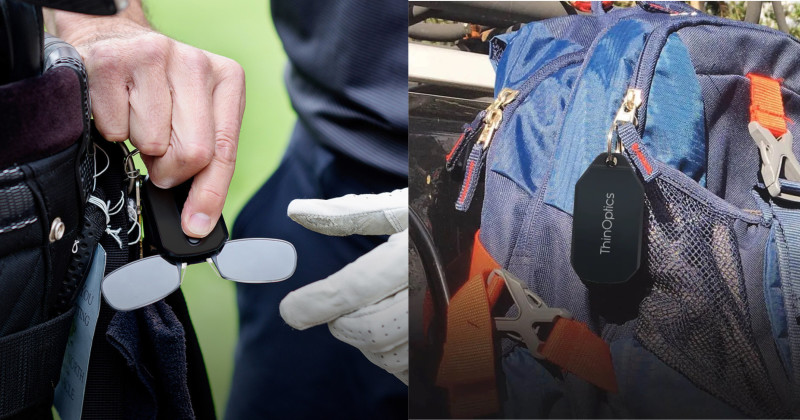 Highlight Features of ThinOptics
Variety of reading glasses and accessories
Shipping to more than 130+ countries
Flexible and durable product
Value for money
100% money-back guarantee
Great customer support
Product Review: ThinOptics Glasses
Going to the supermarket or visiting the new eatery in your neighborhood can be a frustrating experience if you forget your reading glasses at home.
Farsighted individuals who depend on reading glasses daily are incomplete without their readers. With ThinOptics reading glasses, carrying and wearing readers is easier than ever! Some salient features of ThinOptics reading glasses include:
Unique, best-in-class design
Top-notch quality
Highly portable
Lightweight and compact
Sturdy, shatterproof design
Flexible build prevents accidental breakage
Special easy-to-carry cases
Various lens strengths and frame color options
Money-back guarantee
Best-selling product
We shall discuss the different aspects of ThinOptics reading glasses below.
Strength and Durability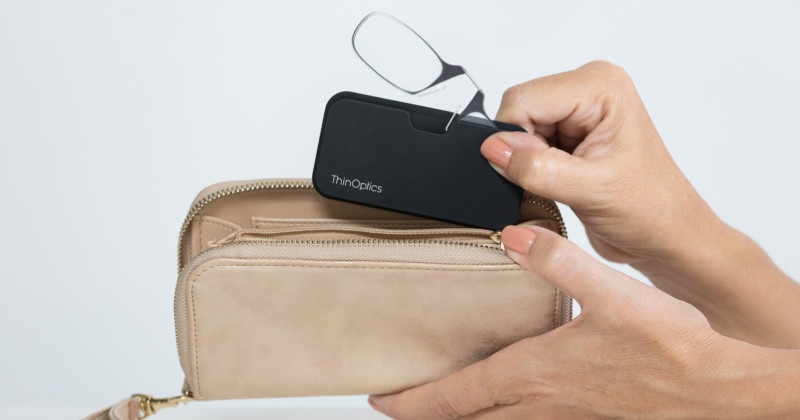 Just because ThinkOptics reading glasses appear thin or sleek, do not be mistaken about their strength. ThinOptics prides itself on producing the slimmest reading glasses ever without compromising durability, comfort, and overall quality.
The company uses thermo-injection molded high-grade polycarbonate to manufacture the reading lenses. It is the same material that is used in bulletproof glasses. That demonstrates the durability of the glasses, rendering them almost impossible to crack or break.
As this prosthesis lacks ear rests, the sturdy nose bridge absorbs all the force and grips your nose securely. The bridge connecting the two lenses is produced from a material called Nitinol (NiTi). This nickel-titanium alloy is super-elastic and has good strength. The silicone tubing used to glue the bridge to lenses is also very robust.
The combination of flexible and incredibly strong materials allows it to maintain shape under pressure. The frame, bridge, and lenses are designed to withstand crazing and fractures. The shatterproof design of ThinOptics reading glasses is an appreciable feature.
Carrying and Portability
Light as a feather, these flexible reading glasses have raised the bar for how people carry them. The eyewear features an ultra-thin, foldable frame that allows you to access the glasses and slip them into your pocket or wallet without much effort.
Slim and super lightweight yet sturdy, carrying the glasses with utmost convenience is perhaps the most distinctive aspect of ThinOptics reading glasses. It is an ideal choice for readers who must have their reading eyewear with them at all times without feeling cumbersome. It won't be surprising if you don't realize that you have your glasses in you!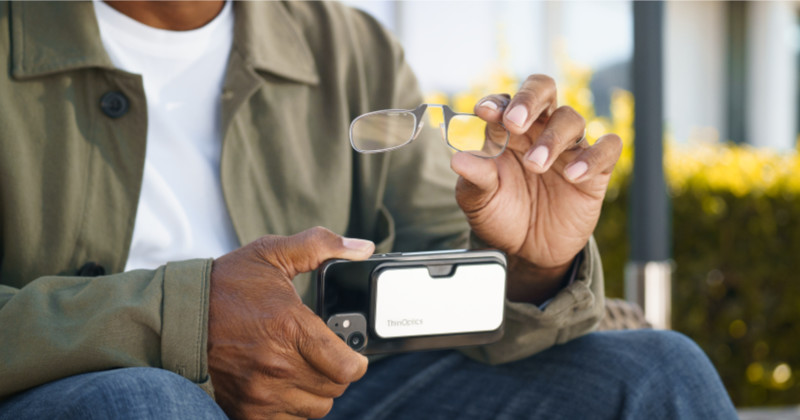 The company also manufactures several accessories to go with the readers, including the universal pod case and the keychain case.
Universal Pod Case
The ThinkOptics glasses arrive with a slim universal pod case that securely holds your reading glasses. The matte black case is sleek and elegant that can attach to hard, flat surfaces like your phone or laptop.
The glasses sit comfortably in the case, and you can attach them to the back of your phone, allowing you to access and tuck them away. The pod case fits onto phones of all sizes, making the glasses impossible to leave behind or lose as long as you have your phone.
Keychain Case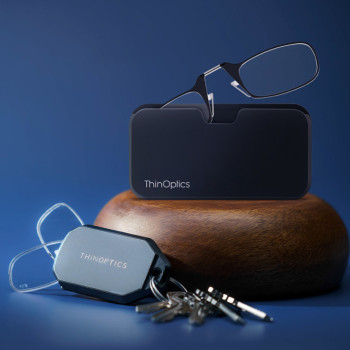 The ThinOptics silver keychain case might seem too good to be true. The miniature case allows holding your flexible glasses inside with the keychain.
That ensures that you never miss your glasses when heading out. The silver keychain case is strong and can withstand the pressure in your pocket, and is available at 50% off.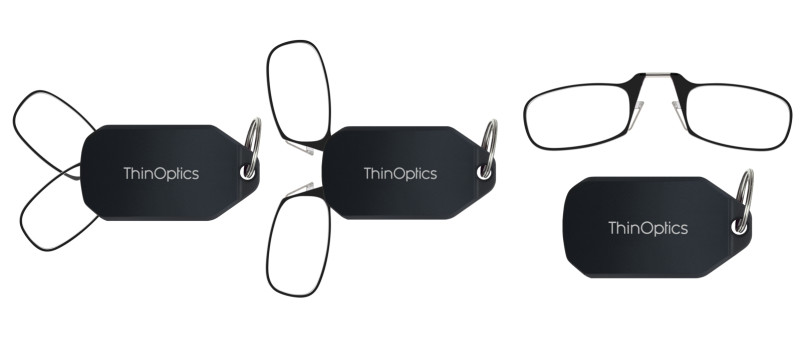 Phone Case
There are a variety of phone cases that you can get for your ThinOptics glasses, allowing you to carry them at the backside of your phone. The Slimline Phone Case is impact resistant and aesthetic, available for most modern iPhone and Android models.
If you want sturdier protection for your phone and glasses, the Readers and Fortify Phone Case is a viable choice. The case is still lightweight and portable and offers maximum-impact protection.
Lens Power Variety and Colors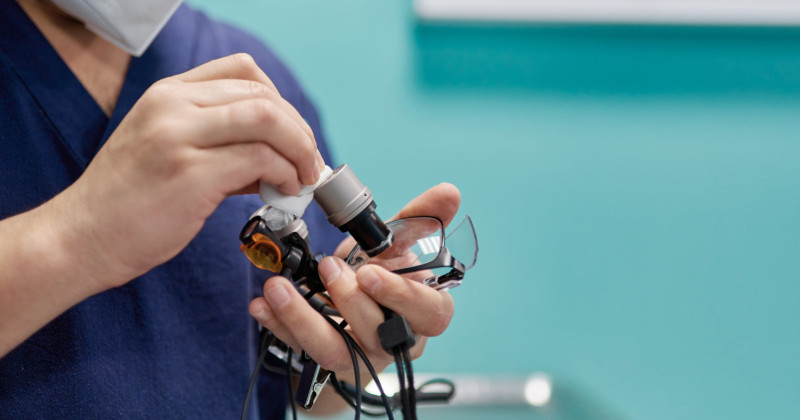 You can get all the commonly used prescription strengths in this modern, flexible design. Unlike glasses for farsightedness, the strength of reading glasses has fixed numbers. Lens strengths available in ThinOptics reading glasses include:
In addition to the variety of lens strengths, you can also choose between different colors of the frames. You can finally ditch those old-school glasses and put on colorful, beautiful lenses. The colors offered by ThinOptics include clear, brown, black, purple, red, and blue.
Warranty and Money-Back Guarantee
ThinOptics prioritizes customer satisfaction above all else. Accordingly, the company offers a money-back guarantee if you don't find the glasses to be your ideal type.
If you are not satisfied with your product, you can request a refund or exchange within 30 days of purchase.
If you purchase ThinOptics glasses from gethinoptics.io, you shall receive a limited 6-months warranty, subject to terms and conditions.
Users Ratings and Reviews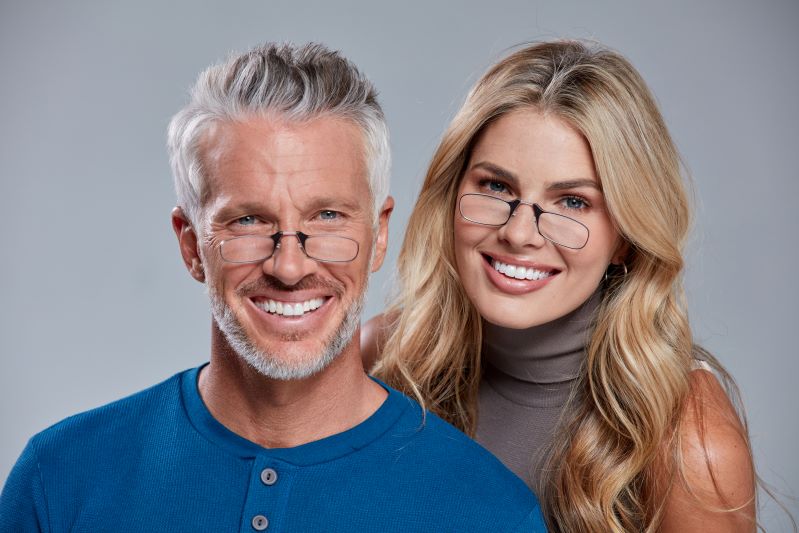 ThinOptics reading glasses have garnered favorable reviews among users. It has an Amazon rating of 4.4/5 from about 24,500 users who have ordered the eyewear.
Most users speak highly of the convenience these glasses bring and the comfortable fit they provide, which is the hallmark of the company. Likewise, the eyewear has a positive rating of 4.6/ 5 from more than 600 users on Trustpilot.
However, a major concern among several users is scratch resistance. Due to excessive folding and packing, the glasses are at a greater risk of damage. Some users have found the anti-scratch layer to be unsatisfactory.
Thus, that could be one aspect that needs improvement. Many users also complained about the nose clips being prone to breaking easily, while others voiced their reservations about unsatisfactory customer support.
Final Verdict
As you can see in this ThinOptics glasses review, the reading glasses from ThinOptics are a welcome innovation.
The super flexible and long-lasting glasses are made from durable materials like bullet-proof polycarbonate and springy NiTi alloy. The robust yet elastic materials allow the glasses to be folded (for carrying) while withstanding excessive force.
The lens power ranges from +1.00 to +2.50, and you can choose from six different colors of glass frames to match your preferred aesthetics. The manufacturers offer a six-month warranty and a 30-day money-back guarantee if you are unsatisfied with the product.
The most distinguishing aspect of ThinOptics reading glasses is the ability to carry them conveniently like never before. The revolutionary design allows you to fit them on a keychain or behind your phone via the universal pod case.
The only downside to this otherwise perfect pair of glasses is scratch resistance. Due to frequent folding and fitting inside small spaces, the lenses are prone to scratching.
Besides, the nose clips are also prone to breaking off. Should the manufacturer fix these issues, perfection would be achieved!
---
Abdo is a Zoopy writer who loves spending his free time outdoors, camping, and enjoying the peace that nature brings. He also enjoys fixing things - he's particularly good with electronics. His favorite movie is I Am Legend, and he's fascinated by survival gear and safety.
---