Wherever you go, you take your back with you. You cannot do anything without your back. Regardless of what you do, your back is involved, so you need to take care of your back.
Our society is more technologically advanced than any other time in history, yet physical health is worse.
Many of us work long hours at a desk, but our ancestors worked hard and moved around a lot, giving the entire body exercise and movement. Although our knowledge has increased, our sedentary lifestyle leads to back issues that stem from incorrect posture and low usage.
Our type of lifestyle also brings on stress. Stress-induced back pain is debilitating and triggers other ailments, like headaches and TMJ syndrome.
Stress and the sedentary lifestyle influence bundles of over-contracted muscles in your back called trigger points. Once these muscles are bound up, it causes stiffness and pain.
In the past, a visit to a physical therapist cost thousands of dollars and multiple office visits.
But, thanks to Dr. Aaron Fu's invention, the Trigger Point Rocker, you can treat back, neck, and shoulder pain in the comfort of your home and for a fraction of the cost.
Dr. Aaron Fu and His Trigger Point Invention
Dr. Aaron Fu is a physical therapist in the United States. He has spent years treating patients managing various back, neck, and shoulder pain. Over time, he noticed that he treated many patients repeatedly who were suffering from the same ailments. They were suffering from trigger point pain.
Dr. Fu successfully treated his patients, focusing on these points in the back. Around this time, he also realized that many people paid thousands of dollars annually to physical therapists to remedy back pain, and the idea for the Trigger Point Rocker was born.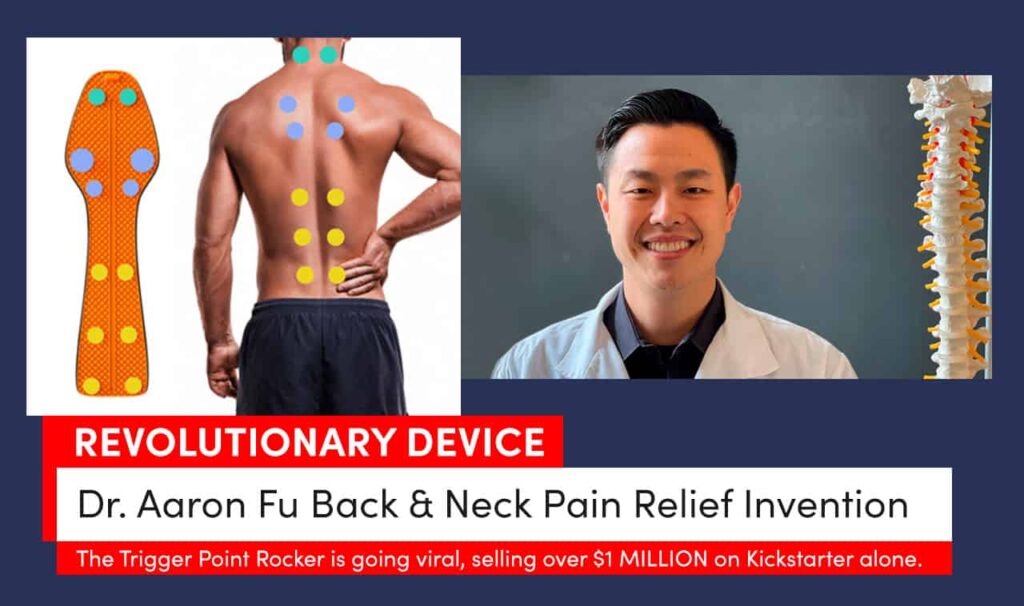 Dr. Fu wanted to give patients more freedom and the ability to treat themselves in most situations. Based on his experience, scientific research, and other knowledgeable people in his field, he set out to invent something to assist those suffering from back pain.
Dr. Aaron Fu worked diligently to create the Trigger Point Rocker. The intention behind this invention was for patients to have the ability to treat trigger point back pain from the comforts of their homes or anywhere trigger point pain arises.
In the past, medications and medical equipment have proved useless in treating trigger point pain. So, Dr. Fu has invented a natural health care aid that directly addresses the source of back pain.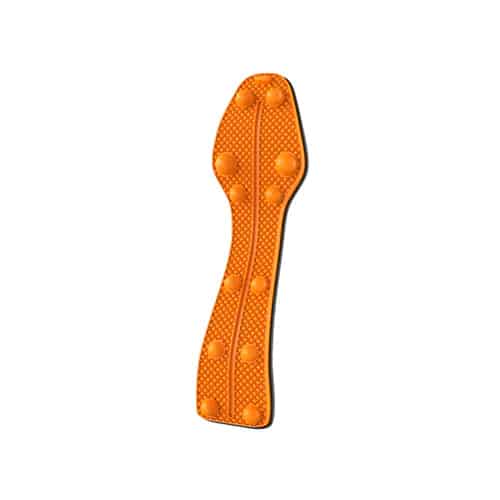 What Are Trigger Points?
No, trigger points are not the targets that a sniper zones in on to hit his mark. Trigger points are groups of corded muscles that contract for long periods or sustain stress due to overactivity, inactivity, or poor posture.
Trigger points run up and down the muscles surrounding any skeletal bone in every quadrant of the back. The upper back and shoulders have thoracic spine pressure points often triggered by poor posture. Lumbar spine pressure points develop in the lower back. This type of pain comes from heavy lifting, repetitive acts, and sitting for long periods.
Since the back assists us in standing, walking, sitting, twisting, and bending, any injury to the back can affect our lives greatly. The onset of trigger point issues may not be recognized at first and may be pushed to the side as 'sleeping in the wrong position' or 'sitting in an uncomfortable chair.' It usually does not begin with pain at the onset but rather a feeling of stiffness and mobility restriction.
If trigger points remain unrecognized in their beginning stages, they will graduate into pain that negatively affects daily-life activities. Solving a back issue is always expensive and takes away time from your work, family, and friends, so it's best to treat trigger point pain sooner rather than later.
What Causes Trigger Point Pain?
Trigger point pain happens in various ways. One of the main culprits is overworking the muscles, especially when lifting something heavy. This puts strain on the muscles in your back and causes trigger pain. Poor posture is another culprit. In these times, there are more sedentary jobs than ever before.
The onset of the pandemic issued in a new era where many employees started working from home, staring at screens and hunched over for long periods. While, many employees were laid off from their jobs, sometimes with nothing to replace their previous work activity. Some had to take care of relatives who contracted the virus, adding physical and mental strain to their daily routines.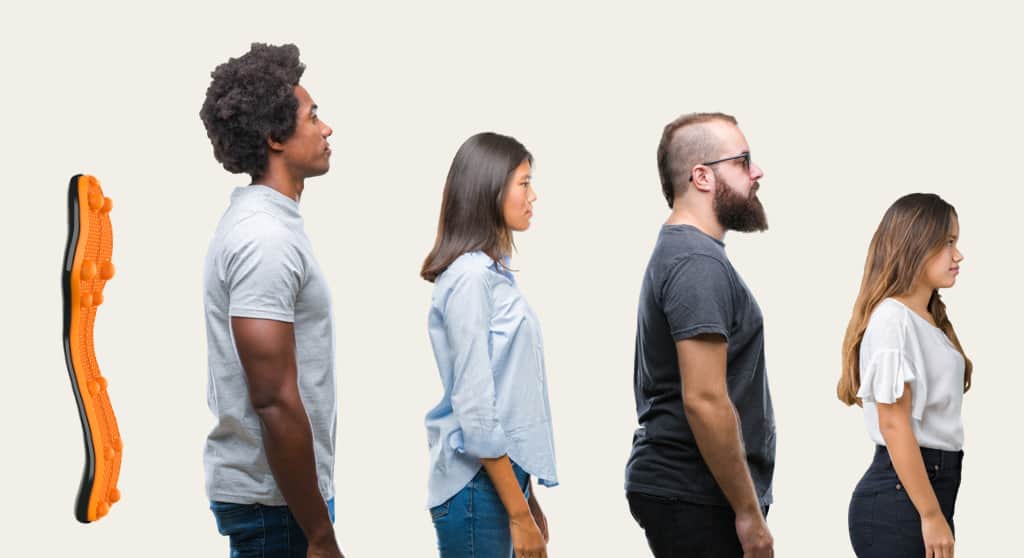 During this time, many physical therapists saw a rise in patients coming into their offices with complaints of back pain. Most of them had no idea of the source of their back pain. These people began taking precious time out of their schedules to dedicate to physical therapy.
The Trigger Point Rocker takes care of trigger point back pain without emptying your pocket or taking a chunk out of your working day for treatment. In a matter of minutes, you could be pain-free, with a few short easy moves.
What Are the Symptoms of Trigger Point Pain?
Trigger point pain manifests in different ways. These are some of the symptoms:
Lower back pain
Tension headaches
Decreased range of motion in the legs
Stiffness
Involuntary Muscle Contraction
A knotted stiff area in the back compared to other parts of the back
Features
The Trigger Point Rocker is a simple device small enough to be carried anywhere, invented to alleviate back pain by focusing on the trigger points in the back.
Dr. Fu created this health aid so that people from all walks of life could benefit from its effectiveness. It doesn't require any special setup or additional attachments. By laying on the Trigger Point Rocker and moving around, you can be relieved from back pain in a matter of minutes.
The Trigger Point Rocker has simple features:
A rubberized, textured plank made out of durable material
Three group pressure point knobs: 12 dome-shaped knobs lined up to treat the neck, shoulders/upper back, and lower back.
Two pressure levels: Standard and heavy.
Side-to-side rocking
Weight maximum 300 pounds: Is suitable for most body types
Eliminate Trigger Point Pain:

Relieve Back, Neck & Shoulder Pain:

Improve Your Posture and Mobility:

Lumbar Support at Work, Home, in Car:

Does The Work Of 6 Products:

Stabilize and strenghten core:

60-day money back warranty

The Health & Fitness Bundle Includes:

Sling Bag (For the Trigger Point Rocker)
Posture Corrector (Wear it anytime, anywhere - even under your shirt)
Tube Resistance Bands (Perfect for TPR exercises like chest press)

Dynamic Loop Bands (Perfect for stretching)

We recommend using the TPR for up to 15 minutes at a time. We have found the best time-to-benefit ratio is 10 minutes.
Benefits
The Trigger Point Rocker eliminates neck and shoulder pain as well as upper and lower back pain. Using it while in sitting positions not only gets rid of the pain, but improves bad posture, which is the root cause of many back ailments.
When using the rocker, place it on the floor and line your back up with it. With your body weight only, apply pressure to the knob corresponding with the trigger point that is giving you problems.
Rocking side to side allows more tension, and backward and forward strengthens your core, which in turn strengthens your back.
When the muscles in your back relax, more oxygen flushes to that area, and it once again can thrive.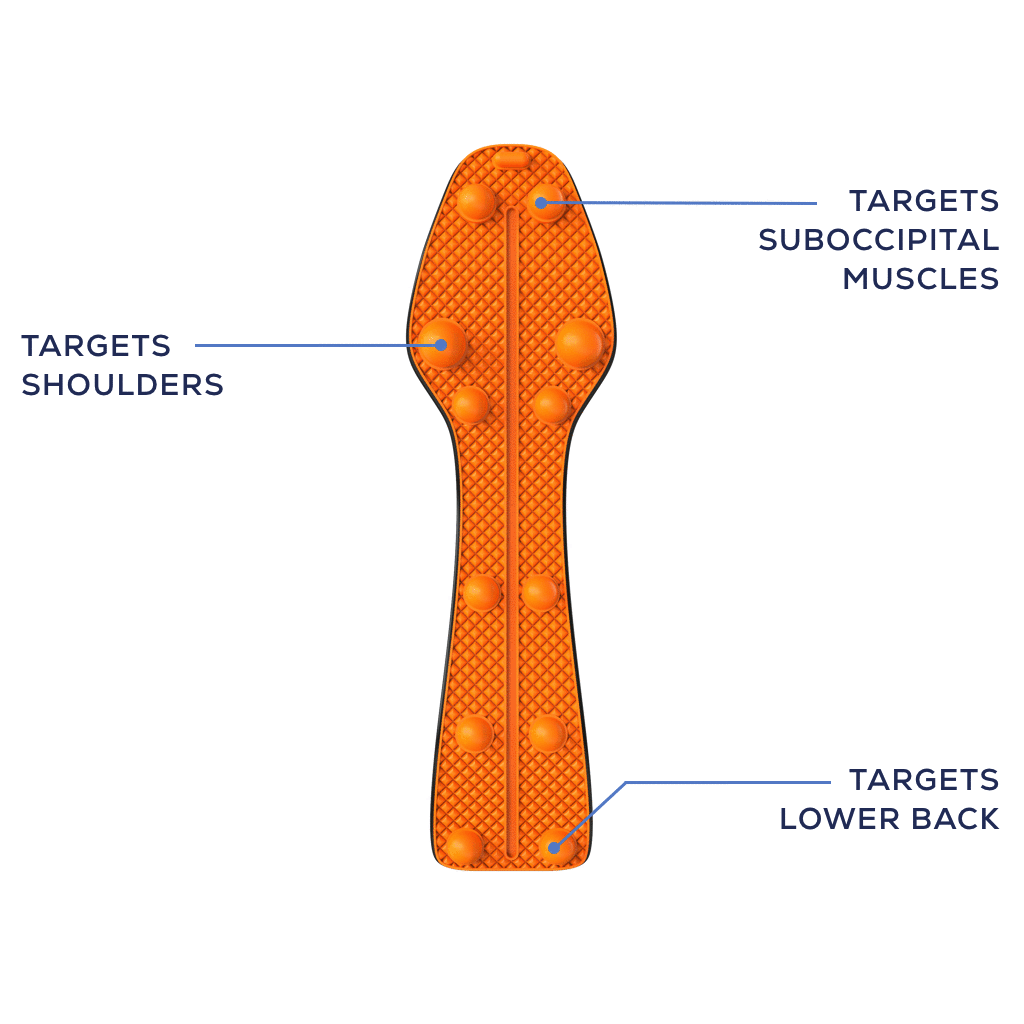 No need to plug it up. No need for batteries. And it is lightweight and portable. The Trigger Point Rocker is a drug-free solution perfect for carrying around and using throughout the day if needed. It works wonders for office workers who sit for long stretches of time.
We love the Trigger Point Rocker, and there are no negatives as far as its functionality. It does what Dr. Fu claims it does. However, there is one drawback, the Trigger Point Rocker is suitable for clients up to 300 pounds, which is good for most people. But it cannot benefit clients with a higher weight.
In our opinion, Dr. Fu is missing a large sector of clients. Often heavier clients suffer from chronic back pain coupled with mobility issues. Being able to correct back pain could be a vital part of their healthcare plan.
An advanced health product like the Trigger Point Rocker could change their lives for the better. We sure hope in the future, Dr. Fu will expand this product to accommodate more clients.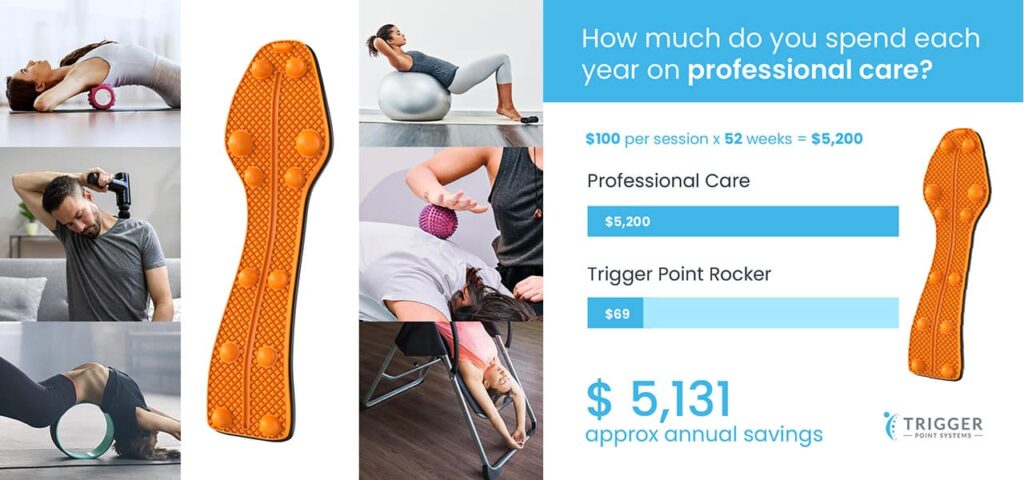 Summary
Seeing that there is no way you can get rid of your back and still walk around, wherever you go, it's with you for your entire life. We cannot recommend this rocker enough. It eliminates back pain in 10-15 minutes, saving you a trip to a physical therapist and a lot of money in your pockets.
The Trigger Point Rocker is doctor recommended, and because Dr. Aaron Fu believes his product can solve your back pain problems, he offers a 60-day money-back guarantee. Most trigger point therapy costs in the thousands of dollars per year. But, this product is light on your budget.
If you are unsatisfied with your Trigger Point Rocker, you can return it and get a refund. So, you have nothing to lose and everything to gain. Try it out. Your back will thank you for it.
*In the beginning, using the Trigger Point Rocker may cause some discomfort or pain. This is because those areas are already sensitive and sore. Don't be alarmed. Gently take your time, and the device will work the knots out and bring you comfort and ease.