As we strive to limit our screen time, simple hobbies emerge as healthy alternatives. Reading, walking, or puzzles keep all ages healthy, sharp, and occupied.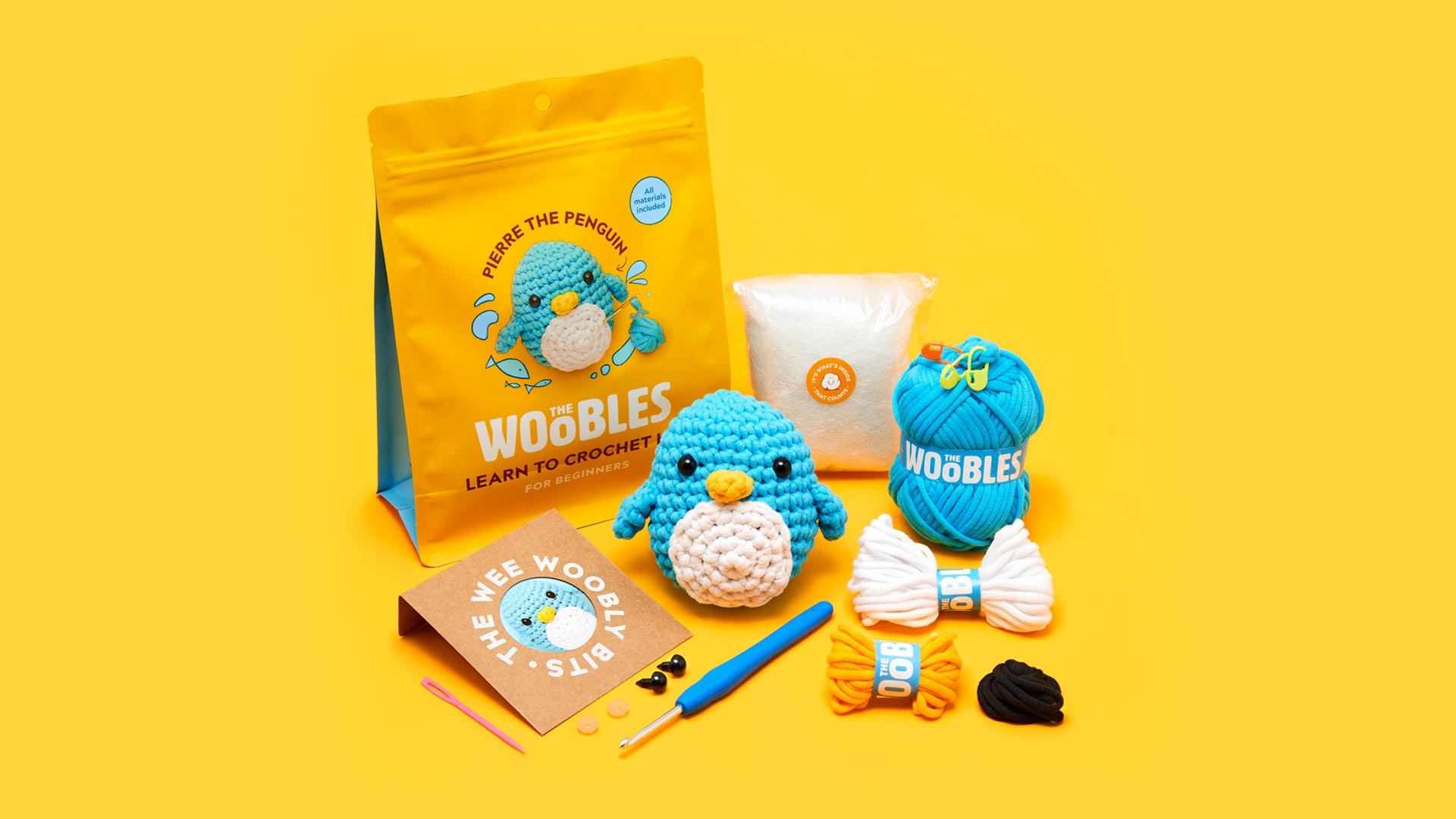 Arts and crafts capture the imagination of artists everywhere. Crafting keeps hands and minds busy, exercising different skills and talents. An added benefit is the fun products of your creativity you can share with others.
However, it can be intimidating to start a crafting journey. Many adults feel that this form of play is no longer easy for them to achieve without inhibition. Studies show adults need play to achieve a balanced life. Creativity and play boosts memory, improves socialization, and promotes better mental health. Experimenting with arts helps all ages achieve a more fulfilled life.
In this Woobles crochet kit review, we will go in-depth on The Woobles background, our advice on completing a Woobles kit, and an overview of available resources. After reading our review, you will decide if a Woobles crochet kit is appropriate for you or the beginning crochet student in your life.
At a glance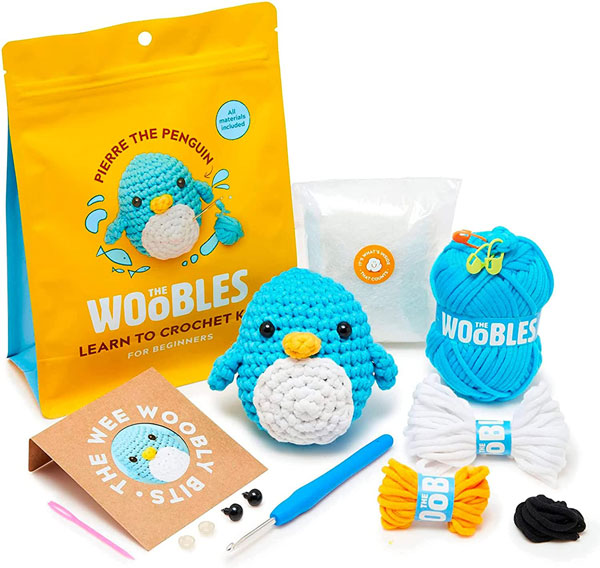 Trustpilot Rating:
4.1 /5
Key takeaways
The Woobles crochet kits use amigurumi, a Japanese art of crocheting small figures, to make crafting accessible for beginners.
Kits include everything a beginner needs to create a small amigurumi object, such as yarn, stuffing, plastic bead eyes, and a yarn needle.
Extensive library of tutorials and resources to help users learn how to crochet, offering both written and video instructions for left- and right-handed learners.
Recommended for those looking to start a new hobby, reduce screen time, or engage in a creative activity with others.
What Is Woobles?
Woobles is an innovative company that sells adorable crochet amigurumi kits suitable for beginners. The creative masterminds behind Woobles, Adrian Zhang and Justine Tiu, have quickly captured the hearts of craft enthusiasts and novice crocheters alike with their exceptional Shark Tank appearance.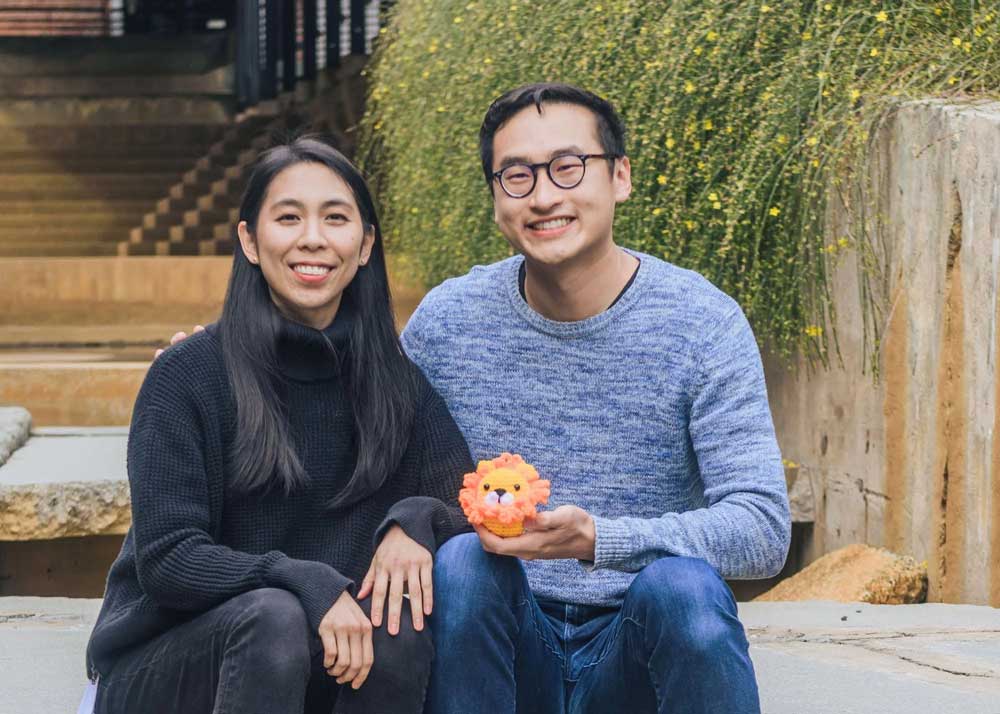 Simple crafting kits can provide a needed bridge for beginners. That's why I was so excited to try the mini crochet kit available from The Woobles. These kits build on decades-old Japanese amigurumi art to make crochet more accessible to an expanding audience. More on this later on.
In the interest of full disclosure, I must admit I'm not much of a crafter. The idea of conquering a new hobby terrifies me. I would rather admire an artist's creation from afar than risk trying it on my own. Therefore, I am the target market for a product like The Woobles.
What is Amigurumi?
The Woobles Crochet Kit uses the idea of amigurumi. Amigurumi is the practice of crocheting or knitting small figures. Creativity runs wild in amigurumi, with pieces representing animals, dolls, food, or anything else eligible to become a small crocheted object.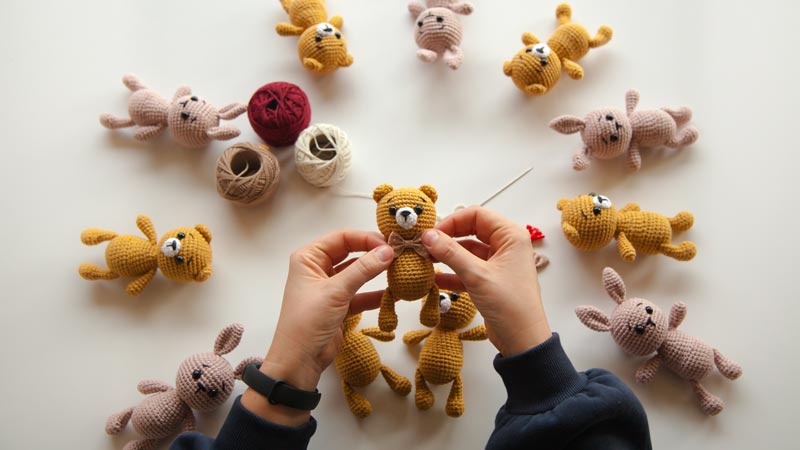 Amigurumi popped up in Japan around 1920. However, there are examples of techniques similar to amigurumi as early as 1600s Japan. Samurai warriors popularized knitting after learning the technique from Danish explorers. Amigurumi crocheted items are typically decorative and not used as toys for children, adults, or pets.
To be considered amigurumi, a few conditions must be met. First, the item must be small. Then, the object you choose to crochet should be adorable and friendly. Third, your amigurumi is crocheted. While some amigurumi are knitted, traditional items are made with a crochet hook.
More elaborate amigurumi may be crocheted as one single piece. More often, these figures are made as individual shapes and then attached at the end to make the completed object. All amigurumi is stuffed, making all of these items plump, cute, and endlessly appealing.
Amigurumi burst into popularity with the rise of Etsy and handmade goods. By 2006, amigurumi emerged as one of the most popular items sold on Etsy, the thriving online crafting marketplace. The Woobles provides a kit that delivers approachable amigurumi for beginners.
How Do I Buy a Woobles Crochet Kit?
Visit The Woobles website to explore their products and place an order conveniently online. Choose between a Woobles penguin, fox, rabbit, or chick for true beginners. The Woobles' lovable, stuffed creatures are so cute creating your own by learning to crochet becomes irresistible.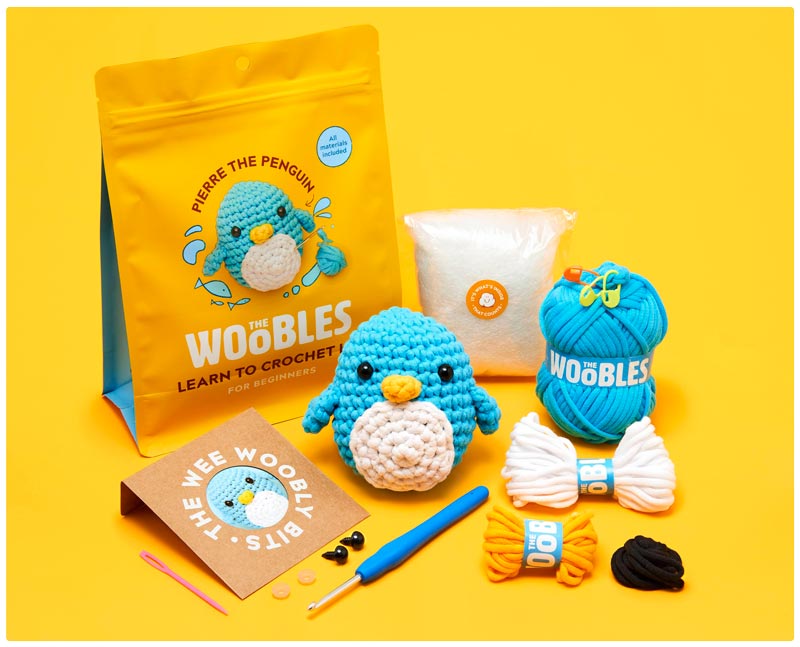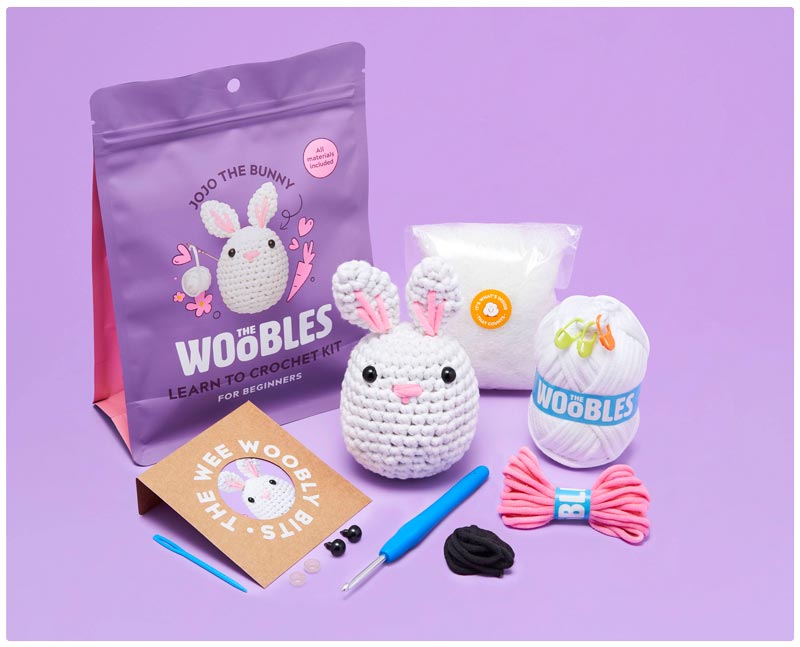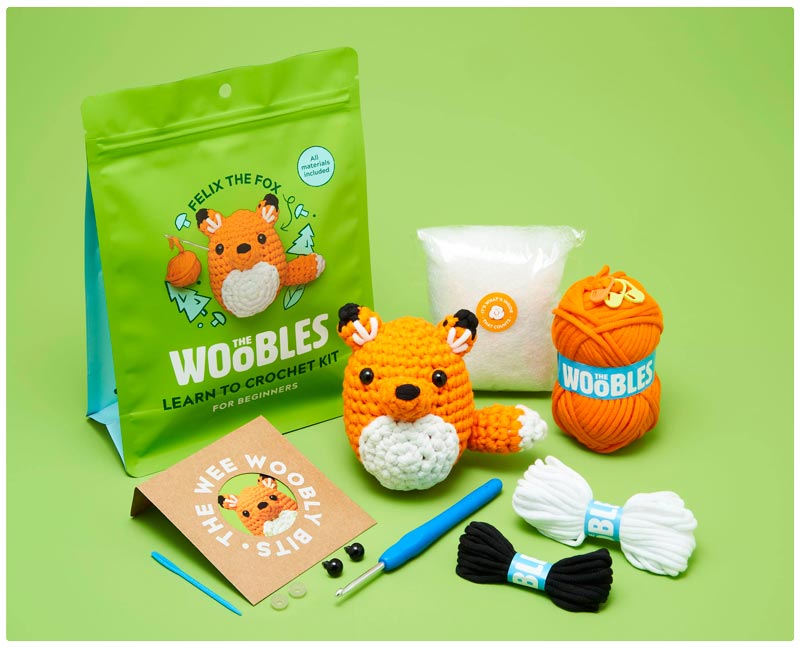 More advanced crochet students can also benefit from The Woobles method. This company sells intermediate patterns as well. Explore the bear, hippo, or crochet kits. Crochet an entire scene with simple accessories for your Woobles, like the Easter bunny's basket or tiny party hats.
The Woobles website is bright, well-organized, straightforward, and easy to use. The website's simple design is a good sign. This easy navigation gives consumers hope their crochet kit received this much intentional design. More than 100,000 beginning crochet students believe in this model and have already ordered their Woobles kit online.
At this time, Woobles are not available in any brick-and-mortar location. Buy your Woobles online at their official website using a credit or debit card. You can also find Woobles on Etsy, with all of your other favorite products from creators.
What is in the Woobles Crochet Kit?
The Woobles stay true to their promise by delivering a complete crochet kit for a beginner. This kit includes everything you need to make an amigurumi object similar to its pattern.
This company packages its kits creatively, storing all components in an adorable baggie. This makes these kits ready for gifting or an easy activity you can conveniently pack for a trip. The Woobles thought of every detail and considered true beginners when making their kits simple and fulfilling.
Woobles kits include yarn, a small amount of stuffing, plastic bead eyes, and a yarn needle. An appropriately-sized crochet hook is available for an additional cost. It is a wise detail to make a crochet hook optional, so you can continue to buy Woobles kits without accumulating hooks.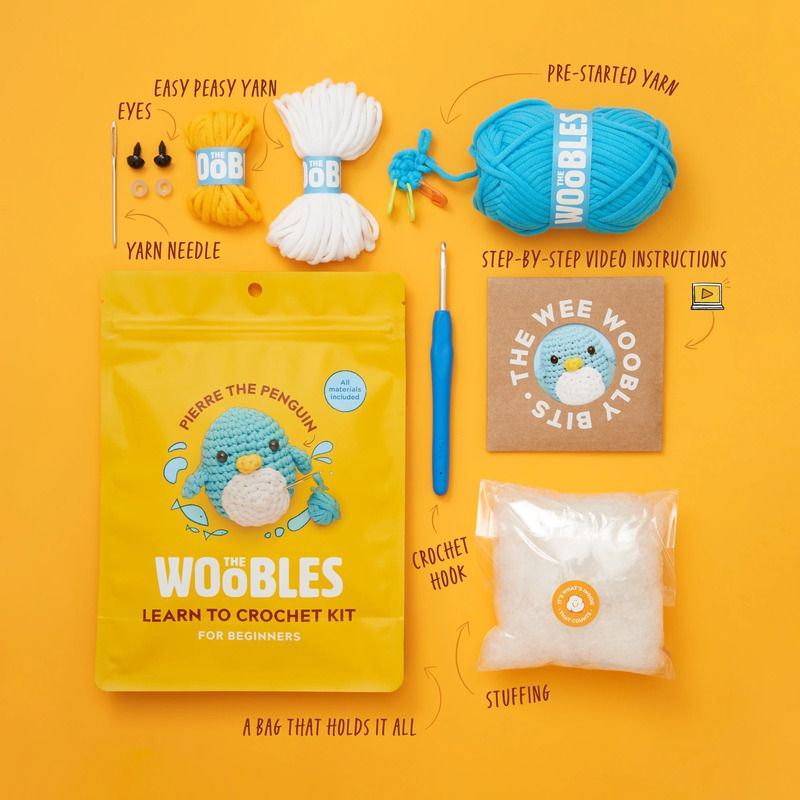 The yarn chosen with a Woobles crochet kit supports the achievement of beginning crochet students. This "easy-peasy yarn" is designed for beginners to help them achieve small successes in a project. The yarn consists of 75 percent cotton and 25 percent nylon. This blend makes it easier for beginning crochet students to see their project clearly and not get stuck between layers of yarn.
One thoughtful detail of this amigurumi kit is providing a starting point for every project. This means an accomplished crocheter hooked a few rows and attached a stitch marker, so you never start from scratch. This choice helps any beginner gain confidence, knowing the Wooble will never fully unravel. Avoid the dreaded first step in any project with this supportive kit.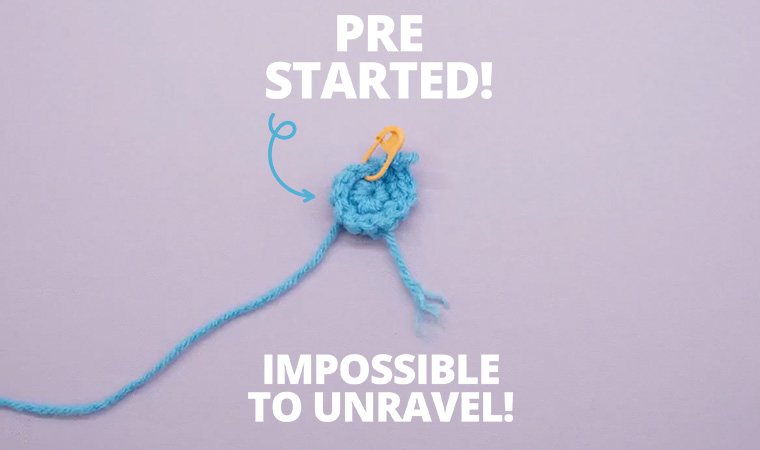 A common hurdle for beginning crafters is buying too much equipment or not the correct tools. With The Woobles, crochet students receive the tools they need in the precise quantities required. This avoids any surplus tools or materials, which can become overwhelming.
Crocheting Woobles
There are so many resources available from The Woobles to help you make these adorable creatures. Typically, Woobles are a one-piece item crocheted with no more than two colors. The main structure of the Woobles penguin is crocheted first with a simple single crochet stitch.
Other techniques like a chain stitch, slip knot, magic stitch, and slip stitch are employed to achieve a flat, round, oval, or multicolored piece. Believe it or not, all of these methods are thoroughly covered through the comprehensive tutorials available with The Woobles.
What makes amigurumi crochet projects unique is their stuffing. These projects are three-dimensional, providing a satisfying sense of achievement. A Woobles kit also provides the exact amount of polyester filling needed and a needle to help seal and protect your creation.
Even with all of the assurances that I could create my cute Woobles penguin, I still had doubts. However, I successfully crocheted my Pierre the Penguin kit! While I did not complete my attempted project on the first try, the helpful resources from Woobles make it possible for skeptics like me to conquer this kit.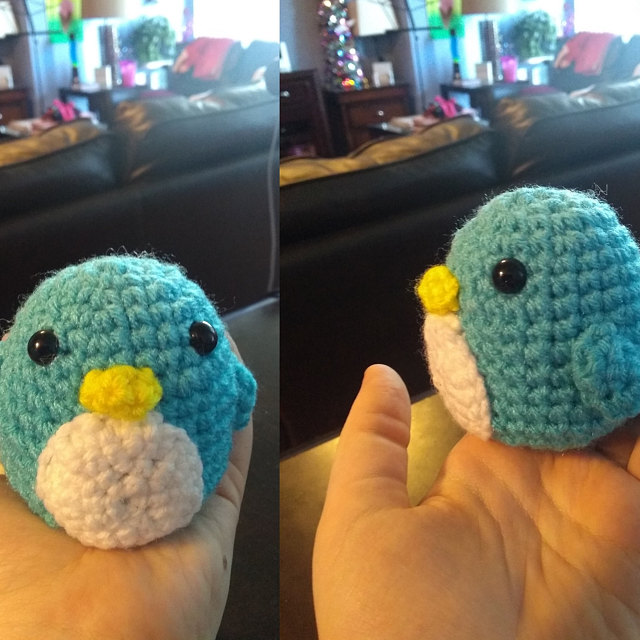 The final product of my Woobles penguin is cute, although not a perfect product. However, I am happy with my results and can confidently say I made it! The best part of learning to crochet with The Woobles, I feel like I can maintain and build upon this new skill with their help.
Woobles Resources
To me, the best aspect of The Woobles company is their extensive library of tutorials and resources. Claiming your company can ensure anyone can learn to crochet is ambitious. However, numerous Woobles crochet reviews, including this one, prove this is possible.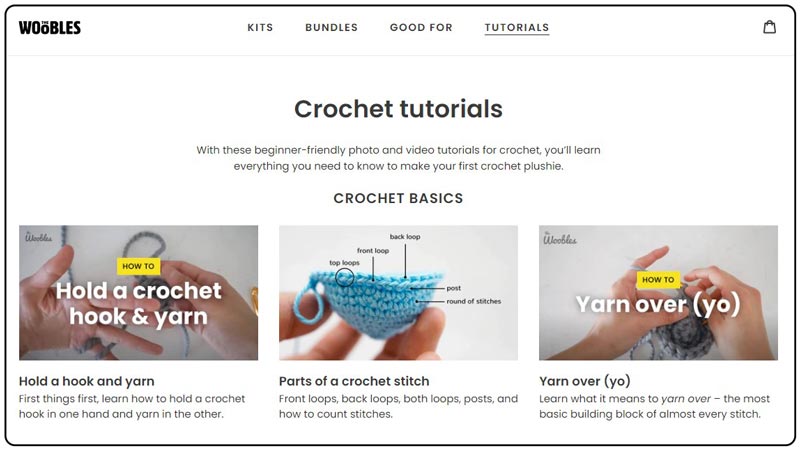 One reason why The Woobles may be so successful is their approach to the educational side of their service. Woobles has been called an "ed-tech start-up" masquerading as a cute crochet company. The Woobles co-founder is a former engineer at Google, focused on user experience and effective technological design.
Resources abound on The Woobles website, including written and video tutorials. There are helpful tools to help with every step of the way. Explore videos about embroidering embellishments on your finished Wooble to start your project with a slip knot.
All of the videos and photography used for Woobles tutorials are crisp and detailed. It is always easy to see what the teacher is communicating and to follow the instructions. The videos are well-organized and easy to find on the website, removing any barriers to learning this skill.
I have found crochet education resources consistently forget what it feels like to be a beginner. I appreciate how The Woobles provides tools to understand even the smallest detail, from reading a crochet pattern to holding a crochet hook properly. Educational fundamentals are crucial to forming a fun and fulfilling hobby, but many resources skip over these basics.
Another thoughtful detail for Woobles tutorials is that everything is available for left- and right-handers alike. While only 5 to 30 percent of global citizens are left-handed, The Woobles makes sure they also receive excellent customer service.
The Woobles provides all instruction via written and video instruction. Founders of this company continue to prove their educational know-how. As everyone learns best in a different way, the variety of teaching styles available makes it possible for this online portal to help all aspiring crocheters.
Disadvantages of The Woobles Crochet Kit
I did find some deficiencies with this crochet kit. There is a learning curve, and while the video tutorials are exceptional, they may not be enough for different kinds of learners. At first, counting my stitches and knowing if my stitch was correct felt like very challenging hurdles.
The kit costs between $25 to $30 each, which can be cost-prohibitive for some. Intermediate and advanced kits jump to $50 or more. Those who need a crochet hook pay about $5 more for each kit. In contrast, a crochet hook and skein of yarn can cost only a few dollars each for more products.
Also, because the intention is for amigurumi to be tiny, I don't think the level of dexterity needed would be appropriate for older crafters. Very young Woobles students should receive supervision, especially if their project requires finishing with a needle.
Unfortunately, The Woobles resources are only available in English. While I wanted to gift this kit to a friend of mine, none of the tutorials or kits are accessible in other languages. I hope as this company evolves, multicultural resources will become available.
It is vital to know these Woobles are not appropriate for children or pets. Each kit comes with plastic attached eyes which can be a choking hazard. If you choose not to sew on these eye beads, create fabric eyes with supplemental black thread.
Final Verdict
Every decision of this kit feels intentional to support true beginners in crafting. Even a skeptic like me crocheted my Woobles penguin after a few quick sessions. This cute guy sits on my desk and cheers me on when I work. Even with a project this small, the sense of accomplishment is massive!
The founders of this company understand how to educate people to reach a goal. The Woobles provides an extensive library of written and video tutorials with clear, vibrant images. The Woobles team left no stone unturned, filming videos for even the most basic crochet-related skill. This beginning crocheter appreciated the expert advice on holding a crochet hook and reading a pattern.
Choosing the wildly appealing patterns of these amigurumi kits was also a home run! I want to buy, make, and collect these adorable creatures. My eyes are on the lion and rainbow dinosaur. I may even challenge myself to complete the exciting, more advanced hippo.
I can picture Girl Scout troops making Woobles together to achieve a craft badge or parents and kids making a whole community of cute Woobles. Your Woobles will look great on your desk at work or peeking up from the cupholder in your car.
I recommend The Woobles crochet kit. Whether you are looking to wean a child off of screen time, stretch your adult brain in a new way, or start a new hobby with a friend, you can't go wrong with The Woobles.
---
Nerko is a writer for Zoopy, and he's been working there since 2019. He loves to ride his motorcycle and bicycle, especially in the summertime! He also enjoys watching science fiction movies, and his favorite movie is Interstellar. Nerko is also a competitive gamer - so if you're looking for a good competition, he's your man!
---