At a glance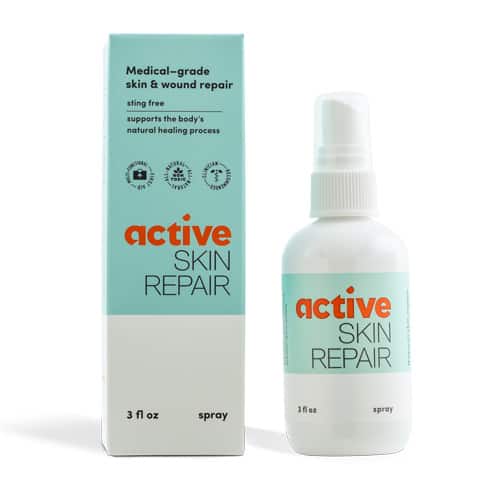 What we like
Medical-grade skin repair in a fine mist spray
Treats minor wounds and skin damage
Safe for use on skin affected by Eczema and Psoriasis
Non-sensitizing (no sting)
Helps support natural healing
What we don't like
Not intended for severe wounds
Minor scrapes, bruises, or insect bites can be a real pain. If you want to treat any of these, you also know that finding the best topical skin solution on the shelf in your neighborhood CVS can often be confusing.
Sometimes, choosing the right wound healing solution from a sea of ointments and creams on drugstore shelves can be almost as painful as the wound itself.
Imagine having a topical skin spray that can replace most of the products in your first aid kit. Parents of small children, athletes, and even medical professionals with minor scrapes, cuts, and insect bites can all benefit from an all-natural regenerative healing spray.
Here's how Active Skin Repair helps. It's an all-natural revolutionary regenerative healing spray that could be an indispensable addition to your first aid kit.

Want to learn how to use Active Skin Repair on non-serious topical abrasions or wounds? This science-backed wound spray could be just the thing you need to help you and your loved ones naturally recover from scrapes, cuts, bruises, bites, and stings faster.
Keep reading to learn more about Active Skin Repair, how it works, and all its benefits.
What Is Active Skin Repair?
BLDG Active, the company that designed Active Skin Repair, intends to replace many over-the-counter wound treatments and topical ointments found in most first-aid kits with this spray.
They make active Skin Repair with a hypoallergenic formula that makes it a go-to option for people with all skin types.
The primary ingredient in this new wound care spray formula is hypochlorous acid (HOCl).
This science-based formula uses hypochlorous acid to activate the natural healing abilities of our white blood cells. What's more is that Active Skin Repair is non-toxic and hypoallergenic, making it accessible to users of all skin types.
One of the best things about using Active Skin Repair is that it's available online.
| | |
| --- | --- |
| | |
| | |
| | |
| | Wound cleaning and supporting natural wound and skin healing |
| | |
| | Yes. Safe to use with all ages |
| | |
| | Minor wounds, cuts, scrapes, sunburns, normal burns, chaffing, rashes, insect bites,Eczema, Psoriasis and other skin irritations. |
| | |
| | |
| | |
| | |
| Risk of allergic reaction | |
| Safe with Eczema and Psoriasis | |
| Safe around the eyes and mouth | |
| | |
| | |
Can I Use Active Skin Repair To Treat Bites and Stings?
The FDA cleared this natural healing spray as a medical device to treat a wide variety of minor skin conditions, including insect bites. Topical skin conditions treated by spraying Active Skin Repair on bites, stings, and cuts would normally require a combination of at least six different over-the-counter products or prescribed topical agents to treat.
Active Skin Repair is an all-natural regenerative healing spray made from medical-grade ingredients that promote the body's natural healing response.
The spray introduces the molecule Hypochlorous Acid (HOCl) into the formula. This molecule binds to receptors in the body that stimulate internal biological processes involved in wound healing.
Who It's For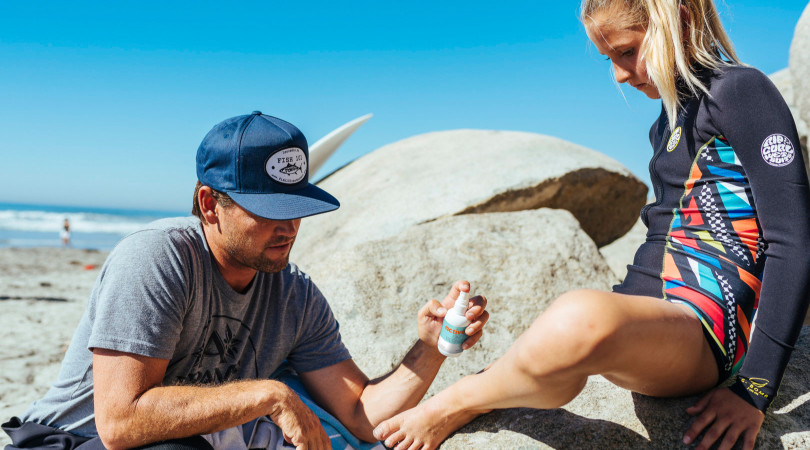 They designed this spray to treat minor wounds and skin irritation caused by scrapes, burns, and cuts on even the most sensitive skin.
BLDG Active says that Active Skin Repair can treat hundreds of common skin ailments. People of all ages and even dogs can benefit from the natural healing agent in Active Skin Repair.
Who It's Not For
People who have serious wounds should not use Active Skin Repair. Developers of the product say to seek medical attention if you have serious wounds like deep cuts or lacerations.They also say while Active Skin Repair is a hypoallergenic solution for most people and even some dogs, they do not recommend it for use on other animals.
Benefits of Using Active Skin Repair for Topical Healing
This regenerative wound care spray comes in a plastic spray bottle and is clinically proven safe.
Active Skin Repair features a 90-day warranty and a 100% satisfaction guarantee. Their hassle-free return policy makes it easy to return to the manufacturer if you're not completely satisfied with your results after using the product.
What Conditions Does Active Skin Repair Treat?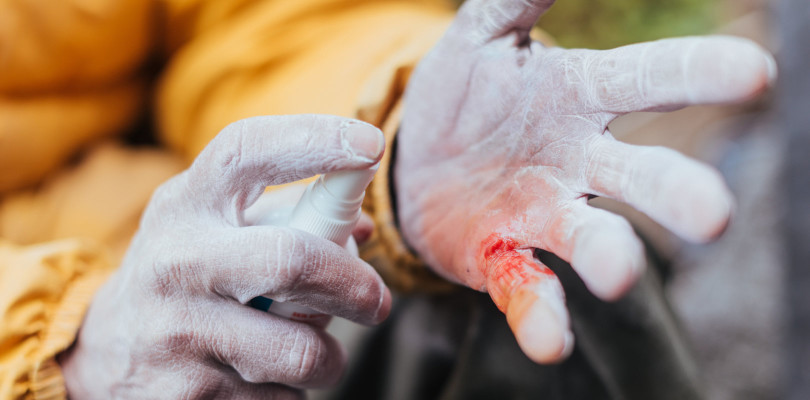 BLDG Active claims it's safe enough to use on minor skin irritations and wounds as needed. They make the product with an all-natural ingredient that is safe enough to use as a daily topical spray to promote healing and healthy skin.
Medical doctors, including pediatricians and dermatologists, recommend Active Skin Repair for treating non-serious topical wounds.
This award-winning clinical formula is approved to treat the following conditions:
Wound care
Insect bites
Rashes
Cuts
Scrapes
How to Use It
This natural healing spray goes to work in a matter of seconds. People with sunburns, chafing, rashes and cuts can spray Active Skin Repair directly onto their wounds.
The spray immediately goes to work to jumpstart the body's built-in immune response to promote self-healing. Users of this medical-grade wound spray report a noticeable difference in their skin condition within days.
While you can simply spray it directly on the wound, you can take it a step further by following these directions.
First, find a safe place to treat the wound. If you're walking your dog, or are on a hike, find a spot to sit, rest, and unpack your first aid kit.
Next, spray the wound liberally with Active Skin Repair and then pat the wound dry with a clean bandage or towel. This should clean the wound and facilitate a faster healing response from your body.
Finally, spray the wound again, ensuring that the wound is properly covered with the solution.
Active Skin Repair Spray Ingredients
The active ingredient in Active Skin Repair mimics the natural healing molecule produced by the white blood cells in our bodies. Hypochlorous acid (HOCl) acts as a defense mechanism against skin infections, bacteria, and even viruses.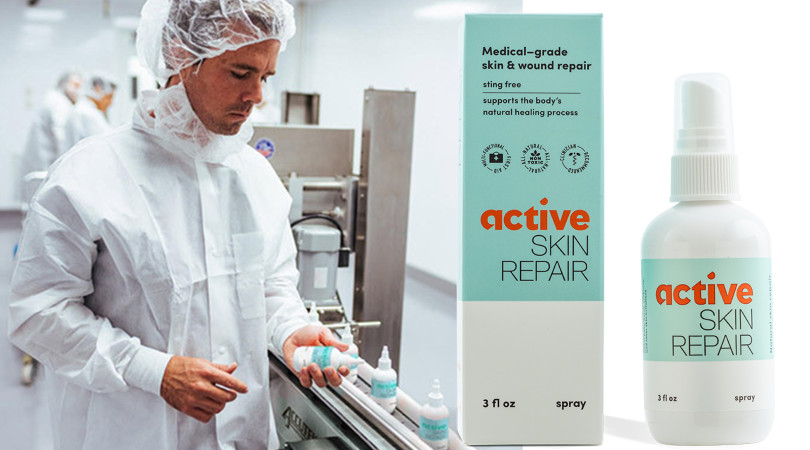 People with serious cuts or skin irritations should not use Active Skin Repair and should seek medical attention from a licensed medical provider as soon as possible.
Active Skin Repair Results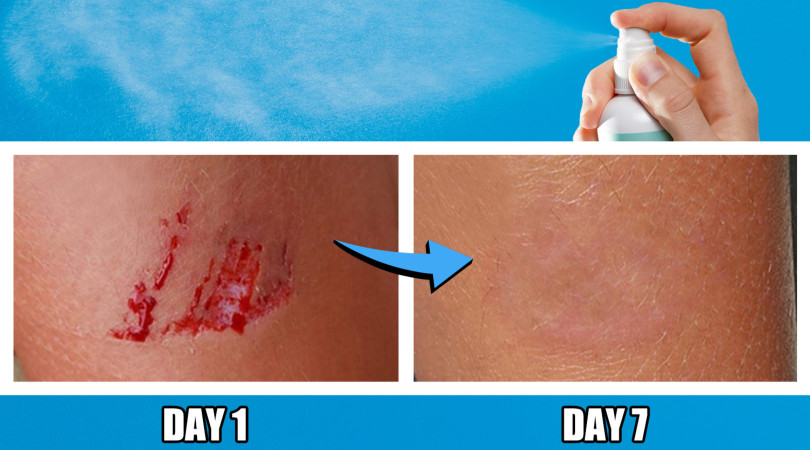 The developers of Active Skin Repair have created a revolutionary all-in-one healing spray that is getting rave reviews from its users.
Active Skin Repair users are delighted with their results. Doctors, athletes, and ordinary people appreciate the natural healing process that Active Skin Repair promotes.
They peppered satisfied Active Skin Repair spray reviews throughout the website. Users of the product say they've spent thousands of dollars trying to find solutions — until they found Active Skin Repair.
Another fan of the regenerative wound spray talks about how fast their wounds healed when using this regenerative healing spray.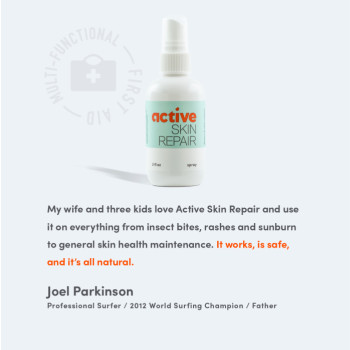 What Products Can Active Skin Repair Replace?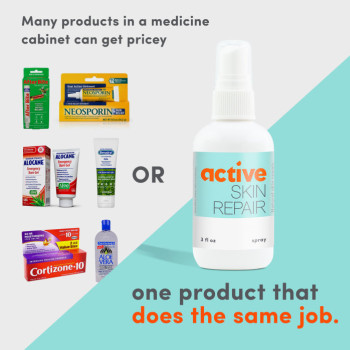 Active Skin Repair's patented formula has medical-grade ingredients and can replace many popular topical skin sprays and creams. This science-based formula has stabilized healing molecules and has a two-year shelf life.
Their all-natural formula is safe for use around the face, including the eyes, nose, and mouth. However, it is not safe to ingest this product.
Active Skin Repair is FDA cleared. The National Eczema Association has also accepted it.
How Much It Costs
Active Skin Repair spray is available in quantities of 1, 3, and 5. Their website often features specials including deep price discounts and a buy one get one free offer.
Following is a price breakdown by quantity and what's included when you order online.
1 = $24.99 + Shipping and Handling
2 = $65.98 + Free USA Shipping
3 = $98.97 + Free USA Shipping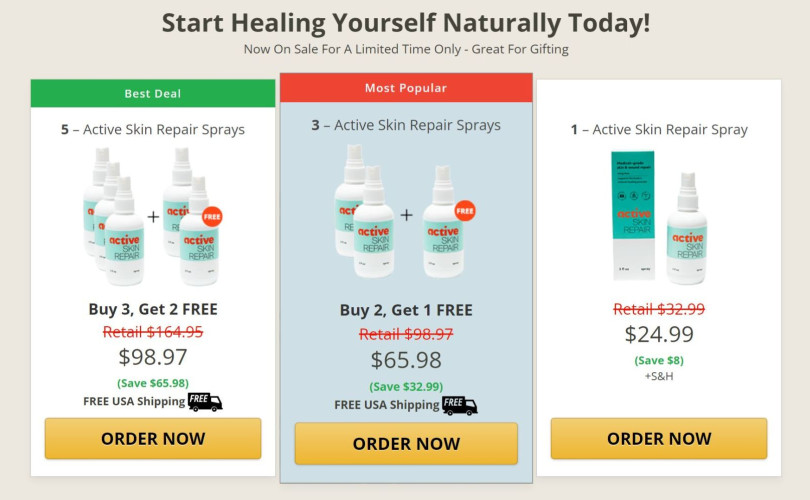 If you find the cost of Active Skin Repair spray slightly higher than that of similar products, remember that this patented formula uses medical-grade ingredients that go through the same rigorous manufacturing process as hospital-grade products.
Visit the Active Skin Repair Spray Website
Payment Methods Accepted Online
Here are the payment methods you can use to buy the product:
Google Pay
PayPal
Credit card (VISA, Mastercard, Discover, American Express)
Where to Buy Active Skin Repair
Have cuts, scrapes, or insect bites and wondering where to buy your bottle of Active Skin Repair? BLDG Active makes it easy to purchase directly from their website!
Get your bottle of Active Skin Repair by visiting the website.
Take advantage of the latest limited Time Offer for Active Skin Repair and get 30% off when you order an additional bottle online!
Frequently Asked Questions
Where do they manufacture Active Skin Repair spray?
They manufacture BLDG Active Skin Repair Spray in California, USA.
Who is the creator and founder of Active Skin Repair's molecule-based formula?
Justin Gardner is the creator and founder of the patented Active Skin Repair formula.
Is Active Skin Repair FDA Approved?
No. It is not approved, but is FDA-cleared as a 510(k) medical device. The National Eczema Association also approved their patented formula.
What makes the Active Skin Repair spray better than similar products?
Active Skin Repair offers a clinically approved, medical-grade solution for promoting faster wound healing by activating the body's natural healing response. While similar products may treat a few skin ailments, they clinically approved Active Skin Repair to treat over 100 conditions.
Does Active Skin Repair offer a money-back guarantee?
Active Skin Repair offers a 100% satisfaction guarantee. Customers dissatisfied with their purchase can return Active Skin Repair for a full refund within 90-days, hassle-free!
Final Thoughts
Now that you've learned about the benefits of this new topical wound spray from our Active Skin Repair spray reviews, the next step is to visit the website. Browse the Active Skin Repair website to learn more about how you and your loved ones can benefit from this science-based natural healing spray.
---
Abdo is a Zoopy writer who loves spending his free time outdoors, camping, and enjoying the peace that nature brings. He also enjoys fixing things - he's particularly good with electronics. His favorite movie is I Am Legend, and he's fascinated by survival gear and safety.
---