Mountain to Valley: Up To 35 Miles



Open Water: Up to 6 miles



Neighborhood: Up to 2 miles

Top range 40 Miles

Mid range 9 Miles

Base range 2 Miles

3X AA Alkaline or
Rechargeable NiMH


3 AA NiMH Rechargeable batteries

NiMH Battery Pack or 3 AAA Batteries

2 Lithium-Polymer Batteries

AA up to 23h


NiMH 800 mAH up to 9h



NiMH 1300 mAH N/A

23 hr. alkaline (3 AA) or 8 hrs. NiMH

Flashlight

Floating designe


Earbuds
included


Offers clear sound without interference

Automatically turns off

Two-way radios are an excellent tool for staying in touch on your next hiking or mountaineering trip, as well as ensuring everyone stays safe.
As much as you need to be physically and mentally ready for the task, your walkie-talkies must also be designed with mountain climbing in mind. You'll want something durable, so it doesn't break or stop working during an intense climb.
To make your adventure trip the best and most enjoyable experience, you need to have the necessary gear. One of the must-have items is a set of best walkie-talkies for mountains.
That's why we've put together a list of the best two-way radios to help you stay connected on long-distance hikes.
Walkie Talkie For Every Scenario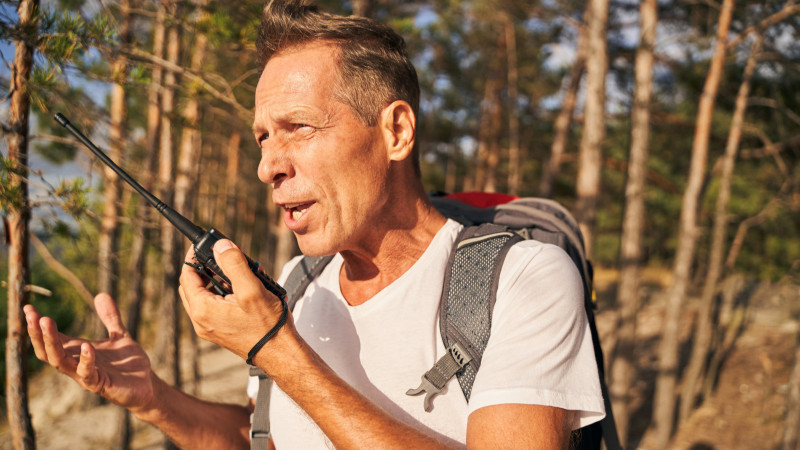 Radio communications are a must-have when you're out exploring the great outdoors. It may not seem like it at first, but two-way radios can save your life. Imagine being lost in remote areas with no contact from other people, and only wild nature is your company.
The use of communication tools such as portable walkie-talkies has become increasingly popular amongst outdoor enthusiasts due to staying connected with your group so that you don't get lost.
Skiing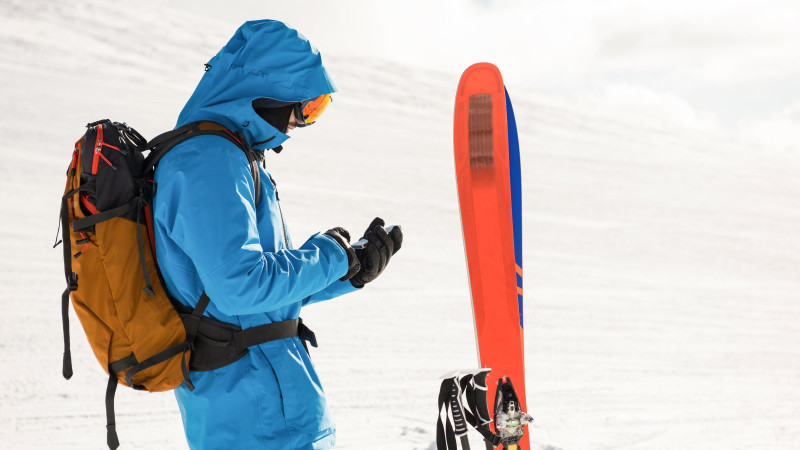 When you're out on the trails with your buddies, it can be a pain stopping at every turn to take out your cell phone and check in their location on the track. Also, you can expect the phone battery to be drained from cold and bad mobile service. But, on the other hand, with two-way radios, you will never lose contact with your friends, and you'll have a battery designed to work under cold weather.
Climbing Mountain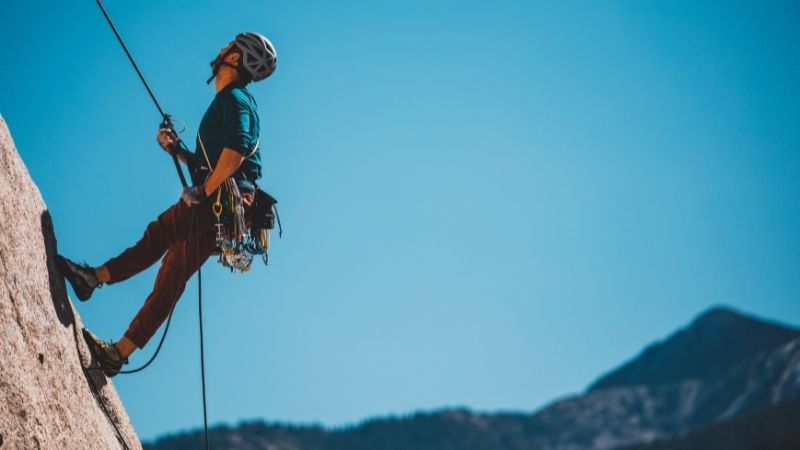 There is no wiggle room when you're in the middle of a climb. So you need an easy and convenient way to keep your climbing mate up-to-date with what's happening below them at all times.
Get yourself an impressive walkie-talkie that will keep up with your needs. It should have long battery life and power output during emergencies like natural disasters and accidents.
Advertisement
Continue reading below
Features To Look For On Walkie Talkie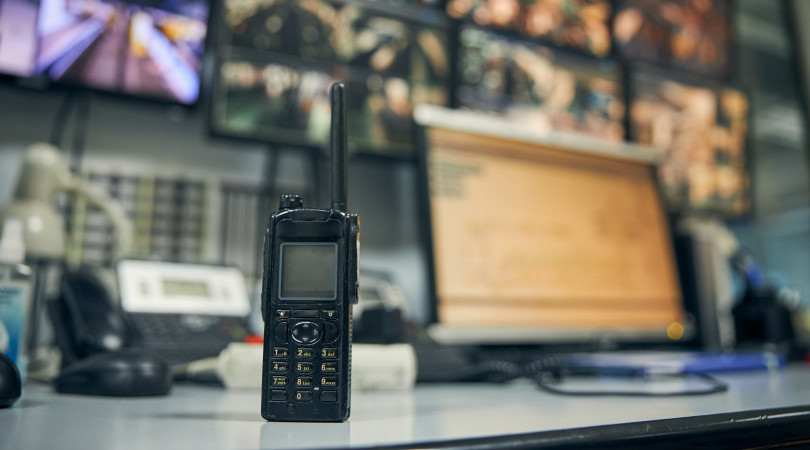 Walkie-talkies are great for staying in touch while out on the adventure, but you need to know what makes them so effective. So make sure that any unit you are looking for has these features before purchasing one.
FRS (Family Radio Service)
You can use this two-way radio in 22 different channels and access FRS/GMRS frequencies. This means it will allow you to communicate with other radios on the same frequency, which is great for getting help from someone nearby. You also have 121 privacy codes available to make your connection secure.
FRS is the most common system that we use in our walkie-talkies. It's an easy frequency to remember, and everyone has access to it, which makes communicating quick and straightforward with friends or family members no matter where they are located on-site at any particular time.
Range
Two-way radio communication is an important feature to consider when you need a reliable partner on your adventure. Of course, the range that each product offers will vary depending on location, output power, and obstacle. Still, one thing remains true – if it doesn't have crystal clear reception close up, then it becomes useless.
The Battery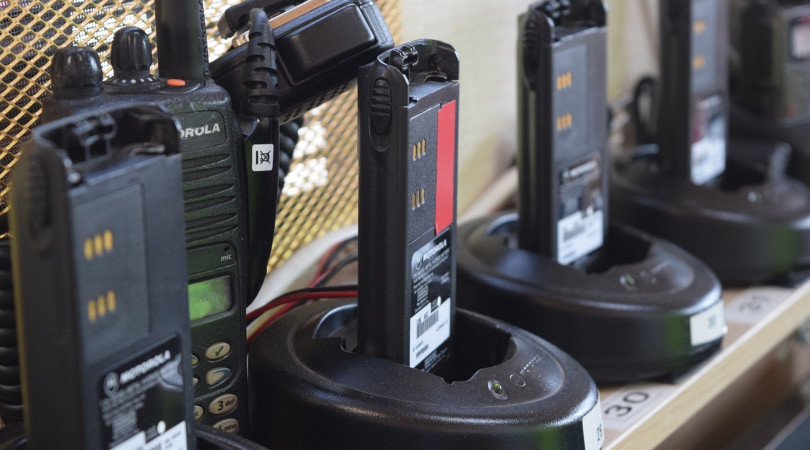 You don't exactly have a charging station all the way up in the mountains. So that's why it would help if you had a battery that would last for at least 10 hours of use and preferably more so you don't have any interruptions during hiking trips with friends or family members.
Furthermore, it would be best if you always packed some extra rechargeable batteries for your two-way radio in case of an emergency. Radios with a signal boosting feature will use up the battery much quicker than regular models, so consider that when packing.
NOAA Weather Channels
The National Oceanic and Atmospheric Administration (NOAA) is part of a federal agency that provides information about weather patterns, ecosystems, etc., to protect them from destruction. NOAA radio will receive broadcasts from the National Weather Service (NWS) 24/7, such as hurricanes or tsunamis, to know if anything is happening close to their area.
You never know what could happen up in the mountains. It is a very unpredictable place, and you need to be prepared for anything.
Channel Scan
This can be a little bit of a hassle if you don't remember which channel was last used, but luckily there's a quick way around it. Just turn on the scan button and let it flip through every available channel while stopping when activity appears.
Noise Filter – Clarity
When choosing a walkie-talkie, consider the range and clarity of your conversations. FRS has better clarity on shorter distances while GMRS on longer ranges, but what do you want most? A device with superior sound quality for close encounters or one that'll work well on longer distances.
Though most brands claim a more extended range, such as 30 miles, the actual scenario is different. You'll receive excellent clarity for the distance of 2 miles in the mountain area from some top-rated walkie-talkies. However, most walkie-talkies ensure a range of 1 mile in forest and mountain areas.
Antenna Strength
When you go up the mountain, make sure to pack a heavy-duty antenna with just enough power. The strength of your signal and audio quality might depend on it. Furthermore, some walkie-talkies for mountains come equipped with detachable antennas so they can be taken off when necessary or fixed in place if needed or just switched to some better one.
Waterproof
A good radio should be durable and sturdy enough to resist shock from impact, as well as be weatherproof. In addition, resistance against rain or other harsh elements is required for this device's function in life-saving situations. Finally, its rugged design can withstand any challenge thrown at it by Mother Nature herself.
A waterproof walkie-talkie could be the key to survival in an emergency, so keep these considerations when choosing a new device for mountain treks.
Hands-Free Settings
Many two-way radios have a Voice Operated Transmission (VOX) setting, which means they transmit as you speak and won't require pressing the PTT (Push To Talk) button.
This feature is perfect for activities where you need both hands, like skiing or climbing, and allows transparent communication because of their headset, which often comes with a unit.
Power-Saving Features
If you're out in the wild, conserving your battery is key to maintaining communications for longer. So one power-saving feature would be automatic shut-off. If turned on for too long, it'll automatically turn off and cease transmission to save battery.
The battery saver feature of the two-way radio is also called low power mode or sleep. It helps extend your life's batteries by shutting off altogether when not being used for an extended period to conserve energy. It can be manually activated through settings on a device and only lasts until you turn this option back off.
Advertisement
Continue reading below
5 Best Walkie Talkies For Mountains
Below you will find a list of 5 highly rated and reliable products. Each product on this list offers excellent transmission quality and outstanding features at an affordable price, so they're perfect for any budget.
1) Motorola T600 Walkie Talkie – Best Overall Choice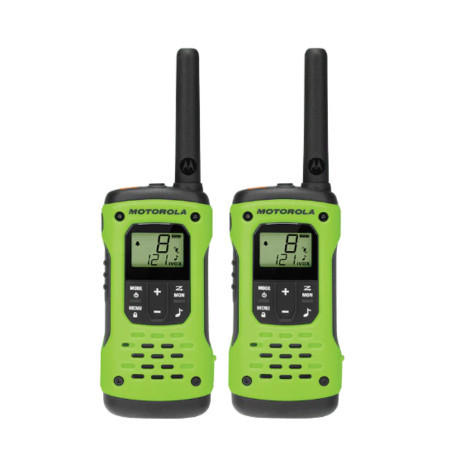 One of the best walkie-talkies for the outdoors is Motorola's T600, an excellent choice for those looking to venture into the outdoors. This device offers up to 35 miles of range in mountainous areas, which puts it far ahead compared with other models and brands at its price point.
The bright yellow color of this device will be sure to catch your and the first responder's attention. T600 has a built-in flashlight with both red and white LEDs. In case of being in the water, the device floats upwards and activates the light locator beacon simultaneously.
This Motorola T600 is waterproof (IP67 rated) and synced with NOAA weather alerts.
It also comes with a micro USB charger for charging. Additionally, the iVOX hands-free technology allows you to communicate even if unable to press the PTT button. It also features a PTT power boost to extend its transmission range.
The T600 offers a battery life of around 9 hours when operating on its rechargeable batteries. However, it takes about eight hours to charge from a completely drained battery. The unit can use dual power options via NiMH rechargeable batteries or 3 AA cells.
2) Uniden SX507 – Best Long Range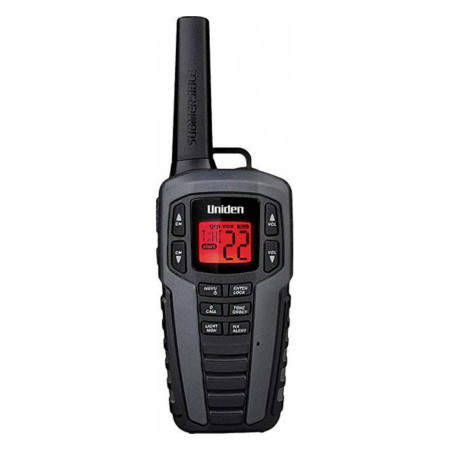 The Uniden SX507 is perfect for long-range communications in wooded, hilly, or mountainous areas. This two-way radio offers reliable communication up to 50 miles away.
This radio's black and red design is sure to catch your eye. Not only does it have a sleek, futuristic look, but it also comes with an IPX7 waterproof rating.
With 14-hour battery life and long-range, this radio is an excellent choice for those who need to go beyond their expected limits. In addition, the combination of quality pricing accessories makes it one of our top picks.
3) Cobra ACXT645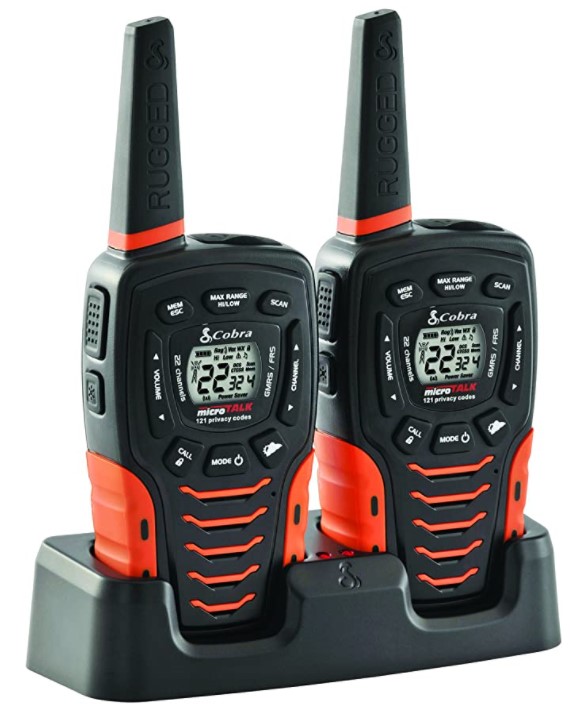 Hiking, camping, and fishing trips always seem to take longer than we would like them to. That's where the Cobra ACXT645 walkie-talkies come into play. They're an IPX4 rated waterproof radio that you can use right out of the box.
With features such as VOX mode for hands-free communication or 10 NOAA weather band reception, you won't have any problems staying in touch no matter what adventure awaits ahead. In addition, VibrAlert notifies you when a transmission is coming in with enhanced vibrating feedback.
It offers 35 miles of coverage which should be enough for many people's needs. But, of course, being Water-resistant doesn't mean you can use them while swimming or anything, but just that they will be able to withstand rain and splashes.
4) Olympia R300 – Best Sound Quality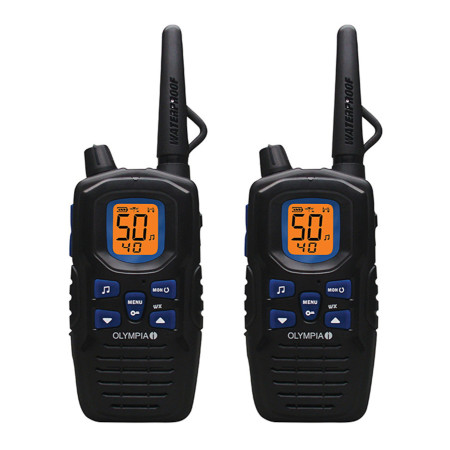 The Olympia R300 walkie-talkie offers great value with its impressive features. It can cover ranges up to 40 miles and provide clear, crisp sound, perfect if you're looking at communicating far-reaching distances. In addition, you get 50 channels so that every group member will have their channel.
The walkie-talkie is also dust-protected and splashproof (IP-54), so they're not bad for outdoor use. You can use it on your next camping trip or while traveling abroad.
The R300 is designed to fit easily and comfortably in the palm of your hands, with large buttons that are easy to use even when wearing gloves.
The Olympia R300 is an excellent radio with excellent quality and specs. This product has all the features you could need in an emergency, such as NOAA alerts that will let you know when weather changes are coming or not. It also comes equipped with an LED flashlight, so your nighttime activities stay safe no matter what
5) Cobra RX680 2W Rugged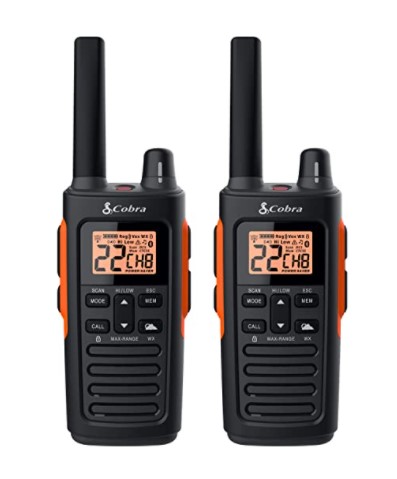 The cobra walkie-talkies are great for when you need a quick conversation in areas without signals like mountains and hills. The Cobra RX680 is the perfect choice for people who want a durable, reliable radio that can withstand harsh conditions. It has an onboard NOAA receiver and allows you to tune into ten different weather channels on the go.
The cobra RX680 walkie-talkie will be your best choice for long-range communications up to 38 miles away. It has a whopping 2662 channel combinations and 121 privacy codes to encrypt your conversation, and it is IP54 dust-protected and splashproof.
This means that the device will withstand a light splash of rain or snow.
Note: The Cobra RX680 is not made to withstand heavy water exposure or submersion.
Conclusion
It is essential to consider what your requirements are before making a decision. For example, it would be best if you had a sturdy pair of communication devices for rough terrains, one that will last through all weather conditions and won't break easily or give out on the slopes.
We recommend the Motorola T600 because it's a great choice if you want something simple and durable. For us, it's better than other selections, but again, it's up to you to decide which one to choose based on how you live out your outdoor life.
Advertisement
Continue reading below
Frequently Asked Questions
Is a License Necessary to Operate Walkie-Talkies?
You don't need any license to operate a common walkie-talkie, such as the 22-channel radio or FRS. However, if your device is more advanced and uses GMRS/HAM frequencies, it may be necessary for an FCC license, which can vary depending on what kind of equipment was purchased. Check with the user manual provided by the manufacturer if unsure about requirements related to operating frequency bands.
How Far Do Walkie Talkies Work?
The range of the radio is often exaggerated. For example, some claim their signal can cover 30 miles, but in reality, it could be as little as 15-25, depending on the terrain and obstacles between two points.

You can expect the best range from mountain peak to peak or peak to valley. However, the advertised range of any device is only under ideal conditions. In addition, batteries can affect performance, so make sure you're using fresh ones.
How Long Does the Average Two-Way Radio Battery Last Turn Off?
Today two-way radio rechargeable batteries come with a lot of power and can last for up to 24 months, on average. Many factors influence how long it will take before your battery is exhausted, including what type you have, like if it's rechargeable or not, weather conditions such as hot or cold temperatures.
What Type of Batteries Do Two-Way Radios Use?
It's important to know which type of battery your walkie-talkies are using. Some walkie-talkies use AA or AAA batteries, but most two-way radios are powered by one of three types: NiCad, NiMH, and Li-ion.

Ni-Cads (Nickel-Cadmium) are long-lasting and less likely to overcharge and overheat the battery. However, memory burn is a common issue with these batteries. It occurs when you recharge them before they are completely drained, and this damages the memory of your battery, so it lasts for shorter periods than usual. To avoid this problem, always let batteries fully discharge before recharging them again.

NiMH (Nickel Metal Hydride) batteries offer many benefits over their Nickel-Cad counterparts, such as being more resistant to memory burn and not suffering from the long-term effects. However, these advantages come at a price. NiMH's typically last 1-2 years before needing replacement.

The Lithium-ion battery is the most expensive of all three types and has a limited number of charging cycles. Once it reaches for example 500 or 750 charges, you'll no longer be able to charge them. Therefore, these battery types need specific chargers.
Is It Good to Use AA Batteries?
Replaceable batteries are always better. They're easy to find, and you can replace them if one goes bad while on an adventure in the forest where there is no power source nearby. Many people don't realize how crucial this feature actually can be. So always carry an extra pair of batteries.
What Is Scanning?
The Scan button on the radio is used for finding active channels. The scanning only works with pre-programmed frequencies, so do not confuse this feature as locating any frequency whatsoever as a scanner would do.