A car cup holder is a simple and easy solution for people who are always on the go. You can keep your drink inside the car without any spillage by installing it in the front or backseat, depending on how you want to enjoy it while driving. For example, many of us like to enjoy a coffee, tea, or hot chocolate on our morning drive, and now we can because of car cup holders.
The roads are sometimes bumpy or bustling with traffic, so keeping your beverage inside the car becomes difficult. But now, with car cup holders, you can keep the drink inside the vehicle and be sure that it won't spill or fall on anything important.
Most holders are manufactured using high-grade plastic, which ensures their sturdy construction and long shelf life. In addition, they're easy to install and ensure that your beverage is kept safe while driving on the road.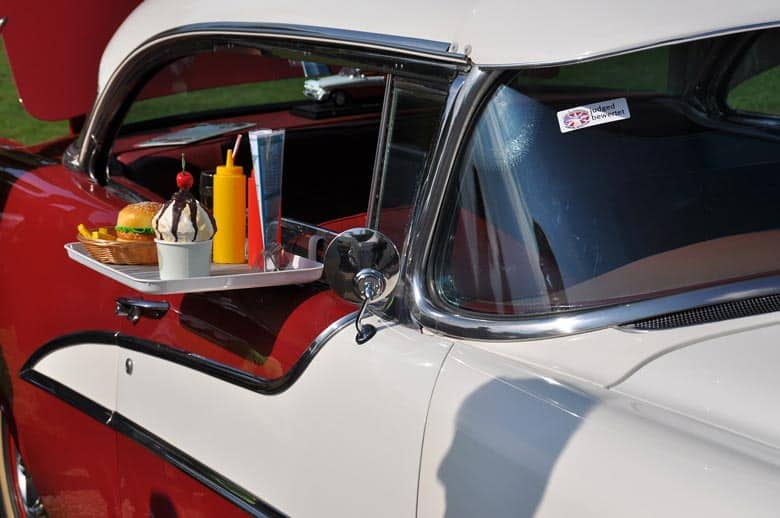 How Car Cup Holders Came to Be
The development of the drive-in restaurant was a step in the cup holder's development. First, servers would attach a tray that hooked over the car's window, which needed to be opened up a little for it to attach to. This gave a temporary table to hold drinks and food while eating in the car.
The cup holders as we know them today came around in 1983 with another innovation: the minivan. The first models were installed on Dodge Caravans and Plymouth Voyager to hold your beverage while you drive. But it would be a decade before this became standard for essentially every car produced.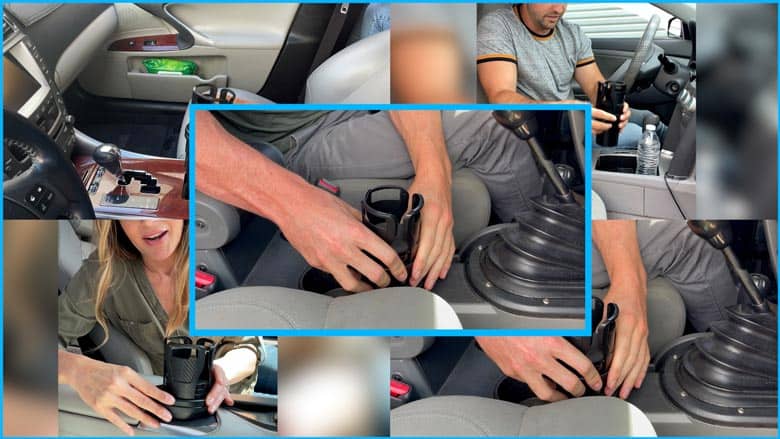 It's a known fact that the average American spends 50 minutes commuting each day, and eating in cars is so common, some models come equipped with a built-in vacuum to clean up crumbs.
Food and drinks ingested in cars have quickly become a norm in our lives. Naturally, we all love to enjoy food and beverages in our vehicles. But just how much should you be eating when driving?
A good cupholder provides an easy solution to this problem by ensuring that everyone can enjoy their beverage while driving or sitting in traffic.
Advertisement
Continue reading below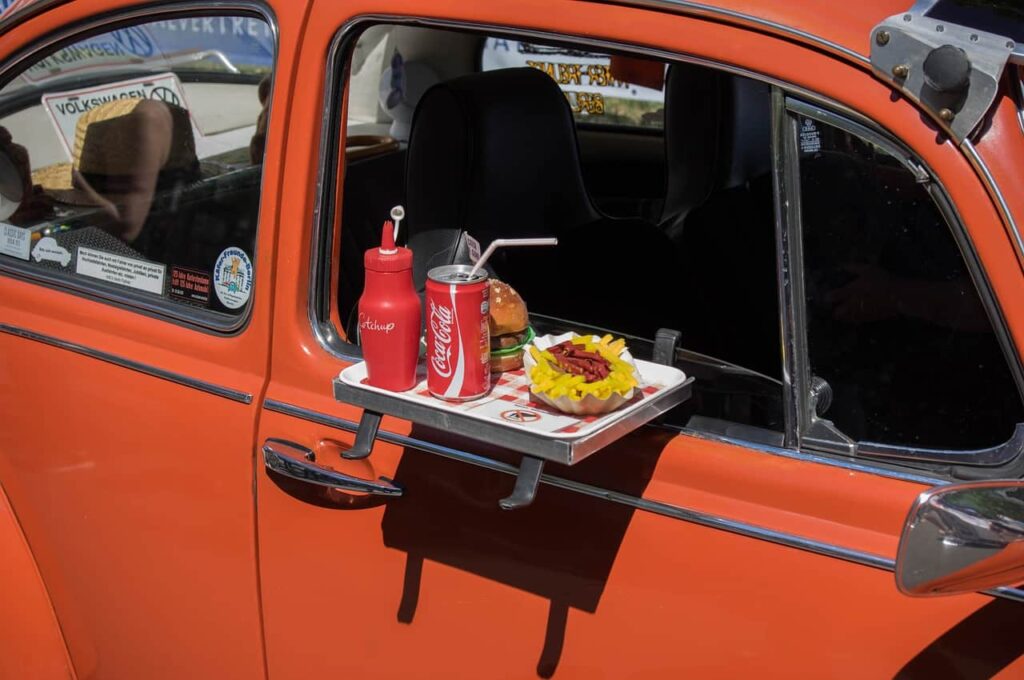 What to Look at If You Buy a Car Cup Holder?
Knowing the type of cup holder you need will be essential to making your decision. Four basic styles can fit into any vehicle. In addition, there's an adaptor for any size, and every driver has their preferences.
Why not buy a car cup holder that can adjust for your needs? That's exactly what you'll get with an adaptor cup holder.
Adjustable cup holders offer the advantage of adjusting your holder to fit any size drink. They are universal but only come with room for one cup at a time.
Console cup holders have more space. They are a little less stable than regular ones, but they have more space and can be placed anywhere on the car seat, which is perfect for families.
You can fix mounted cup holders onto the dashboard with some tools and screws, but you must securely fasten them into place.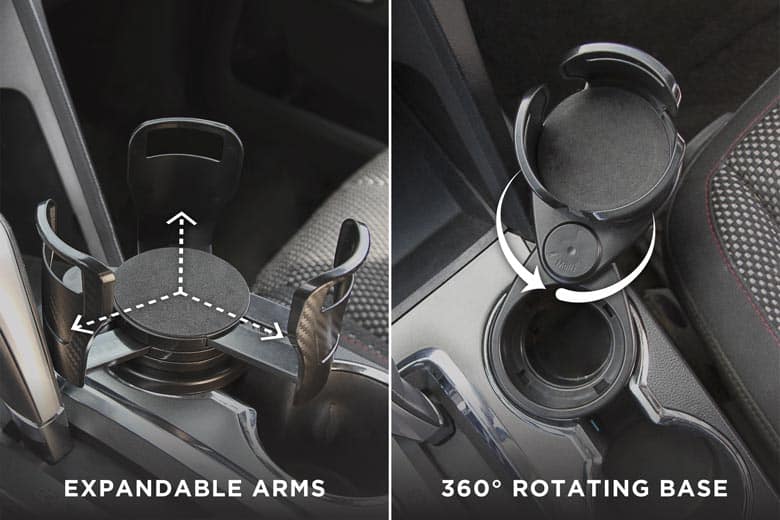 Hanging cup holders are the cheapest option for drivers, but they are less reliable. However, passengers might find them convenient because you can hang them on your car door.
Cup holders come in many different sizes, so it is crucial to choose the right one. You don't want a cup holder that fits but isn't big enough or takes up too much space in your car. The best option? Something adjustable so all problems are avoided at once.
Cup holders are made with different types of materials, but the most popular ones are plastic. They vary depending on quality and design, so be sure to choose wisely. Make sure your cup holder has a firm connection where you're placing it. You can also find car cup holders with a rubber base or LED lights.
What's the Standard Size for a Car Cup Holder?
The most common one can fit a 12 ounces bottle, and they come with an overall diameter of 3.15″.
Advertisement
Continue reading below
How to Pick a Cup Holder for Your Car
Picking the correctly sized cup holder is vital. It should fit your car perfectly and accommodate any favorite cups or bottles that you may have on hand. One too small will prevent storing anything else, while a bigger one will cause problems when driving due to spilling accidents which are never fun.
Consider the material; thicker makes stability better, so there's less risk of spills during transportation. Also, consider if they come with extra features such as extendable bases, which help keep it stable at high speeds.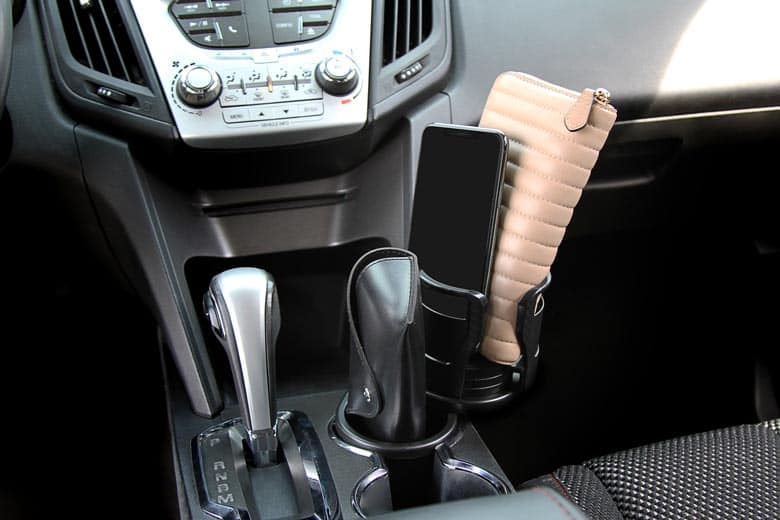 How Do I Clean My Car's Cup Holder?
If the dirt doesn't come off with a cloth and soap, fill up with water and then use an old toothbrush or sponge. Of course, the best way will always depend upon how dirty your cup gets. If it's pretty bad, remember that taking out some time for cleaning might be worth more.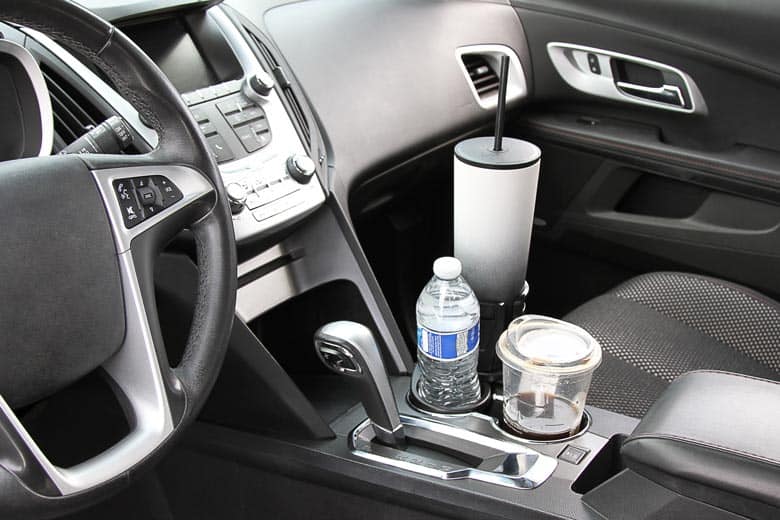 What Are the Best Types of Car Cup Holders?
You already know that there is a type for every need, right? The most popular ones are adjustable, and they're super simple to install on your own, which can hold anything from cups to water bottles.
Did you know that some luxury car models come with heated cup holders? It's true, and it rocks.
Conclusion
By getting yourself an awesome drink holder with so many different types and sizes to choose from, you can finally stop spilling your morning brew all over yourself or the car interior.
Cup holders are the lifeblood of our constant hydration on the go. Not only do they provide us with a needed beverage, but cup holders also act as emotional well-being by keeping drivers safe and calm during long journeys.