A pick-up tool has many different uses, from grabbing clothing stuck behind the dryer to removing small metal parts from car engine compartments.
Pick-up tools can either be magnetic or involve a claw and grabber, allowing them to access hard-to-reach locations easily.
Magnetic pick-up tools are excellent for retrieving nuts, bolts, nails, and screws from the ground.
Some have a wide surface with strong magnets that easily attract metal or tool parts and scraps.
You can easily use the claw pick-up tool, so you don't have to bend over while searching for your lost or hard-to-reach devices.
What Is a Claw Pick Up Tool?
Claw picks up objects in difficult-to-reach places with three claws that extend or retract when pressed. It also has an easy system for quick and reliable operation, regardless of your situation.
The adjustable claws on this device make it perfect for gripping things up near the edge where there isn't much space left over.
Advertisement
Continue reading below
The Best Claw Pick Up Tools
There are multiple options when choosing the best claw pick-up tool, so we decided to make this TOP 5 list to help you pick the best one for your needs.
1) Odii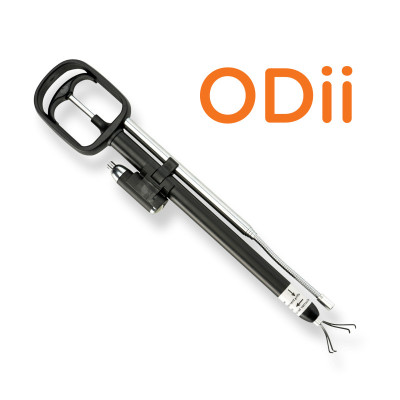 ODii has been designed to make your life easier.
For example, you can grab hard-to-reach items in the car, at home, or work without bending over and making yourself very vulnerable by standing on a chair.
The patented 3-in-1 design features a 19-inch flexible claw (that holds up 10 pounds). In addition, Odi's powerful detachable magnet with an LED light that snaps onto any metal surface provides illumination when you need it the most.
As a result, ODII goes where no pick-up tool has gone before.
Odii Pros
A goose-neck magnet attachment and LED light are included with the grabbing tool
Shrinking and expanding the claw is super easy
With this small and convenient tool, you can pick up heavy objects with ease
Odii Cons
You can only get it from the official website
2) Flexible Grabber Claw Pick Up
The flexible Grabber Claw Pick Up Tool is perfect for picking up small items in narrow spaces.
With its slim design, it's much easier than using your hands or an ordinary vacuum cleaner.
The grabber tool is bendable and flexible, making it very usable for all sorts of hard-to-reach places.
The claw is easy to use. You have to press the red handle and release it when you are ready to grab the item.
Flexible Grabber Pros
Slim design
Bendable and Flexible
Easy to use
Flexible Grabber Cons
It's not strong as the Odii claw pick up tool
3) NoCry Pick-Up Tool
The perfect tool for picking up everything you need, the NoCry pick-up tool picks up both magnetic and non-magnetic objects from confined spaces or out-of-reach places.
With its mighty 4-finger claw, the reach extends to grab onto objects with ease.
The non-magnetic design makes this tool ideal for plumbing jobs in homes or businesses alike.
This tool is an excellent pick-up for repair technicians, handypersons, homeowners, and anyone else.
But, of course, mechanics can use it in their work as well.
NoCry Pick-Up Tool Pros
Has both non-magnetic and magnetic feature
Bendable
Money-back guarantee
NoCry Pick-Up Tool Cons
It's not strong as the Odii claw pick up tool
It doesn't have an LED light
Advertisement
Continue reading below
4) Flexible Claw Pick-up Tool
The bending design of this tool makes it easy to reach tight spaces.
The 28-inch (71cm) long extension will allow you to pick up small objects lost down the drain, stuck under furniture, and more.
The tool has four claws and a magnetic head, making it perfect for picking up all kinds of parts.
The claws are controlled simply by pressing a spring-loaded grip.
It's easy and convenient so that you can have all your bases covered with the simple press of one button.
Flexible Claw Pickup Tool Pros
Very long reach
Has both non-magnetic and magnetic feature
Cheap
Flexible Claw Pickup Tool Cons
It doesn't have an LED light
5) WORKPRO 4-Claws Pick Up Tool
This tool quickly reaches into hard-to-reach spaces and retrieves small items.
WORKPRO 4-Claws Pick Up Tool has a powerful claw that can lift small hand tools, bolts, nuts, washers, and more.
The components of this claw pick-up tool are made from the highest quality material and have a durable zinc-plated finish.
WORKPRO 24-inch shaft with claw style pick-up tool is perfect for retrieving items that are hard to reach.
Conclusion
After thousands of hours researching and analyzing the claw pick-up tool, we decided that the best one is Odii.
Why Odii? On their official website, they offer a money-back guarantee. In addition, it's manufactured in the USA, has an LED light, expanding claw, both non-magnetic and magnetic features, and many other great features. Click here to read the full review for more information.
Anyone can use it. It's solid, made from excellent materials, and can grab very hard-to-reach items.
---
With the continual development and increase in technology, gadgets, and gizmos, Amar never has a dull day researching new gadgets. Being an enthusiastic gamer, traveler, soccer lover, and avid car driver means that he always looks for the next cool thing to try out.
---