Think back about all those times the Check Engine Light came on, and you had no idea what it means or how to fix it or how much it would cost you. Well, information is everything, and that's what Fixd gives you about your car.
That's when three tech engineering students decided to do something about it. The result is the device we're going to be looking at today. We will find out how it works, the online reviews, and if you should buy it.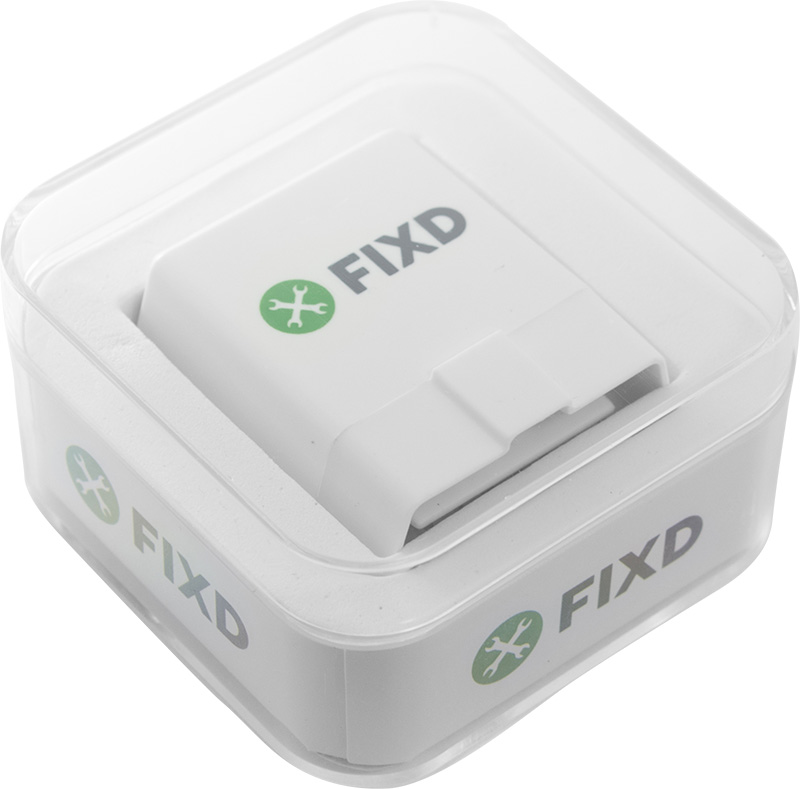 What Is Fixd?
Fixd is an obd2 car diagnostic scan tool comprised of an app for your smartphone and a physical obd2 plug that you insert in your vehicle. The hardware and software combo will then give you information about your car.
When you plug in Fixd in your obd2 plug, it will scan your vehicle for any errors and send them to the Fixd app. If it finds any problems, you can take care of them yourself, or you can take that information and give it to your mechanic so they can fix it. Knowing the right information saves you from being ripped off by mechanics.
Another thing it can do is to notify you when the next service is.
FIXD package contains a sensor and an app.
How Does Fixd Work?
Fixd is a small obd2 scanner tool that plugs into your car's obd2 port. All vehicles that run on gas built in 1996 and after are compatible with Fixd. Diesel cars from 2009 and after are compatible as well.
After you plug it in your car's obd2 port, you need to open the app on your smartphone and tap on the big green button to scan for issues.
When the scan finishes doing its thing, the app will notify you about a couple of things:
Warning light diagnosis, if there is one. If your dash light signal is on, the Fixd app will tell you why it is on, how bad it is, and how much it would approximately cost you to have it fixed.
Mileage-based maintenance reports. Fixd will read your current mileage and notify you when it is time for the next car maintenance. It will roughly tell you how much you will need to pay. The best way to describe this is when your dad would ask you when was the last time you changed the oil in your car.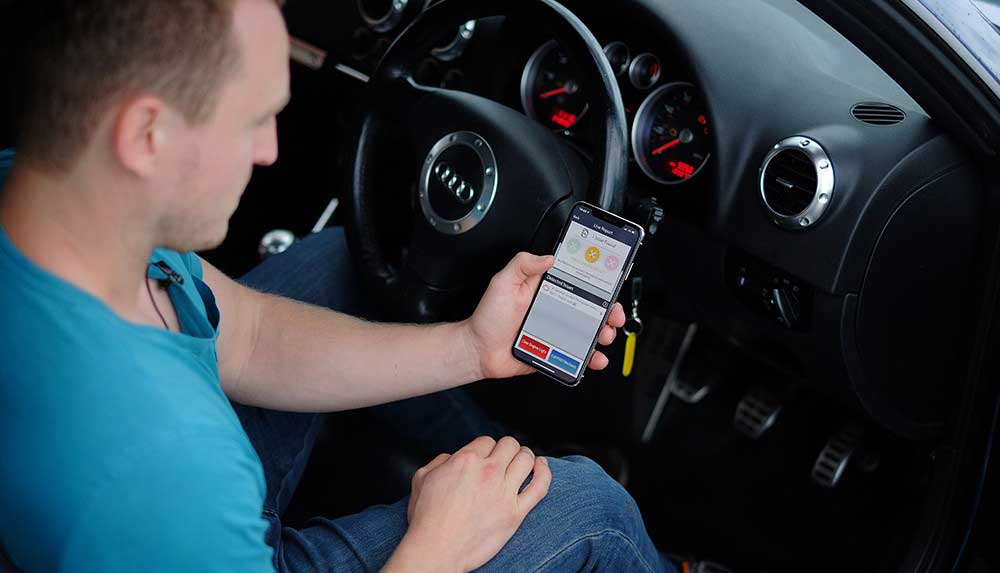 It decodes the error message and conveys it to you using plain English. If the issue is manageable, which sometimes only needs little adjustments, you can solve it yourself.
FIXD saves you time, energy, and resources you would have spent at the repair garage. Its diagnosis is also correct, as opposed to some shady mechanics.
Reminding you of dates scheduled for services is just one of the useful reasons why many people are buying FIXD. Such services include, among others, oil change and change of filters. You are likely to save resources by promptly taking your vehicle for service.
OBD2 Port
An OBD-II port is found under the dashboard on the driver's side. It enables computerized self troubleshooting and diagnostics within a vehicle. It allows access to the data regarding diagnostics. The port is available in most vehicles that were manufactured in or after 1996.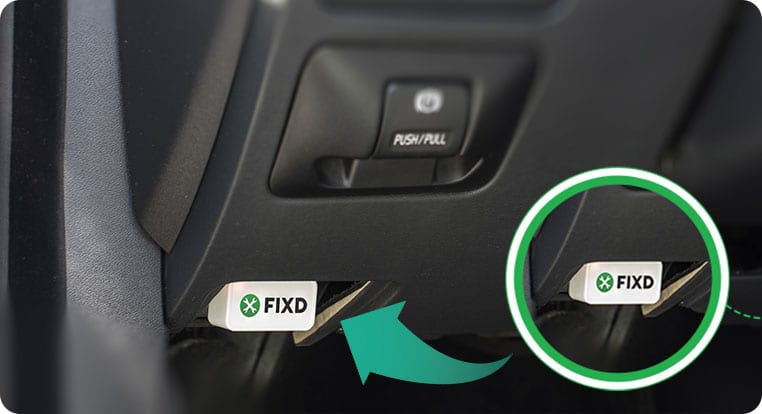 A car's diagnostic notification is sent to the user's phone after the attached sensor scans and receives feeds from the vehicle's diagnostics. The information received can be shown to a user's mechanic or the user can make use of it to fix the issue by themselves.
Therefore, FIXD will save a user from dealing with complicated and incomprehensive error codes by describing to them in a language that they can understand it for them to know exactly what the problem is.
Fixd App
Fixd app is where all the data from the vehicle goes to. The app will tell you the status and errors of your car. All errors that come up are listed in a tab with a description for you to see easily.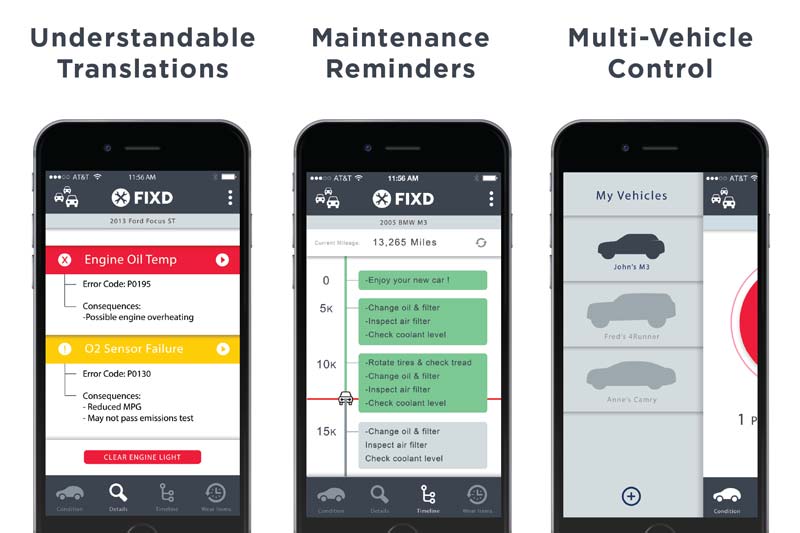 The app allows you to determine the severity of an error by noting potential consequences the car would have if it continues without you fixing it. For example, if the O2 sensor fails, which results in low mpg, and you might not pass the emissions test.
Other than that, it will show you a visual representation of the milage, so you know when to take your vehicle for maintenance. The Fixd app will send you notifications when it detects a problem.
Can I Use Fixd On Multiple Cars?
You can use one Fixd with multiple cars. If you own more than one car and want to use Fixd all the time, then you are at a disadvantage because you would always have to switch between your vehicles. I would personally recommend you get one sensor for each car you own. The app has a multi-vehicle control feature, which lets you monitor multiple cars with one smartphone.
To add more vehicles from the app, tap on the top left button to have a visual of all your cars. From there, you need to click on the plus (+) sign to add a new vehicle. You can also rename and delete your car. if you tap on one of the vehicles, it will open up details about it. At the top of the app, there is the name of the car you are viewing.
How To Use Fixd?
The fantastic thing about the Fixd sensor is that you won't ever need to charge it because it is plugged into your cars obd2 port, which draws power directly from the vehicle. You don't have to worry about it draining your battery because it works in a low-energy mode, which is sufficient for Fixd to operate.
The Fixd sensor works in conjunction with its free Android and iOS app that communicates with the scanner via Bluetooth. You can save and retrieve your diagnostic data. When you open the app, there is a Scan button in the center of the screen, on the bottom you will see the condition button, basically the home button, details button, timeline button, and wear items tab.
The next thing would be to start a scan, if it doesn't detect any problems, a green Fixd icon will appear, and if it identifies issues, the image will be yellow. The red icon will appear when it detects a serious problem with your car. Hopefully, you won't see it. You can click on the issue to see its description and problems it could cause if it continues.
You can also view other dash light options such as Brake pads, brake system, oil pressure, engine coolant, etc. Unfortunately, Fixd cannot scan those items yet; what they offer is the description of each item and what it does. Hopefully, the company makes it a standard in the next version. The timeline tab shows you reminders for when to change your oil, air filter, etc.
Fixd essentially uses the data it collects from your car to notify you when you should replace your battery, tires, wipers, etc. It shows you compatible parts and where you can buy them.
Fixd Support
The Fixd support team is available through their email support 24/7. You can get in touch with them by submitting a ticket on their official zendesk support page.
https://fixd.zendesk.com/hc/en-us
You can browse through their support page and see if there is a question that might be of help to you. If you don't want to bother with searching for it simply submit a request ticket and explain in detail whats the problem and wait for them to answer.
You can also try and get in touch with them via social media. Here is a list of their social media pages:
Fixd Customer Service Number.
If all of the above doesn't work for you, try getting in touch with them on their phone number: +1 925-854-1766.
Advertisement
CONTINUE READING BELOW

Fixd Premium
After signing up for Fixd premium, you will get access to additional features which are:
Confirmed Fix and Cost. It helps you avoid any scams you might get yourself into by telling you exactly how to fix the issue and how much it would cost you.
Issue Commonality. It tells you how common or rare your problem might be, so you always know whats going on when going into mechanic shops.
Mechanic Hotline. You can use this hotline to ask them what type of oil to buy, which spark plugs to use, etc. Their experts are available from Monday to Saturday.
Emissions Pre-Check. This feature lets you check your emissions from the comfort of your home, so you know if everything is ok or not before the official test.
How To Cancel Fixd Premium?
If you are not happy with the premium features, you can always cancel it. You can cancel your premium subscription and auto-renewal by visiting this link:
https://fixd.zendesk.com/hc/en-us/articles/360027507892-How-do-I-get-a-refund-for-my-FIXD-Premium-subscription-
After you've canceled the subscription, you will still have access to the premium until the paid-through period has ended.
Fixd Price
One Fixd sensor will cost you $59.99 plus shipping and handling. When you click on the order button, you will get an option to extend the 1-year warranty to a LIFETIME warranty for $10.
The second option is 2 Fixd sensors for $89.98 with FREE USA shipping. This is their promotion for when you buy 1; you get 1 50% OFF.
And finally, the third option is 3 Fixd sensors with their promotion Buy 2, Get 1 FREE, which comes at $119.98 with Free USA shipping.
Every package comes with a 30-day money-back guarantee.
If by any chance you have an issue with your Fixd sensor check out their returns and warranty page for all the details on how you can RMA it or return it.
https://www.fixdapp.com/returns-warranty
Where Can I Buy Fixd?
Fixd is available to purchase on a couple of different websites. There is the official website, Amazon, Best Buy, and Walmart.
I recommend you get Fixd direct from the official manufacturer website.
Fixd website: https://getfixd.io
Fixd Reviews
On Amazon, the reviews are relatively good. It has a 4.1 out 5 stars with over 5000 customer ratings. Some users are praising it for how easy it connects to the car.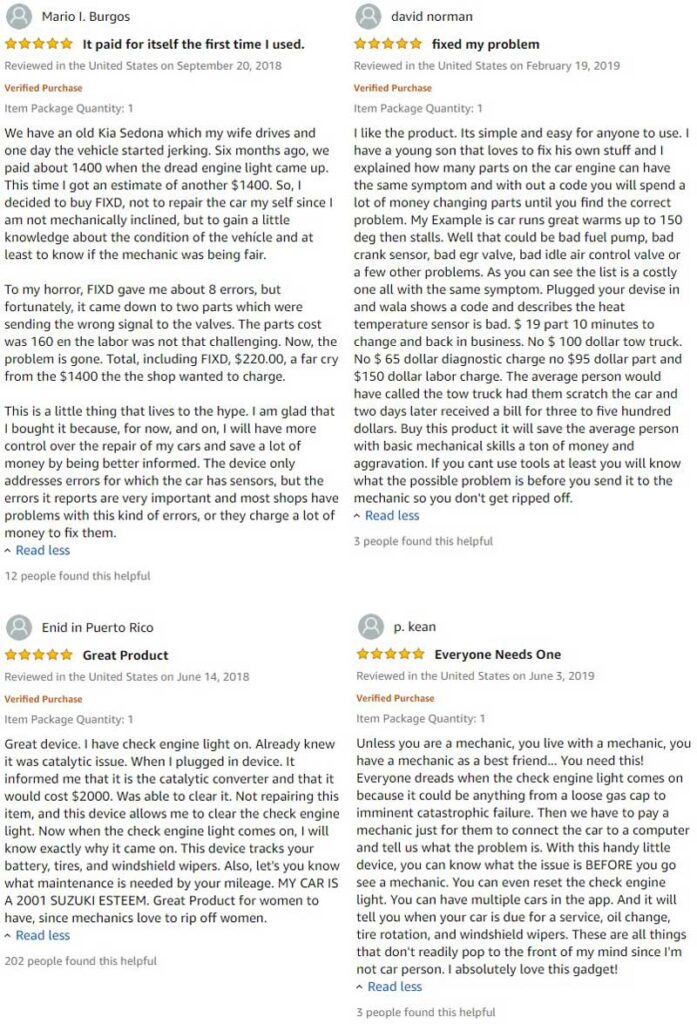 On TrustPilot, there are 308 reviews, of which 68% say it's excellent, 9% great, 3% average, less than 1% poor, and 19% bad. The overall rating is 3.9 stars, which they classify as great. That's not bad when it comes to Trustpilot scores.
https://www.trustpilot.com/review/www.fixdapp.com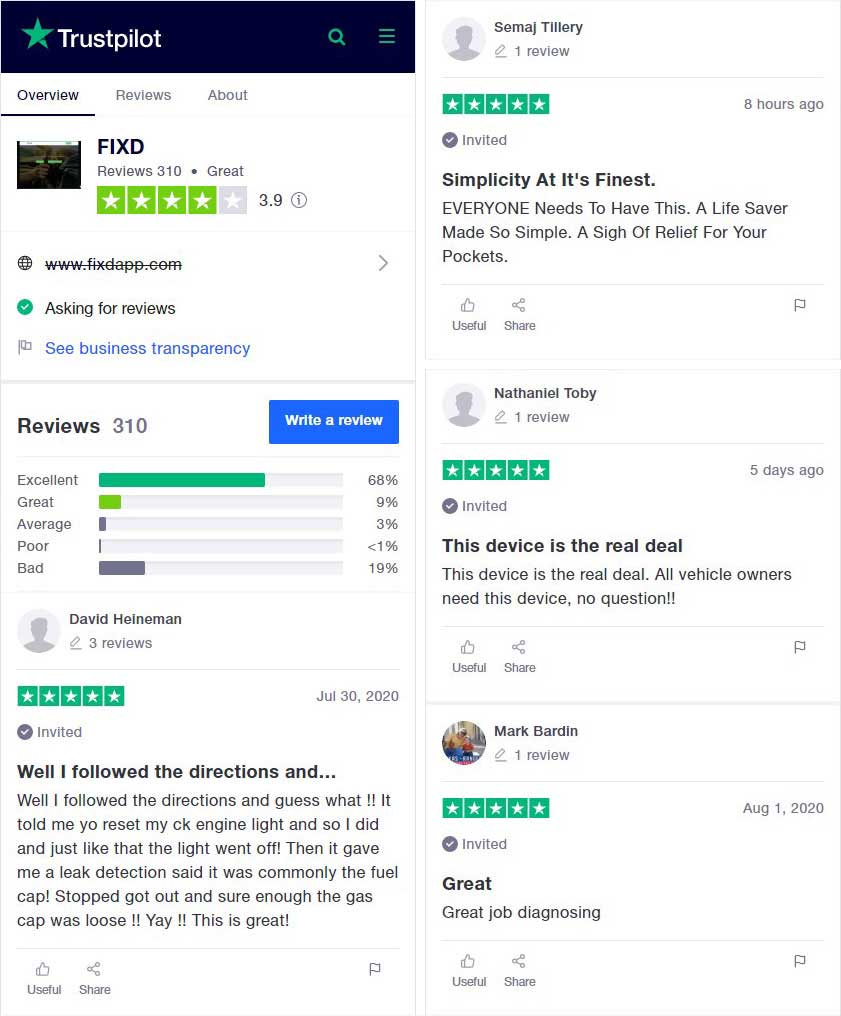 BlueDriver vs Fixd
Let's talk about the comparison between these two. They are basically the same thing and can be used by every type of person. In the end, it all comes down to personal preference. If I'm going to compare them, then Fixd would be the better tool for the average consumer, while BlueDriver is more for a professional type of guy. BlueDriver is more expensive than Fixd, so there is that to take into consideration.
FIXD Pros
One account with multiple cars connected
Precise readings
Large Range of Issues displayed
Cost Estimates
Fast diagnosis
Easy to use
Cost effective
FIXD Cons
Slow sensor connectivity sometimes
Final Verdict
Overall, I'd say that Fixd is a pretty fantastic device for the value you get from it. It identifies and recommends possible fixes for your car and reminds you when to take your vehicle for maintenance.
It comes handy for someone that wants to save themselves from exploitation from car mechanics.
This OBD2 scanner makes it possible for you to learn the potential issues within your car when the engine light turns on.
The sensor will inform you of the intensity of the problems detected. That saves you from shock whenever mechanics are performing service since they know what to expect if you tell them of course.
It is a reliable troubleshooting tool that gives accurate diagnostics. The data they produce is actually used by some mechanics to establish the health of your vehicle.Ultimately, FIXD can be used by anyone.
It gives you diagnostic results within just a few minutes after using it. It does not require you to be familiar with a vehicle to use it because the language it uses to convey information is simple. FIXD successfully gives the result it needs.
With the continual development and increase in technology, gadgets, and gizmos, Adam never has a dull day researching new gadgets. Being an enthusiastic gamer, traveler, soccer lover, and avid car driver means that he always looks for the next cool thing to try out.