The cost of a vehicle diagnostic test varies widely, depending on the age and model of your car, as well as whatever is wrong with it. But you will very likely be looking at a bill anywhere from $40 to $400 at a dealership, even before any repairs are undertaken. That's the bad news.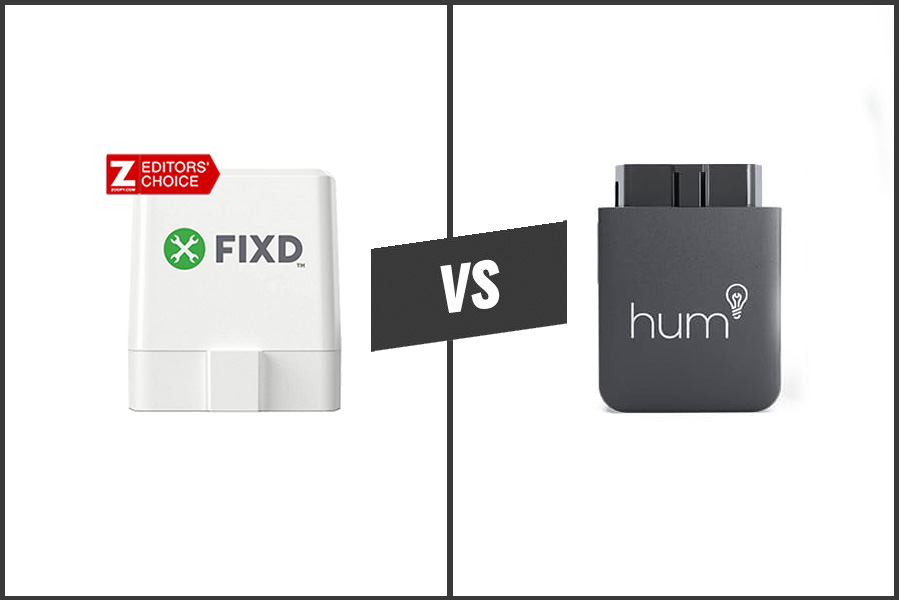 The good news is, if your car was manufactured after 1996, then you now have a choice of devices that can save you big money on repairs.
Our Verdict – Which is better, FIXD or Hum?
Choosing between FIXD and Hum ultimately depends on your specific needs and budget. We recommend FIXD due to its affordability, straightforward diagnostics, and the ability to monitor multiple vehicles. Its premium plan also offers reasonable pricing for added features, such as access to a mechanic hotline.
Comparison Table
Vehicle model year 1996 and newer that runs on gasoline
and works on diesel cars made after 2006

Every car made after 1996


Vehicle model year 1996 and newer that runs on gasoline
and works on diesel cars made after 2006

Every car made after 1996


Vehicle model year 1996 and newer that runs on gasoline
and works on diesel cars made after 2006

Every car made after 1996


(iPhone, iPad, iPod touch)
running iOS 12.4 + Android is 5.0+

Requires Android 5.0 and up
Requires iOS 11.0 or later.
Compatible with iPhone, iPad, and iPod touch.

1 Connect up to 10 devices
to Verizon's nationwide
4G LTE network

Engine, transmission codes


English, Dutch, German,
Spanish, French, Portuguese,
Polish and Italian
---
What Is FIXD
Fixd was developed by 3 engineering students at Georgia tech who were fed up with seeing family and friends being taken advantage of when their cars needed to be repaired.
Though they knew all cars since 1996 had computers on board that could tell you anything you needed to know, those computers could only be understood by an experienced mechanic or an expensive diagnostic tool.
Fortunately, the students knew enough about both tech and cars to create something affordable to do the same thing.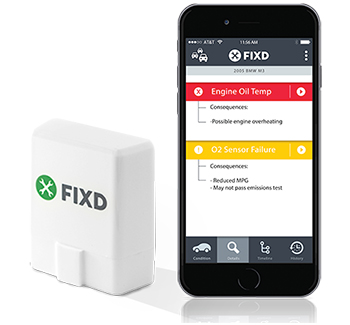 Fixd hardware is plugged into your vehicle to monitor its health. When your "Check Engine" light comes on, detailed diagnostic information is then transmitted to the fixd app on your phone in real time.
How to use FIXD
The first thing you need to do after buying a Fixd system is download the app from either Google Play or the Apple App Store and install it on your phone. Then these are the steps you need to follow:
Go to the phone settings, rather than the Bluetooth settings on your phone, to pair with the Fixd device. Because, that way, the pairing will happen automatically.
Open up the Fixd app and register an account.
Be sure the maintenance reminders are enabled, and choose your repair preferences.
Then choose "I have a FIXD sensor."
Enter the code that is found on the back of your sensor, such as "CV11111".6. Find the OBD-II port in your car. It is almost always located on the driver's side, just above the pedals.
Plug the sensor into the port. When it is connected correctly, you will see a blue light flash.
Go back to the app and tap where it says to add a sensor. The app will then scan to see if there are any sensors nearby, and you should see yours listed on the screen when it is located.
Give your sensor a name. It will probably help to name it after the car it'll be connected to, just remember to rename it if you switch it to a different car.
Start the engine of your car and let it run for at least 5 seconds before you try to connect to it.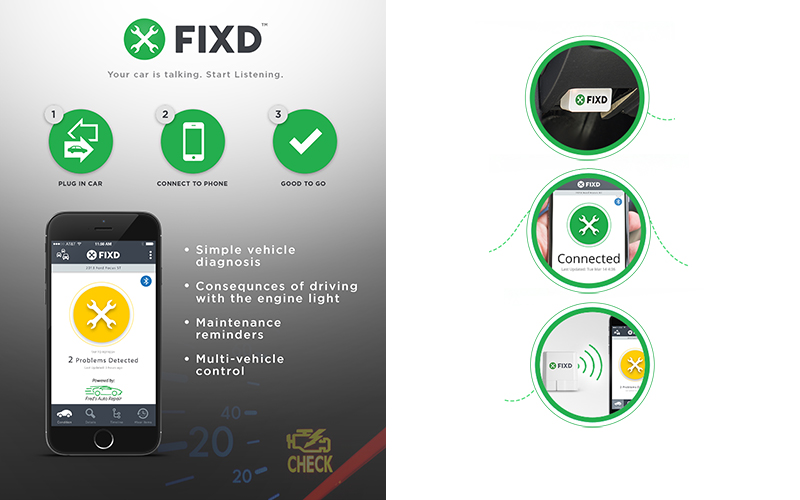 What Is Hum
The Hum system was developed by Verizon to make use of its vast network in multiple ways that would benefit your vehicle. The goal was to make your car more connected, so that it would be both smarter and safer. Anyone with a compatible automobile can buy and use the system.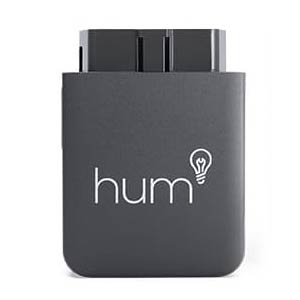 How to use Hum
Just like with the Fixd, the first thing you should do after buying a Hum system is go to either Apple's App Store or Google Play and download the app for it. Then install it on your phone and go to your car, but don't turn the engine on yet. Find the OBD port, probably over the pedals on the driver's side, and plug in your Hum sensor unit.
The Hum has a little more to offer than a Fixd system, so let's go through the main features.
Bluetooth Speaker
One of the first things you'll notice about Verizon's new Hum X system is that, in addition to the OBD reader, you also get a Bluetooth speaker. This speaker is an essential piece of the system.
It can connect you quickly to:
Mechanics Hotline
Customer Care
Emergency Services
Other Hum Services
It does need to be charged for at least 6 hours before you can use it for the first time, but you will appreciate just how handy it is. In any case, it has its own charging cord, as well as a clip that you can use to attach it to the sun visor on the driver's side.
You should check the volume controls on the speaker to make sure that they are turned up. While you can't make Bluetooth calls when the speaker is switched off, all of its other Hum functions will still be available for you to use.
Activation Setup
Now you can start your car and go for a drive. After about 10 or 15 minutes, your reader should have connected with the network and finished the activation process. You will know if the process has been successful when you see that your dashboard has been updated on the app or the web portal.
Wi-Fi Setup
You can connect a total of 10 devices to your Hum X unit, allowing passengers to stream movies, music and more.
The Wi-Fi setup is just 4 easy steps:
Start your car.
 Enable Wi-Fi on any device that you want to connect.
Select the network of your Hum X.
Enter the password for the network.
Hands-free talking Setup
You won't be able to complete this setup until the Bluetooth speaker that came with your Hum X system has finished charging. Once it is finished charging, remember that you do not need to switch it on in order to use it for Hum X services. However, you do need to switch it on to make Bluetooth calls. So, once it's charged, you are ready to set it up for hands-free calling.
Pairing your Hum X speaker to your mobile phone is extremely simple, just follow these steps:
Turn on your car's ignition.
Flip the Hands-Free On/Off switch on your Hum X Speaker to its "On" position.
Press down on the "Call" button and hold it down until you see the blue LED lights come on.
Go to your phone settings and enable the Bluetooth function.
From the list of available Bluetooth devices, choose Hum.
If you are asked to enter a PIN number, just enter 4 zeros.
You will know that the pairing is successful when you hear the system sound 3 tones and see the Hum X Speaker's blue LED lights flash 3 times.
For the best hands-free talking experience, the Hum X Speaker should be attached to the visor in front of whoever will be speaking. But the clip makes it easy to switch it back and forth when necessary.
Differences Between FIXD and Hum
We will explore various aspects of both devices, such as stability, features, and more, to provide a comprehensive comparison. This will enable you to better understand the strengths and weaknesses of each product, helping you make an informed decision on which one suits your needs best.
Stability
FIXD is an excellent choice for beginners, particularly hands-on drivers but it falls a little short of the features Hum offers. Hum isn't just about vehicle diagnostics, it has many other features that experienced amateurs, or even professionals, would appreciate: driving history, speed and boundary alerts, crash response and vehicle location finder, and more.
Features
FIXD will alert you when the Check Engine light comes on, and give you detailed information about any issues. The Hum system will alert you of any issues, including the relevant Diagnostic Trouble Codes (DTCs), which your mechanic will find helpful. But you can also check on the health of your car on the Hum app or online, which allows you to do a quick diagnostic before taking a long trip, for instance.
Number of Vehicles
One of the biggest differences is that Hum is only able to scan one car at a time, while 5 different units can be monitored on a single FIXD app.
Price
At the time of this writing, Hum actually has 2 models, a base unit and a premium one. The premium model costs twice as much as a single Fixd unit, while the base model costs about 50% more. If you buy with a subscription, however, that will lower the price significantly, although the subscriptions come with substantial early termination fees. Fixd offers discounts for buying multiple units, which is handy if you have more than one car.
FIXD Vs. Hum Similarities
We will examine various shared characteristics of both devices, including connectivity, compatibility, functionality, and more. By highlighting these common features, you will gain a clearer understanding of what each product offers and how they can cater to your specific requirements. This will assist you in determining which device aligns best with your preferences and needs.
Connectivity
Hum and Fixd both offer easy-to-install Bluetooth-connected hardware and a phone app. However, the basic Hum model can be used with Google Assistant, and it's built-in on the premium model. You can leave both units plugged in when you turn the car off, they don't use much power when they aren't live streaming data to nearby apps.
Compatibility
The phone apps for both Hum and Fixd systems are available on either iPhones or Android. And both the scanners work on cars that are OBD2-compliant.
Functionality
Both systems use real time data and will send you alerts when your car has a problem, including the engine transmission codes, as well as when regular maintenance is due for things like oil changes and tire rotations that manufacturers require in order to comply with warranties. They will also clear and reset the Check Engine light, as well as tell you what could happen if you continue driving without fixing a specific issue.
Vehicle Compatibility
Unfortunately, neither system can be used with all-electric cars, although they can be used with hybrids. The Hum scanners will work on most cars that were manufactured in the US and Canada since 1996. FIXD scanners will work on vehicles from 1996 and later if they are gas-powered. But they are only compatible with cars manufactured in 2006 and later if they are diesel-powered.
Skill Level
FIXD and Hum both give you all the information you need in plain English. The explanations should be easy to understand by anyone using the system.
Price Estimator
The FIXD premium plan will tell you precisely what your issue is, exactly what will fix it and give you an accurate estimate of how much that fix should cost. Additionally, the premium plans for both services give you access to mechanic hotlines, where you will get expert advice not only about what's wrong with your car, but also whether you can fix it yourself and to do that.
Ease of Use
FIXD and Hum are both extremely easy to use. Not only are they easy to install, requiring no tools or professional help, but the operations are intuitive. You can actually learn more about cars in a way that is surprisingly easy to understand.
Top Pick Between FIXD vs Hum
In order to choose between these two OBD readers, you first need to decide which services you absolutely need, then exactly what your budget is.
If all you want is basic vehicle diagnostics, then you can get everything you need with either unit. The FIXD will be cheaper if you want more than one. The Hum will be cheaper if you sign a contract, but the early termination fees are scary.
If you want just a few premium services, like a Mechanics Hotline, the Fixd monthly price is extremely reasonable, and even cheaper if you pay annually.
If you want a lot of bells and whistles, like driver history or speed and boundary alerts, then you can get that with the basic Hum, Wi-Fi with the Hum X, and either will cost you more than the Fixd, However, if you are certain you will not need to terminate a contract early, you may find that both equipment and services are quite affordable if you sign up for an annual contract.
---
Bato is the father of three beautiful children. When he's not dealing with product reviews and comparisons, he enjoys hiking through untouched nature. He loves adrenaline sports such as skiing, diving, rafting, and scuba diving. In addition, he likes to grill and discover new exciting food.
---