When I first heard about the HidrateSpark water bottle, I knew it could solve one of my biggest health dilemmas. Months prior, I went to the doctor with complaints of constant fatigue, muscle cramps, and stalled weight loss. I was shocked when he said I was likely dehydrated and should try drinking more water.
This HidrateSpark TAP review will tell you all about a smart bottle that will help you avoid dehydration and all of the side effects that come with it.
| | | | |
| --- | --- | --- | --- |
| | | | |
| | | | |
| | | | |
| | | | |
| Works with water tracking app | | | |
| | | | |
| | | | |
| | Stainless Steel Bottles Only | Stainless Steel Bottles Only | |
| | | | |
| Custom glow pattern & frequency | | | |
| Automatic sensing technology | | | |
| | | | |
| Bluetooth connected device | | | |
Overview of HidrateSpark TAP Smart Water Bottle
HidrateSpark is a cutting-edge smart water bottle brand that tracks your water intake and glows to remind you to drink by syncing with the HidrateSpark app via NFC tag.
The company caters largely to health enthusiasts and those who simply don't tend enough fluid throughout their day, from athletes in training or office workers spending long hours onsite at work without any breaks.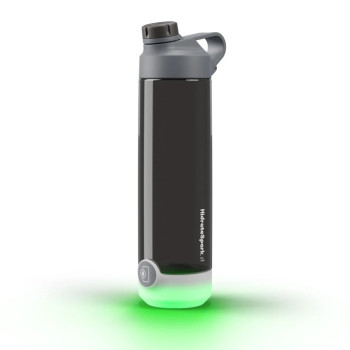 The HidrateSpark TAP bottle is a new addition to the company's smart water bottle line. It has all of its glowing reminders and app-watch integration at an affordable price point, making it easy for users on any budget. The new system tracks water consumption using an NFC tag on the bottle, which replaced Bluetooth synching in HidrateSpark Pro.
HidrateSpark TAP comes in three different sizes, 20oz Stainless Steel, 24oz Tritan™ Plastic 32oz Tritan™ Plastic.
Tritan plastic is a revolutionary material; some even say that it is the world's safest plastic that has been proven to be both safe and stable. It does not contain any of the harmful chemicals found in other types, like BPA or Bisphosphine Diglycidyl Ether (BPDE). It meets all health regulations for food contact, and certain Tritan plastics even meet medical-grade standards.
Besides size, with the HidrateSpark TAP smart water bottle, you can choose which type of lid you want with each size type. For example, you can choose from a chug or straw lid.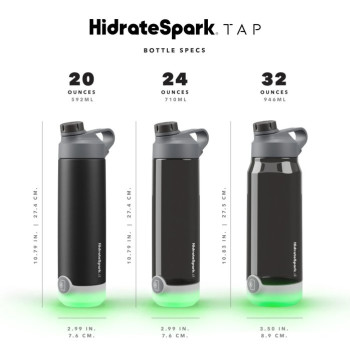 HidrateSpark TAP Pros
Glows to remind you to drink
5 color options
7 glow colors
You can choose from chug or straw lid
Calculates optimal hydration needs daily
NFC tag
Built-in motivation coach
BPA free
Made of safe materials like the stainless steel and Tritan plastic
Affordable
HidrateSpark TAP Cons
Battery is not rechargeable
It doesn't support Bluetooth connection
Things to Consider Before Buying a Smart Water Bottle
If you're like me, you know you need to drink more water but continuously forget to lift that bottle to your lips. You end up chugging too much at one time or just not hitting your intake goals. The HidrateSpark water bottle may help by reminding you to drink.
You may also choose the HidrateSpark TAP if you like buying the latest tech developments or need to gamify healthy routines to ensure you stick to them. If you have no problems remembering to drink and aren't interested in gamification or advances in technology, then there are much cheaper bottles out there.
Do you have a smartphone with Bluetooth and NFC capability? You need to download the Hidrate Spark app to get the most from the bottle. You need NFC to connect your phone to your HidrateSpark TAP.
How often do you use a bottle? If you don't use one regularly now, could you use one daily? A smart bottle will deliver the best results when used daily or at least on a routine basis.
What health and fitness goals could a smart bottle help you reach? Hydration can help with everything from weight loss to high blood pressure. If you aren't sure that improving your hydration will benefit your health, ask your doctor at your next checkup. You may have more reasons to drink up than you realize.
HidrateSpark TAP Features and Benefits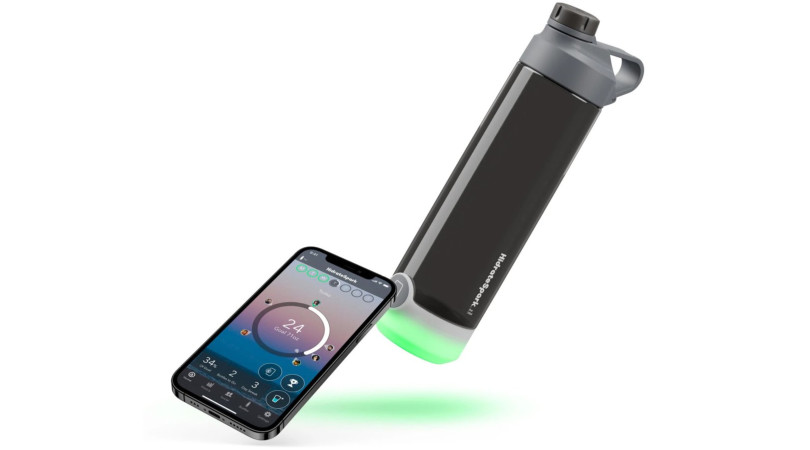 Hidrate Spark bottles were introduced in 2015 through a highly successful Kickstarter campaign. HidrateSpark TAP is one of the newer models released, and it includes some improvements over the past model, Hidrate Spark 3. Let's take a look at some of the features and how they might benefit you.Real-Time Drink Reminders
Committing to drink a certain amount of water each day is the easy part. The hard part is remembering to drink at regular intervals throughout the day so that you hit your goal by bedtime. The HidrateSpark TAP water bottle makes the hard part easier by lighting up to remind you when it's time to drink.
Water Intake Tracking
HidrateSpark water bottles does more than track your intake each day. The app stores your data over time, allowing you to see trends in your drinking habits. If you're struggling to drink enough right now, you will get to look back over time and see how much you've improved.The tracking feature is also a benefit if you've been ordered to drink more water by a doctor. You can show your doctor the app to quickly communicate how much you've been drinking. Even if you don't share the app with anyone else, the tracking data can provide motivation that makes you want to keep improving.

The Hydration Equation
The Hydration Equation is a proprietary feature of the HidrateSpark water bottle that calculates your personal intake goal every day. The equation uses a variety of factors to determine the amount you should drink each day for optimal health. Some of those factors include:
• Height
• Weight
• Sex
• Elevation
• Weather
The equation will also factor in pregnancy and breastfeeding because your water needs change when you're carrying or nourishing a baby.
Your Hidrate Spark will also adjust your intake goal throughout the day if any of the listed factors change. This is a responsive bottle that will help you maintain proper hydration whether you're going through your normal daily routine or you're on vacation with no routine at all.

Soft Grip Design
There are two benefits to the soft grip exterior on the HidrateSpark TAP:
It's easier to hold. You don't have to worry about freezing your hand or dropping the bottle due to poor grip.
It reduces condensation. If your current bottle sometimes leaves puddles on your desk or tabletop, that frustration is less likely to happen with your HidrateSpark.
This is the bottle that you can take anywhere. From the office to the gym or a night out on the town, it's designed to stay put without leaking.
Color Options
The HidrateSpark TAP is available in the following colors: black, royal blue, scuba, fruit punch, and wildberry. Also, each bottle lights up in seven different light colors, making drinking more fun. If you have multiple favorite colors or enjoy matching accessories to your outfits, you may want to purchase multiple bottles. An app does not control glowing lights; controls for light are on the bottom of the bottle, and they are straightforward. The glowing light is a great way to help you stay on track and build your own hydration habit. Choose from 7 different preset colors that glow every hour for 12 hours.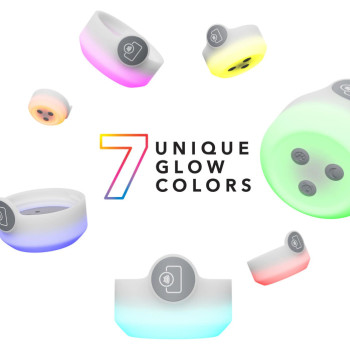 HidrateSpark TAP App Compatibility
Your Hidrate Spark will sync with many fitness apps. That allows you to use a more accurate estimate of your daily activity level when determining your water intake goals. If you go through an intense workout, your bottle can adjust your intake goal in real time to ensure you aren't dehydrated as a result. The HidrateSpark TAP is compatible with these fitness apps, among others:
• Apple Health
• Fitbit
• Garmin Connect
• Google Fit
• Withings Health Mate
• Under Armour Map My Fitness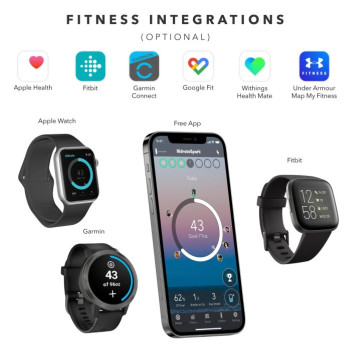 The HidrateSpark app is a great way to stay on top of your hydration goals. You can see how much water you've consumed, as well as where there may be room for improvement if need-be! In addition this feature allows users from sharing progress with friends who also use the HydrateSpark smart water bottles so they too will feel accountable in achieving these desired results.
Long Battery Life
HidrateSpark TAP bottles operate with a CR2477 battery. Your battery should last for months and is easy to change when needed.
How Much HidrateSpark TAP Water Bottle Cost?
HidrateSpark TAP water bottle comes in three different sizes and two lid types. The smallest HidrateSpark TAP water bottle is 20oz made of stainless steel, retailing for $29.99. The other two variants, made of Tritan plastic, go for $19.99 for 24oz and $24.99 for 32oz.
Advertisement
Continue reading below
HidrateSpark TAP Reviews – What are Users Saying?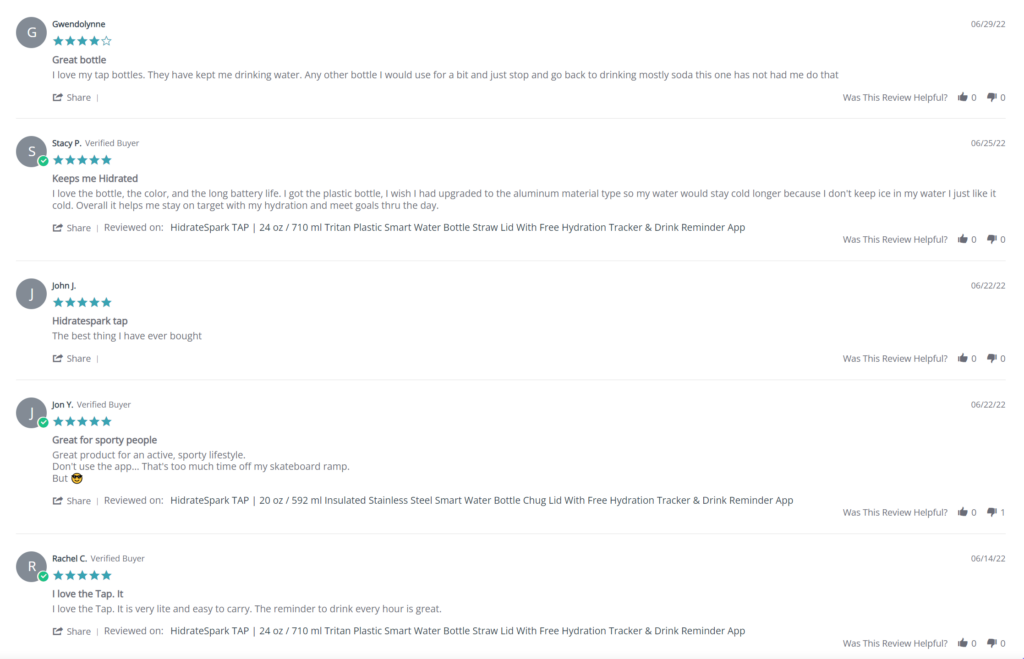 I always look for consumer reviews before I invest in new technology, and I want you to see what users are saying about the Hidrate Spark before you make a final buying decision. I searched the internet to see what I could find, and the following reviews grabbed my attention.
"I love this water bottle it has helped me to drink water because it was rare when I drank some. I would drink water when my mouth felt dry mostly but the light reminds me to drink water even the kids if they see the light they let me know that its drinking time and brings me the bottle…lol…" Yashira Morales on Google Play"
The app is exceptional! I am more hydrated than I've ever been!" Sandra Moore on Google Play
Final Thoughts
Drinking water is such a simple action, but it's incredibly hard to drink enough to satisfy your body every day. It's also difficult to determine how much you need at different elevations, before and after workouts, and in a variety of other everyday scenarios. That's why so many people are dehydrated but don't realize it, including me!
This smart bottle solves the problem by calculating your personal water intake needs in real time. It then lights up to remind you to drink at regular intervals throughout the day, ensuring you reach your intake goal.
The HidrateSpark TAP is a budget-friendly bottle with some great features, but if you can afford the HidrateSpark PRO version of this product it will be exponentially better.
While there are other smart bottles out there, none offer personalized intake goals that are calculated in real time based on personal factors. Click here to check out the HidrateSpark water bottle.