According to statistics put out by the National Safety Council Injury Facts 2017, choking is the fourth-greatest cause of unintentional injury deaths in the United States. Once a victim's airway has been compromised by obstruction, rescuer reaction time becomes crucial. With a 70% success rate, basic life support (BLS) is clearly effective for the 70% but fails the remaining 30%.
LifeVac is designed with this 30% gap in mind.
What is LifeVac?
LifeVac is an emergency airway clearance device that belongs in everyone's first-aid kit. Trained professional or layman, this device is for you. LifeVac is not for small children or anyone with an impairment that would impede operation of the LifeVac airway clearance device.
The LifeVac uses suction to remove the object instead of blunt force, unlike back slaps and abdominal thrusts, making it a much more gentle and effective way than other remedies for expelling something from your body.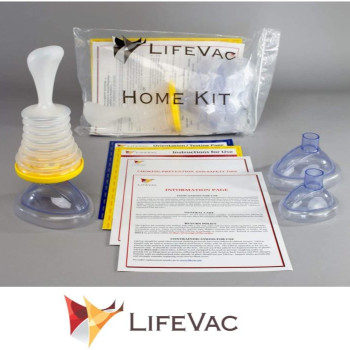 The newest number saved from choking with LifeVac is already 301 lives.
Note: Choking is dangerous and potentially life-threatening. In 2020, Studies showed around 1.5 deaths from choking per 100,000 people. So if you don't have one in your first aid box already, we highly recommend getting this product today because it could save someone's life.
HIGHLY RECOMMENDED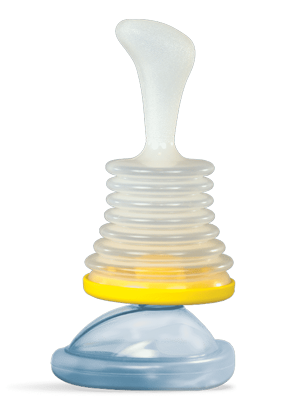 LifeVac – Portable Choking Rescue Device
To be honest, I wish LifeVac didn't have to exist – but I'm glad it does. It's going to prevent so many deaths that could have been avoided.
Did you know:
Choking is a leading cause of death in children under 5 and adults over 65
Over 5000 people choke to death each year
A choking death occurs every 2 hours
Most Choking deaths are caused by food
Brain damage starts after 5 min, the average U.S Emergency response time is 10-14 minutes
Abdominal thrusts fail over 35% of the time when performed by a trained medical professional. Over 50% when performed by the average person like you and me.
LifeVac works on children (over 22lbs) and adults, you can even use it to save yourself
It is easy to use
Lifevac has saved over 135 Lives and counting
Who is LifeVac For?
LifeVac is a lifesaver for so many people. It ensures that you never have to worry about your loved ones again, whether they live alone or elderly parents who live in an institution, because this device can rescue them from choking.
The story of how this product has helped so many people is truly inspiring. The feedback from families, retirement homes, and restaurants has been pouring in with success stories about their experience with LifeVac.
LifeVac is strongly recommended for: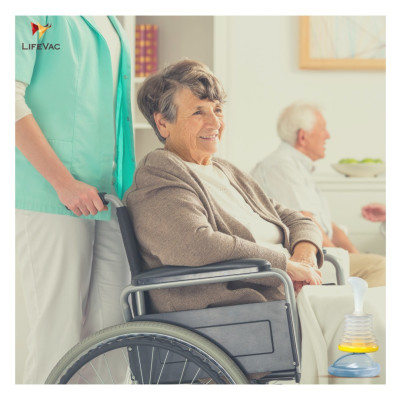 People living alone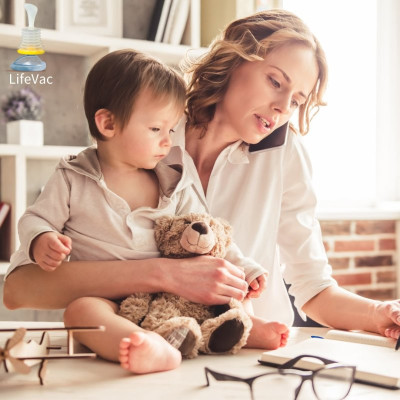 Young children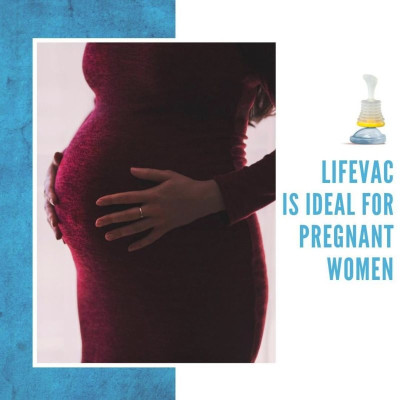 Pregnant women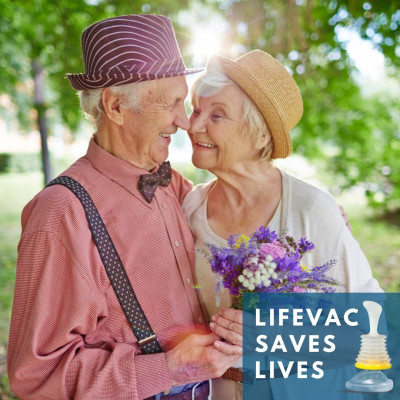 Seniors
Does LifeVac Require a Prescription?
Lifevac is easy to use, and there's no need for a prescription. It can be used by anyone, even those without medical knowledge, and the lack of prescription makes it a great household item for emergency prevention.
How Does LifeVac Work?
LifeVac is a semi-closed system that uses mechanical force to generate a quick but powerful burst of suction to create a negative-pressure environment within the airway. This unit encases obstructions in a vacuum and pulls them up out of the airway into the light of day, where they can do no more harm.
The LifeVac unit accomplishes this through the same principle that makes a plunger work, namely by getting a sufficiently tight seal and following with a quick downward-upward thrust. While one hand holds the mask to the choking victim's face, the other hand manipulates the handle above the accordion folds of the suction device.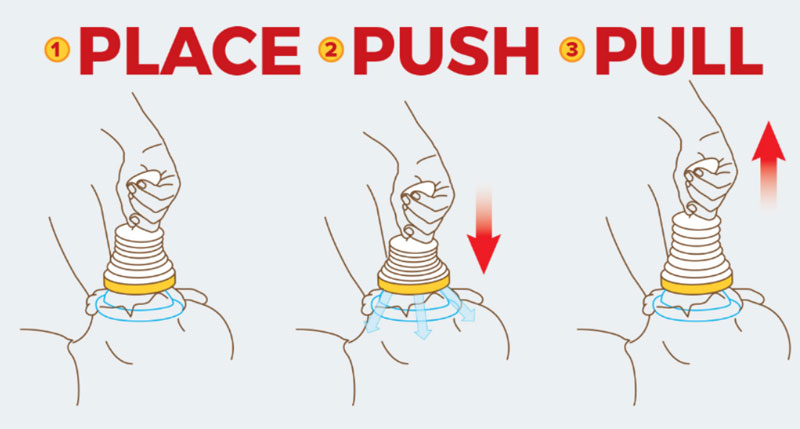 Upon the downstroke, the plastic accordion section of the suction device's body compresses downward toward the mask, forcing air out of its one-way valve. A vacuum chamber has effectively been created inside the mask.
Upon the upstroke, the one-way valve closes to prevent loss of the seal and the obstruction comes flying out into the mask.
In most cases, the object is removed with the first pull, but you can repeat the process if needed.
Once the obstruction is confirmed OUT, the rescuer is free to assist the patient via BLS resuscitation methods. The LifeVac unit is so simple to use that once a victim's blocked airway is resolved, other supportive measures may need to be taken until the victim has recovered sufficiently to be out of immediate danger. This is why LifeVac recommends that rescuers be trained in BLS.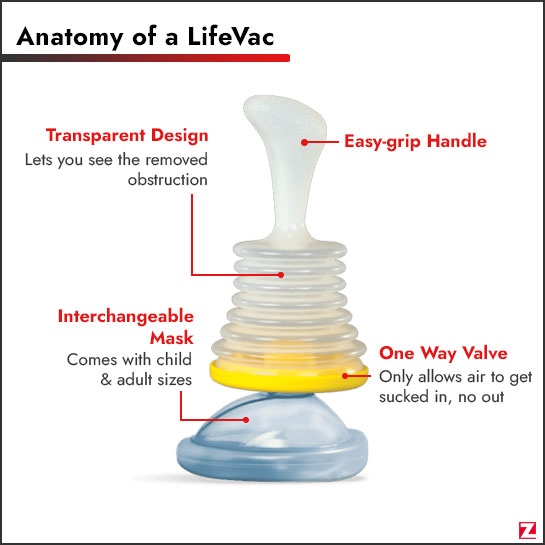 Where Can LifeVac Be Used?
LifeVac is small enough to fit anywhere, which means you can be sure it will always stay close at hand when you need it the most.
LifeVac is used in:
Schools (over 1070 schools choose LifeVac)
Police (1000's implemented in Police Departments across the country)
Fire/EMS departments (1,000's used by fire departments)
VA Facilities (Over 750,000 LifeVac circulated in VA facilities)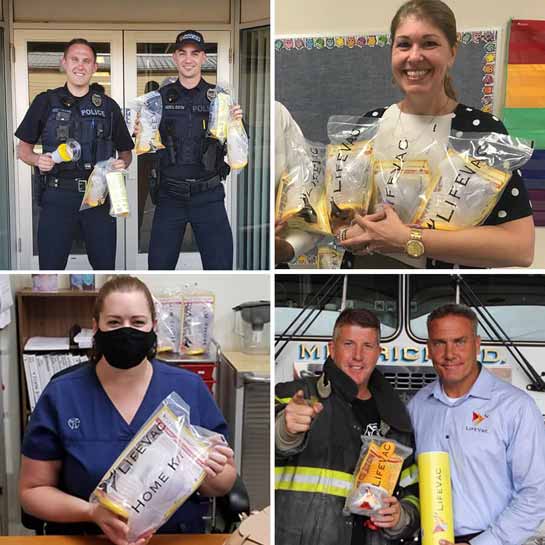 LifeVac's Home Kit
LifeVac's Home Kit comes with:
3 masks (child, adult and one practice mask)
Connector
Suction device
Informational cards containing choking tips
User's manual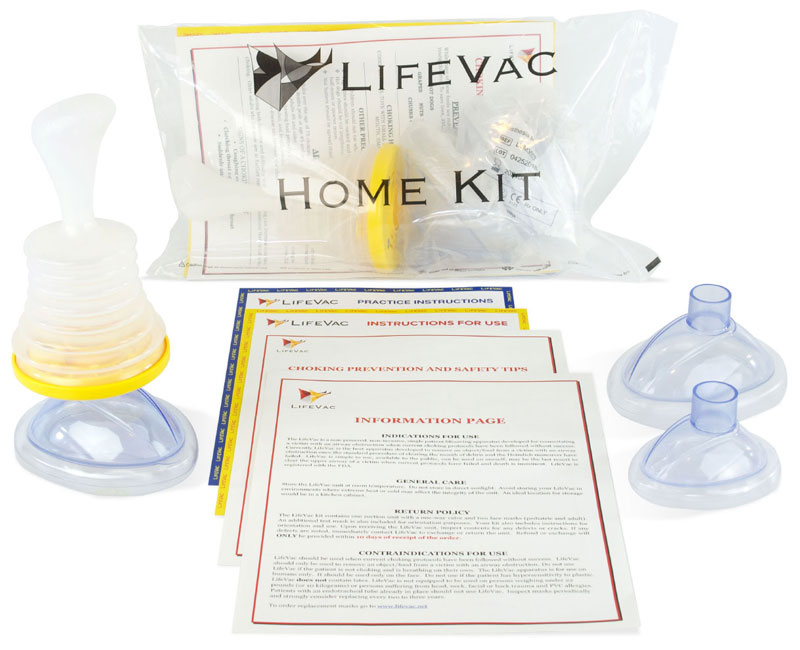 LifeVac Pros
Simple to use.
Works manually.
Fast and effective.
Lifevac can be used when first aid fails.
LifeVac includes both child and adult masks for parents and seniors.
Low risk.
You can even use it on yourself if needed.
LifeVac works on any person 22 pounds or over
You don't need a prescription
LifeVac Cons
One-time use only.
Critics say it needs more extensive testing.
A few customer complaints about stiffness.
Choking Prevention
Choking is preventable. Food accounts for over 50% of choking accidents, but other objects that can cause this are coins and buttons, basically small objects that can easily fit into our mouths. Be aware if your child has found any toy parts in the room. Check under the furniture or in between cushions for any small items before they try to swallow them.
The easiest way to keep your little ones safe when playing with toys is by following the guidelines found on toys' packaging. Don't let them play near anything that could cause choking, like balloons or other objects. Also, make sure they don't bite into any latex material as it may get stuck inside their mouth.
Please keep your kids away from the following foods and objects:
| | |
| --- | --- |
| | |
| | |
| | |
| | |
| | Toys that can fit entirely in a child's mouth |
| | |
| | |
| | Small hair bows, barrettes, rubber bands |
| | |
| | Small button-type batteries |
| | |
Why is Lifevac different from other solution?
How Does LifeVac Compare to Dechoker? A Fundamental Difference
Today's version of LifeVac improves on its 10-year-old former self by being much simpler and by incorporating a mask into the unit.
LifeVac's closest counterpart on the market is Dechoker, another nonpowered hand-operated airway clearance unit. Unlike the LifeVac unit, it relies on a suction tube that extends down into the victim's airway.
Because of its invasiveness and possible greater margin for user error, Dechoker would seem to be less user-friendly to the layman. Since it requires putting a tube down a victim's airway without causing other life-threatening complications, Dechoker's would be more effective being used by highly-trained rescuers.
LifeVac is quite user-friendly and can be used by anyone whether or not they have medical training.
Advertisement
Continue reading below
What Are LifeVac's Features and What Is It All About?
LifeVac Is Simple to Operate
LifeVac provides free video training in the above video. It is easily operated with one hand by holding the mask to the victim's face with the thumb and index finger and stabilizing the unit with the other three fingers. It requires a small amount of steadiness to hold the mask to the face while the other hand pushes down and pulls back up to generate the suction.
Without a lot of moving or connecting parts, LifeVac saves time when it matters most.
LifeVac Operates Manually
Because it is nonpowered, there are no wires, cables or plugs to worry about keeping organized while trying to get to the choking victim. All it requires is a simple down-up stroke. No gauging, measuring or counting seconds is required to get the right amount of suction in one stroke.
All you have to do is ascertain that you've positioned the mask properly, push down, and then push up, leaving you free to stay focused on what's happening with the victim.
LifeVac Is Very Portable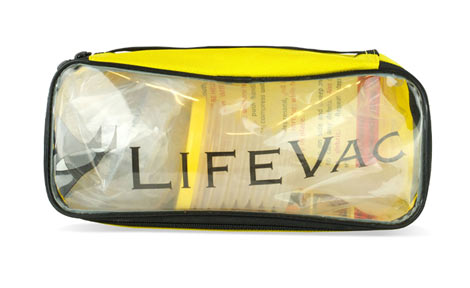 Lightweight and small enough to fit into a medical bag, handbag or backpack, it can be kept handy just about anywhere in case an emergency arises. Just pull it out, affix the correct mask, and you're ready to go.
What Materials Is LifeVac Made Out Of?
In this kind of device, a little bit of give is a good thing in terms of the recoil factor caused by the downward-upward motion that creates sufficient suction to unblock the airway.
Although in general plastic has less versatility than metal in terms of temperature fluctuations, it does not have the reactivity of some kinds of metal.
LifeVac can be offered at a very reasonable price because, being made here in the United States, it can be produced less expensively and the quality control can be more easily monitored.
LifeVac Can Be Used on Any Person Weighing Over 22 Pounds
While it is not appropriate for use on babies, LifeVac has been successfully used on them as well as on toddlers to remove candy and other items from the airway–with no ill effects. In fact, to date LifeVac's success rate is 100%. There are no cases in which anyone has been harmed by its use.
Advertisement
Continue reading below
LifeVac Is Ergonomically Designed with Accuracy and Ease in Mind
With the correct hand technique of holding the mask on the face while delivering the treatment, a proper seal around the edges is formed between the soft inflated rim of the mask and the chin, cheeks and glabella (the lower forehead at the top of your nose, between the eyebrows).
The result is that this configuration creates a seal that results in a kind of mini-vacuum chamber inside the mask, effectively leveraging the isolated nose and mouth within to access the blockage in the airway.
LifeVac was designed to eliminate the need for a lot of sizing, which helps you stay focused and cuts the time required to apply suction. There are no settings or adjustments other than switching the mask from adult to pediatric or vice-versa.
LifeVac Delivers Quickly
The LifeVac device works in about 1 second to produce the right amount of suction needed to clear the airway. Because it works so rapidly, the application of each dose of suction has a better chance of achieving a positive outcome.
LifeVac Is Noninvasive
Sometimes when an obstruction blocks the airway it can't be seen. Anything that goes into the mouth in an attempt to relieve choking could push the obstruction further down into the windpipe. This becomes a nonissue when you use LifeVac.
Doesn't Require a Lot of Thinking or Analysis
One of the nice features about LifeVac is its ease of use by anyone, whether it be bystanders, emergency medical technicians, friends or family members.
LifeVac can be conveniently kept in a closet or drawer so that if it's ever needed it can be reached on a moment's notice. Due to temperature extremes, it probably wouldn't be a good idea to keep it in a glove compartment, but it will fit just as easily in a shoulder bag and can be easily carried around with you for quick access.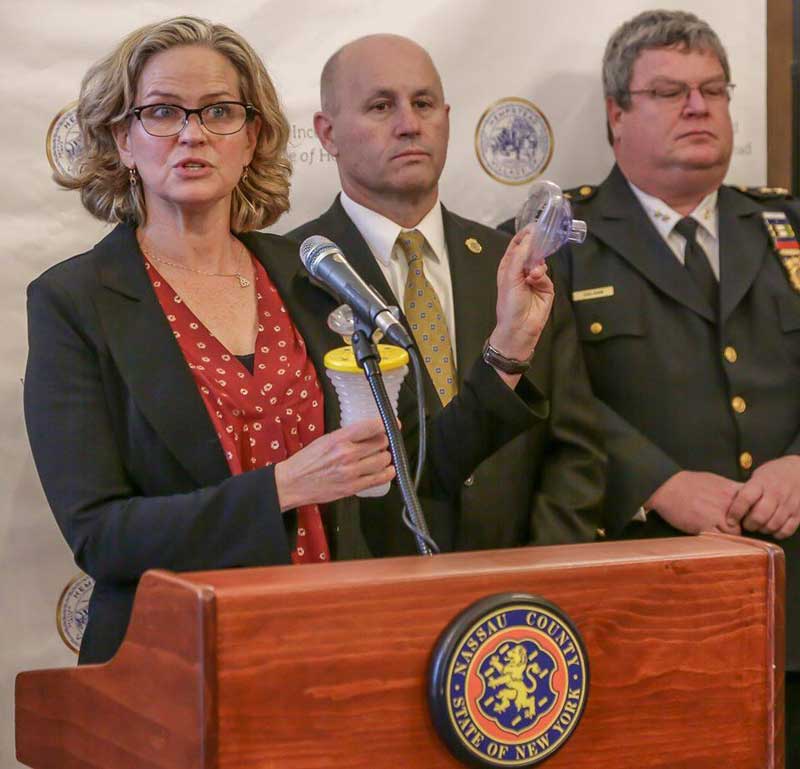 Additional Features
LifeVac is a one-time, one-patient-only device, meaning that if it is ever used to stop a victim from choking, it cannot be used again for another person or incident. This is for sanitary reasons to help reduce the spread of harmful pathogenic materials between its users.
Its inflated plastic ambu-mask/full-face cushion makes for its tight, comfortable seal on the face. This is needed to ensure that the suction will function.
Even with the degree of quick focused pressure created by the downstroke, the mask has a one-way valve to prevent pushing an obstruction down further into the airway. The valve acts as a pressure escape valve that prevents excessive pressure from building up within the mask, leaving the obstruction intact for the vacuum to pull out on the upstroke.
As the vacuum is created on the upstroke, the valve closes to prevent air from rushing into the mask, thus allowing the suction to pull the obstruction out.
Fear From Patients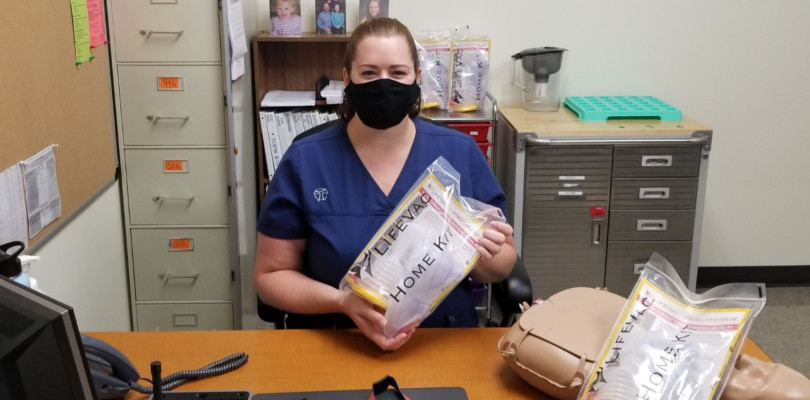 For conscious choking victims, the fear and anxiety can become overwhelming. Studies have shown that both states intensify sensitivity and lead to more deeply intensified levels of pain and discomfort. There is a lot to be said for making a choking victim as comfortable as possible, as other studies have shown that this can lead to a more positive outcome.
With these things in mind, the cushiony rim on LifeVac's full-face mask prevents the vacuum from causing the patient extra discomfort during operation, even though we're talking about only a second's-worth of vacuum forces during the extraction phase. To someone in a state of fear or anxiety, that second can feel like a lifetime.
The ambu-mask seal has to be soft enough on the victim's face so as to not cause further trauma. A choking victim may lose consciousness and fall to the floor. Not only will this Often speed things up to overdrive–with any kind of fall, there's always the possibility that a head injury will have been added to the issue of the obstructed airway.
If that is the case, then the last thing you want is to be clamping down on the victim's face with a hard-edged mask. Not only is that uncomfortable, it could cause the victim's head to recoil, further opening the pathway to other complications.
LifeVac's design takes all of this and more into consideration. It makes most situations like this scenario fade into the background. It makes things extremely simple and accessible for rescuers who may lack advanced medical training but know how to use the LifeVac. For this reason, LifeVac is a no-brainer to have around.
How Much Force To Apply When Using It?
LifeVac administers the kind of force needed to solve the problem without traumatizing the soft tissues of the face. This is especially important if it becomes necessary to repeat the procedure to clear the airway. However, if it has to be applied more than once, this will continue to hold steady the choking victim's comfort level with the mask.
You can watch the free training video on LifeVac's website and do some practice sessions to familiarize yourself with its feel, shape and the amount of force needed to activate the suction. Once customers have become familiar with its operation, they feel confident that if they ever have to use it, they can do so without hesitation.
You don't need a medical certification to be able to use LifeVac correctly and save someone's life. This is one of the easiest and most effective tools to help someone who can't help him or herself in the midst of choking.
Since LifeVac would be used ideally only after basic life support attempts have failed to dislodge the obstruction from the airway, it is still recommended to have at least BLS-level training whenever possible in order to be able to handle the associated issues such as stabilization of the head while holding the mask on the face.
Can You Use Lifevac on Yourself
LifeVac is designed to be easy enough for the average person living alone so that they can use it on themselves in case of an emergency. If you are interested, take a look at their how-to video below:
LifeVac Has a Great Success Rate
As of writing this article, 298 lives have been documented as saved so far since 2016. Some of these were as young as toddlers and as old as a nursing home resident in Wales, and many in-between.
Great Feedback
While checking this device out across the web, I found numerous testimonials describing how this device had saved someone's life. The most frequent comment was regarding how easy LifeVac is to use. Something happens to people when they realize that they now have the knowledge and the means to handle a situation they never would have thought they could. 298 people have written in to the website to report that they saved a life.
Testimonials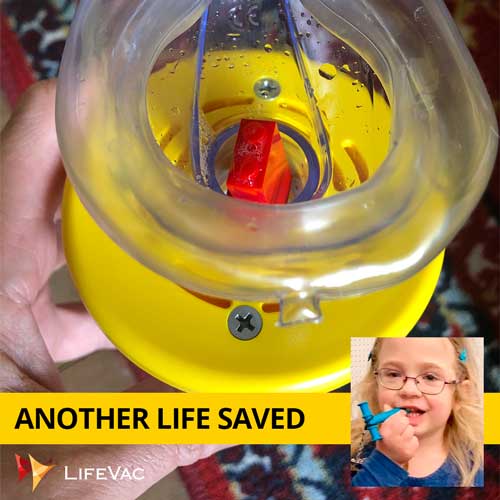 Meet Mickey, LifeVac has helped save the life of this precious 7-year-old little girl. The obstruction in the child's airway caused a total blockage and her lips were turning blue. Her mother saved her life using the LifeVac!
"Mickey had a choking episode yesterday and back blows and the Heimlich couldn't dislodge the object. I'm super thankful that we had one of these on hand. If you live with anyone who's a choking risk (or even if you don't) it's worth the money to have one of these on hand! Mickey is fine now but that could have ended very differently."

Mother's testimonial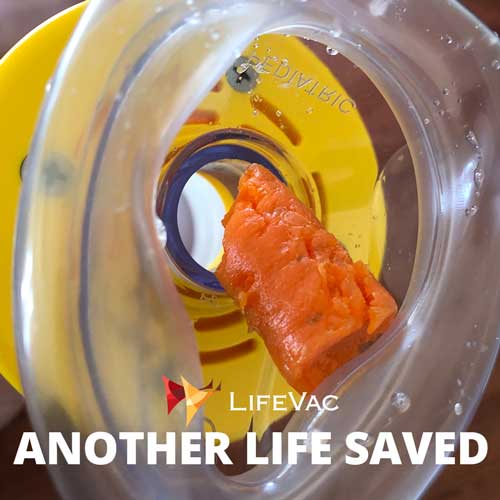 "My 2-year-old daughter choked on a small carrot minutes ago. This has always been my worst nightmare, something I've always randomly thought about and wondered how I would react in such a situation. Especially with my own children. I didn't have time to panic. I keep the LifeVac easily accessible in my cabinet. It was effortless to use and only took 1 pump to dislodge the carrot. She jumped on me immediately after and didn't let go for about 10 minutes. Just sat with me on the floor quietly. Processing what happened the best way she could I assume. Her 6-month-old sister woke up after 10 minutes or so and she ran into her room to greet her like she always does. She's playing and behaving normally. Throat doesn't seem to be bothering her at all. She's enjoying popsicles now. I can't thank you enough. Thank you"

Mother's testimonial
Advertisement
Continue reading below
Where Can I Buy a LifeVac Unit?
LifeVac is available for purchase online at Amazon.
There are several payment options available. These include VISA, Mastercard, PayPal, Discover and Amex.
To make your payment as secure as possible, LifeVac accepts and processes your order through 128-bit encryption, a TLS 1.0 connection and Sucuri firewall.
LifeVac also offers a 10-day money-back guarantee, so if you are not completely satisfied with your purchase, they will refund you. Return units must be unopened, but if it's opened, they will accept it if it has a manufacturer defect to the unit or mask.
Is LifeVac Reusable?
Users should be aware that the device will have a one-time use and need to be disposed of after use because of sanitary reasons. However, LifeVac stands behind its device with a replacement offer that kicks in when the device is used to stop someone from choking.
You can just go to the LifeVac website, fill in their form to report that a life was saved while using the device, and LifeVac will send you another device free of charge.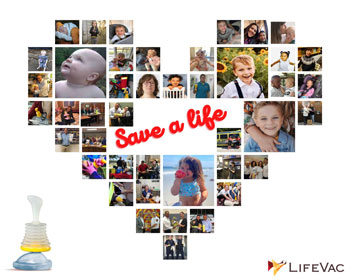 FAQ
Does Lifevac Expire?
LifeVac is a great investment for families because it can save the life of someone who is choking. The device doesn't have to be replaced unless you use it in such an instance, but only masks will have to be replaced after 2-3 years. You can find the expiration date for the mask on the outer package.
If LifeVac FDA Approved?
LifeVac is registered with the FDA as a Class II Suction Apparatus. Because of that, it can't be approved.
Is Using Lifevac Painful?
LifeVac is a comfortable device that uses suction to remove the object from the throat smoothly. The only discomfort users might feel is the mask texture.
Do You Need To Be Laying Down To Use The Lifevac?
The LifeVac is a versatile device that you can use in many different positions. There are reports that moms have used it in high chairs, laying their child down on the floor and even sitting on laps.
Can I Purchase LifeVac With My FSA Account?
Some customers have said they were able to make a purchase using their FSA. However, we suggest you contact your tax accountant to see if LifeVac would be eligible as a healthcare expense.
Final Thoughts
Too often when emergencies arise, things go the wrong way because people are not prepared. Finding this out in the middle of one is rough on everybody concerned and the experience can stay with you long afterward. This is no time to be saying, "if only…" With just a little forethought, these situations can be effectively managed, if not altogether avoided.
Choking is no exception. When it happens, you have to act fast to turn things around. LifeVac can provide the right kind of help at the right time, when it's needed most.
---
Nerko is a writer for Zoopy, and he's been working there since 2019. He loves to ride his motorcycle and bicycle, especially in the summertime! He also enjoys watching science fiction movies, and his favorite movie is Interstellar. Nerko is also a competitive gamer - so if you're looking for a good competition, he's your man!
---