There's no shortage of choices when searching for gas masks for children.
It can be hard to wade through the options and make sure you choose the right product when making such an important purchase.
If you're reading this review, you must know that an adult-sized gas mask won't work for your child. That's why we went to find the best gas masks made in children's sizes.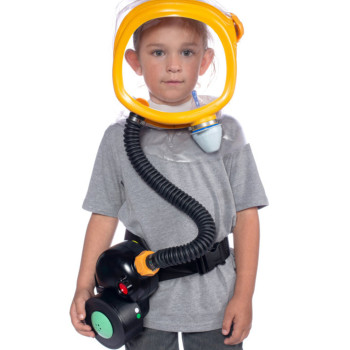 The Mira CM-3M is a no-frills mask created by a trusted brand. Our research combined with reviews and a little experimentation helped us create this kids' gas mask review for you.
We'll walk you through some scenarios where a child-sized gas mask will come in handy. Then we'll talk a little about what's important when searching for a gas mask for children. We'll finish up with our CM-3M review and let you decide if this product is the right choice for you and your family.
Advertisement
Continue reading below
Why Would You Want A Gas Mask For Kids?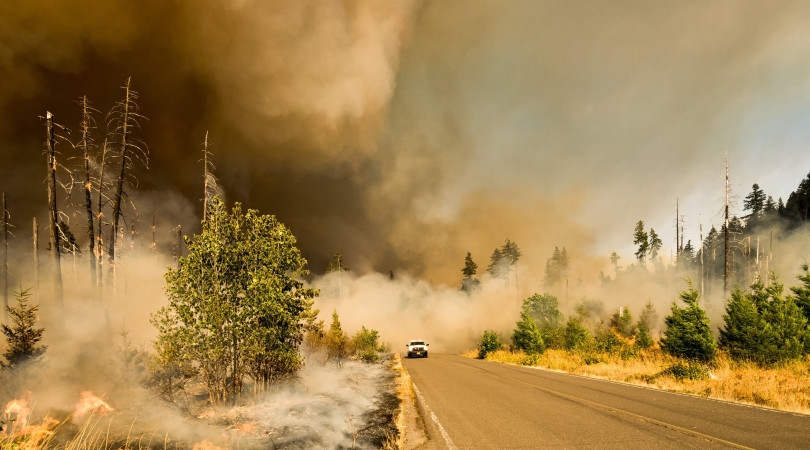 The reality is, that kids need to breathe just like adults do. If you have a gas mask for yourself in your survival kit, you already know the importance of this specific piece of equipment.
There are countless ways a gas mask can come in handy in today's world. If you live in an area prone to wildfire, masks can provide your kid with clean air while evacuating. Even if your area isn't prone to wildfires, a proper gas mask can give your kid enough breathing room to make it out of the house.
These are the more likely reasons you might want a gas mask for your kid, but we won't ignore some of the more dire circumstances.
Biological or chemical agents can be protected against with the right gear. In the worst scenario, a gas mask will protect your kid from inhaling irradiated air during a nuclear fallout.
Adults and children may suddenly find themselves in danger and need a gas mask. You don't want to be caught unprepared.
What to Look for When Selecting Your Child's Gas Mask
There are several factors to consider when shopping for a child escape respirator. Factors like the manufacturer's reputation, the age of the masks, and the quality can all determine the safety of your child.
Here's our list of some of the most important things to consider when you're making your purchase:
Effectiveness
Your gas mask is nothing more than a weird fashion statement if it's ineffective. When you're shopping for masks, look for a detailed description of what type of protection and filtration they provide.
Age of the mask
Age of stock is an often overlooked aspect when it comes to buying kid sized gas masks.
Because a product like this isn't exactly flying off the shelves, they might sit in warehouses for years before being sent to a customer. The plastics, rubber, and filter components will degrade if they're not stored in a temperate environment.
It's best to ask the company you're ordering from to send you the most recent stock they have available. This will guarantee that the mask arrives functioning and stays that way.
Comfort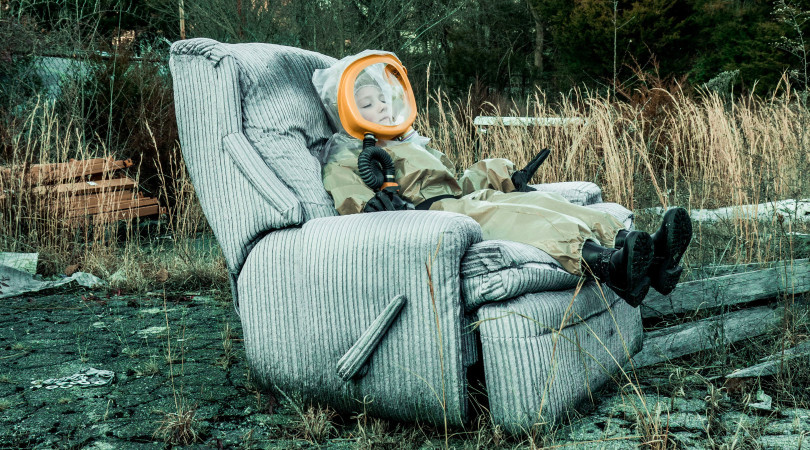 If you have a kid, you know how impossible it is to expect them to wear something uncomfortable. Whichever mask you choose to buy for your child needs to be something they don't mind wearing for an extended period of time.
You never know how long the gas mask will need to be worn, so make sure your kid is comfortable with the mask and can wear it for extended periods.
Fit
None of what we listed above will matter if the mask doesn't fit correctly. A properly fitted gas mask for children needs to fit snugly around their face. When your kid is trying it on, have them run around and watch to make sure the mask doesn't shift.
Advertisement
Continue reading below
CM-3M Child Escape Respirator Review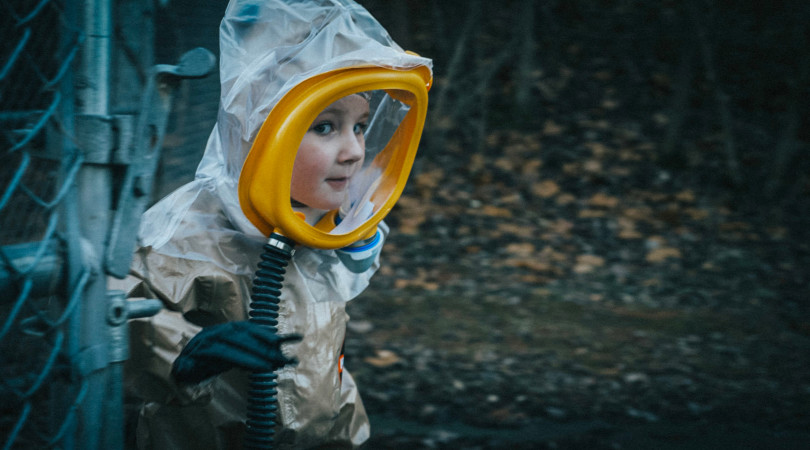 There's a lot to love about this piece of equipment. It's one of the most well-thought-out designs for a children's gas mask we've come across so far. We're going to lay out a full list of the specs and tell you exactly what we liked and where we thought there was room for improvement.
CM-3M Specs
Works for kids aged 2-preteens
Only needs 4 batteries to provide close to 24 hours of continuous use
built-in drinking system
Comes as a complete package including the respirator system, carrier, water bottle, and filter
45 liters/minute airflow
Tear-resistant hood
kid-friendly design
Compact storage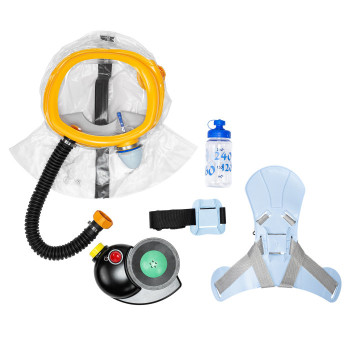 This system fits such a wide age range of kids, which is a huge plus. Once you purchase the CM-3M, you won't have to worry about another mask until they're into their teens.
The airflow on the CM-3M is powered by easy-to-source CR123A batteries. 4 of these batteries are enough to supply around a full day's worth of use. The last thing you want to be worried about is the batteries dying while the mask is in use, so we appreciate that 22-hour run time.
There is no way to overstate the importance of the integrated hydration system. Depending on their age, a kid needs to be drinking between 1-2 liters of fluids a day to stay hydrated.
And you can't have your kid taking off their mask for a sip of water.
The hydration system in this respirator provides them with safe and easy access to water without exposing them to whatever pollutant is in the air.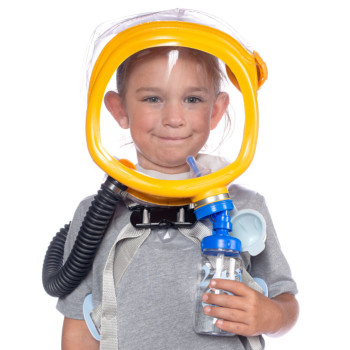 When you purchase the CM-3M, you're getting a complete functional system. All tubing, carriers, filters, everything you need comes with the respirator. You aren't going to have to think about add-ons. We can't tell you how refreshing it is to know that this is a complete product.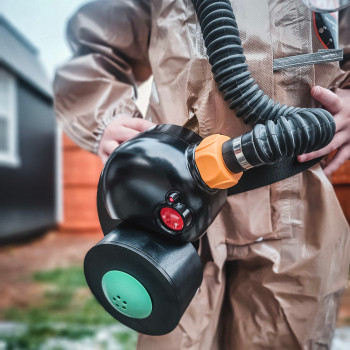 The 45 liters/minute airflow is one of the most impressive aspects of the CM-3M. Kids have smaller lungs, so they'll struggle more than an adult when they have to breathe through a filter.
Since this mask is consistently overpressurized, it makes breathing easy for a kid of any size. The last thing anyone wants to worry about is a hole in their gas mask. Since this system is a complete hood that covers the head, there's a lot of surface area susceptible to tears.
But the material is made out of 4 layers of PVC and nylon to ensure that this thing is virtually tear-proof. We know aesthetics aren't exactly at the top of anyone's mind when it's time to put on a gas mask. But kids aren't always the most rational thinkers.
You'll probably have a hard time getting your kid to wear a big black gas mask out of a horror film. The design of the CM-3M is refreshingly bright and kid-friendly. It looks like fun. The truth is, the design is going to help your kid feel safe when it's time to put the mask on.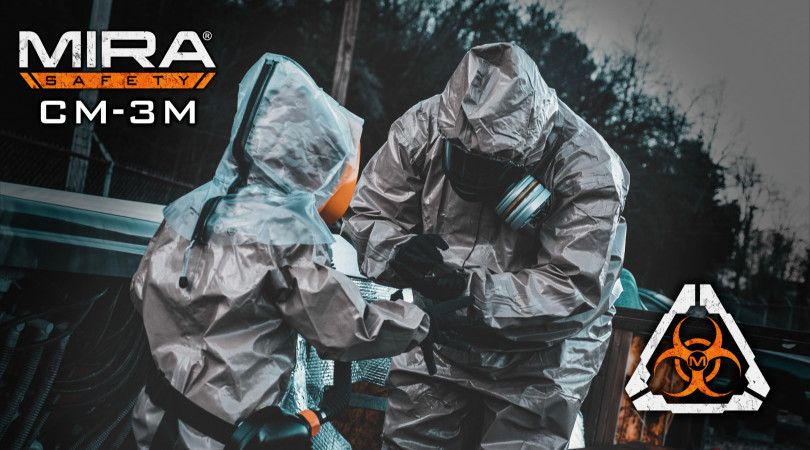 Storing the CM-3M system is made incredibly easy since it comes in a small flexible carrying case. The entire system fits in a backpack or duffel bag.
CM-3M Room For Improvement
We just went through all of the things we loved about this respirator system, so let's touch a little on what we think could be improved.
Price
Water bottle capacity
Moisture in the hood
The price of this system is on the pretty extreme high end when it comes to child-sized survival gear. The only mitigating factor for the high price is how this mask will work for your kid until they're a teen.
The water bottle capacity leaves a little to be desired. It's a great feature, but we'd like to see a system that incorporated a wearable camel-back style water system that won't need to be refilled so frequently.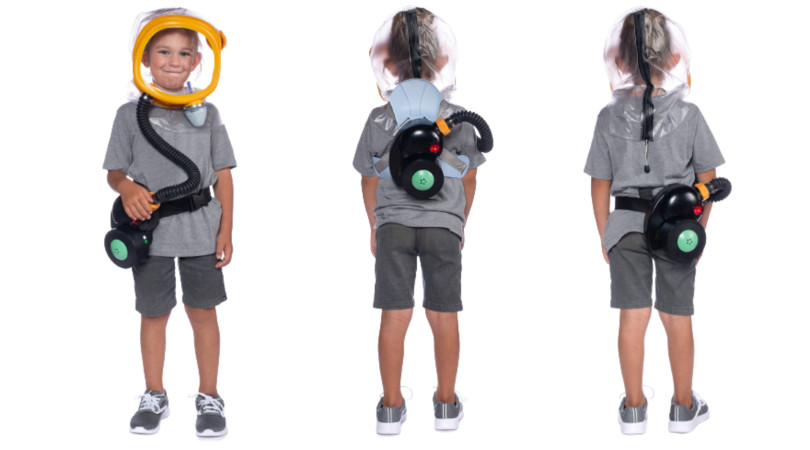 This was our one big frustration with the CM-3M. Because the system is a complete hood that covers the child's head, moisture builds up inside when it's worn for more than a few hours. We can imagine that if it's being worn for an entire day, then there's going to be quite a bit of condensation inside of the hood.
Our list of suggested improvements is a short one, which is a good thing! It's hard to find quality products, and we're confident in saying that the CM-3M child escape respirator truly is a good product.
Advertisement
Continue reading below
Make Sure The Whole Family Is Protected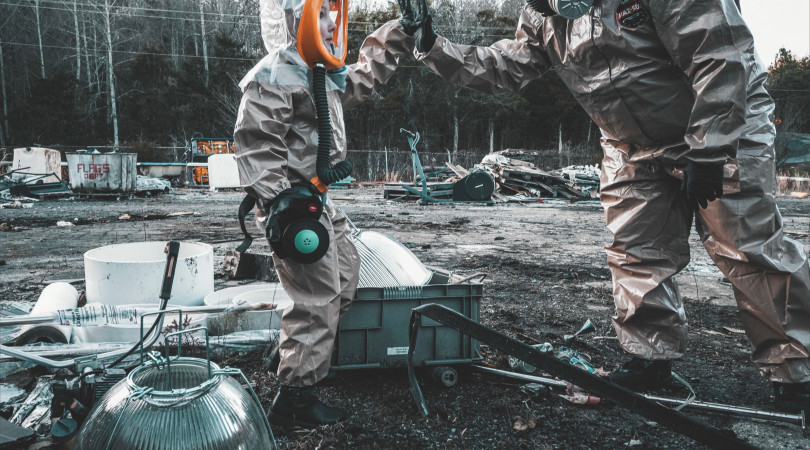 Once you've secured a gas mask suitable for your kids, make sure that the teens and adults in your family have the right equipment as well. There's a larger market for adult-sized respirator systems, and we've reviewed some of the more popular options.
Check out our reviews for the MIRA CM-6M and MIRA CM-7M if you're looking to purchase an adult-sized mask.