At first glance, the name of the battery may lead you to believe that it boasts a luminosity of 1000 lumens. However, that assumption would be incorrect. Despite the name FL1000, this model actually offers a brightness of 1200 lumens. If it had been under 1000, it would have indeed been a disappointment, but fortunately, that's not the case. Now that we've clarified the naming, let's dive into the review.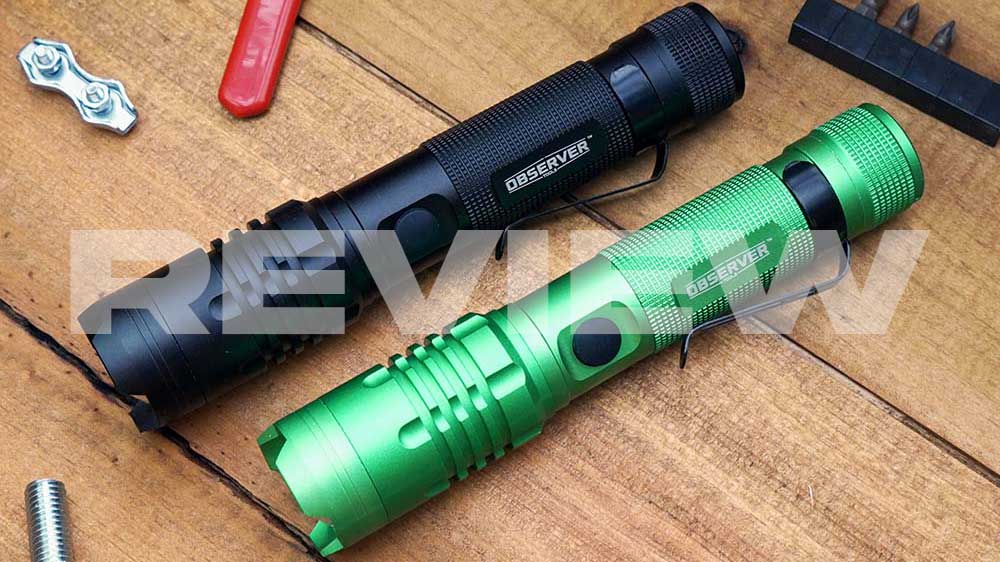 Upon initial observation, the Observer FL1000 tactical flashlight captivates with its elongated design. This lengthiness isn't merely aesthetic but is a product of the device's numerous features packed within, such as its zoom function and integrated USB-C charging and power bank capabilities.
This high-quality LED tactical flashlight is a product of Observer Tools, a reputable tool company based in Baltimore, Maryland.
In terms of build quality, the Observer FL1000 offers what most flashlight enthusiasts anticipate. A prime example of this is the deep cooling fins at the flashlight's head, a clever design element considering the device's high power draw of nearly 5 amps on its highest setting.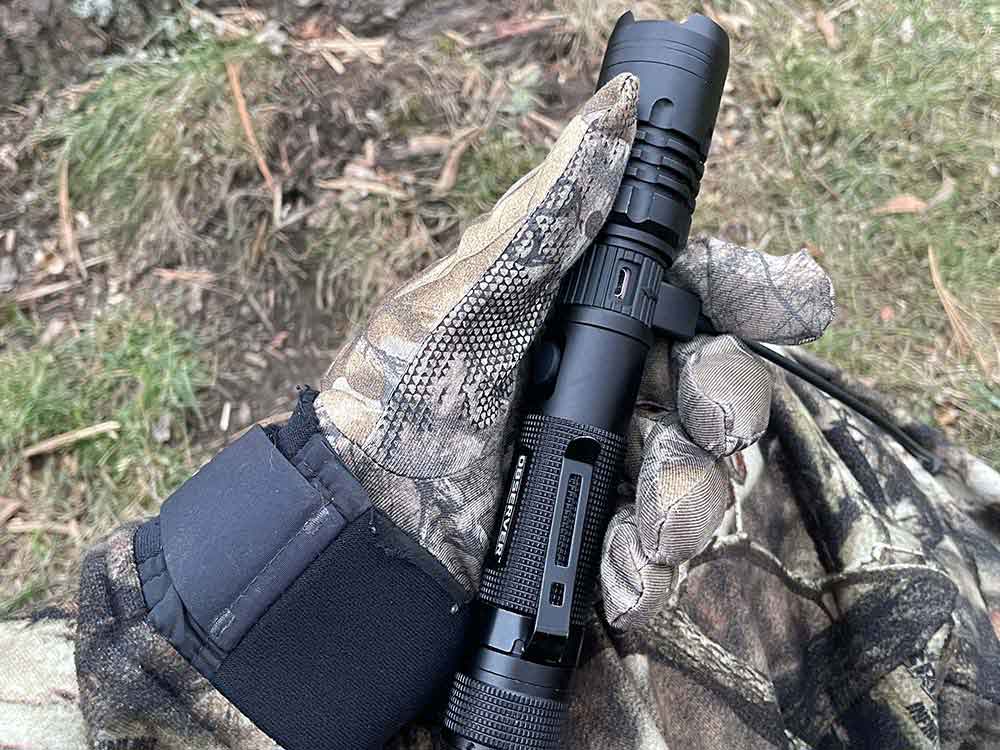 What's Included?
Within the box, the package includes the flashlight itself, an unbranded 18650 lithium-ion battery, a 3-in-1 charging cord, and a AAA battery holder/adapter. The flashlight is equipped with a robust clip and an end magnet, alongside an on-off switch and, naturally, the light source. The charging port, cleverly located inside, is easily accessible via a twist of the end cap. Additionally, a USB port is incorporated, enabling the flashlight to serve as a backup battery for charging your phone or other small electronic devices that utilize an Apple micro USB or USB-C.

Included in the package is also a card outlining the warranty details, providing lifetime coverage for craftsmanship. In a commendable move towards environmental responsibility, Observer Tools has transitioned their manuals online to reduce paper usage. This modern touch adds a further dimension to the user-friendly nature of the product.
Features and Performance
SPECIFICATIONS
OBS-FL1 / FL1000-G / FL1000-O / FL1000-B

Material
Aluminum Alloy
LED Type
XHP50
Luminosity (Lumen)
1200 (High)
500 (Low)
60 (Ultra-Low)
Beam Distance
886 ft
Battery Type
1 x 18650 Lithium-Ion, 3.7V 2200mAH
Runtime
4h (High)
8h (Low)
72h (Ultra-Low)
Charge Time
3.5 hours
Power Bank Output
5V, 1A
Weight
7.4 oz
Diameter
Head: 1.34 in
Base: 1.18 in
Length
6.85 in
Storage/Operating Temperature
+15°F to +120°F
IP Rating
IP65
Magnet
1
Power and Runtime
Powered by a Lithium-Ion battery (18650, 3.7V 2200mAh), the Observer Tools 1200 Lumen Tactical Flashlight offers a more economical solution compared to disposable batteries. It provides impressive runtimes with 4 hours on High, 8 hours on Low, and a remarkable 72 hours on Ultra-Low settings. This makes it an ideal companion for power outages and emergencies, charging conveniently with the 3-in-1 USB charging cord provided.
A distinct feature of this flashlight is its power bank capability. This allows the flashlight to serve as an external battery, charging various everyday devices. The charging cord is equipped with Apple Lightning, micro-USB, and USB Type-C connectors, catering to a wide array of charging requirements.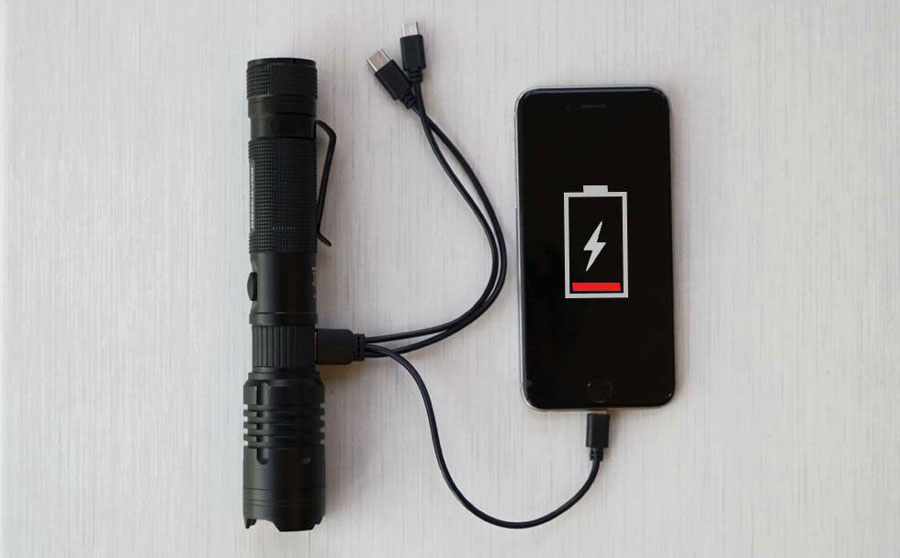 Enhancing its versatility, the flashlight includes a AAA battery holder, serving as a useful backup power source. This ability to alternate between power sources guarantees that you'll never be caught unprepared in the dark.
Brightness and Zoom
Boasting a brightness capacity that reaches up to 1200 lumens on High (with 500 lumens on Low, and 60 lumens on Ultra-Low), the Observer Tools FL1000 Tactical Flashlight offers robust and far-reaching illumination, extending a beam distance up to 270 meters. Further enhancing its adaptability, the flashlight comes with a zoom capability, allowing for easy refinement of the beam's width to cater to a variety of situations and individual user preferences.
Design and Construction
The Observer Tools 1200 Lumen Tactical Flashlight manifests thoughtful design, incorporating practical features such as a robust integrated magnet for hands-free use and a sturdy clip for attachment to clothing. With its durable, water-resistant aluminum casing, it is built to endure challenging conditions, holding an IP65 rating for dust and water resistance.
Despite its substantial size, the flashlight maintains a relatively lightweight profile at 7.4 ounces and measures 6.85 inches in length. Even with its length, the flashlight's powerful magnet ensures steady and secure positioning in any orientation.
Pricing
The Observer Tools FL1000 tactical flashlight is available for purchase directly from the official site. Through our exclusive link provided below, you can secure one for just $59.99. There are three color options to choose from – black, green, and blue.
There are also enticing bulk purchase options:
Buy 2, get 1 FREE for $119.98
Buy 3, get 2 FREE for $179.97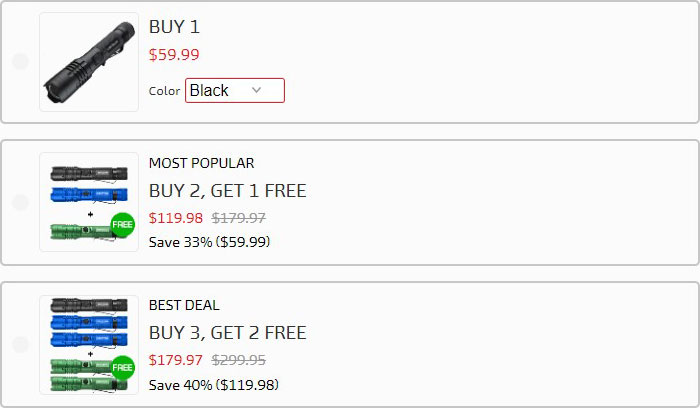 By opting for these bulk options, you also benefit from free shipping. Upon order placement, it takes them 1-2 business days to process the order and an additional 3-7 business days for the package to arrive at your doorstep.
In case you are not entirely satisfied with the flashlight, a return option is available within 30 days of receipt. However, to qualify for a return, the package and its contents must retain the same condition as when initially received.
The Verdict
In summary, this light is nothing short of fantastic.
It's ideally suited for use in a vehicle due to its versatile charging capabilities, allowing you to power it with a phone charger. Moreover, in emergency scenarios like a dead car battery, you could use this flashlight to charge your phone sufficiently to make a crucial call.
At the time of this review, the flashlight is priced at $59.99.
To conclude, the Observer Tools 1200 Lumen Tactical Flashlight, with its wide array of features and flexibility, certainly delivers in multiple aspects. It's a worthy investment, particularly given the lifetime craftsmanship warranty, offering not only a high-quality tool but also peace of mind.
---
Nerko is a writer for Zoopy, and he's been working there since 2019. He loves to ride his motorcycle and bicycle, especially in the summertime! He also enjoys watching science fiction movies, and his favorite movie is Interstellar. Nerko is also a competitive gamer - so if you're looking for a good competition, he's your man!
---