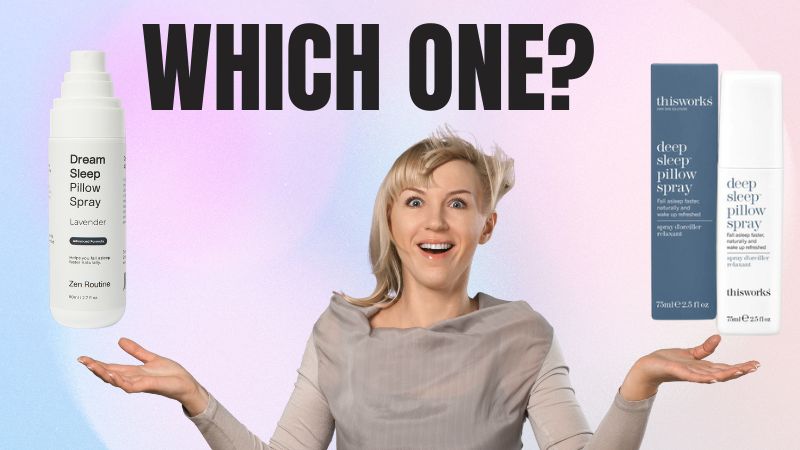 In recent times, a range of novel products has emerged in the market, aimed at enhancing the speed of falling asleep. Among these offerings, Zen Routine and Deep Sleep stand out as notable contenders. In this comprehensive analysis, we will delve into the features and attributes of both these products, facilitating a thorough comparison to determine the superior choice.
According to a survey conducted by SleepFoundation, a significant 54.4% of participants attributed their difficulty in falling asleep to heightened stress and anxiety levels. Evidently, these two factors are prominent culprits in disrupting our rest. It is here that the potential benefits of Zen Routine and Deep Sleep come into play, both touted for their relaxing effects that aim to induce relaxation, thereby, expediting the process of falling asleep and ensuring a rejuvenating night's sleep.
The Final Verdict: Zen Routine vs. Deep Sleep
In the burgeoning realm of sleep-enhancing pillow sprays, both Zen Routine and Deep Sleep have carved a niche for themselves. Zen Routine, priced at a discounted $24.99 for an 80ml bottle, offers an enticing deal with its 'buy 2 get 1 free' package, while Deep Sleep's price for a 75ml bottle is $30. Both come with a 30-day return policy, assuring customers of their quality.
Zen Routine Sleep Pillow Spray champions its attributes with a patented blend of 20 natural extracts, including renowned ingredients like French lavender, Chamomile, and Vetiver oils.
Its natural fragrances, stringent stand against harsh chemicals, and commendable result of enhancing sleep quality by a staggering 98% are significant highlights. The USA-made claim, sourcing ingredients from French fields, accentuates its global appeal.
Deep Sleep Pillow Spray, on the other hand, while undeniably potent, doesn't distinctly mark its USP when compared to Zen Routine. Even though it has undergone scientific scrutiny and clinical trials, proving its effectiveness, its user feedback doesn't always echo this efficacy. Moreover, the absence of information on some specifics, like its shelf life, may leave some customers wanting.
Drawing the curtains to this comparison, Zen Routine, with its detailed transparency, extensive natural ingredients, exceptional efficacy, and more competitive price point, emerges as the more holistic choice. Although Deep Sleep Pillow Spray is a formidable contender, Zen Routine not only offers more value for money but also promises a well-rounded experience. It, therefore, stands as the more compelling and enriched choice between the two.
Zen Routine vs. Deep Sleep Comparison Table
Product

Editor's choice

Zen Routine

Deep Sleep Pillow Spray
Where to buy
Official website
Official website
Price (for single bottle)
$24.99 (80ml)
$30 (75ml)
Value Offers
Discounted price, 'buy 2 get 1 free' deal, assurance of authenticity through official website
30-day money-back guarantee
Main Ingredients
French lavender, Chamomile, Vetiver oils (part of a blend of 20 natural extracts)
Chamomile Oil, Lavender Oil, Vetivert Oil
Chemical Stance
No phthalates, sulfates, synthetic colors/fragrances, parabens, GMOs, mineral oils, petrolatum, propylene glycol
Not specified, but seems to favor natural ingredients
Patented
Yes

n/a
Manufactured
Made in the USA with lavender and other ingredients plucked directly from the fields of France.
n/a
Application Method
Spray onto pillow and bed linens
Mist over pillow before bedtime
Safety
Natural, assessed by an independent toxicologist for safety during pregnancy, safe for all ages.
It should be kept out of the reach of children and should not be sprayed on pet bedding.
Safe for all ages, including a special formulation for infants 6 months and above. It should be kept out of the reach of children and should not be sprayed on pet bedding.
Effectiveness
Potentially induces sleep in as little as 10 minutes
Users have reported a range from 10 to 20 minutes for sleep onset
Longevity of Product
2-3 sprays daily lasts for two months, shelf life of approximately 2 years.
2-3 sprays daily for around two months, shelf life not specified.
Money Back Guarantee
30-day
30-day
Learn more
Zen Routine Review
What Ingredients They Use
Zen Routine sets itself apart by adhering to a stringent dedication to utilizing exclusively natural ingredients. This commitment includes a deliberate avoidance of harsh chemicals such as phthalates, sulfates, synthetic colors and fragrances, parabens, GMOs, mineral oils, petrolatum, and propylene glycol. Instead, Zen Routine's formulations are meticulously crafted to incorporate only natural fragrances and pure essential oils, aligning with their commitment to providing a wholesome and authentic experience.
Both Zen Routine and Deep Sleep pillow sprays share a common trio of principal ingredients: Chamomile Oil, Lavender Oil, and Vetivert Oil. These foundational components are recognized for their calming properties, known to facilitate relaxation and hasten the onset of sleep.
Comparably, when considering the blend of secondary fragrances, both products align, as revealed by their shared mixture, encompassing elements such as Linalool, Linalyl Acetate, Vetiverols, Ocimene, Caryophyllene, Terpentine-4-ol, beta-Pinene, d-Limonene, 1-Octen-3-yl acetate, and Geraniol.
One notable distinction arises: the Zen Routine pillow spray boasts a patented formulation, a testament to its unique composition and design. Furthermore, Zen Routine prides itself on being crafted in the USA, drawing on the finest aromatic lavender and other components sourced directly from the fields of France.
A shared attribute of both products lies in their commitment to natural and cruelty-free production. It's imperative to note that Zen Routine's appeal extends beyond this, as it boldly stands as a shield against harsh chemicals, providing an added layer of reassurance for those mindful of the substances they interact with.
The Scientific Basis Behind Zen Routine and Deep Sleep
Zen Routine's formulation is rooted in an innovative patent that underwent rigorous clinical testing.
In a recent comprehensive study encompassing more than 750 participants, Zen Routine showcased a remarkable 98% enhancement in sleep quality.
Scientific research has conclusively indicated that the constituents present in Zen Routine play a pivotal role in interacting with the limbic system, a critical segment of the brain responsible for regulating stress levels. The innate formula of Zen Routine effectively calms the limbic system, paving the way for profound, revitalizing sleep that the body craves.
The inaugural functional fragrance introduced by Deep Sleep has garnered scrutiny from neuroscientists and undergone an array of clinical trials, including fMRI brain imaging. These examinations have underscored its potential to predispose individuals toward a restful slumber. Furthermore, Deep Sleep has been subjected to four distinct independent-user studies, encompassing a staggering 600 participants. The consensus from these studies is unanimous: the deep sleep pillow spray significantly expedites the process of falling asleep.
Application of Zen Routine and Deep Sleep
Both Zen Routine and Deep Sleep offer effortless utilization methods, making them seamlessly integrated into your nightly routine. For Zen Routine, the process is straightforward – a simple spritz onto your pillow and bed linens sets the stage for a night of serene slumber. Upon reclining onto your bed, a few deliberate inhalations suffuse your surroundings with the soothing natural fragrances, commencing their tranquilizing effects.
Zen Routine's all-natural composition renders it an excellent sleep aid suitable for individuals spanning all age groups. It is paramount to exercise caution and store the spray out of children's reach to prevent inadvertent ingestion.
Deep Sleep follows a parallel approach. Apply this spray before bedtime to expedite the journey into slumber. A fine mist evenly distributed over your pillow fosters a conducive environment for swift sleep onset. Notably, Deep Sleep extends its benefits even to the littlest ones, offering a specialized baby sleep spray with a gentler formulation tailored to the delicate skin of infants aged 6 months and above. Meanwhile, children aged 3 and older can seamlessly integrate the regular Deep Sleep pillow spray into their sleep routines.
While both products are deemed safe for use around pets, it is prudent to recognize that they have not undergone veterinary development or evaluation. Although accidental contact is unlikely to pose issues, it is advisable to refrain from directly spraying the products onto pet bedding.
Effectiveness – Which Acts Faster?
When it comes to the speed at which these products take effect, the primary determinant lies in the individual characteristics of each user.
Zen Routine showcases its potential by potentially lulling you into slumber in as little as 10 minutes. On the other hand, Deep Sleep does not explicitly provide a specified time frame for inducing sleep.
However, feedback from customers reveals that some have reported falling asleep within the range of 10 to 15 minutes, with others requiring around 20 minutes. Based on these accounts, it can be inferred that both sprays boast rapid efficacy in their ability to facilitate swift sleep onset.
How Long They Last
Zen Routine provides clear guidelines regarding its longevity. With the application of two to three sprays on a daily basis, a single bottle is anticipated to last for a duration of two months. Notably, each bottle is endowed with a shelf life of approximately 2 years, ensuring ample time for utilization.
Parallel to Zen Routine, the efficacy of Deep Sleep spray aligns in terms of usage duration. Similarly, applying two to three sprays daily is expected to yield a comparable timeframe of usage. Although the specific shelf life for Deep Sleep is not explicitly stated, the regimen mirrors that of Zen Routine, ensuring a consistent experience for users. A particular customer expressed a fondness for the fragrance, yet articulated a desire for its endurance to be extended. The scent, although appreciated, appears to dissipate rapidly, leaving no trace even by the following day.
Safety and Precautions
Prioritizing safety, Zen Routine stands as a natural solution, rendering it suitable for daily use in the pursuit of enhanced sleep quality. Both Zen Routine and Deep Sleep extend their safety assurance to pregnancy, ensuring that their sleep spray formulations can be employed without concern.
To reiterate, Zen Routine's safety profile encompasses users of all ages. In the case of Deep Sleep, separate formulations cater to specific age groups, reaffirming their dedication to safety. However, a word of caution resonates: while these sprays are deemed safe for use around pets, it is advisable to avoid direct application onto pet bedding, minimizing potential contact concerns.
Which Offers Better Value for Money
In terms of securing optimal value for your investment, the current market offerings of Zen Routine and Deep Sleep warrant exploration.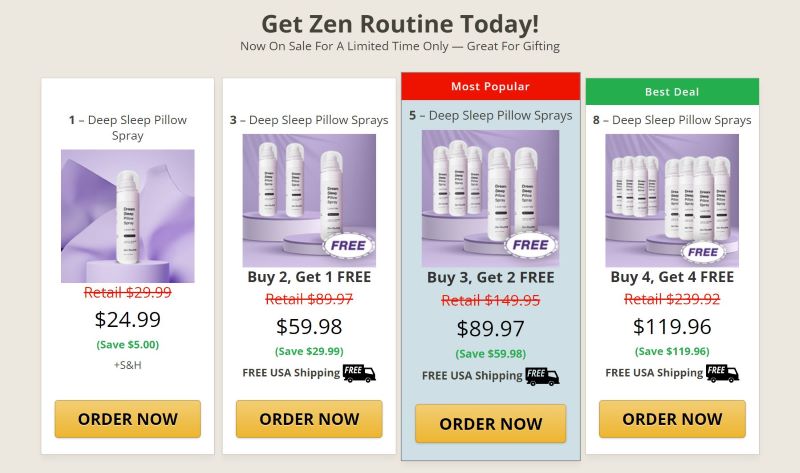 Presently, Zen Routine presents a compelling proposition. With a discounted price of $24.99 for an 80ml bottle, its affordability is accentuated. Additionally, the prospect of acquiring three bottles for the price of two enhances the value proposition. Notably, Zen Routine's exclusivity to the official website ensures a guarantee of quality and authenticity. The added assurance of a 30-day money-back guarantee further underscores the manufacturer's confidence in their product.
As for Deep Sleep, the pricing for a 75ml bottle stands at $30. In line with their dedication to customer satisfaction, Deep Sleep also includes a 30-day money-back guarantee, underscoring their commitment to ensuring a contented user experience.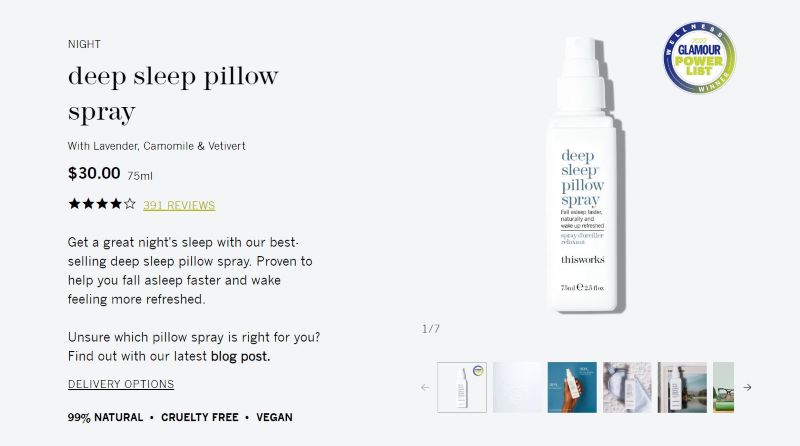 When evaluating value for money, it's evident that Zen Routine currently holds an advantageous edge in terms of both pricing and bundled offerings. The availability of a discounted rate, the option for a 'buy 2 get 1 free' deal, and the assurance of authenticity through the official website contribute to a compelling value proposition.
---
Abdo is a Zoopy writer who loves spending his free time outdoors, camping, and enjoying the peace that nature brings. He also enjoys fixing things - he's particularly good with electronics. His favorite movie is I Am Legend, and he's fascinated by survival gear and safety.
---