The convenience of having clean, safe drinking water at your fingertips is a lifesaver. The problem with tap water from your home is that you can never be too sure about it until you test it for quality.
When the water leaves a tap, it should be clean and available for drinking, but that is not always the case. The water you drink may be contaminated with lead. The pipes and service lines that carry water to your house are usually made of lead, which can get into our drinking supply and contaminate it. There are also places where it is advised not to drink the water for safety standards.

Luckily, there is an affordable and portable solution: a water purifying bottle.
You can fill them up from any source and let their purifying system do all the work to make it safe for you to drink while still being portable to carry.
Choosing your bottle is important otherwise, you may end up with one that leaks or have an unpleasant plastic aftertaste.
The environmental and economic benefits of reusable water bottles are undeniable. Also, you can find a good filtered water bottle for under $40, with some premium ones being much pricier. You may even find yourself drinking more clean water than usual.
The Difference Between Filtered and Purified Water
The difference between filtering and purifying water might be confusing for some, but it's important to know the difference. Side-by-side filter and purifier bottles look and function the same. So what is the difference, and how to know which one to pick?
Water bottles with filters are great for catching larger items, like silt and protozoan cysts, Salmonella, Escherichia coli, etc.
Water bottles with purifiers are a must-have for anyone who wants to stay healthy and safe from contamination. Using a UV-C light, they can catch or kill 99.99% of smaller contaminants like viruses, bacteria, fungi, microbes, etc. So, to summarize, a purifier is designed to catch or kill what your filter can't.
Which Material To Choose For A Water Bottle?
Here is a list of the most common choices:
Plastic
Almost all filtered drinking bottles will be made from BPA-free plastic. However, because plastic doesn't have good insulation, the water won't be refreshingly cool to drink. Also, these plastic bottles always have some kind of odor that is hard to get rid of, and companies also use the filter to solve this problem.
Stainless Steel
Stainless steel filtering water bottles are strong with a premium feeling and design, and not to mention they are good at keeping your water cold for up to 24h. Also, there is a less bad smell, and they are easy to clean and maintain.
Glass
Drinking water from glass is the best way to refresh yourself. But as you've probably realized, glass is easy to break, and with that, you lose portability.
1) UVBrite: Self-Cleaning Water Bottle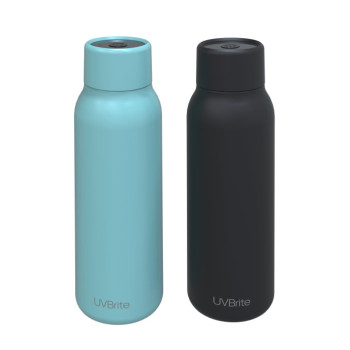 UVBrite is a self-cleaning "smart bottle" that uses UV-C light to kill up to 99% of bacteria, viruses, and fungi. Besides that, UVBrite is made from stainless steel, and it can keep hot and cold beverages at a temperature for upwards of 12 hours.
UV light emitted from UVBrite has a higher intensity than what's naturally produced by sunlight, eliminating bacteria and viruses.
To use UVBrite, fill the bottle with water, put back the bottle lid on, and press the button to activate ultraviolet light. The purifier will make water safe in just 180 seconds. According to UVBrite, it can eliminate up to 99.99% of harmful germs in your water.
The self-cleaning capability ensures that your water bottle never gets nasty. For example, when you use UVBrite to purify water, it also purifies the bottle simultaneously.
The bottle uses a rechargeable battery. The system will last for several weeks and purify up to 60 full bottles with a single charge.
The UVBrite's UV-C LED light is rated to last for 10,000 hours, translating into over 29 thousand gallons of purifying power, which is impressive for a water bottle.
2) LifeStraw Go
You probably know LifeStraw, which most people use for hiking and outdoor activities. LifeStraw is now even more convenient and easy to use than ever before with LifeStraw Go purifying water bottles.
LifeStraw Go is a great option for short hikes near water sources. You can easily fill up a bottle anywhere on the go and have instantly clean water.
LifeStraw Go is a protection system for your water that will keep you safe from lead, bacteria, and parasites. In addition, the manufacturer claims it reduces chlorine taste to make the drinking experience better.
The built-in filter reduces chlorine and bad taste, thanks to its hollow fiber membrane & integrated activated carbon capsule.
We only heard one complaint, and it is about how difficult it is to drink water through a straw because the filtering system is attached to the straw directly. This bottle has less water volume than other bottles because of the big straw and integrated filtration system.
3) Brita Stainless Steel Bottle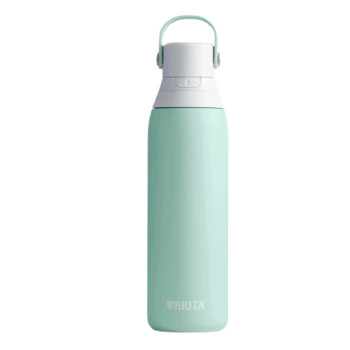 Brita stainless steel water bottles are perfect for staying hydrated, especially on the go. They're made without BPA and can keep your drink cold for up to 24 hours.
It's perfect for anyone who constantly finds themselves away from their home water source. This portable filtration system allows you to take clean drinking water anywhere with ease, whether from public restrooms or city fountains.
The Brita bottle has a built-in activated carbon filter designed to remove chlorine and other contaminants while preserving certain healthy minerals. In addition, the unique housing of this product is made without BPA so that you won't have the bad taste of water from the bottle.
The filter can last for about two months before needing replacement. You will use six filters in one year and spend just under $20 on water bottle replacements.
The downside of Brita filtering bottles is cleaning. Mold can grow easily if not washed properly and can lead to a bad odor of straw, and cleaning the straw without a straw cleaner can be tricky.
4) Astrea One
Astrea One is also one of the premium water filtering bottles, and it is made of stainless steel to keep your water cold.
The Astrea One filtered water bottle is a great choice for avoiding lead, benzene, and other harmful chemicals in the water. Unfortunately, the website doesn't say anything about using the filter with water filled with bacteria, so we don't advise you to use it for this application.
It also filters out chlorine and zinc to make water taste great. Also, Astrea One is certified to reduce over 20 contaminants like pesticides, pharmaceuticals, and lead. This water bottle is designed to last for a long time because it's made from a stainless steel body and a BPA-free plastic lid.
We learned that Astrea One is great for filtering heavy metals, but behind that filtration stands a huge filter that takes up most of the bottle space, and it can last up to 3 months.
Although the filter is large, you can completely remove it for thorough cleaning of the bottle. The bottle opening is wide enough to fit a standard dish scrubber inside the lid, and it doesn't require additional cleaning tools.
Astrea also offers a subscription service, so you never have to worry about replacing your filter. The cost of the filter is $12 and should be replaced every two months if used regularly.
Astrea One water bottle is ideal for those at work and who have bad tap water at home. The downside of Astrea One filtering water bottles is that it can't filter bacteria.
Advertisement
Continue reading below
5) Grayl GeoPress Purifier Bottle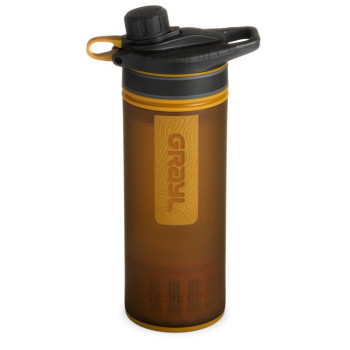 Grayl's filtering water bottles are some of the best around. The Grayl bottle is a clever and effective way to get clean water on the go. Fill water in the outer sleeve, and push down hard until you hear or feel some resistance from inside filters, which will stop filtering once you get to the bottom of the bottle.
Its advanced water filter can protect you against anything that could be found in a stagnant puddle or worse.
It removes:
Viruses 99.99% (Rotavirus, Norovirus, Hepatitis A)
Bacteria 99.99% (E. Coli, Salmonella, Dysentery)
Protozoa 99.99% (Giardia, Cryptosporidium, Amoebae)
It filters:
Particulates (microplastics, sediment, silt)
Chemicals (Chlorine, Benzene, Chloroform)
Heavy Metals (Lead, Arsenic, Chromium)
The Grayl Geopress is a perfect balance of size and portability. This water bottle has 24 fl oz (710 ml) but is still compact enough to fit into your backpack or hang off a carabiner.
The price of a bottle is on the higher end. Still, the price is justified for some with its high-quality performance and durability. In addition, the GeoPress Purifier Cartridge comes with a ten-year warranty, which guarantees you're getting your money's worth.
Grayl Geopress is made from heavy-duty BPA-free plastic material durable enough to withstand even physical tests. With a capacity to filter 750mL in under 20 seconds, this product stands out as one of the fastest and easiest water purification systems.
When your water cooler needs to be replaced, make sure to replace it with a GeoPress Cartridge. The lifespan of these cartridges is 350 cycles (250 liters / 65 gallons).
If you need a filter that can handle any conditions, this one is your best bet. It removes contaminants from water, including heavy metals and microplastics, and chemicals or biotic organisms, making it perfect for anywhere without worrying about harming yourself with harmful toxins like many other filters lack.
Final Words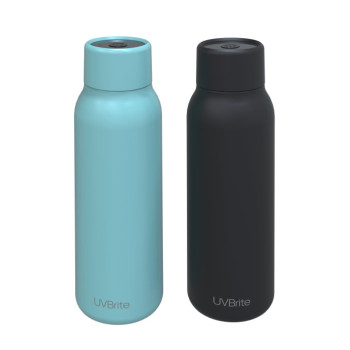 So, after looking at all the different filtering bottles on the market, we have concluded that UVBrite is the best option for both home and work. Its stainless steel body and ability to keep beverages hot or cold for up to 12 hours make it a great choice for anyone looking for an affordable and durable water purifying solution. Plus, UV-C light technology can kill up to 99.99% of bacteria, viruses, fungi, protozoa & microbes in your water, making it a safer choice for you and your family.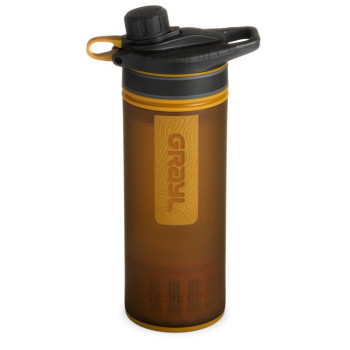 If you are looking for a great outdoor filtering bottle that offers more protection than the UVBrite, we recommend the Grayl GeoPress Purifier. It offers more protection against a wider variety of pollutants and contaminants than any other bottle on the market, making it ideal for world travelers or anyone living in a country with questionable water quality. This is our top recommendation if you travel or live in a place with dubious tap water or heavy pollutants in the streams and rivers.