FitTrack vs. RENPHO Comparison for 2022
Smart Body Composition
Wi-Fi Digital Scale

10.2 x 10.2 x 0.6 inches; 3.1 Pounds

11 x 1 x 11 inches; 1.4kg

Hydration Levels
Visceral Fat
17 different health indicators

Pulse Wave Velocity,
temperature,
standing heart rate

FitTrack has +/-3% accuracy,
and it syncs with
your favorite apps and wearables.

Accurate weight
measurement to 100 g

FREE USA Shipping
Free shipping excludes Middle East,
Africa and Caribbean countries.
For a long time, I was very insecure about my weight, and if you have been through a similar experience, you know how exhausting it can be. I took up exercise and a better diet regime intending to keep my weight and fitness in check. It did not take me a lot of time to realize that my traditional bathroom scale was not helping that much when it came to getting my body composition measurements. When doing my online research, I learned about an amazing device known as the smart scale.
According to research, fat loss alone cannot be used to track one's fitness level. This is why smart scales are designed to offer more detailed body composition measurements.
Here you can find our In-Depth Fit Track Review
Things to Consider Before Buying a Smart Scale
When trying to lose weight, it can be very frustrating when you put in so much effort into the process and see no changes on the scale. However, a smart scale will give you multiple stats rather than just a single number. A Smart scale will keep you motivated during the whole process.
A smart scale can be very resourceful to your fitness journey by giving you important body composition stats to keep you motivated. Smart scales employ the use of bio-electrical impedance. This involves sending a safe electrical current through your body. Smart Scales available today have a range of connectivity options, including Bluetooth or Wi-Fi, to automatically send your body stats directly to your phone or the cloud. This information can be accessed on your smartphone or computer at your convenience.
When choosing the right smart scale, you should identify the metrics you really care about. Many people will be interested in BMI, weight, and body fat. However, others are interested in more data, such as muscle mass, hydration levels, and body mass. So it is quite vital to pick one that offers you all the data you will require. Most smart scales will accommodate anywhere between 300 to 400 pounds, so make sure your current weight doesn't surpass the weight limit.
Most smart scales allow multiple users, and some will recognize the person standing on it automatically. The number of supported user-profiles supported by most smart scales range from 8 to 16, which is more than ample for the whole family.
Consumer-grade scales will often come with a slight margin of error, so it is quite important to find one that represents close to your actual body measurements. Bioelectrical impedance can fluctuate based on a number of factors, including hydration.
It is also quite important to find an elegantly designed scale that will enhance your bathroom's aesthetics. If you get an ugly scale, the chances are that you will stash it in a dark closet or bathroom cabinets, and if you don't see your scale, you are not likely to use it.
If it is your first time getting a smart scale, it is highly recommendable to get a cheaper model and upgrade if you need more features.
Advertisement
CONTINUE READING BELOW

What is FitTrack
FitTrack is a smart scale that not only measures weight but an additional 17 body measurements. The smart scale pairs with an app on your phone via Bluetooth and a rather straightforward set up to keep track of your stats.
FitTrack provides a health report with weight, Hydration level, bone mass, protein rate, metabolic age, muscle mass, subcutaneous fat, visceral fat index, weight control, base metabolic rate, weight without fat, and body mass index.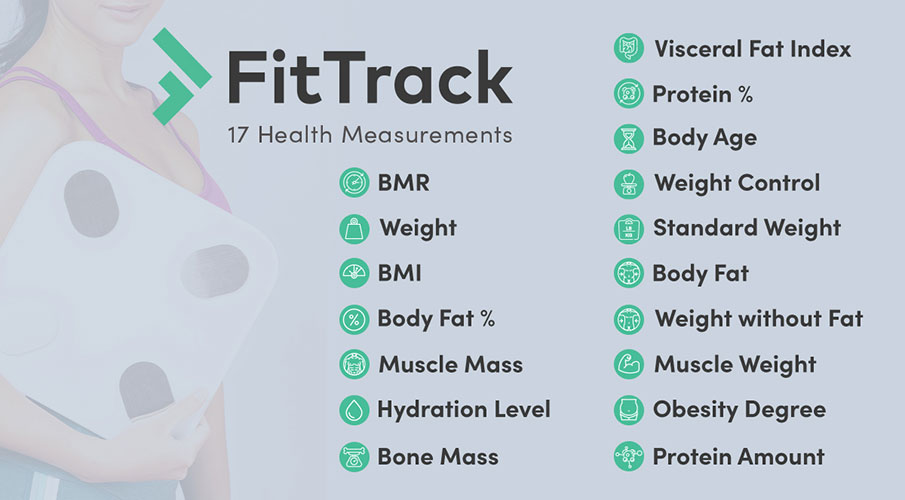 How does FitTrack work
The FitTrack scale measures your body's stats and then syncs this information with your smartphone via Bluetooth. The scale measures this data with absolute precision, allowing you to keep track of your weight loss journey.
Whenever you stand on the scale, it sends electrical signals through your body. These signals pass very quickly through the water and meet resistance when going through body fat tissue. The resistance is measured and used to calculate your body composition measurements.
How to use FitTrack
Once you purchase the FitTrack smart scale, you will have to download the FitTrack app and set it up on your smartphone. Open the app and have the phone on the scale's Bluetooth range. Once they are paired, you are good to go. The scale and app will automatically measure your body composition measurements and share them to your smartphone automatically. The process is automatic and only takes a few seconds, which is very impressive.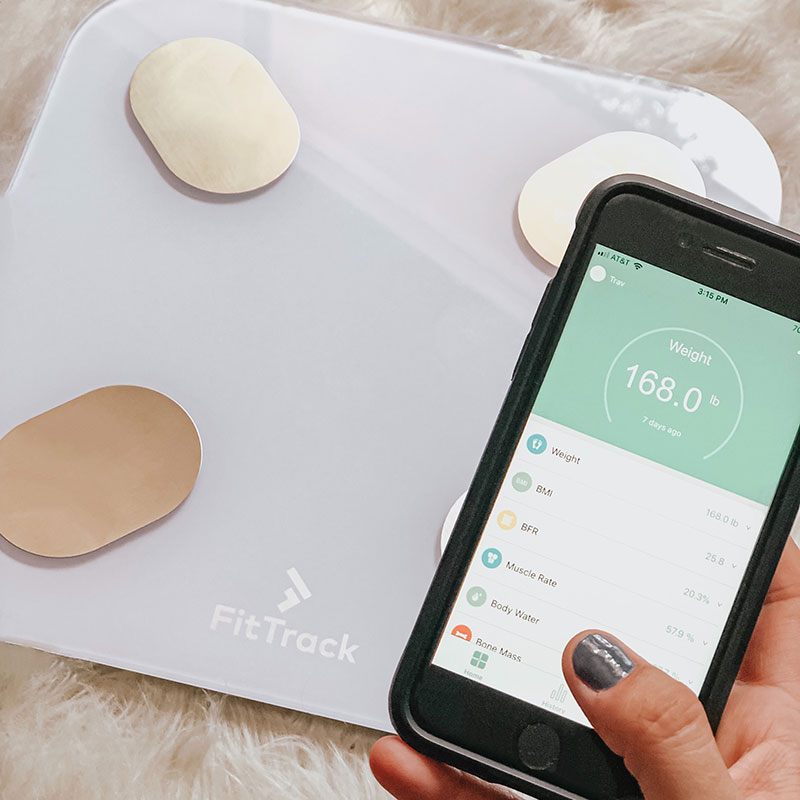 Where to buy FitTrack?
The smart scale is available on FitTracks online store, Amazon, and a selection of other fitness stores.
What is RENPHO?
RENPHO is one of the most accurate body fat scales available on the market today. This smart bathroom scale calculates 13 body composition measurements, including BMI, body weight, basal metabolism, body fat percentage, fat-free body weight, skeletal muscle, bone mass, protein, water percentage, and muscle mass.
The smart scale provides accurate measurements and an ability to track this information without any hassle. The sleekly designed bathroom scale is both lightweight and durable, which means you will probably have it for a long time.
The RENPHO app allows you access to additional features, including nutrition information.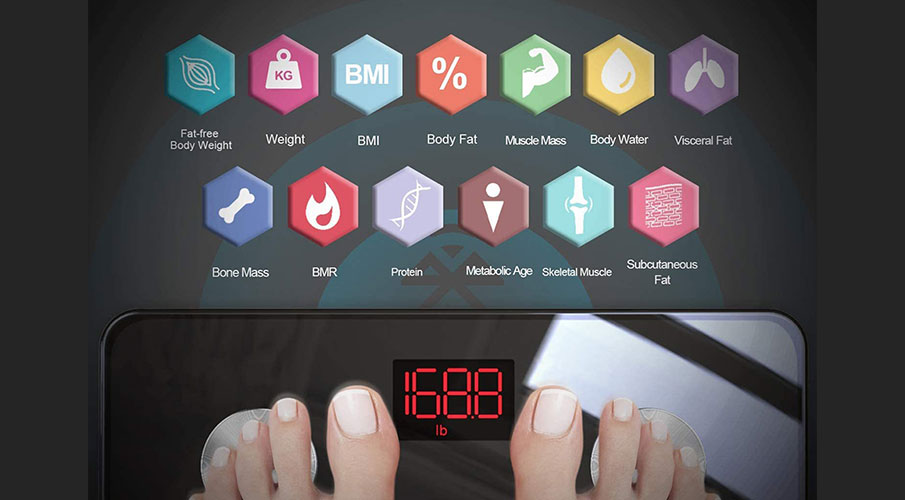 How does Renpho work
The RENPHO smart scale connects to your smartphone through the RENPHO app, which is available for free download. The scale cans also connect to a range of other third-party fitness apps, such as FitBit, Google Fit, and Apple Fit. The app is available for both iOS and Android devices.
How to use RENPHO
Once you purchase the scale, you will need to download the free RENPHO app on your phone. Install the app and start it up, ensure that the phone is within the scales Bluetooth range. When paired, the scale will automatically send all your body composition measures to your smartphone.
The RENPHO app is quite user-friendly, easy to set up, and use. The app is also available in German.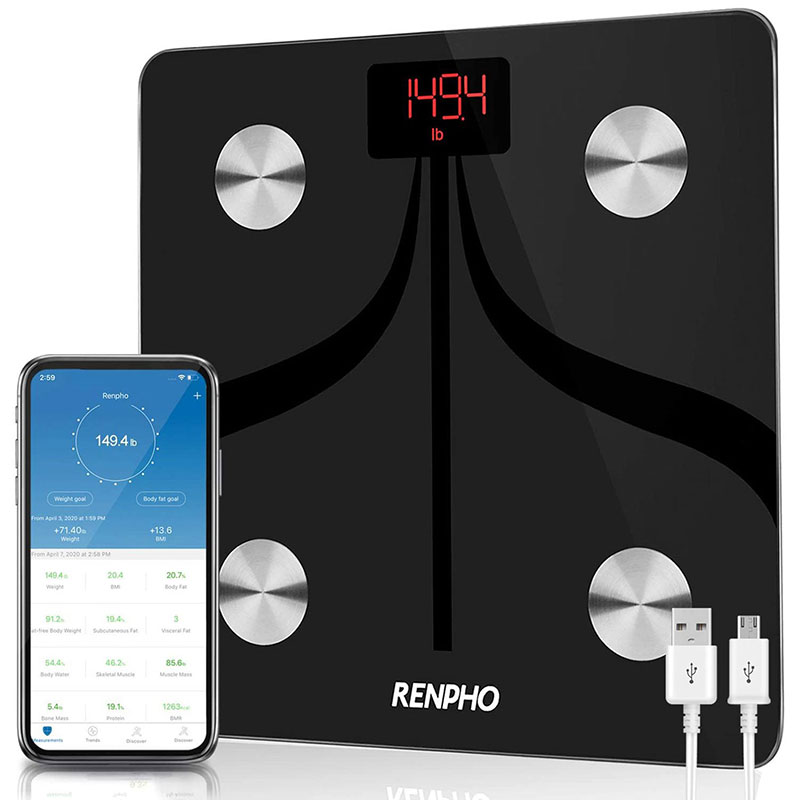 Where to buy RENPHO
RENPHO body fat scale is available on the company's online store, Amazon, and a wide selection of other fitness stores.
FitTrack vs. RENPHO
Both the FitTrack and RENPHO smart scales provide reliable tracking of important body composition measurements, which helps you keep accurate track of your progress towards your personal body goals.
RENPHO
The RENPHO body fat scale is one of the most affordable smart scales on the market. The Bluetooth compatible scale offers a wide range of different body stats and metrics. It also features an impressive list of benefits to use.
The scale is designed with four high precision sensors and four electrodes to ensure a convenient and accurate measure of the 13 different measurements. The RENPHO app can sync with other fitness and nutrition apps on your phone if desired. You can also add all your personal information for a more accurate and customized assessment.
When trying to achieve fitness goals, there is a lot more than just weight you need to keep close track of. Knowing and understanding your body composition and keeping close track of the metrics can greatly efficiently enhance your goals.
RENPHO is a compact scale and only weighs about a kilogram more or less, and measures 26 x 26 x 2.3 cm. The top platform is made from double tempered glass, making the scale very sturdy and durable. The bottom part is built with top-grade plastic that can support heavyweight. The scale is available in black or white to perfectly suit your personality.
There is a display at the top of the scale that displays your weight, as you'd expect on a regular scale. The weight can be displayed in pounds and kilograms, with the maximum weight limit at 396 pounds. There is a small light that turns on when it is connected to your device. The scale is powered by three AAA batteries, which are also included in the package.
The scales corners are rounded to provide enhanced safety and style. The scale is quite portable and only weighs 2.8 pounds. Based on your personal information and your weight, the app will give you a calculation of your basal metabolic rate (BMR). BMR is basically a rough estimate of how many calories you burn during 24 hours of rest.
FitTrack
Why do you need a smart scale? For data!
FitTrack smart scale offers a tonne of vital information that goes a long way in establishing a healthier lifestyle.
Losing weight and getting fit is a challenging process that requires a lot of patience and will, and at times it can be frustrating when you have been put in so much effort, but the numbers on your regular scale never seem to change. However, with a FitTrack smart scale, you get to keep track of a different range of stats, and even though your overall weight has not shifted, you can realize that you have lost a lot of body fat, motivating you to keep on pushing.
The FitTrack smart scale is very accurate and also scientifically validated. The company prides itself on having one of the most advanced scientific processes of collecting body measurements and validating these stats. The process is directed by a medical advisory board, ensuring top-notch quality and accuracy.
The FitTrack app is designed to be the perfect family bathroom scale, offering log data for up to 8 different users. This way, the whole family can easily get fit together.
The FitTrack can support up to 400 pounds, which is pretty standard for smart scales. The app can sync with other health apps, including Google Health, Apple Health, and a number of other health tracking apps.
You can switch freely between weight unit measurements between pounds and kilograms and centimeters and inches. The smart scale delivers a complete body analysis in a matter of a few seconds. The scale will help you understand your body on a deeper level, track your progress, and set weigh-in reminders over a prolonged period to help you better manage your health.
The FitTrack smart scale also comes with a feature that can weigh your infant, which is incredible to track your baby's progress as he or she grows up. However, it is important to realize that the scale will measure your baby's weight alone. FitTrack allows you to get a physical fitness exam from the comfort of your own home.
The FitTrack is simply one of the best smart scales, mainly because of its advanced functionalities of the well-built app.
RENPHO
Pros
Wide range of features
Accurate measurements
13 metrics and assessments
Very durable
No calibration issues
Cons
While multiple users can use the same app features, information can only be synced to a single device (meaning one user will receive all information to their phone for a family)
FitTrack
Pros
Reasonably priced
The scale will monitor a bunch of different body metrics
Easy to set up and use
Accurate and scientific
The scale is quite compact and doesn't take much of your space up.
Cons
Available in only one color
One major setback is that if you have large feet, the scale might be a little small for you
Conclusion
If you are interested in starting a fitness journey, a smart scale is a worthwhile investment. The FitTrack and RENPHO scales are some of the most advanced and affordable smart scales available today. Both devices provide you with a wide range of information that can be very vital in achieving your fitness goals.
Unlike your traditional bathroom scale, smart scales provide more insights into your body composition, helping you understand the exact areas you need to work on. Getting fit and keeping healthy is about a lot more than just a single number on the scale. If you want to get detailed scientific stats about your whole family's health progress, then you really need a smart scale. So if you're on the market for a new bathroom scale, I highly recommend both the FitTrack and RENPHO smart scale.
The two scales are more or less identical. Both connect to your phone via Bluetooth 4.0, and both allow an unlimited number of users.
With the continual development and increase in technology, gadgets, and gizmos, Adam never has a dull day researching new gadgets. Being an enthusiastic gamer, traveler, soccer lover, and avid car driver means that he always looks for the next cool thing to try out.