As parents, finding the right multivitamin for our children can be a challenging task, with so many options available on the market. We all want the best for our kids and aim to provide them with the necessary nutrients for a healthy life, avoiding those that contain too much sugar and artificial substances.
Although we try to ensure a balanced diet, it can be difficult to determine if they are getting all they need. This is where nutritional supplements and multivitamins come in, to bridge the gap in their diet and ensure they receive all the required nutrients.
When considering a high-quality multivitamin, you may have come across two options – Hiya Kids vitamins and Smarty Pants. In this comparison guide, I will provide a comprehensive overview of both products to help you make an informed decision based on your specific needs and preferences such as price, sweetness, formula, etc.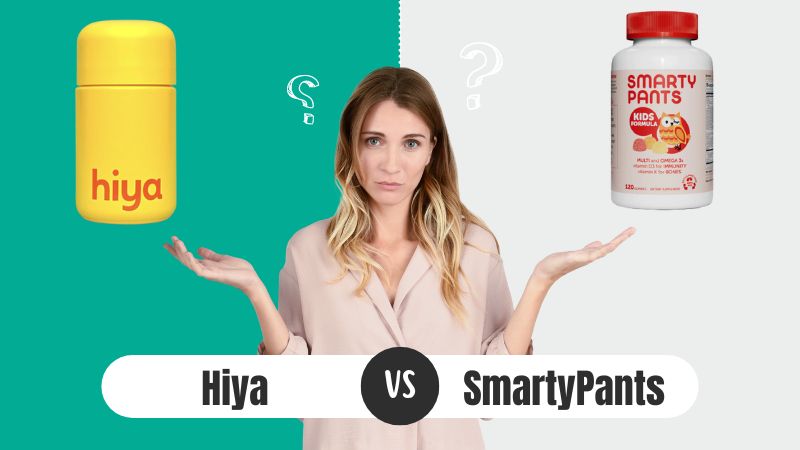 So, if you are a parent searching for the best multivitamin for your kids, read on to discover the differences between Hiya Kids vitamins and Smarty Pants.
Before we delve into the comparison of Hiya Kids vitamins and Smarty Pants, it is crucial to understand what to look for in a children's multivitamin supplement. This will help ensure that the multivitamin you choose is effective, safe, and provides all the necessary nutrients for your child's healthy development. By considering these important factors, you can make an informed decision and provide your child with the best possible supplement for their needs.
Hiya vs SmartyPants Comparison Table
Number of Essential Nutrients


immune system, brain function, nervous system, and behavior in kids.

Organic Fruits and Vegetables

3+ (talk to your doctor about kids under 3)

Shipping Information & Time

Standard Shipping (within the contiguous U.S.): $5 – arrival approximately 3 – 5 business days after order is processed.


2-day Shipping (within the contiguous U.S.): $20 – arrival approximately 2 business days after order is processed.

What to Look for in Kids' Vitamin Formulas
Before determining the superiority of Hiya Kids vitamins or Smarty Pants, it is important to understand the key factors to consider when choosing a children's vitamin supplement. Making an informed decision requires a clear understanding of what you are looking for in a supplement. Here are some of the crucial key factors to consider before making a purchase of kids multivitamins:
Nutrient content
Quality
Taste and Texture
Age-appropriate dosage
Allergen information
Price
Each of these aspects will be explained in further detail below.
The Ingredients or Nutrients Content
Each vitamin comes with different types of ingredients, and to know which vitamins have more nutrition and are better for your kids, you can check them by viewing the ingredients list on the back of your supplements.
With this information, you'll know what's in the vitamin and, therefore, easily choose what to buy—generally, the more nutritional ingredients listed, the better the product.
Most multivitamins contain excess ingredients that are not even beneficial to the nutritional health of children, and if anything, they cause more harm than good. Consider your understanding and ability to pronounce these ingredients. One ingredient is sugar. Yes, sugar makes vitamins sweet, and because of that, kids take them more easily and don't question them. But some kids' vitamins have too much sugar, which can harm your children.
You can agree that most products contain ingredients that even worse than sugar, like excess artificial sugars and preservatives and coloring. Therefore go for the one that you understand most of its ingredient labels and one that clearly states that don't contain any harmful ingredients.
When choosing a multivitamin for your child, it's important to focus on its nutrient content. Make sure the vitamins and minerals included in the formula are essential for your child's health and development. Consider which specific nutrients you want to supplement in your child's diet, such as Vitamin A, B, C, or D. Evaluate the percentage of each nutrient in the formula and select the one that best meets your needs. By taking the time to research and choose the right multivitamin, you can give your child the best nutritional support.
Quality
Choose a high-quality vitamin supplement with high-quality ingredients that meets industry standards. Well-known brands use GMP complainant facilities and use domestic and imported ingredients. GMP (Good Manufacturing Practice) is a set of quality control standards established by the FDA to guarantee the production of dietary supplements in a way that protects the consumer's health. So, before you choose, check if your choice meets these standards.
Taste and Texture
The taste and texture of kids' multivitamins are just as important as the ingredients list. Children are less likely to take their vitamins regularly if they don't like the taste or texture, particularly picky eaters. Ensure that your kids enjoy the taste and that the vitamins are easy to swallow.
Age-appropriate Dosage
It is crucial to ensure that the multivitamin you choose is formulated for your child's specific age range and meets the recommended daily allowances. Different brands have different options – some have a single formula with varying daily dosages for different age groups, while others offer specific formulas for a particular age group. Regardless of the brand, make sure you follow the recommended daily dosage for the appropriate age group and which one is more convenient.
Allergen Information
If your child has any allergies, it is important to check if the multivitamin contains any ingredients that may cause an allergic reaction.
Amount of Sugars Contained in the Product
It's crucial to consider the amount of sugar in a multivitamin before purchase. When shopping for vitamins for children, this is a key factor to keep in mind. While a sweet taste is desirable, excessive sugar intake should be avoided, especially if they already consume sugar in their regular diet.
Today, sugar is found in many food products, and consuming excessive sugar can be harmful to health. You don't want that for your child. Vitamins for children often contain added sugar because kids love it and it makes the product more popular among consumers.
Note that not all vitamins contain added sugar. Some vitamins are naturally sweetened with fruit instead. Among the brands that do contain added sugar, some have it in small amounts, making it less harmful in terms of daily sugar intake.
Consumption Method

Multivitamins come in two forms: chewable and gummy. Gummies are often high in fructose corn syrup, questionable ingredients, and fillers that may not be desirable for children's consumption. Additionally, gummies often contain gelatin derived from pork and beef, and may have a sugary coating.
Dentists and pediatricians generally do not recommend gummy vitamins for children. Chewable vitamins are a healthier option as they lack many of the negative aspects of gummies, but may not have the same level of taste depending on the brands.
Cost of Multivitamins
Consider your budget when choosing a supplement and compare prices to get the best value for your money.
Even though you want a high-quality vitamin supplement, only common sense that you go for the one that you can comfortably afford. However, please do not make the mistake of buying something because it is cheap but with no nutritional benefit to your children.
While making price considerations, you have to make sure you get the beneficial quality. Also, take into account how much the bottle counts gummies or chewable and how much is daily intake. With which formula do you get more for your money?
Hiya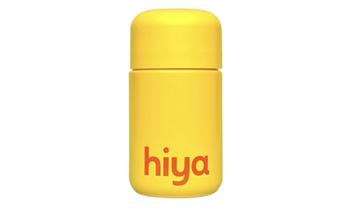 What we like
Teeth-friendly chewable vitamins with 12 organic fruits and vegetables
Naturally sweetened with monk fruit extract
Eco-friendly packaging and made in a cGMP-compliant facility
Organic ingredients and 3rd party tested to be free of heavy metals, allergens, and pathogens
Fresh monthly delivery with reusable bottle and refills
What we don't like
Automatic monthly subscription
Not the most affordable option
SmartyPants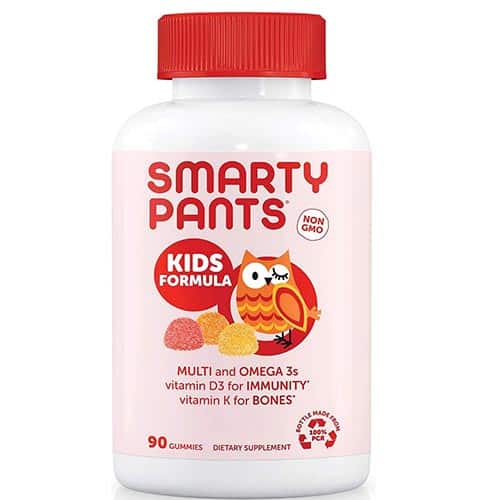 What we like
Contains 15 essential nutrients
Supports various aspects of health
High-quality ingredients
Lab-tested for safety
What we don't like
Potential difficulty with absorption
Stomach discomfort if taken in high doses
Differences and Similarities Between Hiya and Smarty Pants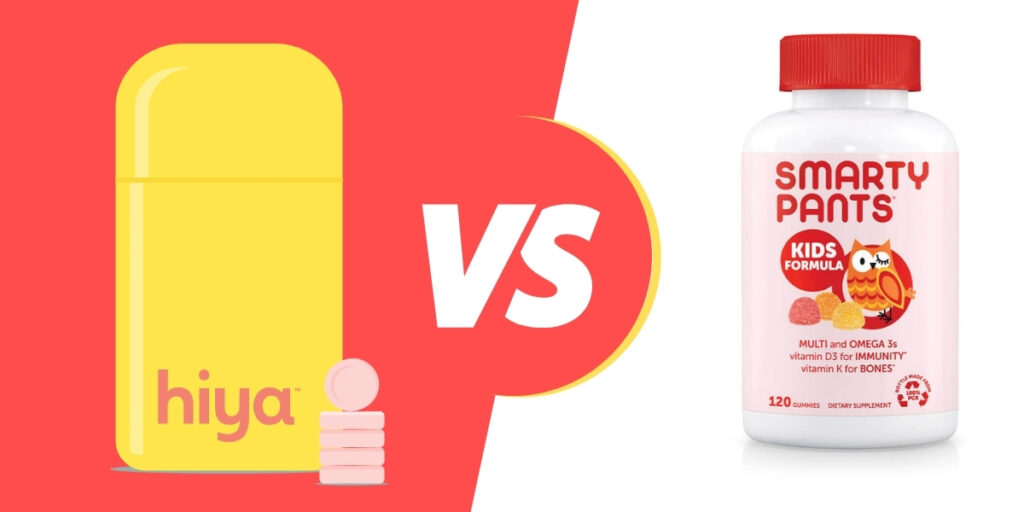 Sugar Content
Hiya vitamins contain 0g of added sugar and are sweetened with natural sweeteners such as monostatic fruit and monk fruit, as well as pumpkin and strawberries, for an all-natural taste. They are highly regarded for their quality and natural sweetness, even though they do not contain any artificial sugars.
Smarty Pants vitamins contain 5g of added sugar and, while still a good option, are not as healthy as Hiya with their sugar content. If you're looking for a vitamin supplement with no added sugars, Hiya is the better option for you.
Artificial Sweeteners
If your main concern is artificial sweeteners, both Hiya Vitamins and SmartyPants are good options as they do not contain them. Therefore, both can be considered healthy choices for your kids.
Consumption Method
As earlier stated, it is always important to consider the consumption method of the multivitamin before making the buying decision. Hiya vitamins come in chewable tablet form. For this reason, they are not sugar-coated hence very healthy for your children. They also do not pose a threat to the teeth health of your kids. I'm sure you will not want to go for some product that poses a danger to your children's health.
Smartypants, on the other hand, come in gummy form. They are coated with sugars and, for this reason, not as healthy as the Hiya vitamins. As we've discussed in our Hiya vitamins review, gummies are not recommended for children because they threaten their teeth, as highlighted by most dentists. The sugary gummies are known to cause tooth rot in children.
The gummies also contain gelatin which may not make them suitable for all kids, particularly those with dietary restrictions. Chewable might be a better option for your kids if you are concerned with the general well-being of your children, including their teeth.
Approved Ages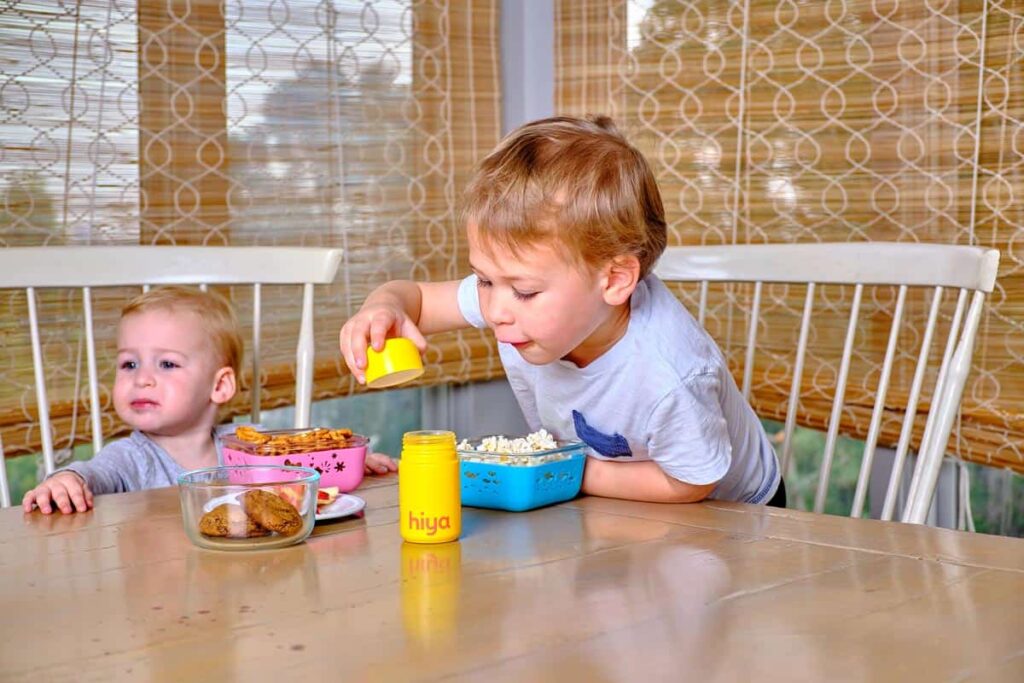 Each vitamin supplement has different ages approved for use, which is also essential to consider before you can buy for your kids.
Hiya vitamins, for example, have been approved for use by children starting age of 2 to trough mid-teens. In case you want to use this supplement for your child who is not three years and above, then it is only essential that you consult your doctor before using the formula on them.
Smartypants vitamins have a different approved age limit. A toddler formula of the vitamin you can give to your kid between 2-3 years. There is also another kid formula that is for children between the ages of 4-13 years. Hiya seems a better option in this category because its formula supports toddlers and kids where, whereas SmartyPants has two separate formulas.
Price
Well, for those who will consider the price of a product before purchasing it, here is a price distinction between the two vitamin formulas.
Hiya vitamin costs $15 for the first month, which is a 50% off promotion. Besides that, Hiya also has 30-day subscriptions, so you can be sure not to run out of vitamins each month. Smartypants, on the other hand, costs $18.85 per month. You can, therefore, easily choose the one that is compatible with your budget. Also, SmartyPants offers you to select delivery between 1,2,3 and 4 months.
Essential Nutrients
As earlier stated, it is essential to look at the nutrients available in a supplement before purchasing because you aim to boost your child's nutritional health. Even though both hiya vitamins and smarty-pants contain the same amount of essential vitamins, 15, some slight differences are highlighted below that you can consider before making a buying decision.
Hiya vitamins are more natural with an organic blend of natural fruits and vegetables. Even though it has 15 nutrients, the percentage of the content in the hiya vitamin is slightly more than that found in the smarty pant. The nutrients in hiya are also proven to be beneficial to the health of kids. You can visit their websites to learn more about the nutrients contained in each and how much of the nutrients they have to make the best decision. Remember, all we are looking for is how best we can supplement the health of our children.
Manufacturer
Some people will consider the manufacture of a product before buying, and if you are such a person, here is what you need to know about the two vitamin formulas regarding manufacturers.
Hiya vitamins are manufactured in the United States in a GMP-compliant facility. This means that you can be sure about the product. Smartypants are among the many vitamins manufactured in China.
Such products are known to include excess additives that are not of any nutritional benefit to children. Every vitamin product is usually tasted for any additives and chemicals in the US to ensure that the final product is chemical-free and 100% organic and fresh. Well, I'm sure now you can easily choose your preferred vitamin for your family.
Side effects
You can also consider the side effects of the vitamin on your kids before buying. Hiya vitamins, for example, have no side effects on children because they are no sugars, additives, chemicals, and excess junk. You can be sure that your kids will not show any signs of reactionary effects after taking the hiya vitamins. On the other hand, you can expect some side effects from your kids after taking the smarty pants. These reactions to the vitamin may be because of the additives, preservatives, sugar, and the excess junk it contains.
Organic Nutrients
Even though both formulas are organic, you can expect some slight differences. Hiya, for example, is only made from blended organic fruits and veggies with around 12 composite organic products. Smartypants, however, is also organic, being manufactured from organic products but with additional chemicals, sugars, additives, and by-products. Such artificial contents corrupt the naturalness of the formulas. If you are looking for supplements that are 100% natural, then hiya vitamins are the deal-breaker.
Sustainable Packaging
If you are a parent devoted to teaching your children about environmental conservation, the hiya vitamins are your option. This is because they come in sustainable packaging that is reusable and, for this reason, reduced ecological pollution from throwing plastic bottles. Other vitamin formulas, including smartypants, come in plastic containers that are not environmentally friendly because, as we know, they do not decompose.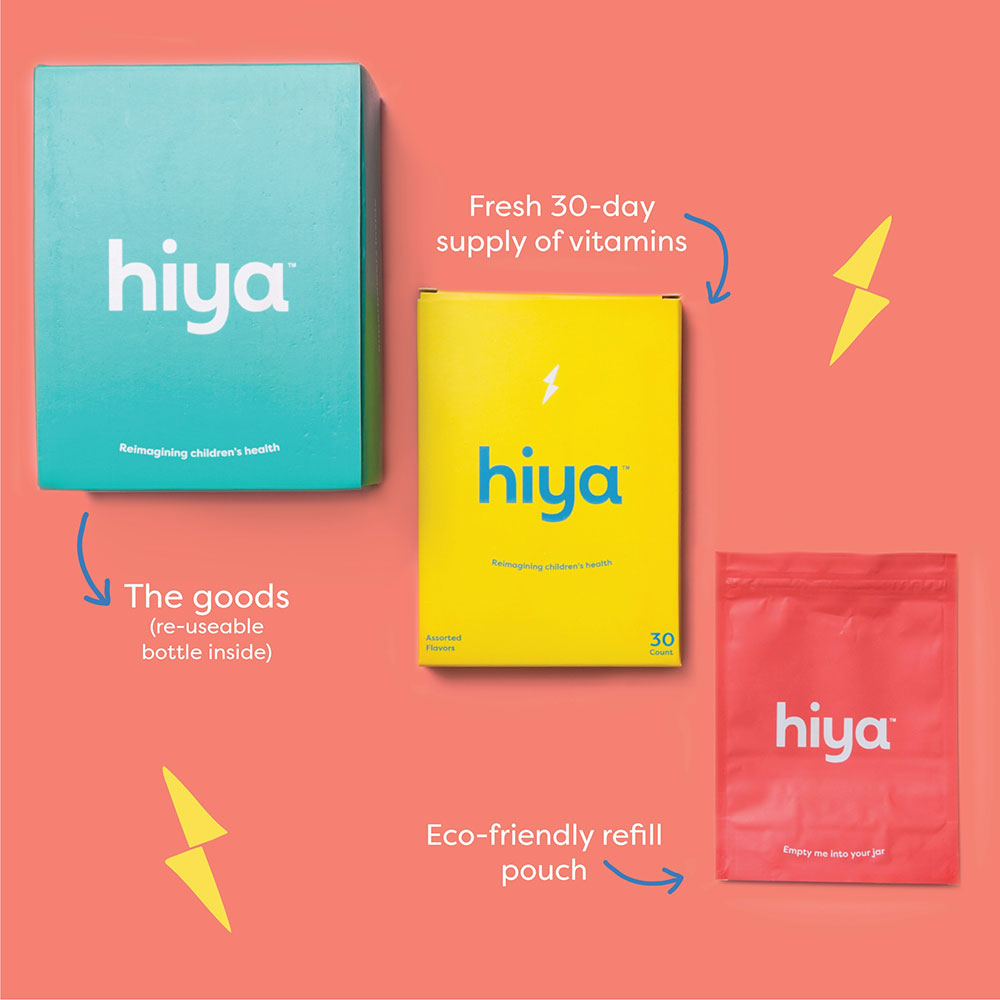 Optimized Freshness
Sometimes, we may buy products that have not yet expired, but the nutritional content has lost its nutritional value because of overstaying. Hiya vitamins eliminate this issue as you can order a refill of fresh vitamins every time you need them, and they will be delivered to your doorstep. This means that they will be having all the nutritional value to your kids because they are fresh.
Conclusion
Different people will consider different factors before buying any nutritional supplement for their kids. The most important things to look for are the nutritional value, essential nutrients, additives, preservatives, and sugars. Other critical factors that are not nutritionally based include price, manufacturer, packaging, and any other aspect you deem fit. You can also consider where to buy them. After reading this article, I believe that you will have an easy time selecting what to go for. Our choice between hiya or SmartyPants is Hiya.