Summary of Our Top Picks
Are you looking for a solution to free up storage space on your iPhone while also keeping your photos safely stored? The most popular option is to upload your photo library to iCloud. However, this may not be ideal for everyone who may not want to store their pictures on the cloud or pay for additional iCloud storage. Luckily, there is a solution that allows you to connect an external storage device, such as a flash drive, to your iPhone, allowing you to transfer your pictures and videos to the external drive and create more space on your device.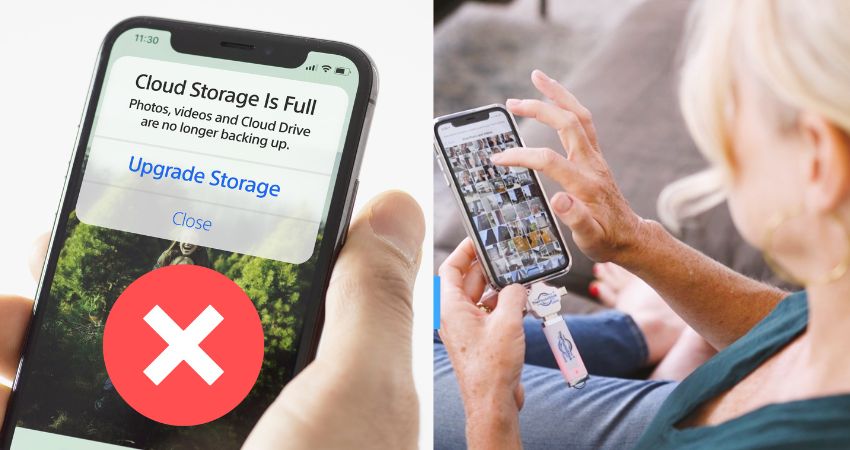 In this article, we will explore the best external photo storage options for iPhones, helping you decide which product will work best for you. Read on to learn more about five best external photo storage options for iPhone.
Best External Photo Storage for iPhone Comparison Table
---
1) ThePhotoStick Omni – Overall Best Solution
ThePhotoStick Omni is an excellent option for those looking for an easy-to-use external photo storage device for their iPhone. The original version of ThePhotoStick is still the best option available, and the brand has improved upon its design with ThePhotoStick Omni, available in sizes of 32GB, 64GB, 128GB, and 256 GB.
Using ThePhotoStick Omni is a breeze. Simply plug it into your smartphone or computer and start the backup process. For phones, download the app and press the "GO" button. The software is smart enough to skip duplicate files and make multiple backups, so you won't lose any preexisting photos or videos.
The 128GB model can store up to 60,000 photos and videos. In addition, ThePhotoStick Omni is equipped with iPhone lightning, Micro-USB and Type-C ports. This enables you to backup photos also from Android phones that use Micro-USB and Type-C ports, as well as Windows and Mac computers over standard Type-A ports.
No need to install any software on your computer as the device runs straight from the USB stick. However, you'll need to download the app if you want to use it with your phone. The Omni can find nearly all media files on your device and safely back up.
You can find a detailed user guide on their official website that shows you how to use it on Windows, Mac, iOS, and Android devices. It highlights amazing options like skipping duplicates and consolidating all photos to a single directory.
If you're interested in learning more about ThePhotoStick Omni, be sure to check out our full review, where we cover all the details of this incredible device.
---
2) Omega DataCube
Are you someone who's always on the go, and you don't have time to back up photos? If so, the Omega DataCube could be the perfect solution for you. It's a small backup device that resembles a power brick for smartphones, but it's capable of automatically backing up all your data while you're charging your iPhone.
The Omega DataCube doesn't rely on internal memory capacity but instead uses microSD cards, which you can hot-swap whenever you like. The smallest 32GB storage capacity can hold around 60,000 photos, while the largest can hold up to 500,000. Additionally, because it uses microSD cards, you can upgrade the capacity to store even more photos and videos.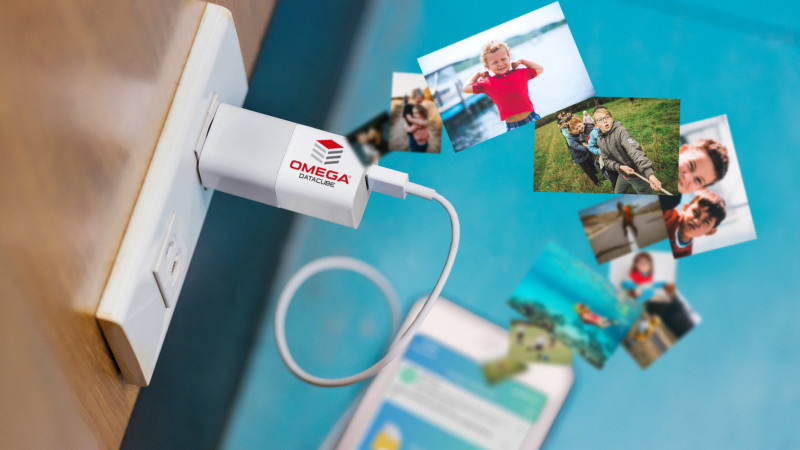 Using the Omega DataCube is straightforward:
Connect the Omega to your phone charger.
Plug your phone into the Omega DataCube using a charging cable capable of charging and transferring data.
Open up the app on your device and start the automatic backup process.
Compared to cloud services, the Omega DataCube offers several advantages. While cloud services require monthly payments, the Omega DataCube is a one-time payment device. Additionally, the backed-up data is not on the internet, but instead on the device itself, which means it's more secure and less vulnerable to data breaches or lost passwords.
Overall, the Omega DataCube offers an excellent backup solution for those who want to safely store their photos and videos without relying on the cloud. Its ease of use and ability to hot-swap microSD cards make it a convenient and reliable choice for anyone who values the security of their memories.
---
3) ThePhotoStick Mobile
ThePhotoStick Mobile was one of the first external backup devices that could work with mobile devices. It comes in two versions, one for iPhone/iPad with a lightning port and the other for Android devices that use the micro-USB port.
If you have an older Android phone that still uses the micro-USB port, ThePhotoStick Mobile could be a great option for you. However, if you have a newer phone with a Type-C port, this device might not be compatible with your phone. On the other hand, iPhone users can still use the lightning port, although there is a possibility that the upcoming iPhone 15 could change to a Type-C port. This is why ThePhotoStick comes out with the Omni, which is compatible with all types of USB connectors.
That being said, ThePhotoStick Mobile still works great for Android smartphones with micro-USB ports. It's a convenient way to back up all your precious memories in one place. However, if you have a newer phone with a different port, you might want to consider ThePhotoStick Omni to ensure compatibility.
---
4) InfinitiKloud Wireless
As its name suggests, it's like your personal cloud that you can access from anywhere. It's a device similar to the original Photo Stick, but it only backs up specific files, so you don't have to worry about transferring viruses or malicious software.
The InfinitiKloud Wireless is compatible with Apple iOS, Microsoft Windows, Apple Mac and Google Android. It has a built-in USB 2.0 connector that you can use to connect to your computer via a cable, and it transfers files at an average speed of 100MB/s. The device's rechargeable battery has a capacity of 600mAh.
The company offers a 30-day money-back guarantee if you're not completely satisfied with the product. Additionally, all InfinitiKloud products have a security password, which means that if someone steals your device, they won't be able to access your files.
To use the device, you need to enter a code that comes with your purchase, and then you can use the app in full operation. The InfinitiKloud Wireless is only sold in 64GB, 128GB, and 256GB capacity, and its size is 65 x 50 x 15 mm.
If you want to learn more about this product, you can read our full review, which discusses other versions. The InfinitiKloud Wireless is an excellent external photo storage for those who want to keep their important files safe and secure. With its compatibility with different devices and security features, it's a reliable choice for anyone who values the safety of their files.
---
5) MemorySafeX
MemorySafeX is the third option in this list, and like with others, it can save photos, videos, and documents. The USB itself is sturdy enough to withstand drops on the ground. It's compatible with Windows PC, Mac OS, Android, and iOS. The memory safe x can store up to 60,000 images and videos.
The cool thing about it is that the USB port transforms into a Micro USB port.
This photo stick does NOT come with proprietary software for finding photos, and while others have different GB sizes, MemorySafeX only has one 64GB version.
One thing this photo stick has that others don't is that it can save images directly to the USB stick immediately after taking a photograph.
For more information about this photo stick read our MemorySafeX Review.
---
6) SanDisk iXpand Flash Drive Luxe
SanDisk's iXpand Luxe Flash Drive is a smart choice for iPhone users who need to free up storage space by backing up photos, videos and other files. With both USB-C and Lightning ports, this versatile external storage solution can work with iOS and Android devices as well as Windows and macOS computers. The app that comes with the iXpand Luxe allows for manual and automatic backup options and is user-friendly and simple to use.
To start using the iXpand Luxe, simply download the SanDisk app on your iPhone or Android device. The app allows you to back up photos, videos, contacts, and other files directly to the drive. You can also view media directly from the flash drive and transfer files to your phone if you need to move files between devices. Plus, you can password-protect your files to keep them safe and secure.
With iXpand Luxe, you can choose from manual, automatic or set-up recurring backup.
If you use iCloud, you may need to decide which backup route to take. Regardless, the iXpand Luxe is a reliable and practical investment for iPhone users who want to ensure their important files are backed up and secure.
---
7) Picture Keeper Connect
Picture Keeper Connect is a reliable photo stick that can back up your photos, videos, and contacts without an internet connection. It works with Desktop, iPhone, and Android, making it a versatile option for many users.
There are two versions of the device available: one for computers and another for Android. The Connect version even allows you to choose your preferred color.
Picture Keeper Connect is an easy and fast solution for freeing up storage on your iPhone, iPad, Android, PC, or Mac.
It's compatible with all major operating systems, and once you've backed up your files, you'll have plenty of free space on your device. So, you can back up your photos without worrying about running out of storage space.
What Things To Consider When Choosing External Photo Storage for iPhone
Choosing the right external photo storage device for your iPhone can be a daunting task, especially if you are not tech-savvy. However, there are certain features you can consider to ensure that you get the right product for your needs.
Compatibility
Compatibility is key when choosing a photo storage device. You want to ensure that the device you choose is compatible with your iPhone and other devices you plan to use it with. Take note of the device's compatibility requirements before making a purchase.
Memory Capacity
Another important factor to consider is memory capacity. You want to ensure that the device you choose has enough storage space for your needs. If you take a lot of photos and videos, you may want to consider a device with a larger memory capacity. Remember that the size of your files can also impact how much storage space you need.
Seed
USB speed is also an important consideration when choosing a photo storage device. The USB 3.0 is the fastest option and can transfer data up to 10 times faster than USB 2.0. If speed is important to you, consider a device with USB 3.0.
Backup Options
Backup options are also worth considering. Automatic backups are convenient, but some devices may require manual backups. Consider what type of backup works best for you and choose a device that meets your specific backup needs.
Security
Security is also an important consideration when choosing a photo storage device. You want to ensure that your data is protected from unauthorized access. Look for devices with encryption and password protection features.
Price
Finally, consider the price of the device. External photo storage devices come in a range of prices, so consider your budget when making a decision. Remember that paying a little more for a quality device may be worth it in the long run to ensure the safety and security of your precious memories.
Our Recommendations for Best External Photo Storage For iPhone
After researching and analyzing the best external photo storage options for iPhones, we have come up with an answer to the question of what is good external storage for photos from my iPhone.
First on our list is ThePhotoStick Omni. This device offers a variety of storage sizes ranging from 32GB to 256GB and has multiple USB connectors, making it compatible with various devices. Its one-click software is user-friendly and easy to use, allowing for efficient and effective backup of all your precious memories. 
ThePhotoStick Omni also comes with advanced features such as skipping duplicate files and consolidating all photos into a single directory. We highly recommend this device for its advanced features and user-friendliness.
Our runner-up recommendation is the Omega DataCube. Although it requires a charger to work, this small device can automatically back up all your data while charging your iPhone. It relies on hot-swappable microSD cards, which can be easily upgraded to hold even more photos and videos. In addition, the Omega DataCube is a one-time payment device, making it a cost-effective alternative to cloud services. We recommend this device for its versatility and cost-effectiveness.