Memory Fortress is a photo scanning and video transfer service founded by Keith Osbon, a US Army veteran. It started as a photo scanning service but quickly expanded to cover many other formats like VHS tapes, films, etc.
Services They Offer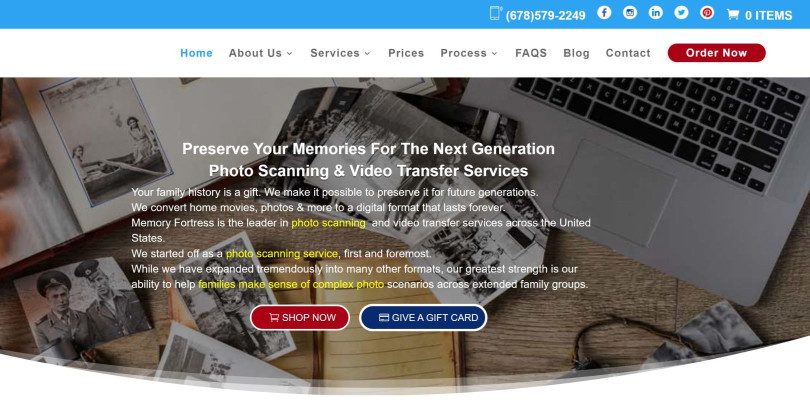 You have a box of old family memories but don't have the knowledge and proper equipment to transfer them! That won't be a problem with Memory Fortress.
Their professional staff will transfer your old analog media into a digital one that you can view on modern devices and ready for sharing online with your family and friends. They offer a wide range of services such as:
Reviews Across Multiple Websites

VHS, VHS-C, Betamax, 8mm, Hi8, Digital 8, MiniDV/HDV, MicroMV

Loose photos (boxed or rubber banded), photos in albums (non-scrapbooks), scrapbooks

35mm, Super 35mm, 35mm half frame, 110, 126, 127

35mm negatives
110 film negatives
126 film negatives

Starting at $20.00 for one tape (DVD Deliverable)

Starting at $0.29 per foot

Loose Photos at 300 dpi $0.25

Loose Photos at 600 dpi $0.29

Photos in Album at 300 dpi $0.41

Photos in Album at 600 dpi $0.45


Starting at $0.49 per slide (4,000 dpi)

Negative Conversion Price

$0.75 per 35mm negative

$1.79 per medium format (up to 3x3)
$4.49 per large format (over 3x3)
$9.49 per glas plate

Types of Media Formats You Can Transfer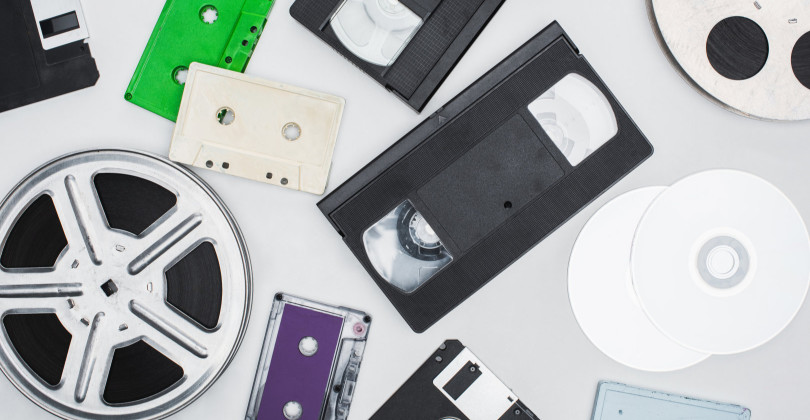 Each digitization service has a list of media they accept and can convert, so make sure you check it before making an order and mailing your media to the service. You don't want to send them something they don't accept.
So, when it comes to Memory Fortress service, they accept the following media formats:
Photos: Loose photos (boxed or rubber banded), photos in albums (non-scrapbooks), scrapbooks
Slides: 35mm, Super 35mm, 35mm half frame, 110, 126, 127
Negatives: 35mm, 110 film, 126 film
Videotapes: VHS, VHS-C, Betamax, 8mm, Hi8, Digital 8, MiniDV/HDV, MicroMV
Old Film: 8mm
Note: Memory Fortress will not copy (transfer) any copyrighted material. So, double-check it before sending it to the service.
Advertisement
Continue reading below
Memory Fortress Process
The process of transferring old memories to a digital format using the Memory Fortress service consists of a few steps:
Gathering and organizing media
Making the order
Choosing digital copy
Sending media
Conversion process
Turnaround time
Price
We will go step by step and note all the important details you need to know to understand the entire process.
Gathering and Organizing Media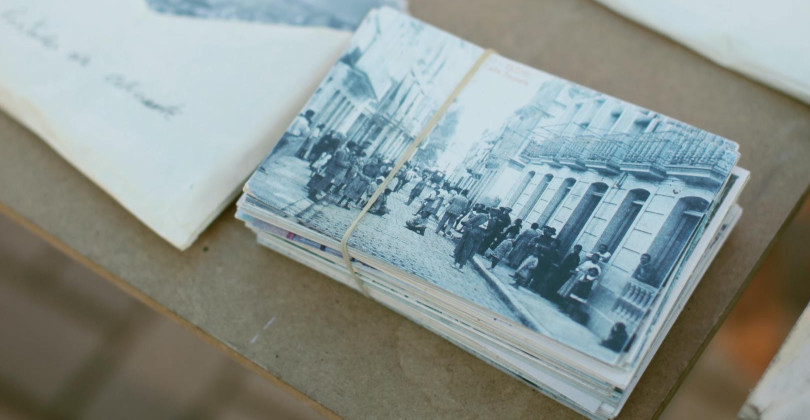 This is the first step, which may sound obvious, but most people make mistakes in this step, which later causes problems and complications. Therefore, we will mention what you must pay attention to, which primarily applies to most professional services. So, pay attention to the following things:
Gather all your analog media (it doesn't matter if you want to send everything or not)
Once you've collected, double-check media and select the one you want to digitize.
Note: The first two steps are important, so pay attention. After sending a box with media, many people later find more media with the desire to digitize it because they couldn't find it when they searched the first time. Afterward, they send them to the service facility, which creates a complication in the process and poor monitoring of the media.
Check your media types and see if the service accepts these types and formats.
Also, services do not accept media that have or contain copyright material.
For loose photos, ensure you've separated them into named groups if you plan to group them.
You don't need to count or sort the media.
Making The Order
Ordering on Memory Fortress is a straightforward process, and you can either fill out an online order form or call them to take your order. When you open the order page on the website, you have a list of all media types (marked with icons) and a gray box to input the amount of each media. Under each media type, you also have a checklist you can select for additional addons such as higher scanning quality for photos.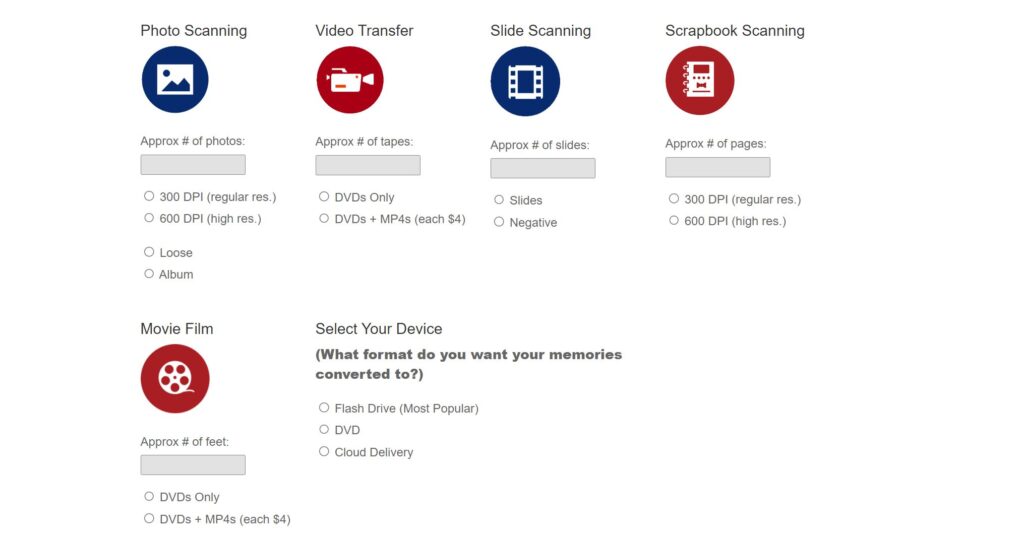 Note: You will only be charged a deposit of $29 when you make the order. Final pricing will be known when the media transfer process is complete, so don't get confused. Also, Memory Fortress has a minimum $99 order size.
Discount: As we mentioned, Memory Fortress was founded by former military members; as such, they offer all media or photo scanning price discounts of 5% on the entire order for any member, former member, or supporter of the men and women in uniform.
Choosing Digital Copy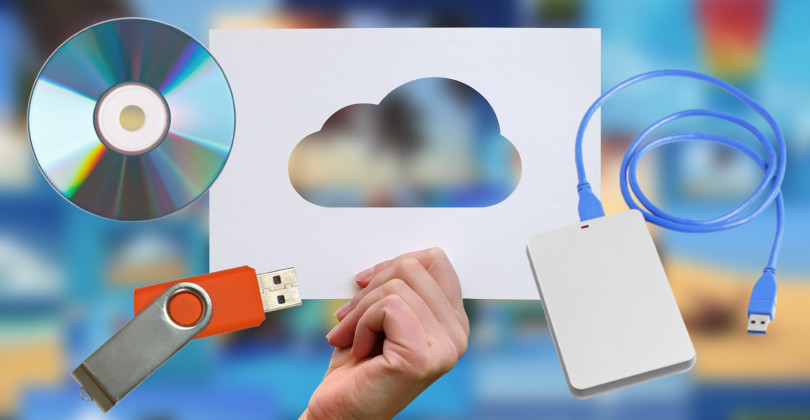 At this step, you must choose the format in which memories will be transferred from analog to digital. There are three options which you can choose:
DVD
Flash drive (most popular choice by customers)
Cloud delivery
During the research, we found that you can also get an external hard drive which costs $145 for 1T of storage.
This option is probably for orders with a more significant amount of media, so it's best for you to consult with customer support.
Sending Media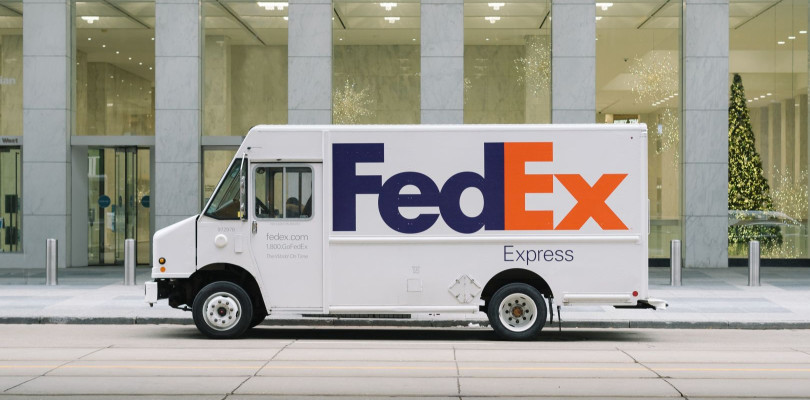 Memory Fortress doesn't offer any shipping kits like iMemories, and Legacybox does, so you need to pack and send media securely in your own box, which is not a big deal. For easy and secure packing of your precious memories, follow these steps:
Get yourself a sturdy box (don't use envelopes or tubes) and tape the corners of the box and the bottom and anywhere you think extra support is needed, inside or outside the box. You don't want the box to fall apart during shipping.
Once you have packed media in the box, we highly recommend filling the gaps with newspapers, bubble wrap, and air cushions for packaging to prevent media from moving and damaging during shipping.
Inside the box, include a note with all your basic details and if you have an important message to the service staff that may be of help during the transfer process.
We recommend checking the Organize Memories page, which contains all the answers regarding the gathering and in which state to send specific media.
Assuming that you have properly organized and packed media, then it's time to send the box to the Memory Fortress. Almost all of their customers ship via FedEx, UPS, or the US Post Office. After the media arrives at the facility, they will notify you via email (or by a phone call in some cases) that your media arrived safely.
Transfer Process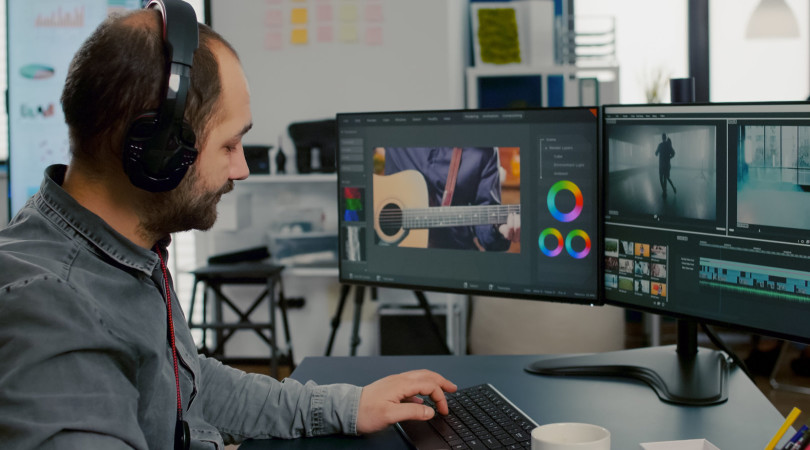 When media arrives at the facility, it is photographed and weighted (for better monitoring of your order) and then sent to the production facility for the transfer process. Your media will be assigned to one or more skilled staff members for the transfer process, depending on the amount.
Photos, slides, negatives, and scrapbooks will be converted into .jpg format, and you can also request TIFF format. Videotapes and film will be converted into MP4 format. All transferred memories will be viewable on modern devices.
During the process, media in digital format gets edited and enhanced to look even better. For example, they crop, color correct, and rotate all images. Also, dust and minor blemishes are removed.
Advertisement
Continue reading below
Turnaround Time
We've reviewed many digitization services, and so far, none have the speed of Memory Fortress. The site says the turnaround time is 5 business days for most orders, which is the fastest of all the services we reviewed. As soon as your memories are received, they immediately go into the process of transferring to a digital format.
We are used to seeing turnaround times of 1 to 2 weeks. Most services take 3 to 4, and some even up to 12 weeks of processing time. This is a big deal for those who don't have the patience to wait or are in a hurry.
Price
You first need to know that Memory Fortress has a $99 minimum order size. This way, they encourage customers to send medium or larger amounts of media than just 1-2 videotapes or a few photos. You can also combine more media from your family or relatives to have a sufficient number of media and one great family project. Check the table to overview transfer prices.
Honest advice: If you have come to this step, you are aware that your priceless memories are deteriorating and may reach a state where they can no longer be transferred to a digital format. Please don't waste time because every moment is important to your memories while they can still be saved. Take advantage of the professional digitization service and save your memories from being completely lost.
---
Abdo is a Zoopy writer who loves spending his free time outdoors, camping, and enjoying the peace that nature brings. He also enjoys fixing things - he's particularly good with electronics. His favorite movie is I Am Legend, and he's fascinated by survival gear and safety.
---