Summary of Our Top Picks
The best slide scanning services here are affordable and quick in transferring slides into digital formats. In addition, they allow you to save and share finished photos on social media platforms without worrying about losing or damaging your precious memories because they're backed up in an easily accessible format.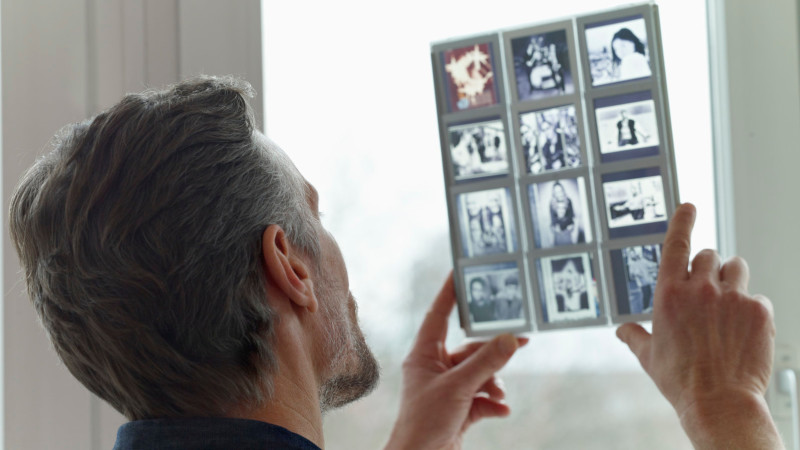 We'll cover our favorite picks based on their affordability and customer ratings, so you'll be happy with the results no matter which service you choose from our list.
Best Slide To Digital Service Comparison Table
Expedited turnaround time

Reviews Across Multiple Websites

WHAT FORMATS THEY CONVERT

35mm, 110, 126, KODAK carousel

Betamax, VHS, VHS-C, 8mm, Hi8, Digital 8, MiniDV, MicroMini, DVDs, MiniDVDs

VHS, VHS-C, Mini DV, and Hi8 (Digital 8)

VHS, VHS-C, S-VHS, Betamax, Hi8, Digital8, Video8, MiniDV, MicroMV

BetaMax, Hi8, Digital8, Mini DV, VHS-C, S-VHS


8mm, Super8, Regular, 16mm, Super16

8mm film, Super 8 film, 16mm film, 35mm movie film

Reel to Reel, Audio Cassette, Micro-Cassette

Reel-to-Reel, Cassette tape

Starting at $0.71 per slide ($25 minimum)

$59.99 for 2 sets of 25 pictures

$279.99 for 10 sets of 25 pictures

$559.99 for 20 sets of 25 pictures

$1099.99 for 40 sets of 25 pictures

Starting at $0.13 per scan ($25 minimum)

$59.99 for 2 sets of 25 pictures

$279.99 for 10 sets of 25 pictures

$559.99 for 20 sets of 25 pictures

$1099.99 for 40 sets of 25 pictures

Negative Conversion Price

Starting at $0.45 per negative ($25 minimum)

$59.99 for 2 sets of 25 pictures

$279.99 for 10 sets of 25 pictures

$559.99 for 20 sets of 25 pictures

$1099.99 for 40 sets of 25 pictures

Starting at $0.19 per foot for 8mm, and 25¢ for 16mm

$279.99 for 10 audio items

$559.99 for 20 audio items

$1099.99 for 40 audio items

$28 per audio cassette

$0.34 per feet of reel tapes
1) iMemories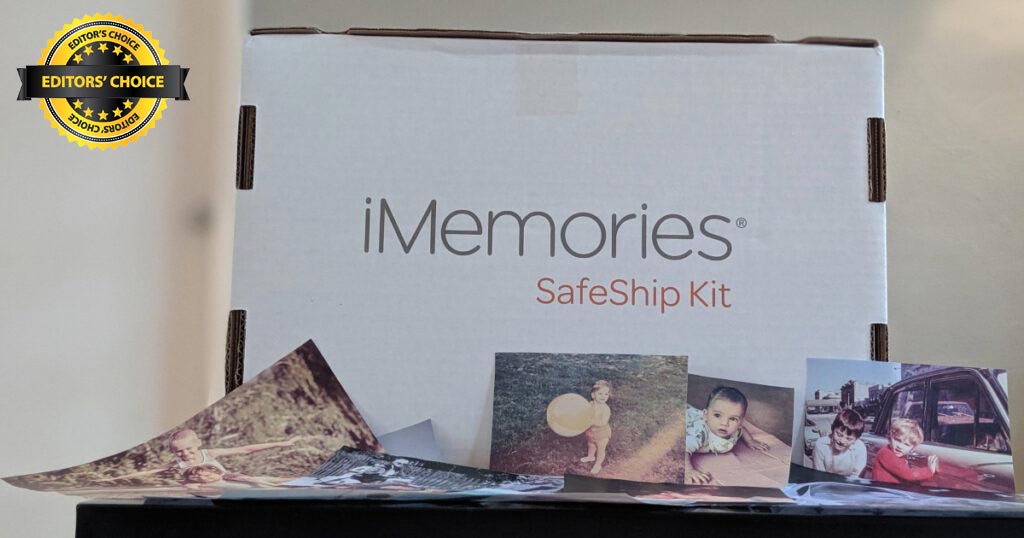 Let's start with the most popular choice among customers for digitizing old memories, such as slides, photos, and other media types.
iMemories has everything that customers expect from a professional scanning service. With them, your slides will be safely scanned and monitored in their facility with satisfaction guaranteed. Also, if you are unsure, you can get a free, no-obligation price quote before you even buy.
Regarding safety, iMemories also offers a SafeShip kit, a crush-proof box with included waterproof bags, shock-resistant cushions, and FedEx prepaid label, which ensures your memories are delivered to service safely.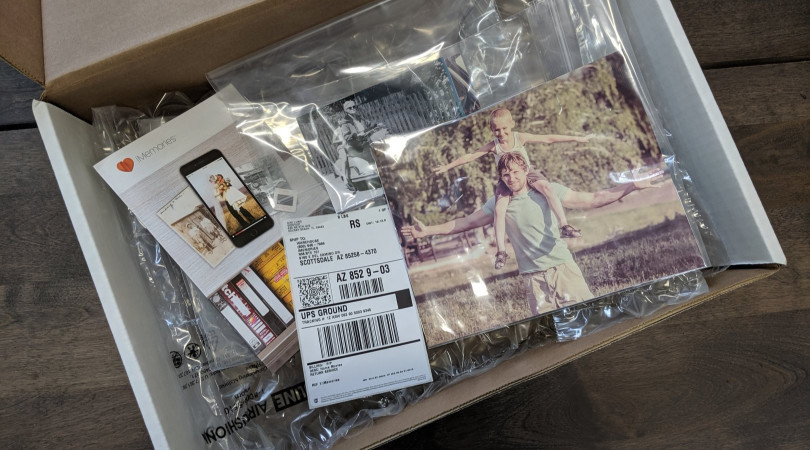 What makes iMemories unique from others is that it includes free repairs, scene edits, and media enhancements, so they look even better.
You can rely on iMemories to get the job done right. Over 1 million customers have trusted them for over 15 years with their precious memories of all types and formats.
Scanning speed is where they are also among the leading in the industry. Turnaround time is 2-3 weeks, depending on the amount and type of media you send.
Sending slides to be scanned with iMemories is not a fuss and can be done in a few simple steps:
Simply gather all your slides without the need to label or organize anything.
The slides you've gathered pack inside provided protective bags and put in a SafeShip box.
After you are done with packing, stick the Fed-Ex shipping label on the outside of the box, and drop it off at the nearest Fed-Ex pick-up location.
Once your memories are inspected and you agree with the price, slides go through the scanning process and are converted to the digital format.
After completing the process, they will send your originals alongside the new digital version.
Your scanned slides are ready to be viewed on modern devices and shared online with family and friends.
You can choose between six digital copies:
Digital file download, which is FREE
Customized DVD which can hold 500 images ($19.99)
Blu-ray ($19.99)
USB thumb drive (from $39.99 up to 99.99)
iMemories Cloud ($7.99 per month or $49.99 per year)
Portable Hard Drive 1T ($199.99)
Besides slides, iMemories accepts other media types, such as:
Photos and negatives
Videotapes – VHS, VHS-C, Betamax, 8mm, Hi8, Video8, Digital8, MiniDV, MicroMini
Old films – 8mm, Super8, 16mm (with or without sound)
DVDs, MiniDVDs
Note: iMemories does not convert media that contain copyright material, but for example, if your videotape has a mix of home video and TV or movie footage, they will remove parts of the copyrighted footage, so only your home footage is saved.
Price is the final step, where customers decide how well the service really fits their slide-converting project. At the time of writing this guide, iMemories transfer prices with the already included 50% OFF coupon are:
$0.49 per slide, photo, or negative
$14.99 per videotape
$14.99 per 50ft. of movie film
You can see why iMemories is the best choice for scanning slides or converting any other media type. It offers plenty of features and options at very affordable and competitive prices. In addition, with iMemories, professional service satisfaction is guaranteed.
2) ScanCafe

ScanCafe is also a well-known scanning service that is highly rated and recommended among customers like iMemories. So if you're looking for great value and options for bulk orders for slides, photos, and negatives, consider going with ScanCafe.
Besides slides, they offer a wide range of media that you can convert to digital:
Photos (up to 8×10″)
Negatives, APS, Black & White
Videotapes (BetaMax, Hi8, Digital8, Mini DV, VHS-C, S-VHS)
Old film (8mm film, Super 8 film, 16mm film, 35mm movie film)
Audio tapes (Reel-to-Reel, Cassette tape)
What we like about ScanCafe is the professional approach to the corrections and adjustments of each slide. Each slide that requires correction goes through the following steps to make them look best as they can:
Scratch and dust removal
Color correction
Red-eye removal
Cropping
Re-orientation
Besides including corrections on slides, you can also request professional photo restoration and preservation services separately at an additional charge.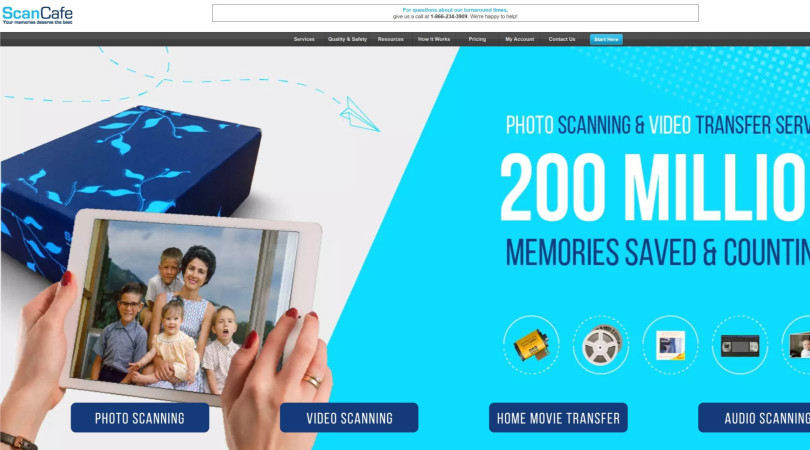 ScanCafe digitization process is similar to iMemories, but it has some downsides, such as it doesn't offer shipping kits, so you are responsible for your packaging. Don't mistake their Value kit because it's a separate option, and it is for bulk orders of slides, negatives, and photo prints. The second thing is turnaround time, which is a bit longer and requires about 3-4 weeks.
With the completion of the order, they will send your originals back alongside the digital format. Also, you can track the return of your originals; additionally, you can request signature delivery.
You can receive digital files of your slides in two formats: USB drive or digital download. One of the additional options you can pick while ordering are:
.TIFF (RAW unedited files)
Pro Resolution (1200 dpi or 4000 dpi)
Pro library (You will receive both raw . TIFF files and edited JPG files)
Digital downloads can be selected and used with each media type in your order. If you decide to go with the digital download, your files will be available for download for 30 days from the order's completion.
For the slide transfer with ScanCafe, you can expect to pay $0.44 per 35mm color slide in paper or plastic at a resolution of 12.3MP/3000dpi. For other slide formats such as 110, 126, 127 mm, stereo slides, and 35mm single frame negatives, the price is $1.09 per slide at 3000 dpi resolution.
For other media transfer prices are:
The paper photo up to 8×10 (color, black and white) at 600dpi is $0.44 per photo. The same price is for the photo in the album
Old films are $0.30 per foot
Videotapes are $22.99 per tape
Audio cassette tapes are $22.99 per tape
Reel-to-reel audio is $0.30 per foot
3) ScanMyPhotos

ScanMyPhotos is a company that offers a fast turnaround time and an extensive list of services. In addition, they're committed to providing customers with great customer service, so you can be sure you will find answers to your questions. Finally, with over 30 years of work in scanning and transferring old media, you will be satisfied with the outcome.
What also makes ScanMyPhotos a great service is they constantly work on improving and expanding their services. For example, they recently included KODAK Carousel Slide Scanning, among other slide scanning services, which is great news for those who own them and are planning to scan their slides.
Besides slides scanning, the service accepts other types of media, such as:
Photo scanning (Per photo scan, Prepaid Box, and Family Generation Collection)
Negative scanning (35mm, APS, 120mm)
Videotapes: VHS, VHS-C, Mini DV, and Hi8 (Digital 8)
Film transfer (8mm, 16mm)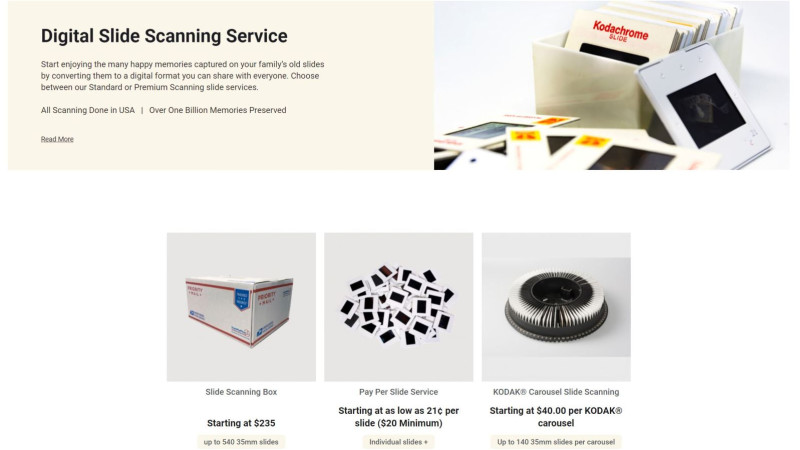 When it comes to slide scanning, you have two options to go with in terms of volume:
Slide Scanning Box, which is meant for bulk scanning, can fit up to 540 35mm slides.
Pay Per Slide is an ideal option for a small number of slides. Keep in mind that this option has a $20 minimum order.
In terms of scanning type and price, you also have two options to choose from:
Standard scanning. It does not include color and density correction, and the price starts at $0.71 per slide at 2000dpi and $0.95 per slide at 4000dpi.
Premium scanning. It includes color and density correction, and the price starts at $0.89 per slide at 2000dpi and $1.19 per slide at 4000dpi.
Turnaround time with ScanMyPhotos is speedy, but the process could take 3-6 weeks due to large orders. This may sound long, but at least they are honest with the time estimate while other services claim that the processing time is short, but in reality, the process takes much longer.
If you want to speed up the scanning process, check the box for Express Scanning, which will cost you an additional $0.10 per scan. This way, your order will be next in line for scanning, regardless of when it arrived.
ScanMyPhotos says on its website that most photo-scanning orders are digitized within 5 to 10 days of receiving them.
Ordering slide scanning with ScanMyPhotos, you will be amazed at the number of options you can pick. You can choose:
How long do you want scans to be available online for download
Return delivery options
Do you want to scan with or without Digital ICE (technology for image correction and enhancement)
Elite concierge expert service
Express scanning
Scanning in order
Image rotation
Photo index book
Delivery signature confirmation
Photo
Each service add-on includes explanations, and the information related to the scanning resolution has a table for easy viewing and understanding. You can receive your scanned slides on DVD or USB or download them by link received via email.
4) Legacybox
Legacybox service is mentioned often and recommended online. What makes it unique compared to others is how easy it is to use and the simplicity of the scanning process. Legacybox is all about shipping kits because the number of slides you can scan and the price is determined by the size of the box you choose. Boxes come in 2, 10, 20, and 40 items, but when it comes to slides and photos, one item is equal to 25 slides or photos.
Besides slides and photos, Legacybox also transfers media like videotapes, old films, and analog audio.
Ordering and sending is a straightforward process. First, order the volume box kit that best suits you and pack the slides in the shipping kit by following the included instructions. After that, you send it to them to be digitized.
Legacybox is known for digitizing every item by hand, which is good to hear. Also, their team will update you via email on each step your memories go through so you can follow the process.
Your slides can be transferred to the cloud, thumb drive, or disc set, depending on your preference. With the order completed, they will send back your originals alongside your digital copy.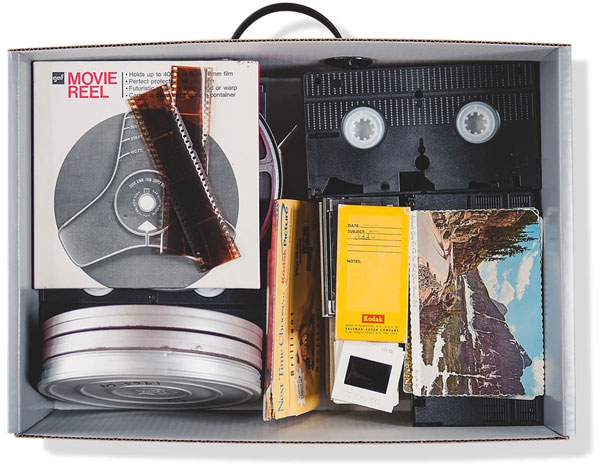 Legacybox offers great features such as process tracking, professional handling, digitizing, and storing the media, but they lack turnaround time, which you should know. Their average turnaround time is 10-12 weeks, which is not great if you have a deadline or plan a family surprise for a holiday.
Legacybox pricing
Note: Legacybox often has a price discount, so it's worth checking out.
Depending on how many items, in this case, slides, you have, you can choose from four box kits:
2 Item Starter costs $59.99, which can convert 50 slides
10 Item Family costs $279.99, which can convert 250 slides
20 Item Closet costs $559.99, which can convert 500 slides
40 Item Trunk costs $1099.99, which can convert 1000 slides