Before digging out the old projector or VCR player, make sure that your films and tapes are in good shape. For example, if you can't watch your home movies after inserting them into a VCR player, it might be that they've experienced some damage over time, such as shrinkage or fading from color shifts due to aging.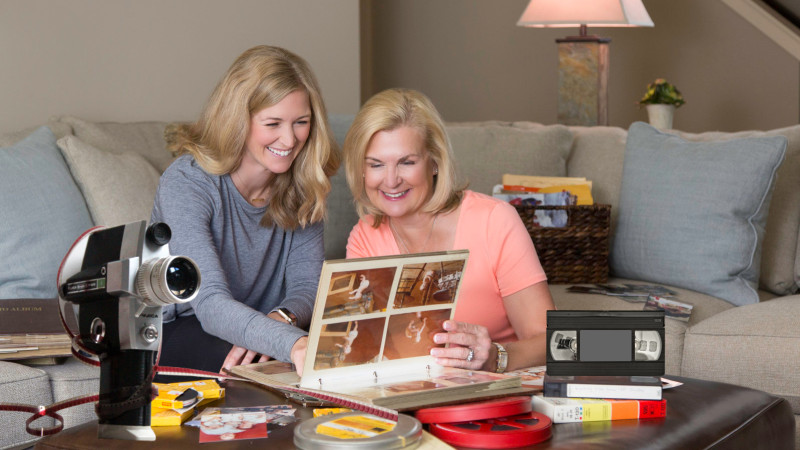 Another reason would be a damaged VCR player or projector. Unfortunately, they can sometimes also destroy media footage, so don't try using it once you find out it's not working correctly.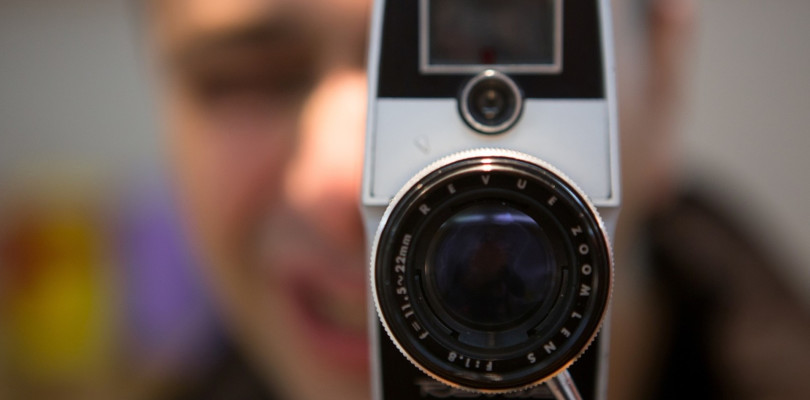 VHS tapes rely on magnetization to function. Unfortunately, magnetized materials don't stay magnetic forever — in practice, most tapes can retain magnetic charges for decades, but dozens of factors can also affect magnetization.
Film formats like 8mm and 16 mm, suffer from a condition called "vinegar syndrome." When the plastic film starts to deteriorate, it releases an odor similar to the vinegar smell. If this occurs, the film is likely to be unrecoverable.
The accelerated deterioration of plastic happens in humid conditions, so if you have tapes stored at home, be sure to move them right away. Tapes should always stay cool and dry.
Here are some of the issues with home films and tapes over time:
Loss of color
Deterioration
Mold
Tears or cracks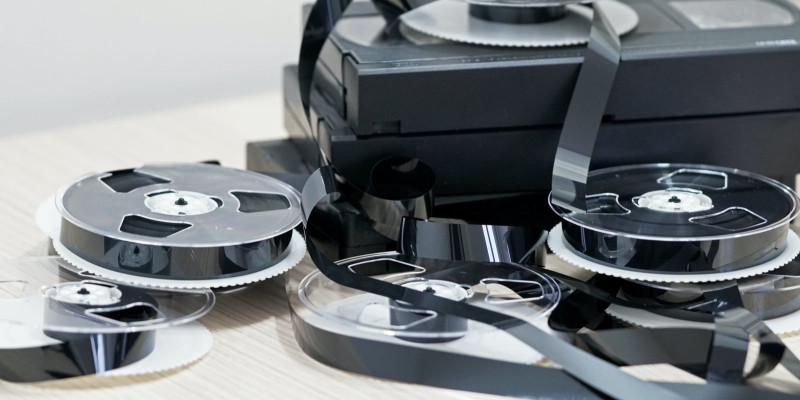 Tips For Saving Memories
Always save original tapes and films.
Don't view media on a projector or VCR if it is not in good condition.
Handle with clean hands and care.
Always store in a cool, dry place with no high humidity.
There are two different options for digitizing videos:
Sending them out to a professional digitizing service
Doing it yourself with special equipment which requires a lot of work if you don't know what you're doing
Sending Media To Professional Digitizing Service
Digitization services let you preserve your content in modern, convenient digital formats. Whether it's managing deteriorating 8mm films or a VHS tape of a family birthday. Every service offers digitization of media on at least a DVD. Others have multiple options for a digital copy, like USB, portable hard drive, and even cloud storage.
The cost of this method can be high depending on the number of tapes you want to digitize, but you don't have to do any work. These digitization services may not look safe or reliable to you, but they are professional in what they do. Many customers have safely digitized their memories this way, and they've left very positive reviews about the quality and satisfaction.
iMemories and Legacybox offer digitizing services for several formats, including VHS, VHS-C, and the long-departed Betamax.
You cannot send tapes that are copyright protected, like Hollywood movies, for example.
iMemories and Legacybox Comaprison Table
Expedited turnaround time

Reviews Across Multiple Websites

WHAT FORMATS THEY CONVERT

Betamax, VHS, VHS-C, 8mm, Hi8, Digital 8, MiniDV, MicroMini, DVDs, MiniDVDs

VHS, VHS-C, Mini-DV, Hi8, Digital 8, MicroMV, Betamax, 8mm Video Cassette

16mm, 8mm, Super 8, Regular 8

Photos, Negatives, Slides

Prints, 35mm Negatives, 35mm/126 slides

Reel to Reel, Audio Cassette, Micro-Cassette

$59.99 for 2 sets of 25 pictures

$279.99 for 10 sets of 25 pictures

$559.99 for 20 sets of 25 pictures

$1099.99 for 40 sets of 25 pictures

$279.99 for 10 audio items

$559.99 for 20 audio items

$1099.99 for 40 audio items

Note: Legacybox charges $5.99 for digital file download while iMemories does not.
We know the process of finding a good deal can be overwhelming, which is why we made this list for you.
iMemories – Our Top Pick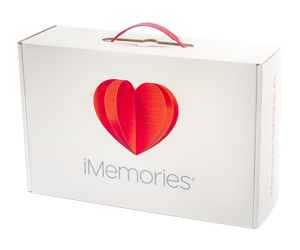 What we like
Comprehensive digitization of various media formats with and without sound
Multiple options for digital copies
Quick turnaround time
Affordable service prices
Regular email updates throughout the process
Enhancements and repairs available for select media types
Highly rated by customers
What we don't like
iMemories shipping kit has limited storage capacity, may require ordering two kits or using own box for shipping
iMemories is an online digitizing service that offers a convenient way to digitize your videos, films, and photos to today's digital formats, such as MP4 for video and JPG for photos. Once your memories are converted into digital format, they can be viewed and shared with others online without problems.
How iMemories Works
The complete process with iMemories is straightforward, and anyone can do it. In addition, they offer a free quote before buying.
First, you make an order, and they send you their safe ship kit, a crushproof prepaid box with an included return shipping label for safe shipping of your media to iMemories. When you receive the box, gather and pack the media you want to be digitized, stick the provided shipping label on the box and send it away.
iMemories offers excellent digitizing process tracking, and they inform you in real-time of each step via "Order Status" and email.
When they receive your media, they'll start the process of digitization, where they also enhance your videos and photos to make them look better than the originals. It takes from 2 to 3 weeks to digitize your media depending on the amount.
They can store a digital copy of your media on a DVD, Blu-ray, USB, portable hard drive, iMemories Cloud, or one-time download for free. After completing the order, all original media and digital copies are sent back to you.

iMemories is one of the most affordable digitizing services with a professional staff. They accept most media types, and you have plenty of options for a digital copy to choose from. Also, they have the fastest turnaround process time. Besides all that, the most important thing is how customers are satisfied.
On sites like TrustPilot and SiteJabber, we found plenty of positive customer reviews and an almost 5-star rating on both sites.
All in all, iMemories is a great choice for digitizing your old memories. The process is simple, and the results are top-notch. Customers have been happy with the service. If you're looking to preserve your old memories in a digital format, iMemories is definitely worth considering.
What Types Of Media do They Digitize?
Videotapes: VHS, VHS-C, Betamax, 8mm, Hi8, Video8, Digital8, MiniDV, MicroMini
Film: 8mm, Super 8, 16mm (with and without sound)
Photos: Photo prints, slides, negatives
DVDs, MiniDVDs
How Much Does iMemories Cost?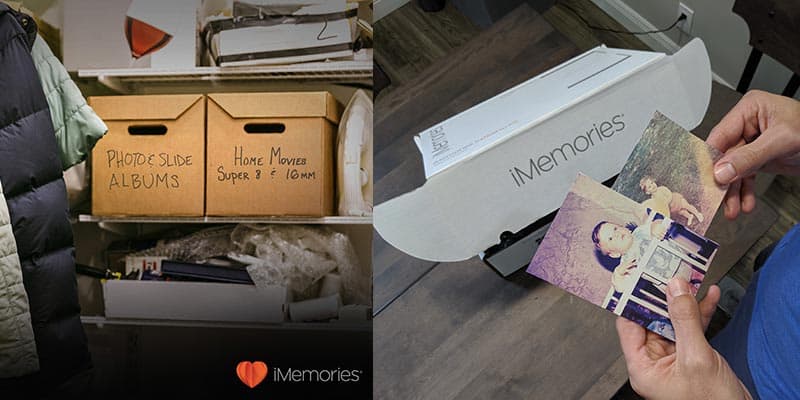 For digitizing videotapes, iMemories charges $11.99 per tape, and it doesn't matter the tape length. For the film, you get charged $11.99 per 50 ft. For photos, it's $0.44 per photo, slide, and negative.
Prices for digital copies:
$9.99 for a DVD
$14.99 for Blu-ray
$99.99 for a 1TB Portable hard drive
$5.99/month or $49.99/year for iMemories cloud
$19.99 for a 8GB USB
$29.99 for a 16GB USB
$39.99 for a 32GB USB
$49.99 for a 64GB USB
Suppose the professional digitizing method is not meeting your budget right now. In that case, our advice is to wait a while until some of them offer discounts because you won't be disappointed with the result.
---
Legacybox – Best Alternative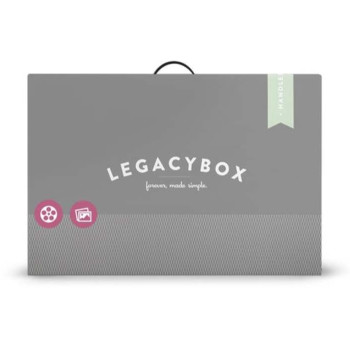 What we like
Shipping kit provided for efficient process
Simple and easy process
Convenient shipping options
Regular deals and discounts available
Accepts and transfers a wide range of analog media, including audio formats
Customers receive email updates throughout the digitization process
What we don't like
Some customers report a longer digitization process than expected
Legacybox is also one of the great choices if you don't feel like digitizing the home videos yourself. It's also a great gift option. The digitizing kit includes everything you need. You send the media, and they will digitally transfer them onto DVDs, USB, or the cloud for easy access at any time.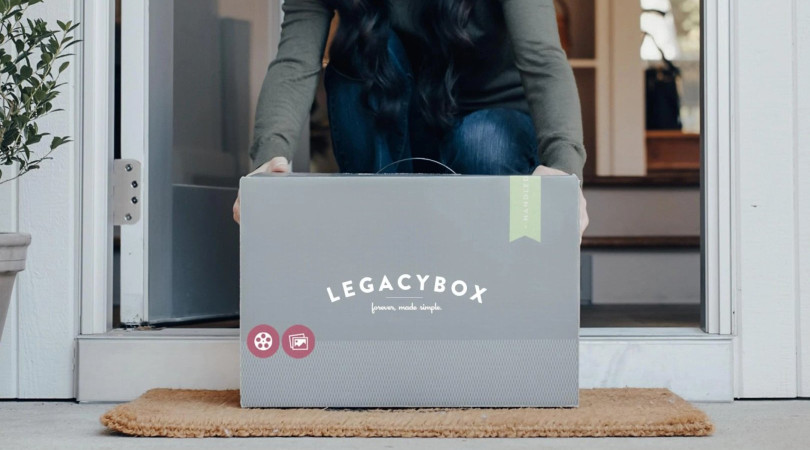 Legacybox also has affordable prices. They offer digitization of 8 mm film, 16 mm films, VHS tapes, and 35mm photo slides or prints from the past. Besides traditional media, they also digitize audio cassettes and reel-to-reel. This service offers great features for the money, and the only thing lacking is the turnaround process time, which can take anywhere between 6 and 8 weeks.
You can read the full reviews and comparison guide for iMemories and Legacybox:
Doing It Yourself With Transfer Devices
If you decide to digitize old media yourself because you don't trust sending it to anyone, well, in that case, you will need some guidance. Moreover, to do the job right and have satisfactory results, you will need some skills which you probably don't have. But, that is not a problem!
The process of digitizing is not as easy a task as many people think. You can easily destroy tape or film forever because of a lack of knowledge, skill, and proper gear. On the other hand, professional services save you from technical mistakes (damaging or destroying tape), buying old players and camcorders.
Keep in mind that this digitizing option also needs investment in special equipment like an 8mm/Super8 film scanner or VHS to digital converter.
Transforming your old home movies into digital content with this device is easier than you might think. If you have a Super 8 and 8mm film that needs to be digitized, purchasing a film scanner is the fastest and most convenient way to get the job done. To help you out, we found one of the best 8mm film scanners that you can get online.
8mm, Super8 and 16mm Film Scanner
If you have Super 8 or 8mm film that needs to be digitized, purchasing a digital converter is the fastest and most convenient way. To help ensure your success, we rounded up four of our favorite options for online purchases below.
For good quality film scanners, prices can run anywhere from $200-$500, depending on film reel support, and it can digitize files in 720p or 1080p resolution. In addition, all scanners support micro SD cards up to 32GB for storage and connection to TV and computer.
With an 8mm film scanner, you can digitize your film without special knowledge because these scanners are simple and don't have complicated controls.
You need to know that this is not professional equipment, and the scanned film is of decent quality (depending on the state of the film). Also, at this price range of these scanners, maybe even cheaper, you could send your films to a professional digitizing service with high-quality equipment and experienced staff. You would also receive a good-quality digital film copy.
VHS to Digital Converter
Converting videos from VHS to DVD could be an easy project with the right tool. Most VHS to digital converters come bundled with the software.
The converting device connects to your VCR so you can digitally record footage. First, you record footage to an SD card, and then you can transfer these files on various forms of storage, like DVDs and Cloud Services, for future access anywhere at any time. VHS digital converter's prices run from $100 to $200.
The three most common types of video ports on converters are RCA (aka phono), S-Video, and SCART, which offer better image quality than their counterparts.
Most VHS to DVD converters only have one type, but some will let you connect them with different connectors for various purposes.
There are also VHS converters that can connect to your computer via a USB port. This type of USB-based VHS digitizer on one end has plugs for VCR connection with (red, white, yellow) cables and S-Video, and on the other side, a USB port for computer connection.
If your VCR has an S-Video port, it's better to use that instead of the yellow composite jack for better video quality.
Besides the converter that you need to pay at least $100 for, you also need a working VCR to be able to capture footage. If you succeed in converting the footage to digital, the question is how you would be satisfied with the video quality. Not to mention the amount of time spent doing it. These are some of the reasons to consider sending your tapes to a professional digitizing service.
Final Words
There are many benefits and ways of digitizing your home videos, and we hope you've found this article helpful as you make your decision.
Though the professional digitizing service is the best option, it may not be within everyone's budget at this time. So, if you are one of them right now, please wait a while and check the offered service discounts. In the meantime, there are some things you can do to make sure that your tapes and films are stored correctly to preserve them.
If you haven't already started this project, we highly recommend doing so soon. You won't regret it!
---
Abdo is a Zoopy writer who loves spending his free time outdoors, camping, and enjoying the peace that nature brings. He also enjoys fixing things - he's particularly good with electronics. His favorite movie is I Am Legend, and he's fascinated by survival gear and safety.
---