Old photographs hold precious memories and serve as important historical records. However, over time, these printed images can become fragile and susceptible to various forms of damage. It can be disheartening to find cherished photographs in a deteriorated state, whether due to exposure to elements like humidity, water, sunlight, or dirt or even improper storage practices.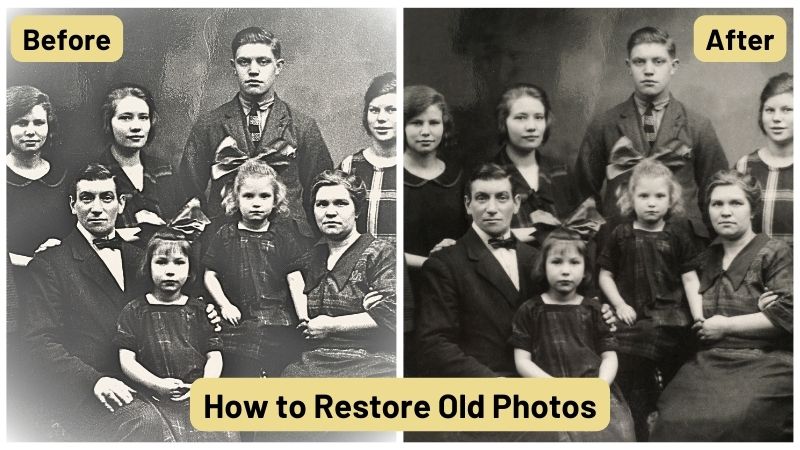 To preserve the irreplaceable value of these images, it is crucial to explore restoration options, understand do-it-yourself repair techniques, and adopt proper storage methods. By doing so, you can safeguard your photographs and ensure that they endure for future generations to cherish. Because of this, we will cover options on restoring your old photos, including professional service and DIY options. Stay with us as we unveil options on restoring your old photos.
Available Option for Restoring Old Photos
| Options for Restoring Old Photos | Description | Ease of Use | Safety |
| --- | --- | --- | --- |
| Professional Restoration | The easiest and safest method that entails handing over the photo restoration task to experienced professionals. | High | High |
| Basic DIY Restoration | Includes minor physical corrections and simple software edits. Requires a basic understanding of photo editing. | Medium | Medium |
| Advanced DIY Restoration | Entails use of advanced editing software and techniques. This option is best for those with a good understanding of photo editing. | Low | Medium |
| DIY Photo Restoration via Online Software | Relies on user-friendly online tools that may not have as many features as advanced software, but are easier to use. | Medium | Medium |
Professional Restoration By Service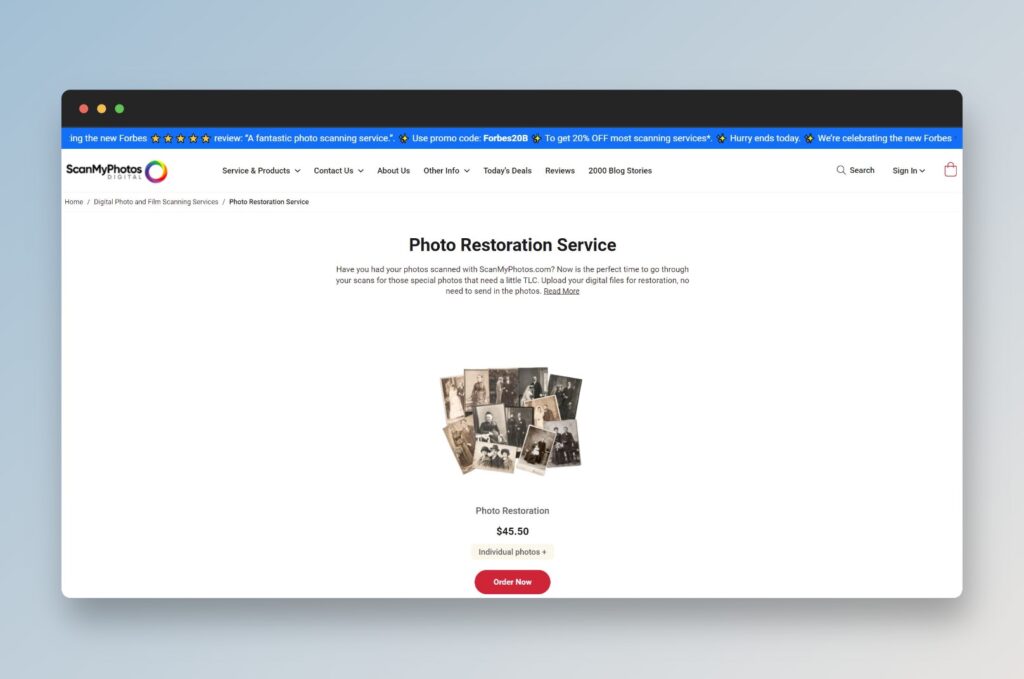 If you're looking for the best possible results and a safe approach, professional restoration should be your top choice. Fortunately, professional services have become more accessible and user-friendly, offering online ordering options through box kits or software enhancements by their skilled specialists.
One popular option is the use of box kits. With this method, you can simply mail your old photos to the service provider. They will then scan, restore, and enhance your photos using their expertise and high-end software. This approach ensures that your photos receive high-quality scanning, which ultimately improves the restoration and enhancement process.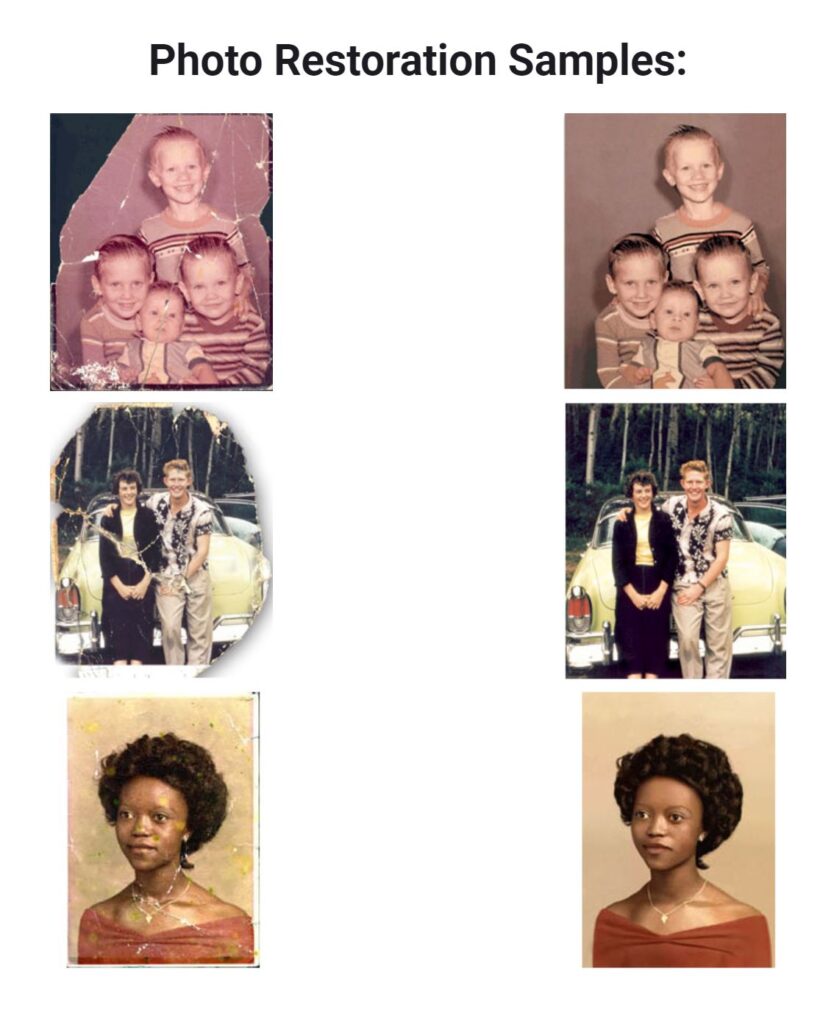 Another professional service option involves uploading your photo directly to their website. However, it's important to note that this method may result in some quality loss compared to the box kit option, where the initial high-quality scanning plays a crucial role.
It's worth considering that while professional restoration services have become simplified and accessible, some individuals, particularly older individuals, may find the process confusing or unfamiliar. Therefore, the box kit option may be more suitable for those who prefer a straightforward and easy-to-understand process.
Going with either of these two options, you can rest assured that you will end up with restored photos with great results.
Some of the benefits you get with professional service are:
Simple and convenient process, either conversion box or uploading a photo directly to the service website
High-quality scanning and editing by using high-quality equipment and the latest technology
Photos are restored by professionals and
They accept, convert and enhance other media types, videotapes and old films (depending on the service you choose)
Depending on the service, you can provide specific instructions or notes regarding the corrections you want for your photos.
Easy orders, regular progress updates, and customer support available for any questions or concerns
The process is fast and can be completed in couple of days to 2-3 weeks (depending on service and original state of photos)
All original photos are returned to you with the completion of the order, alongside a digital copy.
Best Professional Services for Photo Restoration and Enhancements
A highly-regarded photo scanning service offering customizable, professional-grade photo restoration solutions


iMemories is not a restoration company. Their team will obtain the best possible capture based on the original media's age, condition and quality.


Digital enhacements during photo scanning

1-2 weeks for small orders
7-9 weeks for larger orders

WHAT FORMATS THEY CONVERT

Photos:
3x3" to 8x10"

Negatives:
35mm, APS, 120mm

Slides:
35mm, 110, 126


Photos, Negatives, Slides

Photos:
2" x 2" up to 8" x 12" (except sheets)



Slides:
35mm, Super 35 mm, 110/220, 126, 127, and 127 Superslide photo slides (cardboard or plastic mounts only)



Negatives:
35mm, APS film, 110 film, 110/220 film, 126 Instamatic film, and large negatives

Photo prints, Photos in albums, 35mm slides, and 35mm negatives

8mm, 16mm, Super 8 (with and without sound)

Secure Digital (SD), Smart Media (SM), MultiMediaCard (MMC), Compact Flash (CF), xD-Picture Card, USB Drive, CD/DVD

DVD, CD, Data & Mini Disks, SD, CF & Micro cards, Flash Drives, Data storage disks

VHS, VHS-C, Hi-8, Mini Dv, Beta, Umatic, DVC Pro, DV CAM

VHS, VHS-C, Betamax, 8mm, Hi8, Video8, Digital8

VHS, S-VHS, VHS-C and S-VHS-C, Betamax, Video-8, Hi-8, Digital-8, Mini-DV, DVCAM, DV, DVC

VHS, VHS-C, Mini DV, and Hi8 (Digital 8)

Photo restoration start $45.50

Starting at $0.13 per scan ($25 minimum)

Starting at $0.71 per slide ($25 minimum)

Starting at $0.45 per negative ($25 minimum)

Photo prints (up to 12X16) $.49 per photo
Negatives (any size) $.49 per negative
Slides (any size) $.49 per slide

2 Items $58.97
3 Items $78.97
4 Items $97.97
5 Items $121.97
6 Items $143.97
7 Items $161.97
8 Items $179.97
9 Items $197.97
10 Items $218.97
20 Items $420.97

Photo restoration start at $35

Photo scaning:
$0.35 per photo, slide, negative or $0.45 with enhanced quality

$29.99 per tape ($14.99 with discount)

2 Items $58.97
3 Items $78.97
4 Items $97.97
5 Items $121.97
6 Items $143.97
7 Items $161.97
8 Items $179.97
9 Items $197.97
10 Items $218.97
20 Items $420.97

3" reels $11 for 50 feet per reel
4" reels $23 for 100 feet per reel
5" reels $46 for 200 feet per reel
7" reels $92 for 400 feet per reel
For enhanced quality, calculate the film price with an additional $.10 per foot

Starting at $0.19 per foot for 8mm, and 25¢ for 16mm

$29.99 per 50ft. ($14.99 with discount)

2 Items $58.97
3 Items $78.97
4 Items $97.97
5 Items $121.97
6 Items $143.97
7 Items $161.97
8 Items $179.97
9 Items $197.97
10 Items $218.97
20 Items $420.97

$29.99 for the first 100 feet of each film reel ($0.25 for each additional foot)

Digital Media Conversion Price

$29.99 per item ($14.99 with discount)

2 Items $58.97
3 Items $78.97
4 Items $97.97
5 Items $121.97
6 Items $143.97
7 Items $161.97
8 Items $179.97
9 Items $197.97
10 Items $218.97
20 Items $420.97

Disks $15, Memory Card $25, USBs $25, Floppy Disks $15
How Does Professional Service Work?
When opting for professional restoration services, there are two main approaches: the box kit option and the digital upload option. Let's take a closer look at how each of these processes works.
Box Kit Option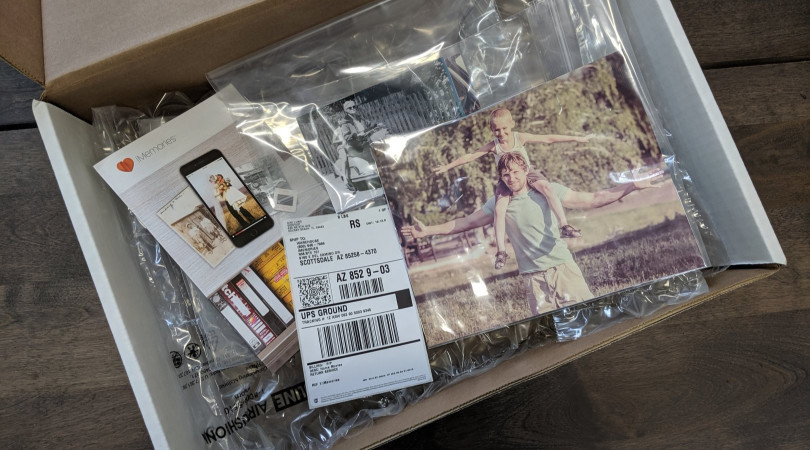 | Steps | Description |
| --- | --- |
| Online Order | Place an online order for the professional restoration service of your choice. |
| Box Delivery | Receive a box from the service provider to safely pack and ship your old photos to the restoration service. |
| Packing and Shipping | Carefully pack your old photos in the provided box and send it back to the service through the mail. |
| Scanning and Editing | Once your photos arrive, they undergo a series of checks to ensure their safety. They are then scanned using high-quality equipment. Some services, like iMemories, also include digital enhancements as part of their process to make the photos look even better. |
| Additional Options | Depending on the service, you may have options to transfer the restored photos to digital storage devices, such as a flash drive, or have them uploaded to the cloud for easy access. |
Digital Upload Option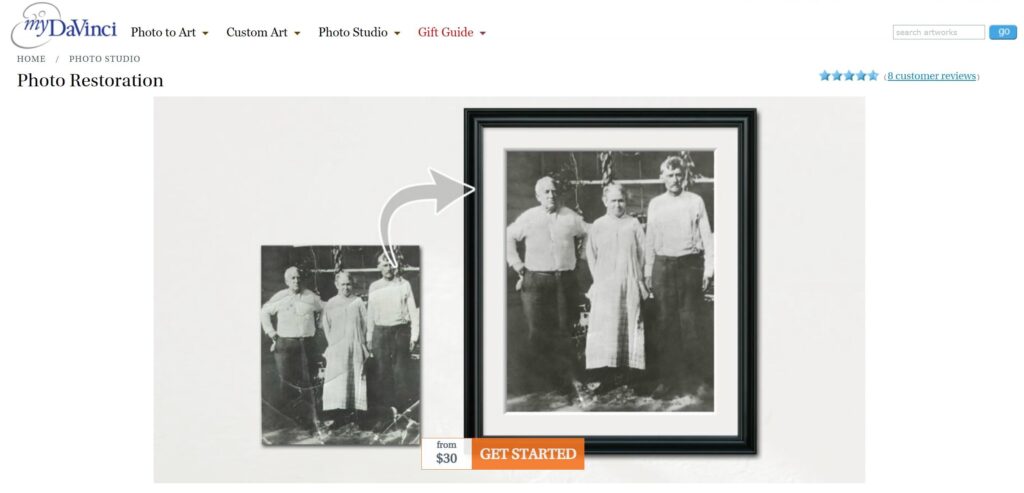 In this method, you scan or take a picture of the old photo you want to restore. This can be done using a scanner or a digital camera.
| Step | Description |
| --- | --- |
| Online Order and Upload | You visit the service's website, initiate the order process, and upload the scanned or photographed image directly to the service. |
| Restoration Services | Professional services like ScanMyPhotos offer a range of specific restoration services, including photo colorization, background retouching, blemish removal, teeth whitening, and more. They often have skilled specialists who perform high-end eye retouching and can address specific requests for retouching certain areas of the photo. |
| Turnaround Time and Price | The turnaround time for digital upload services can vary from a few days to a few weeks, depending on the service and the restoration techniques employed. The price primarily depends on the original state of the photo and the additional services you choose to apply. |
| Downloading the Restored Photo | Once the restoration is complete, you can download the restored photo from the service's website. |
| Note | While some services may offer basic corrections and automatic enhancements, others, like ScanMyPhotos, provide more extensive restoration and enhancement options. The pricing for professional restoration can range from a few dollars for basic scanning and minor restoration to several hundred dollars for comprehensive restoration projects. |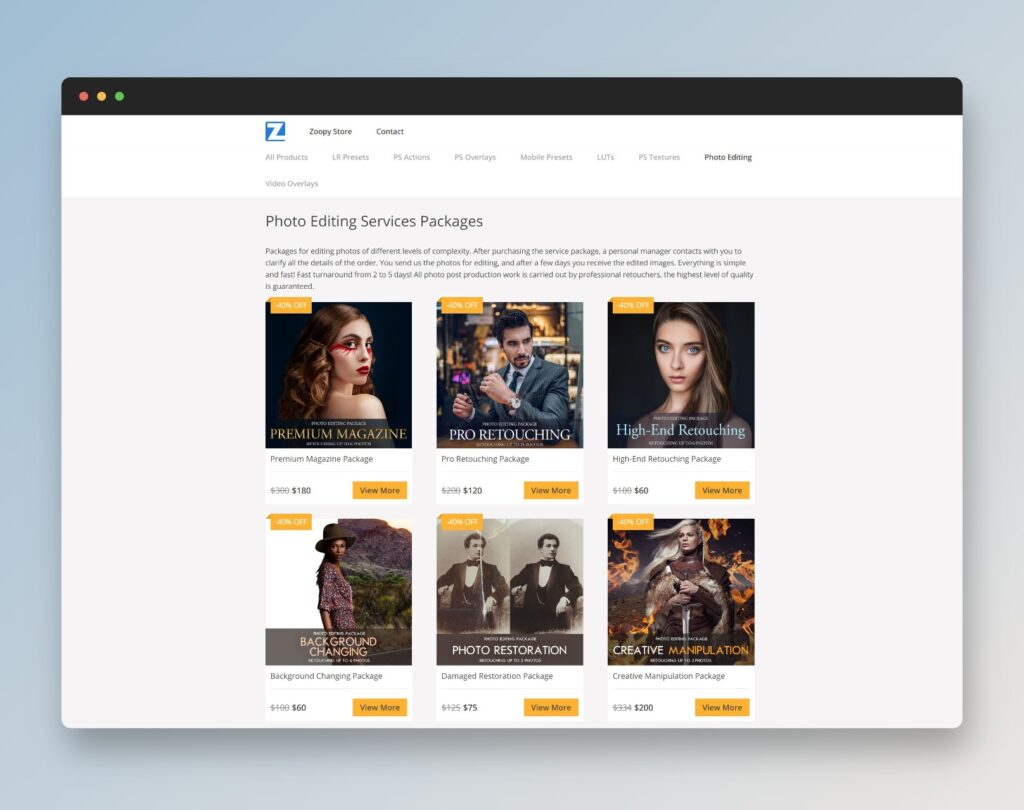 Consider the time, cost, and level of restoration required when choosing between the box kit option and the digital upload option for professional photo restoration.
Basic DIY Restoration – Minor Corrections
Basic DIY restoration for minor corrections is a simple and accessible option that anyone can undertake. The process involves a few key steps to improve the quality of your old photos. Here's how you can go about it:
Gentle Cleaning
Start by using a soft brush to gently clean the photos, removing any dust or debris. For stains on the photo, you can use pec-pad wipes, which are safe to use on photos. Remember to be gentle and avoid applying excessive force, as it can damage the photo.
Flattening Bent Photos
If you have a bent photo or photo corners that are curled, you can place the photo under heavy books for a couple of days. The weight of the books will help flatten the photo and restore its original shape.
Separating Stuck Photos
Often, old photos can stick together, and forcefully separating them can result in tearing. To avoid this, you can give the stuck photos a bath in distilled water at room temperature for 15 to 30 minutes. This process helps loosen the adhesive, making it easier to separate the photos. It's important to track the time and not leave the photos submerged for an extended period, as prolonged exposure can cause image distortion.
Basic Photo Editing
Utilize basic photo editing tools available in commonly used software like Google Photos or Apple Photos. These tools allow you to adjust settings such as brightness, contrast, saturation, and more, enhancing the overall image quality. Experiment with these adjustments to find the optimal settings that improve the appearance of your photos.
By following these simple steps and utilizing basic photo editing tools, you can make minor corrections to your old photos, improving their visual quality and restoring their appeal.
Advanced DIY Restoration Utilizing Advanced Software and Techniques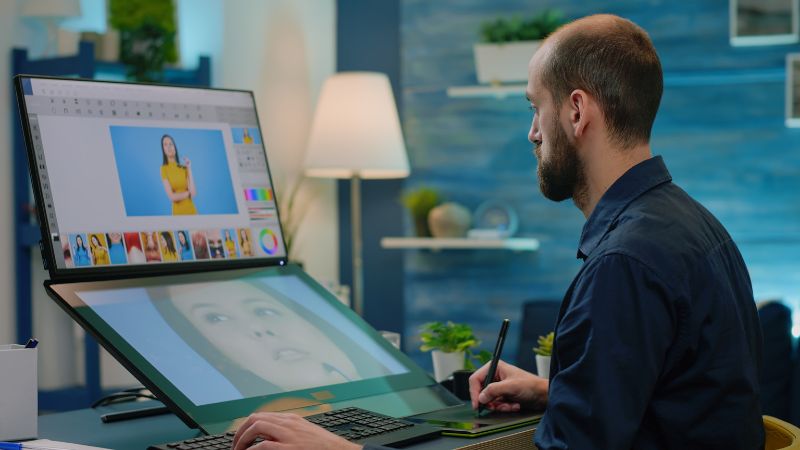 Advanced DIY restoration involves utilizing advanced editing software, techniques, and specialized equipment to address intricate restoration challenges. This method is best suited for individuals with significant experience and expertise in photo editing.
Digitizing the Photos
Begin by digitizing your old photos through scanning. This process converts the physical photos into a digital format that can be edited using specialized software.
Advanced Editing Software
Utilize advanced editing software such as Adobe Photoshop, which offer a wide range of powerful tools for photo restoration. These tools include features for color correction, dust and scratch removal, level adjustment, and more.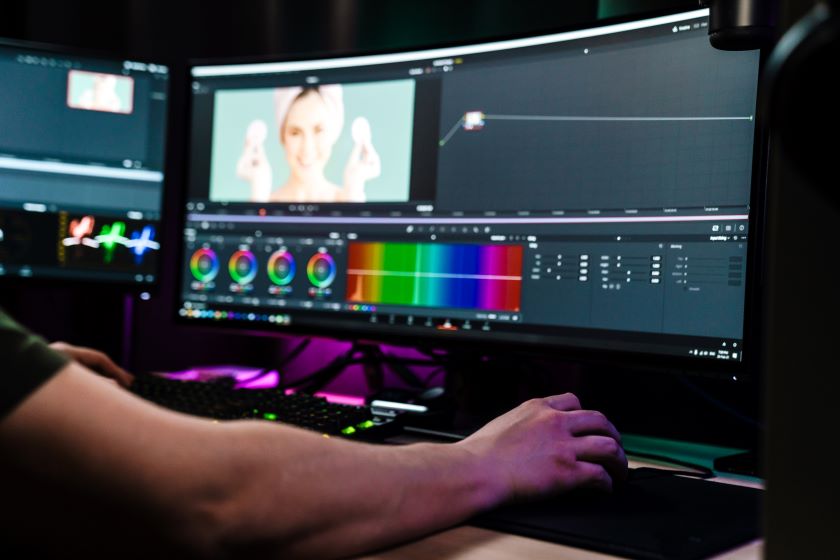 Learning Curve and Complexity
It's important to acknowledge that advanced DIY restoration requires a learning curve. Familiarize yourself with the software's tools and features, and learn how to use them effectively to restore photos. This process can be complex and time-consuming, especially for more damaged or deteriorated photos.
Skill Level and Results
The quality of the final results will largely depend on your skill level and experience with the software. Achieving satisfying results may require patience, practice, and trial and error. It's essential to understand that some details lost in the original photo may be impossible to recover through editing.
Cost and Software
Advanced editing software is typically not free and may require a subscription or a one-time purchase. Prices can range from around $20 per month for a subscription to up to $100 or more for a single-time purchase. Consider the cost and commitment involved in acquiring the necessary software.
While advanced DIY restoration may present challenges, it offers certain advantages. It gives you full control over the restoration process, allowing you to pay attention to details and achieve the desired final result. If you have a large number of photos or collections requiring restoration, this method can be cost-effective in the long run.
Keep in mind that advanced DIY restoration demands skill, practice, and the necessary software investment. Consider your expertise and commitment level before embarking on this method.
DIY Photo Restoration via Online Software
An alternative option for DIY photo restoration is utilizing online software. With this method, you can digitally upload your photos and perform digital restoration using browser-based software. The advantage of this approach is that you don't need to download or install any software.
Using current AI technology, online restoration tools provide a range of features and tools for precise edits and achieving a professional look without the need for expensive professional editing software or manual editing.
Basic online editors offer options such as cropping, resizing, and adjusting brightness/contrast. They may also include more advanced tools like spot healing, which is useful for fixing small blemishes or removing dust, and the clone stamp tool, which allows for duplicating or removing specific parts of the image. Various filters and effects are also available. Some online editors specialize in restoration and offer features like color correction and noise reduction. Other options leverage AI technology for enhanced results, but these tools may come at a higher cost. On average, prices for these tools range from $9.99 to $50.
Online restoration software allows you to access a wide range of tools and features conveniently through your web browser, making it a cost-effective solution for DIY photo restoration. Consider the level of restoration needed and the specific tools offered by different online software options before making your choice.
Preventive Measures for Preserving Old Photos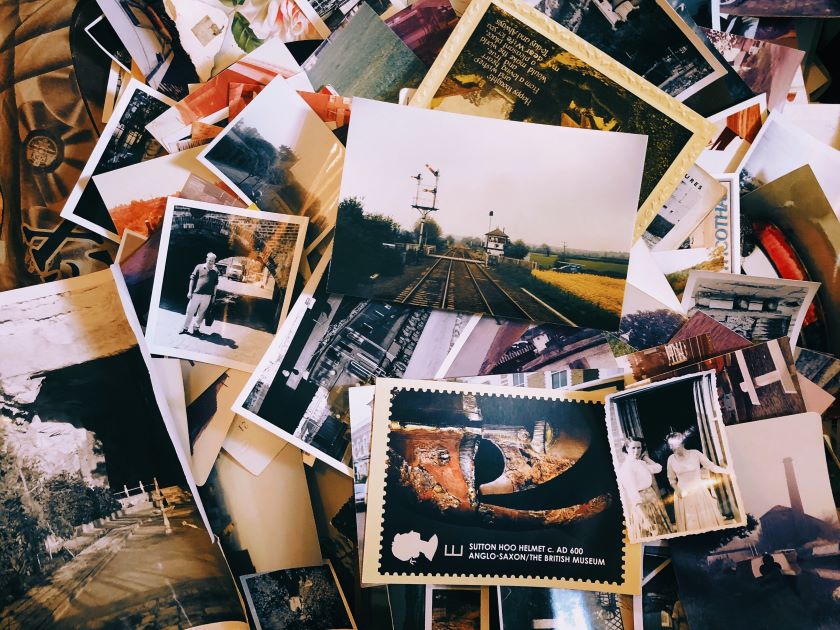 To prevent the deterioration of old photos, it's essential to take preventive measures. Here are some guidelines to follow:
The most effective method for preserving photos is by digitizing them through a scanning process. This can be done either by professional services or by yourself.
Proper Storage
Ensure that photos in good condition are stored appropriately. Keep them in a dry environment away from sunlight, heat, humidity, and direct light exposure. These factors can accelerate the degradation of photos over time.
Handle with Care
When handling photos, do so with caution and clean, dry hands. It is recommended to use cotton gloves to prevent oils from your hands from staining or damaging the photos.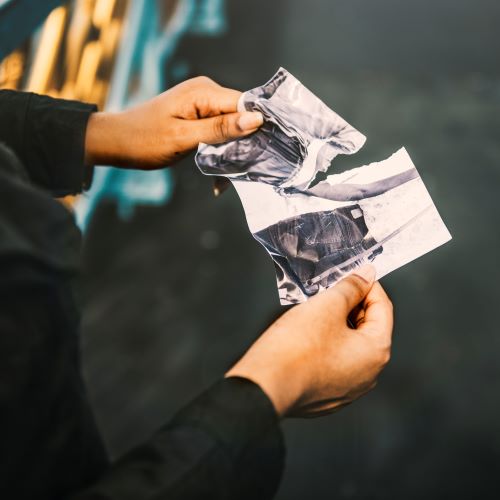 Avoid Stacking or Storing Together
Do not stack or store photos one on top of the other. Doing so can cause them to stick together, leading to damage to the photo film.
Avoid Tape or Glue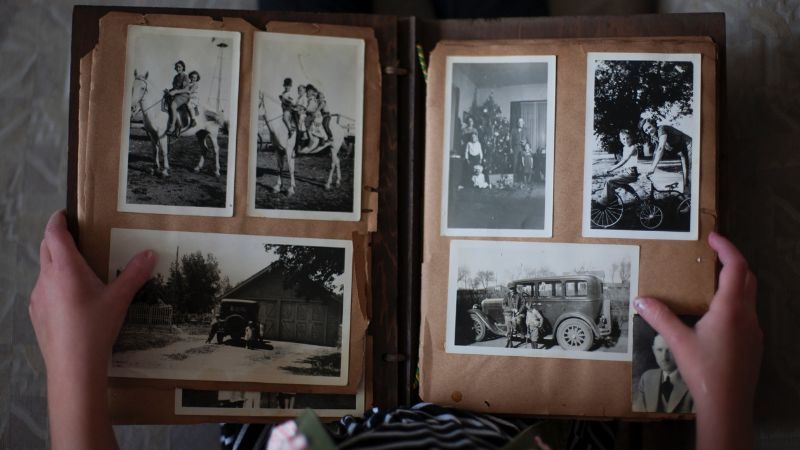 Refrain from attaching photos using tape or glue, as these can cause physical and chemical damage to the photos over time.