We all have boxes of old photos, slides, negatives, videotapes, etc., collecting dust in the house. You've probably been thinking about converting them to a digital format, but you're not sure about the whole process and if it's going to be done correctly. So, to ease your dilemma, we'll be taking a look at DigMyPics.
DigMyPics is considered among the best digitizing services for scanning photos and videos. They have high-quality equipment and staff who are experts in their field. The company headquarters is located in Gilbert, Arizona, where they do all the processing work.
At a glance

What we like
Professional digitizing service since 2002
Able to digitize most types of media
They return originals
Offers color correction, rotation, and dust removal
Multiple resolution options
What we don't like
More expensive if you compare it to other services
Turnaround time can be longer depending on the amount and type of media
With standard service, you don't get a shipping kit
No prior notice of shipping charges, and the cost is added to the total price of your order
The order form may be confusing if you are choosing multiple media types
Comparison Table
See how it compares to our #1 choice when it comes to digitization.
Betamax, VHS, VHS-C, 8mm, Hi8, Digital 8, MiniDV, MicroMini, DVDs, MiniDVDs

VHS, Super VHS, VHS-C, 8mm tape, Hi8, Digital-8, MiniDV

Photos, Negatives, Slides

Standard 8x10 prints at 1200dpi, non-standard prints, oversize photos

35mm Negative Strips, 35mm 1/2 Frame Negative Strips, 110 Negatives Strips, 126 Negative Strips, Disc Negatives

35mm,35mm 1/2 Frame, 110 in 2x2 mounts, 126 Slides, 110 Pocket Slides in 1x1 mounts, 3D Stereo, 127 Super


Reel to Reel, Audio Cassette,

$14.99 per tape + free digital download


$14.99 per 50ft. + free digital download

8x10 at 600 dpi, $0.49 per scan
8x10 at 1200 dpi, $0.89 per scan

Non-standard prints $1.15 per scan

Oversize photos $4.95 per scan


Standard Slides - $0.49 per scan
35mm Slides
35mm 1/2 Frame Slides
110 in 2x2 mounts
126 Slides

Non Standard Slides - $1.09 per scan
110 Pocket Slides in 1x1 mounts
3D Stereo Slides
127 Super Slides

Medium Format Slides - $1.99 per scan
2000 DPI Scans

Negatives Conversion Price

Standard Negatives - $0.49 per frame
35mm Negative Strips
35mm 1/2 Frame Negative Strips

Non Standard Negatives - $1.09 per frame
110 Negatives Strips
126 Negative Strips
Disc Negatives



Medium Format Negatives - $1.99 per frame



Large Format Negatives - $2.99 per frame

$15 per reel-to-reel
$15 per cassette

Download is FREE

DVD $19.99



Blu-ray $19.99

USB from $39.99 up to $99.99



iMemories Cloud $7.99 per month or $49.99 per year

Portable Hard Drive 1TB $199.99

DVD $14.99

USB $14.99

Download + 1 Year Storage $14.99
What Types Of Media Can DigMyPics Digitize?
DigMyPics support a wide range of media and formats, such as:
Videotapes (VHS, Super VHS, VHS-C, 8mm tape, Hi8, Digital-8, MiniDV)
Old film (8mm film, Super 8 film, 16mm film)
Audio tapes (Reel-to-Reel, Cassette tape)
Photos (Standard 8×10 prints at 1200dpi, non-standard prints, oversize photos)
Film Negative (35mm Negative Strips, 35mm 1/2 Frame Negative Strips, 110 Negatives Strips, 126 Negative Strips, Disc Negatives)
Slides (35mm,35mm 1/2 Frame, 110 in 2×2 mounts, 126 Slides, 110 Pocket Slides in 1×1 mounts, 3D Stereo, 127 Super)
How Does DigMyPics Work?
The first step of your digitizing process with DigMyPics is to gather your photos and home movies to find out how many there are.
After that, go to the DigMyPics website pricing page, where you'll find a cost estimate for every media type they support. Type in the amount of media you have, and it will tell you how much it will cost.
And finally, you have to choose how you'd like your photos and videos returned.
Type of Digital Copy
DigMyPics offers three types of digital copy:
Digital Download – Get instant access to your photos and videos the same day they get completed. Download them directly onto a computer, where you can add them to one of many photo management programs like iPhoto or Google Photos for online sharing.
Flash Drive – A flash drive is a perfect way to store all your files and data, no matter what you're doing. It can also serve as a physical backup for photos or home movies separate from a computer in case something happens to your computer.
Disc Set – DVDs and Data Discs are quickly becoming outdated. But, people still prefer to have their media get returned on a set of discs, but if you're not sure what format is right for your needs, we recommend choosing between flash drives or digital downloads.
Pack and Ship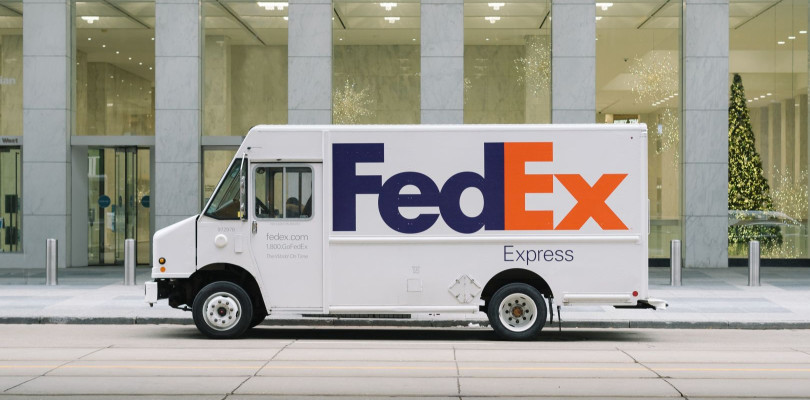 They recommend using FedEx to ship your order because they have a partnership with them, and they allow you to print your shipping label. You will not be charged for it until the completion of your order, and DigMyPics will include all charges in the order's total cost.
DigMyPics service has shared some tips for you to properly and safely ship your media:
Put your selected media in a box
For photos, slides, and negatives, make groups of 50 pieces
For safe shipping, use a crush proof box or one that won't crush easily
Wrap films and photos in plastic zip bags
Use packing materials that will protect your belongings, and avoid those which may generate dust or debris
Don't write with a magic marker, ink, or crayon on the back of your photos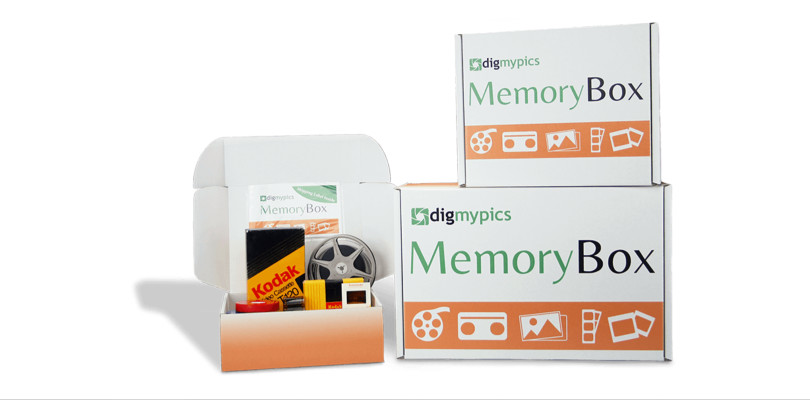 If you are interested in a prepaid shipping kit, they also offer their MemoryBox. For a more detailed comparison, check out the table below.
Digitizing Process
They scan your slides and negatives using their proprietary scanning technology, which gives you one of the highest standard scans on the market.
As for the pictures, they offer color correction, dust removal, and high dynamic range (HDR).
Over the years, the dyes in your slides fade and become red as the cyan layer disappears. As a result, many of the details in color become lost. DigMyPics uses specialized AI software that allows its preservation artists to restore many images to their correct color.
The team at DigMyPics uses compressed air and DustNet, their in-house developed AI software, to remove even more of the remaining dust particles in your photos.
HDR Exposure Merging technology captures your slides and negatives at multiple exposures, then combines the best of each part into one image with a fantastic color range. The Digmypics scanning technology allows for brighter colors, richer darks, and detailed highlights.
DigMyPics Service Prices
Photo Scanning
Standard Printed Photos :
8×10 at 600 dpi, $0.49 per scan
8×10 at 1200 dpi, $0.89 per scan
Non-Standard Prints:
$1.15 per scan (8×10) for cards, IDs, documents, children's artwork, etc.
Oversize photos:
$4.95 per scan for photos, newspaper clipping, and children's artwork that is bigger than 8×10 and smaller than 11×14
If you send your photos in albums, they can remove them or scan the album page and digitally crop each photo. For this service, you will be charged $0.59 per photo + scanning option you choose.
DigMyPics have what they call Real-Time Scanning, which allows you to see all your photos as they scan them. Watch as your images are automatically uploaded to the cloud so that you can view them every day as they get scanned.
If you don't want or like some of the scans, you can delete them, and you won't be charged for them. This way, you can stop wasting time sifting through your photos to decide what's worth sending in for scanning when you can just send them all and delete any that aren't good enough afterward.
If you want only one photo to be scanned, you will be charged a $30 fee for the processing job plus additional costs for digital copy and shipping. However, as DigMyPics stated, the minimum order fee covers the costs of processing your order and setting up your media for a scan.
Scanning Slides
There are standard, non-standard, and medium format slides, and they cost:
Standard slides (35mm, 35mm 1/2, 110 in 2×2 mounts, 126) cost $0.49 per scan
Non-standard slides (110 in 1×1 mounts, 3D Stereo, 127 Super) cost $1.09 per scan
Medium format slides at 2000 dpi cost $1.99 per scan
Digitizing Negatives
Here is the pricing for negatives:
Standard negatives (35mm negative strips, 35mm 1/2 frame negative strips) cost $0.49 per frame
Non-standard negatives (110 Negatives Strips, 126 Negative Strips, Disc Negatives) cost $1.09 per frame
Medium format negatives cost $1.99 per frame for 1.5×1.5 inches up to 2.4×3.5 inches
Large format negatives cost $2.99 per frame for above 2.4×3.5 inches to 4×5 inches
Note: Negative strips must have at least two frames. Specialized handling is required for single-frame negatives.
Digitizing APS Film
For APS film, you need to enter the number of exposures. APS film cartridges can take up to 40 pictures on one cartridge. They are pricing it per picture, not per cartridge, and the price is $0.49 per picture. They scan at 4000 dpi resolution, which includes color correction and rotation. Keep in mind that your APS film cartridge needs to be developed because DigMyPics cannot develop APS film.
Digitizing Video Tapes
The digital copy you choose at checkout will determine how you get the videos back. Choose DVD media for DVD playable videos, Flash Drive, or Download MP4 files. The price for converting video tapes to digital costs $9.95 per tape.
Digitizing DVDs
They offer a service for extracting video or photo data from your DVDs and placing it on a USB drive. Note that DVDs cant have any copyrighted material or digital locked files. This service costs $15 per DVD.
Digitizing Audio
For audio reels and tape digitization, you must choose a USB drive or digital download for MP3 files during the order—the price for converting reel to reel or cassette tape to digital costs $15 per tape.
Digitizing Old Films
The price for converting old films from 8mm, 16mm, and Super 8 to digital costs $0.25 per foot. Movies are captured frame by frame in HD 1080p with additional color correction by professional video editors. If you have sound in your film, it's an extra $0.25 per foot.
How Long Does It Take To Digitize Media?
Turnaround times are estimated by the working days and based on standard transfer, but additional services like sound or repairs will increase your wait time. You can expect around 2 to 4 weeks to complete the process.
What Customer Said About DigMyPics
During our in-depth research about DigMyPics digitizing service, we came across many positive and satisfied customer reviews all over sites and forums with kind recommendations.
Usually, for customers rating, we check sites like Trustpilot, Sitejabber, Yelp, and Google reviews. However, we did not find any customer reviews yet on Trustpilot and Yelp. On Sitejabber, we found a 5 stars rating from one customer, and on Google reviews, it has 4.1 out of 5 ratings. So, to be honest, we don't doubt DigMyPics is a good and professional service.
| | |
| --- | --- |
| | DigMyPics Customer Ratings |
| | |
| | |
| | |
| | |
| --- | --- |
| | iMemories Customer Ratings |
| | |
| | |
| | |
Should You Go With DigMyPics Service?
All in all, if you're looking for a professional photo scanning service with good quality results and plenty of options, DigMyPics is a decent option. However, be prepared to pay extra for things like repair and rush orders. Also, media digitizing prices are a little higher than other services. But overall, you will get professional service and results that will satisfy you, which is the most important part.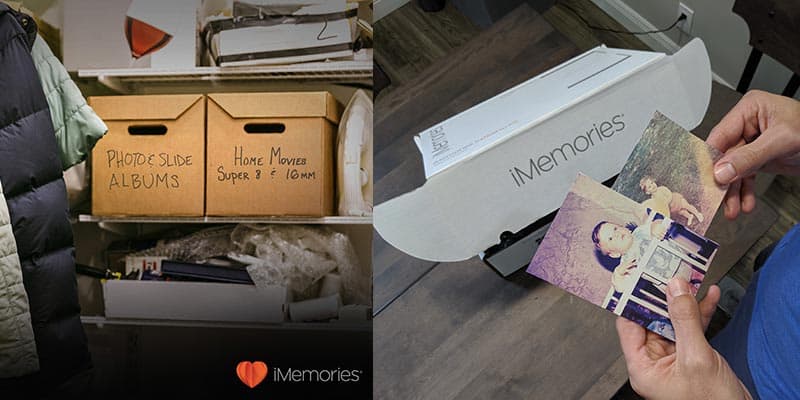 If you want to check out other services, you can read our review of iMemories, another professional digitizing service with high-quality, excellent customer reviews and more affordable prices.
Hopefully, our review has given you some good info, and we'd love to hear about your experience in the comments below.
---
Abdo is a Zoopy writer who loves spending his free time outdoors, camping, and enjoying the peace that nature brings. He also enjoys fixing things - he's particularly good with electronics. His favorite movie is I Am Legend, and he's fascinated by survival gear and safety.
---