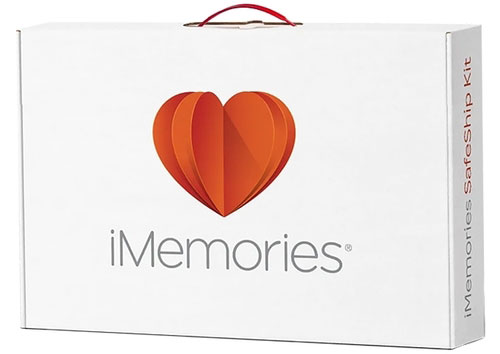 Editor's pick
Our go-to service is iMemories. This well-known digitizing service has key benefits at a very affordable price and good quality. After all, they have 10,000 positive reviews on Sitejabber, which is insane.
When it comes to digitizing old media, iMemories and Everpresent are two popular options. While each has its own advantages and disadvantages, it's crucial to pick the one that best fits your requirements. Our iMemories and Everpresent comparison guide rates both services based on media support, quality, process time, and pricing to assist you in making an informed decision.

iMemories vs EverPresent Comparison Table
Expedited turnaround time

Reviews Across Multiple Websites

WHAT FORMATS THEY CONVERT

Photos 8″ x 10″, Photo Albums

35mm, stereo slides, 126, 127, 110, Super 35mm, half frame slides, Super127

35mm, 110, 126, APS, glass plate

Betamax, VHS, VHS-C, 8mm, Hi8, Digital 8, MiniDV, MicroMini, DVDs, MiniDVDs

VHS, VHS-C, 8mm, Hi8, Digital8, MiniDV, HDMiniDV, DVCam, DVCPro, Betamax, Betacam, BetacamSP, Digibeta, Umatic, PAL formats, SECAM

Cassettes, Mini/Micro Audio, Vinyl Records, Reel-to-Reel

Starting at $0.59 per 35mm slide

$1.69 per non-standard slide

Negative Conversion Price

Starting at $0.59 per 35mm slide

$1.39 per non-standard negative

Med. and Larg fomrats start at $3.99 per negative

Starting at $25.99 per tape

Mini, Vinyl, and Reel to reel, starting at $35.99 per audio

---
iMemories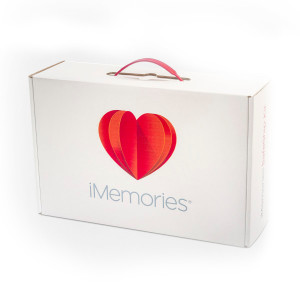 What we like
They digitize most media types
Plenty of options for digital copies
Fast turnaround time
Reasonably priced
Regular email updates during the whole process
They include enhancements and repairs for specific media
Highly rated among customers
What we don't like
iMemories shipping kit might be small for you if you send a large number of media.
iMemories digitizing service makes it easier to preserve your memories at one of the most affordable prices. Great prices and a relatively fast turnaround time make it one of the better picks in the digitization industry. In addition, every picture and video you send can be stored in the cloud for safekeeping and easily shared with friends or family members.
iMemories service is an excellent way to have your old media preserved on DVD or Blu-ray discs, USB, portable hard drives, or even on the cloud.
How iMemories Works
To start, you need to order iMemories SafeShipKit. It is a crush-proof box kit that includes shock-resistant cushions, waterproof bags, FedEx prepaid label. Also, you have an option to send memories in your box, but you need to enter your email address on the official website to get instructions.
We recommend you go with the SafeShip Kit for safety reasons.
When you receive a safe ship box from iMemories, gather the media you want to be digitized and pack it in as instructed.
How Much Can Fit Inside an iMemories SafeShip Kit?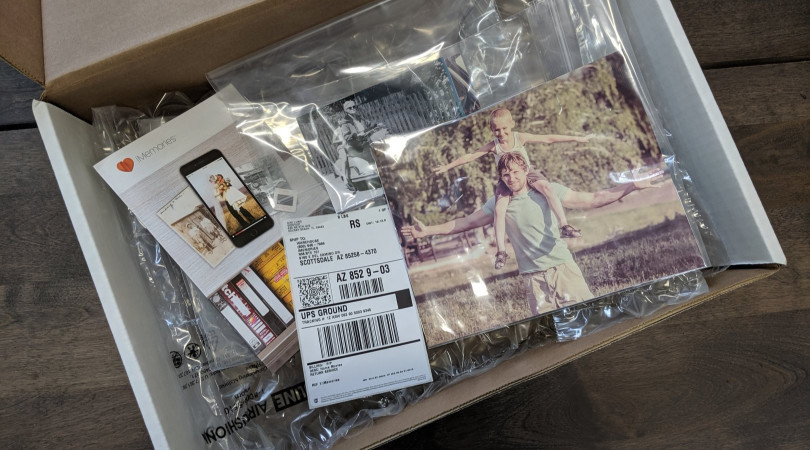 VHS: 30
Mini DV: 200
Betamax: 40
8mm: 110
VHS-C: 70

50ft Film: 150
400ft Film: 30


4x6 Prints: 1,500
Negatives: 10,000
Slides (loose or stacked): 2,600
Slide Carousels: 3

iMemories never has a limit on the size of the order. As a result, they have received orders containing over 100 videos and 10.000 photos.
Don't send personal artifacts, envelopes, letters, cameras, adapters, or notes with your order.
When your items arrive at iMemories headquarters, trained professionals will carefully digitize them. You will get regular email updates during the whole process.
After the digitizing process is done, iMemories will transfer the digital copy on your choice of DVD, Blu-Ray, USB, Portable Hard Drive, or iMemories cloud from where you can download for free one time only.
The complete order process can vary depending on the number of items you send. Also, completion times may take longer if your analog items require extra quality enhancement procedures.
Your memories will be digitized and shipped to you via FedEx Ground within 2-3 weeks. All originals will be sent back to you after they are digitized.
Which Formats Does IMemories Accept?
Videotapes: VHS, VHS-C, Betamax, 8mm, Hi8, Video8, Digital8, MiniDV, MicroMini
Movie Films: 8mm, Super 8, 16mm (with and without sound)
Photos: Photo prints, slides, negatives
DVDs, MiniDVDs
How Much Does iMemories Charge For Service?
The price depends on the media type, amount, and digital copy you choose to receive back.
The price for digitizing video tapes is $11.99 per tape of any length. Some services may charge by the length of the videotape, but with iMemories, this is not the case.
The cost for digitizing movie films is slightly different; instead of paying for the whole film, you are charged $11.99 per 50ft of film.
For digital conversion of photos, the price is $0.44 per photo.
What Digital Copies You Can Get Back With iMemories?

With iMemories, you have 5 ways to choose to get your digitized memories back. The first one is a DVD for $9.99 or Blu-ray for $14.99. The second digital copy option is a USB Flash Drive. Flash drive price may vary depending on the amount of storage of your digitized files. Prices of the flash drive go for:
$19.99 for 8GB of storage
$29.99 for 16GB of storage
$39.99 for 32GB of storage
$49.99 for 64GB of storage
The third option for digital output is a Portable Hard Drive with 1TB of storage for large amounts of media.
The price for a portable hard drive is $99.99.
The fourth option for storing digital copies of your memories is with unlimited storage iMemories Cloud.
iMemories cloud price goes from $5.99 per month or $49.99 per year.
The fifth and final option for getting a copy of your digitized files is a free one-time digital download. This means you can only pay for the digitizing process of your old media and get a digital copy for free with no extra charges like DVD or Flash Drive.
---
EverPresent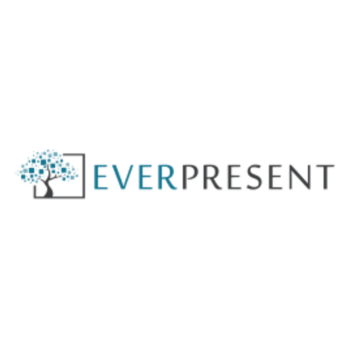 What we like
Supports a wide range of media formats, including audio
Photos are ordered, titled and numbered
Offers media home pickup
Suitable for small and large orders
What we don't like
Higher prices compared to other services
The digitization process may take longer
Everpresent is also a popular service that offers digitizing for old media formats, including audio. Their goal is to help families and institutions to save old memories from being lost forever.
How Does EverPresent Work?
EverPresent offers a free estimate of your old media; you can call them or fill out their form on the website. In addition, they offer you three options for delivering your old media for digitizing. For example, you can drop off your media in one of their 45 locations or mail in your media in a box. The third option that EverPresent offers is unique from all other services, and that is the Home Pickup of your media.
You can get a certified consultant who can help you choose resolution, labeling, and digital copy options that are right for you. The Everpresent has expert technicians staff that all scanning and transfers do by hand on high-quality equipment.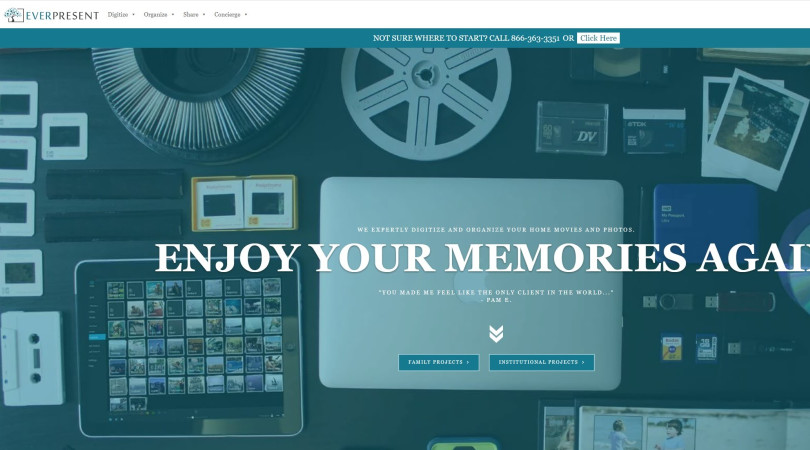 The items you've sent are sealed in a weather-proof bin, labeled with a unique number and your name, and stored securely. You can track digitizing progress from start to finish by calling them to get a status update.
With Everpresent, your digitized media can be stored on four types of digital copies:
DVD
USB
Personal cloud
Free digital download for 180 days
The turnaround time of the whole process depends on the size of your project. For example, everpresent stated that over 80% of their orders are completed within one month. All your originals are returned to you at the end of the project.
What Formats does Everpresent Accept?
Videotapes: VHS, VHS-C, 8mm, Hi8, Digital8, MiniDV, HDMiniDV, DVCam, DVCPro, Betamax, Betacam, BetacamSP, Digibeta, Umatic broadcast tapes, PAL formats, SECAM
Movie Films: 16mm, 8mm, and Super8
Photos: Photos 8″ x 10″, Photo Albums
Slides: 35mm slides, stereo slides, 126 slides, 127 slides, 110 slides, Super35mm slides, half frame slides, Super127 slides
Negatives: 35mm negatives, 110 negatives, 126 negatives, APS canisters, glass plate negatives
Audio: Cassettes, Mini/Micro Audio, Vinyl Records, Reel-to-Reel
How Much Does EverPresent Charge for Its Service?
There is a $40 service fee for all orders. This service fee includes physical and digital storage, item coding, and quality checks by a technician.
Videotape digitizing price starts at $17.99 per tape with a digital download option. The standard digitizing price with included DVD or USB is $25.99 per tape.
Film digitizing prices start at $0.22 per foot with included digital download. The standard option includes USB or DVD, and the price is $0.32 per foot. For archival digitizing option price starts flat at $45 per order, which includes up to 2000 feet of film, 2000 to 5000 feet goes at $65, and 5000+ feet at $85. These prices include a triple backup option USB, DVD, and Private Cloud.
Photo digitizing prices start at $0.59 per photo with 600dpi. Also, dust removal, cleaning, and orientation are included in the pricing.
Albums and Scrapbooks digitizing price start at $2.99 per page with scanning methods from 400dpi to 600dpi. For handling albums, you could be charged additional fees.
The price for digitizing slides starts at $0.59 per slide for 2000dpi to 4000dpi professional scanners.
Standard 35mm negative digitizing price starts at $0.59 per frame. The non-standard price starts at $1.69 per negative. MED & LG format starts at $3.99 per negative.
Audio Digitizing Prices:
For standard cassettes digitizing price is $25.99 per tape to CD, mp3, or .wav file.
Mini/Micro, Vinyl records, and Reel-to-Reel price is $35.99 per tape/record/reel and is transferred to a CD in a .mp3 or .wav file format.
What Digital Copies Can You Get Back With EverPresent?

EverPresent offers three options for a digital copy: DVD, USB, and Personal Cloud. We recommend USBs and Personal Cloud for large projects due to their higher capacity and reliability. DVDs are best used if you use DVD players, but it is also outdated technology that will soon fade away.
iMemories vs Everpresent Final Words
Each service offers a free digital download of files when digitized. Both iMemories and Everpresent have good customer reviews, but iMemories has a lot more.
If we consider the price and how much it would cost you, iMemories is much cheaper with excellent quality, and you have plenty of options to choose from for digital copy.
For many people, digital copy options for memory files play a significant role. For example, with iMemories, you have 6 choices to choose from, unlike Everpresent, which offers only 4.
Everpresent, in our opinion, is good service but for much more professional and larger orders. Some people may be lost or confused during the ordering process, unlike iMemories which is a straightforward process.
---
Abdo is a Zoopy writer who loves spending his free time outdoors, camping, and enjoying the peace that nature brings. He also enjoys fixing things - he's particularly good with electronics. His favorite movie is I Am Legend, and he's fascinated by survival gear and safety.
---